10 Paint Color Trends to Bet On 2020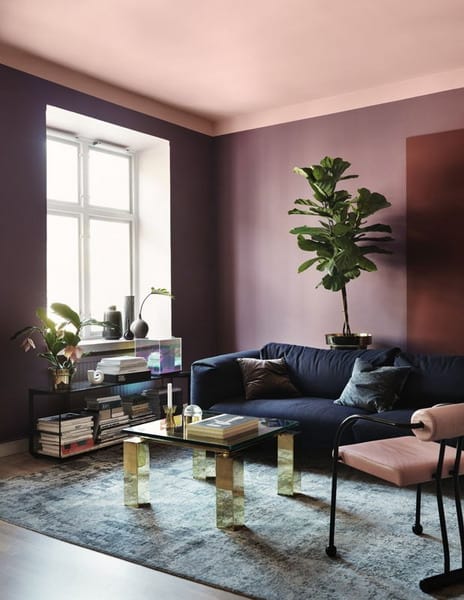 2020 arrived and, with it, the atmosphere of daring. Although it is a universal theme, the free use of colors has never been so high in the creative circles, so much so that experts estimate that this year people will dare as never before in their homes. That is, those walls that have always been white will probably be dyed by shades full of personality – the floor and ceiling, surfaces for years forgotten when decorating the house, should also enter the chromatic dance.
As usual, Pantone announced its color of the year 2018: Purple Ultra Violet, as well as the ink marks and even the writing house of Vogue made their bets. Now the WGSN, a bureau of trends that knows everything about the subject when it comes to fashion and decoration, has released its list of 10 chromatic paint color trends that will invade your home during the year 2020.
The cool thing is that, although it is a eclectic list, there is coherence between all the predictions mentioned above: all these colors combine very well with each other and are included in this year's major chromatic trend: the Modernist Palette, which brings back, with fresh clothing, the powerful and vibrant tones that dominated aesthetics between the 1930s and 1960s. See below and choose your favorite color!
1. Orange Apricot (Apricot Orange)
Whoever thought that Millennial Pink was going to say goodbye to the spotlight, it was ugly. The darling color of everyone evolved and gained a dose of orange in its composition, getting a little less smooth and more energetic. One good way to make the apricot orange work well is to blend it with browns, blacks and whites in the decor, just as did our style director Adriana Fratini in this editorial in which earthy tones blend with tropical elements.
2. Moody Maroon
In 2020, red will be one of the strongest colors, but it will emerge in darker, rich tones, close to reddish brown. Woody and warm nuances should be seen in both large furniture and smaller items, continuing the use of a darker palette in the decor, which remains in vogue.
3. Pigmented terracotta
The earthy tones are a very strong palette at the moment and promise to remain in evidence for years to come. In 2020, the terracotta color gains more humor and personality by absorbing pigments: add to it an extra dose of burnt rose and find the perfect example to decorate both residential and public interiors.
4. Pale & matte
Lightly toned whites on frosted surfaces gain power in 2020 as they are the perfect complements for very light or very dark environments. The palette that is formed is next to the candy colors, but is softer and presents colors that, at a first glance, do not seem to draw so much attention.
5. Metallic Black
Mainly black environments have never been so high – even worth painting the ceiling! To make everything more interesting, surfaces that bring the metallic glow are joined to other well matte ones to create a game of perception.
6. Green Military Acid (Acid Olive)
Moss green was one of the main colors of 2019 both in fashion and decoration. In 2020 it appears more acidic and close to the pistachio
7. Golden Yellow
The yellow drawn for gold began to appear in fashion in mid-2019 and is already listed as one of the strongest trends for 2020 in decoration. Luminous and applied to tactile surfaces – the velvet will continue to reign! this tone promises to bring vintage and energetic atmosphere at the same time.
8. Deep Emerald
Greens near the emerald, but belonging to a darker and bluer palette promise to take care of the full walls in a deep ambiance.
9. Saturated Blue
Full of life, blue appears saturated to punctuate energy in environments through unexpected splashes of color.
10. Color blocking (Clashing pairings)
Remember when the fashion trend of the moment was color blocking? It's time for the interiors to embark on this joke. Having vibrant colors contrasting in the same environment is the order of the day – and they can appear in both wall graphics and geometric prints as well as bold styling combinations. The sky is the limit!