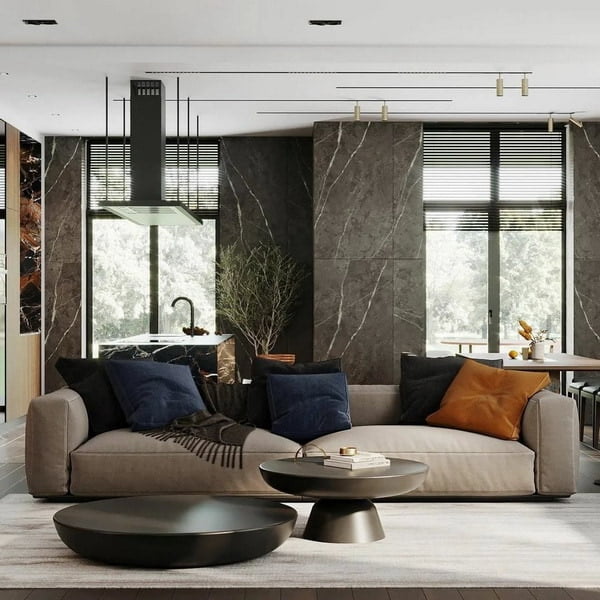 Many people strive to create coziness and comfort in the house, but not everyone manages to keep up with the latest innovations. To create a fashionable interior in 2023, you will need to analyze in detail the main trends and assess what elements can be included in the room.
What Materials To Use
The fashionable interior of 2023 cannot be imagined without the main trend – natural elements. They can be traced not only in plants and furniture.
The following materials are in demand now:
wood;
textured putty;
a rock;
metal;
glass;
ceramics.
The presented materials allow you to make the interior natural and lively. But don't forget about finishing. Leather, linen, silk, suede and cotton will help create coziness in the house. These fabrics are considered to be of the highest quality, since they are pleasant to touch.
Trendy Colors
In 2023, colors that create a sense of coziness are relevant. The most versatile shade is beige. This is because most people associate it with warmth, which has a calming effect. According to psychologists, the right shade has a certain psychological effect.
Deep, dark and muted tones should not be avoided. They remain in vogue, so they will be relevant in the interior. And it is recommended to refrain from flashy flowers. They not only reduce the cost of design, but also do not create a feeling of comfort and tranquility.
The following shades are considered the main fashion trends in the color palette:
grey;
white;
lactic;
beige;
almond;
mint;
aquamarine;
pistachio;
ginger.
When drawing up color combinations, it is worth remembering that the base tone should be about 60%, the additional one – 30%, and the accent one – only 10%. This color ratio creates a balance in the interior.
Trending Styles Of 2023
The trend for naturalness has touched everyone, without exception. Therefore, in hardware and furniture stores, you can easily find suitable materials, tools, decor, etc. Many designers place an emphasis on low-processed materials.
Especially in 2023 minimalism is appreciated. Volumetric chandeliers, an abundance of details, bright wallpapers and colorful furniture are the anti-trend of the season. Only neutral shades and simple furnishings are welcome.
Don't forget to be creative. It is he who helps to create the new on the basis of the old. For example, if there is furniture in the house that does not fit into the planned design, it can be upgraded. In such cases, people give it to the workshops or transform it themselves. This allows you to simultaneously save your favorite things and save money on new decor items.
70s Are Back
Gradually, trends that were relevant several decades ago are returning to fashion. The design of the 70s is in vogue now. These are glossy finishes, chrome accessories, use of dark wood, metallic finishes and a combination of contrasting shades with pastels.
Few people pay attention to small details. In fact, they are the ones that make it possible to create stylish and bright designs in 2023. And thanks to photo ideas, a clear idea of what designers recommend to implement in the interior will appear.
Trending Room Designs
The current design trend is versatility. This is why many people focus on home improvement as a whole. Simply put, they tend to use the living space not only for recreation, but also for work. Moreover, due to the development of Internet professions, most people conduct business from the comfort of their home.
That is why the design of the premises should be approached responsibly. So, in order to create a trendy interior in 2023, it is worth considering all the main trends for each type of room.
Kitchen
When planning a kitchen, you should first of all rely on your own tastes. Lovers of experimentation are advised to pay attention to the unusual loft. It can be rough wall decoration, black and white decoration, open communications, kitchen set to the ceiling or furniture of an original form.
For connoisseurs of modern styles, a high-tech kitchen will be an excellent solution. To achieve the most approximate option, it is necessary to include smart technology in the interior. In this case, household appliances should be combined in shape and color with each other. Contrasting tones and metallic accents are also welcome.
Living room
The living room is a room in which households spend a lot of time every day. That is why, according to the designers, the room should be as spacious as possible and contain comfortable elements. Moreover, not every person will feel good in a too colorful or dark room.
Classic is the main trend of the fashionable interior of 2023. Living room decoration in this style will be the best solution for those who do not like flashiness and luxury. The classic style is characterized by high ceilings, minimalist décor and neutral colors. It is recommended to make the background in light and soft colors. For variety, you can create separate bright accents. And do not neglect them. Otherwise, it will not be possible to achieve the desired revitalization of the interior.
For those who adhere to modern views, it is worth bringing bright colors to the living room. But this does not mean that walls and furniture should be of variegated colors. Now such colors as green, sand and white are relevant. These shades allow you to create coziness and naturalness. It is best to make walls monochrome. And if you supplement them with colorful paintings, they will sparkle with completely different colors.
Bathroom and toilet
Over time, the style of bathrooms takes on futuristic features. This suggests that consumers are gradually giving up the inconvenience and things that cause stress. One of the best main trends in the fashionable interior of 2023 is floor heating. After taking bath procedures, no one wants to step on the cold tiles. Moreover, it can negatively affect health. Therefore, in 2023, every second person who makes repairs equips the room with underfloor heating.
Smart shower has become an equally trendy discovery. This novelty will be the trend of the decade. More recently, everyone has been looking for a large bathtub. But now it has been replaced by a high-tech shower cabin. She not only looks stylish, but also reduces the time spent in the bathroom.
Gray-veined marble is still in great demand. Such tiles allow you to create a luxurious interior with elements of nature. And if you supplement it with built-in lighting, the bathroom will become brighter and visually larger.
Bedroom
In a modern bedroom, every detail counts. The main rule for decorating this room is to create the most comfortable place to relax. To feel relaxed and calm after a hard day, you need to choose the right color palette first. Dark shades are not at all suitable for the bedroom. They visually reduce space and do not help you wake up easily in the morning.
A gray or milky shade will be a win-win option. These colors are universal, so they can be combined with anything. What's more, they allow you to mix styles and create a sense of cleanliness.
Do not forget about the area of the room. It is recommended to fill a large space with warm colors. They create a positive attitude and positive emotions. If the bedroom in the apartment is not happy with its dimensions, it can be visually enlarged with the help of cold light shades.
Children's room
At the time of registration of the nursery, you should first of all determine the functional purpose of the room. Only after that is it worth starting the selection of the color palette. According to psychologists, it is best to decorate a nursery in soft colors.
The most trendy shade is yellow. This color has a positive effect on concentration, enhancing the creativity of the child. You can also look at the red shades. They awaken energy and mobility. Therefore, the child will learn better.
Overview
Fashion does not stand still. It affects not only the fashion industry, but also the design of the premises. To create a trendy interior in 2023, you need to familiarize yourself with the main trends of the season. It is not necessary to use all the innovations. It is enough to highlight for yourself the main points that will help transform the space.