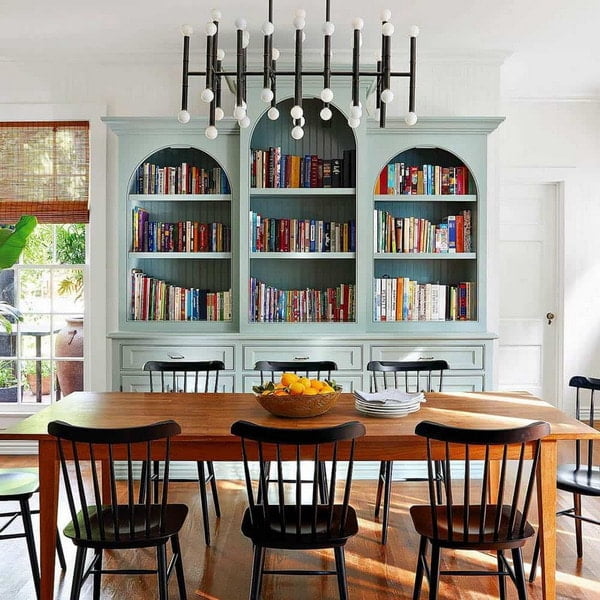 In today's blog, we'll take a look at the top interior decor trends in 2023. Popular interior styles of 2023, current trends, ideas and anti-trends.
We will not talk about  global trends that most of us cannot afford. We will talk about small, budgetary changes that will help you transform your interior into a more trendy, modern and cozy one – because the main trend of 2023 is comfort.
" And this is not just a trend, it is a whole philosophy that gains more and more fans every year! "
The first interior decor trend in 2023: Arches
The first and most popular trend of 2023 is arches, an art nouveau style attempt to reproduce the flexible and flowing  lines of nature. This year we see  arches everywhere and everywhere. Even semicircular windows have appeared, and modern technologies allow us to be perverted as soon as we want.
A lot of modern furniture today has smooth curves and arched elements. Cabinets, doorways, and even the doors themselves! And the fact that the most interesting truss truss options began to appear with an arched bend.
Personally, under such a heavy roof, even with an arched bend, it would be somehow uncomfortable, it really crushes with its massiveness. But this is a matter of taste, be sure to write in the comments if you would like to have such a ceiling at home or not.
Arches are the most popular trend of 2023 and can be used in all styles and interiors. Now, more than ever, femininity and elegance are popular and these smooth curves look a little strange and unusual for us after many years of minimalism.
In fact, according to the Taoist theory of space organization, smooth angles are the key to good mood, positivity and balance.
" Sharp corners in a home transform the positive energy in the home into negative energy! "
But if you do not plan to change windows, doors and furniture, but at the same time you really want to update the interior, you can simply draw arches on the walls yourself.
And so we smoothly move on to the second trend in the interior of 2023 – to geometric patterns!
You can see pictures of examples of pictures on the walls  here.
The second trend in the interior of 2023: Geometric drawings
Geometric designs on the walls also came back to us from the sixties. This is certainly the most budgetary trend that will add zest to any interior, but I don't know how long this trend will last.
It is also very popular to paint walls, skirting boards, moldings and doors in one color.
If you like to play with color combinations on the walls, now is the time to experiment and best of all, once you get bored with this pattern, it can be easily recolored, unlike wallpaper or other heavier wall coverings.
This type of wall decoration is great for space zoning. This option is now especially popular due to the growing demand for home offices.
With the help of color, you can easily separate the work area from the home.
It's more of a visual than a functional separation, but it works great!
And here we smoothly move on to the third trend in the interior of 2023 – home offices.
The third interior decor trend in 2023: Home Offices
Home offices in 2023 have become simply irreplaceable, even if you do not work from home, you need a secluded corner for an online consultation with your therapist or with your child's teacher. Therefore, even my clients who do not work from home this year requested a small home office.
Offices in 2023 have become brighter and lighter, and as I talked about in the video about the psychological impact of color, the brighter the colors, the easier it is for us to concentrate, remember new information and stay in focus.
Those who watched my previous videos know that in a dark blue office we will be sleepy, and in a yellow office we will work productively and energetically.
When decorating a home office, it is important to remember that the desktop does not have to be placed in a corner, as we are accustomed to, but it can be moved to the middle of the room even in a very small room.
The fourth interior decor trend in 2023: Partitions
The fourth trend in the interior of 2023, which became a trend only due to the growing need for space zoning, is interior partitions.
We all are well aware of black metal loft-style frames that have been very popular in the last decade, but this year there is also a more classic look of partitions with embossed frosted glass and wooden frames. This type of partitions can suit everyone who wants to divide a room into two zones, not only visually but also functionally.
Glass is called fluts, it is less safe than ordinary tempered glass, but nevertheless it is insanely popular today and for many of my clients this year we have zoned the space and decorated kitchen cabinets with this particular type of glass.
The fifth interior decor trend in 2023: Wallpaper
The fifth interior decor trend in 2023 is wallpaper. The fact that the wallpaper is returning to us is no longer news for us, but it is interesting that it is the wallpaper with the plot that is returning.
I remember in my grandmother's house the walls were decorated with handmade painting, very skillfully and gracefully, and as a child I could spend hours looking at these curls and patterns. This type of wall decoration creates dynamics in the interior and tells a story!
There are a lot of options on the market today, you can buy self-adhesive wallpaper which is very easy to stick, like ordinary stickers and therefore also easy to remove. This option is certainly not for everybody, but it certainly allows you to show your individuality and, at will, have breakfast in the thickets of the jungle or on the shore of a reservoir near the rocky mountains.
The sixth interior decor trend in 2023: Kitchen shelves
Again, in connection with self-isolation, the sixth trend of 2023 appeared. After the global closure of restaurants, we began to cook more at home and, accordingly, our kitchens became not only decorative but also functional!
Open shelves in the kitchen are certainly not a new trend, but they are becoming more interesting and varied.
If in past years we allowed ourselves one, well, maximum two open shelves in the kitchen, then this year we are proud to display all our dishes and spices without fear of a terrible anti-trend called clutter!
Accordingly, the shelves have become much larger and the designs have become more diverse and interesting. These shelves can be easily assembled by yourself – by changing the hanging cabinets hanging over your head.
The seventh interior decor trend in 2023: Authenticity
The year 2023 moves our interiors further and further away from asceticism, we want to surround ourselves with objects dear to the heart, and therefore if earlier we easily and relieved threw out the old grandmother's chest of drawers, as if getting littered, today we will restore it and turn it into something unique.
Home decor began to take on character, history and authenticity! We want to turn the house into a mini-museum filled with unique art objects, non-standard consoles, pedestals and lamps.
Decor items are becoming objects of self-expression rather than a functional necessity.
"True craftsmanship is eternal, it is passed from generation to generation and not replaced by new trends."
One of the advantages of this philosophy is that by giving preference to things that will last for many years, we care not only about our budget, but also about our planet on which our generations will live. Excessive consumption has turned our planet into a big dump, therefore,  sustainable, conscious design is becoming a top priority for the whole world.
Eighth interior decor trend in 2023: Mix of styles
Eclecticism, mixing and combining different styles is also far from news to us. We have ceased to adhere to any strict rules and styles, a modern lamp can stand on an antique table. Chairs at the same table can belong to completely different styles and eras.
I would even say that keeping the interior of a house in the same style today is perceived as an anti-trend, but I talked about this in detail in the video about anti-trends. So do not forget to subscribe to my YouTube channel where I share with you new products and trends in the world of interior design and, even more interesting, my many years of experience as an interior designer.
Decor items become more an object of self-expression than a functional necessity.
The ninth trend in the interior of 2023: Acid posters
In stores, bright colorful posters of pop art or pin-up style began to appear, again styles of the sixties, the period of the denim revolution.
Contrasting color combinations, acid flashes that become the focal point of the interior, attract attention and dilute the monochrome. Moreover, modern designers even manage to combine pop art paintings with Victorian decor, a bold and unique solution in itself.
So if you are bored with your interior, feel free to buy a huge bright and cheerful poster and if it already fits into the Victorian style, then it will definitely fit into your interior.
The tenth interior decor trend in 2023: Color Trends
1. Monochrome
Color solutions are very clearly divided into three types – monochrome, eclectic and fusion. Warm natural shades of earth, wood, clay, powder, flour have replaced the gray shades of fog and concrete this year. Warm monochrome has been a favorite of modern interiors for several years.
A darker accent palette is built on the basis of a white, milky color. This is an ideal option for lovers of minimalism: we get a warm and cozy interior, while it is not overloaded or overworked with color saturation.
2. Eclecticism for the minimalist
The second color scheme is eclecticism for minimalists. On the one hand, we do not limit the color palette, but on the other hand, we reduce the amount of decor and select the most simple and concise furniture and accessories.
The background in these interiors must necessarily be one of the neutral shades – white, black or gray. And the rest of the colors must be of the same saturation (the same level of brightness and saturation). Then it turns out to be a rather moderate but at the same time lively and cheerful interior.
3. Fusion
The third trend in the interior of 2023 is fusion, a fusion of cultures, traditions and styles. Extraordinary solutions for combining absolutely opposite colors in one interior. This style is far from being as simple as it seems, not everyone can feel the fine line between style and bad taste.
This colorful and cheerful interior is very pleasing to the eye, but literally in a couple of hours I want to run away somewhere and give my eyes a rest. These interiors look very exotic on the covers of magazines, but not everyone can be in them every day.
Trending furniture in 2023
Rattan
Rattan furniture is still in vogue, an environmentally friendly and natural material that retains the warmth of handmade, many of us associate with the warm south, straw hats and golden sand.
Today's market is overflowing with baskets, lamps, mirrors and assorted rattan furniture. But do not forget that this is a living material with character and over time it loses its shape. This is a very beautiful, graceful material, but unfortunately not durable.
This is my personal experience, but if your rattan furniture remains in the same shape as when buying after 5 years, be sure to share your secret. Maybe there is some special way to care for rattan furniture, but we do not know about it. Be sure to respond in the comments!
Twelfth trend of 2023: Brown color
The fact that brown and all its shades are the main interior decor trend 2023, I think it will be superfluous to say, since my  last three videos are devoted to this particular color and all kinds of color combinations of this color in our interiors.
Many of you ask me:
– "What will be fashionable in the interior in 2023?"
My answer is simple, choose what warms your heart!