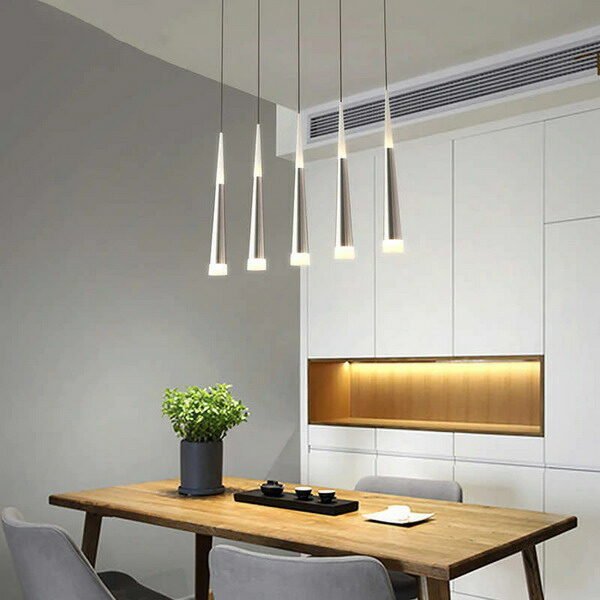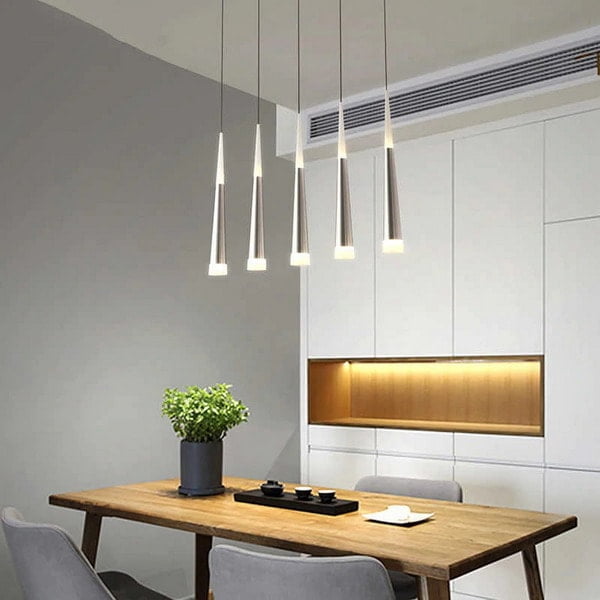 Light sets the tone for the interior and is a designer's tool for creating a comfortable space. What lighting design trends will be relevant in 2023.
Sustainability and natural motives
Eco-style also touched the lighting design. This trend extends to natural materials from which lamps are made: wood, glass, fabric, bamboo, imitation paper. Practically all forms and interpretations are popular, for example, metal bulbs on a wooden mount, natural stone chandeliers, light compositions made of frosted glass and wood.
The trend can be expressed not only in material, but also in form: chandeliers in the form of branches, floor lamps with graceful leaves, wall lighting with glass in the form of drops.
Example: Moebius lamp. The pendant model has a working front and back surface with built-in LED strip and satisfies the need for lighting from all directions. The structure is made of acrylic and bamboo, a complex shape is obtained in the process of thermal bending.
Simplicity of shapes
Minimalism, order and rational use of space also affected the interior design. At the peak of popularity, clear geometric shapes. Laconic lamps in the form of a ball or cube, compositions in the form of a cone or spiral can be placed in a row or hung in a picturesque manner. Horizontal lighting panels will dilute the design and give it individuality.
Interesting shape, texture, materials – no unnecessary details. Such models are suitable for almost any design.
Basic shades will be win-win: white, black, brown, gray. You can combine this trend with the previous one and choose lamps in the colors of honey, olives, sand, sky, conifers. Bright, accent shades also look great.
Example: The emphasis in a small table lamp is not on visual appeal, but on the lighting control itself. The user can control the light intensity, adjust the upper light beam using a diaphragm, just like on a camera. The light's simple shape helps focus on pure function.
Bubble Hanging Spheres
This trend in interior lighting has persisted for many seasons and is found in the collections of many brands. Ball luminaires can be made of transparent, translucent or even opaque material: depending on the task and area of application.
They are used as night lamps, full-fledged chandeliers, cascading lighting. It is a good idea to install regular round bulbs. This echoes both environmental friendliness and simplicity of forms.
Transparent shades
Another trend of recent seasons is glass shades. They can be easily combined with other luminaires.
Chandeliers art objects
If you want to add an eye-catching detail to the interior, a designer chandelier is perfect for this. She can be very active, but if the rest of the space remains discreet, the balance will be observed.
Black color
Black is the design trend for the 2023 season. Matte black floor lamps and sconces are best used in monochrome interiors in combination with light shades. A black chandelier will stand out favorably against the background of additional lamps in white, beige or cream shades.
Brass
This material and references to it continue to be at the top. It is found in dressing tables, vases, clocks and other decor, in plumbing fixtures and, of course, in lamps. If you want to add relevance and a little luxury to the interior, this is a great choice.
Interspersed brass makes the space warmer and more comfortable. It looks nobler and more interesting than the usual gold, silver and ordinary metal. Also, this trend will look great both in the Empire style and in the Scandinavian style. Brass chandeliers, cast in gold, recall the luxurious life of past generations.
The coverage of 2023 should be varied. Adjustable lighting devices are relevant, which can be directed to the area of the room that currently needs lighting most of all.
In addition, traditional ceiling chandeliers and floor-mounted fixtures are used. They allow zoning and highlighting a particular place in the space of the room. To achieve the latter goal, floor lamps are also actively used.
In modern interiors, 2023 lighting can be organized with halogen lamps. They are mounted in a suspended or suspended ceiling. For the installation of such lighting devices, special metal structures are also widely used. They will look perfect in a loft-style design.
You can combine different types of lamps: chandeliers and floor lamps, pendant lamps and sconces. Completely different combinations are possible. If you place a lot of lighting fixtures around the perimeter of the room, you get an original composition.
Lighting design goes to the next level. Lighting devices that can be controlled according to preferences are in fashion: adjust the brightness, choose a color from muted evening to extremely bright, like in the office. Modern lighting trends 2023 can be provided by LED bulbs that outperform conventional incandescent bulbs and save energy. LED lamps embedded in the false ceiling will fit into the interior of the kitchen or bathroom.
For the interior of a studio apartment, an interesting solution would be zoning lamps, dividing the room into separate zones. These can be floor lamps, floor-mounted lamps, light panels.
Let's take a closer look at different types of lighting fixtures and trends in their lighting design.
Chandeliers
All modern ceiling chandeliers can be divided into two types depending on their design.
Those that are located directly under the ceiling. They differ in compact size, laconic design – more often they have one large shade or several small ones. Ceiling fixtures don't give a lot of light, but if the room is small, take a closer look at them.
Suspended. Most Popular. Pendant lights are attached to the ceiling with a suspension – a cord or string. They have one or more shades. Chandeliers do not belong to technical lighting, but to decorative, design.
Geometry. One of the hottest trends is geometry without unnecessary details. Chandeliers of different and slightly unusual shapes will perfectly complement even a calm interior.
Lines. The most minimalistic design. Products made of warm metal and more graphic matte in black and white are relevant.
Cascade. Especially suitable for large spaces that want to add more lightness.
Spheres. This is a single ball-shaped shade or whole groups that create compositions of lines and geometric shapes. Models with balls are relevant in modern and minimalist designs, as well as in neoclassicism with a bias towards a more modern style. Both one minimalistic ball and a scattering of transparent glass spheres look advantageous.
Rings. The ring can be one or more, intersecting with each other. Any execution is actual: both metallic cold color, and decorated with glass and crystals.
Retro. Lamps in the style of the 50s and 70s are at the peak of their popularity. Classic-style chandeliers with a lot of plastic and glass decorations are much less common in trendy interiors.
Wall lighting
This type of luminaire is more of a decorative function. They create soft diffused light, which is relevant for transition zones and rooms where a relaxed atmosphere is desired. Wall lighting perfectly emphasizes the relief and texture of the walls.
Trends: brass, especially on pure white, accent or raw wall; simple or natural forms: square, drop, sun, leaf and others; basic luminaires with controlled tilt angle and directional light.
An alternative to wall lighting would be conventional lighting. It will allow you to save money and avoid additional accents in the interior.
Floor lamps
One of the favorite types of lighting among designers, it completes the interior and adds coziness. Recently, they have become independent and bright elements in space.
If you are not ready to turn a floor lamp into an art object like a chandelier, pay attention to laconic forms in basic colors or brass. A floor lamp made of fabric of natural colors, straw will decorate the interior and make a reference to environmental friendliness.
Desk lamp
Table lamp trends overlap with other types of lighting: strict geometric shapes; white, black or brass color; a reference to the 50-70s; spherical shape. Such lamps will be combined with any interior style.
LED lighting
This type of lighting is gradually losing its position. More relevant now is classic light.
The advantages of LED lighting include: maximum brightness immediately after switching on, lower power consumption, heating of the elements does not exceed 40 ° C, service life: about 100,000 hours.
Chandelier trends 2023
Light plays an important role in how comfortable housing will be. And although modern design projects often get rid of central light sources, preferring point or even backlighting, they are still relevant. And we are talking here not only about the applied sense, but also about the aesthetic. What are they – fashionable and modern chandeliers 2023, what trends and tendencies can be traced in the proposals of the design bureau? Let's take a look and analyze the nuances for different types of premises.
Living room
Traditionally, in the living room (or in the hall, as it was called in Soviet times), the chandelier was the center of attention. Czech crystal, retro motifs, futurism in the spirit of the 60s and 70s – everything was supposed to show the guests the tastes of the hosts from the best side. With the change of styles, all this is gone, the design has become more monotonous, but now we are seeing a return to the same crystal, glass and even wood, but in a modern interpretation.
In 2023, in a living room made in a modern style, trendy chandeliers are not necessarily complex geometric shapes – in past years, multi-level ring lamps were popular.
Crystal pendants are suitable even for high-tech interiors, wood is used in many eco-directions, and textile shades are more likely to be lost in boho, and in Scandinavian minimalism, on the contrary, they will focus on themselves and soften the "sterility" of the style a little.
Light in the living room in eco style
Chandeliers for eco-styles in the living room are recommended to be selected from natural materials – paper, wood, fabric. They should be noticeable and can be a full-fledged sculptural composition – even if it is a simple snag or antlers, their lines should be harmonious.
WHAT IS THE BEST WAY TO PLACE SPOTLIGHTS ON A STRETCH CEILING?
Stretch ceiling coverings are no longer a luxury today. This is a convenient and practical way of finishing, the price of which is justified by the ease of installation, operation and long service life. The advantages include the possibility of implementing a variety of lighting schemes. How to arrange spotlights on a stretch ceiling so that they work most efficiently?
Bedroom
The trends of modern fashionable chandeliers in the bedroom in 2023 are as follows:
calm;
air;
detachment from the outside world;
unclutteredness;
simplicity.
This room is a real refuge from the challenges and hardships of the outside world, of which there have been more and more lately. Psychologists recommend giving preference to floating rounded shapes, and eliminating all sharp corners – they negatively affect the nervous system and do not allow you to fully relax.
And here it is very important that the lamps harmonize in front of them and, unlike the living room, do not draw attention to themselves. Remember: the chandelier is the first thing you will see in front of you when you wake up.
Minimalist bedroom
Increasingly, these rooms are choosing a minimalist style. On the one hand, it is as impersonal as possible, on the other hand, individual details stand out favorably against its background. But not a chandelier – in 2023, bedrooms in fashion to meet the requirements of the interior are dim in colors, but interesting in shape, designs – for example, clouds, pendants made of paper figures, paper screens. Thanks to such plafonds, a pleasant diffused light is obtained that does not hit the eyes.
Kitchen
Let's be honest – in most apartments these are very small rooms, if this is not a Euro format (and here we already need to talk about zoning). Therefore, modern chandeliers for the kitchen, which will be fashionable in 2023, should be very compact, but give maximum light.
Many designs involve open light bulbs aimed at or parallel to the ceiling – if they are directed downwards, then only the middle of the room will be well lit.
Another version of the popular ceiling lamps is Chinese paper lanterns made of light paper. They are mounted close to the ceiling, and a strong LED lamp provides enough light to evenly dissipate across the ceiling. Note: the best effect is given not by spherical structures, but as if flattened.
We take into account zoning
Kitchens combine many functions, so you can't do without additional lighting with one chandelier – you definitely need sconces in the recreation area, lighting work surfaces. Placing a small low chandelier above the dining area is the best solution.
In the coming year, designers suggest using geometric shades with open lamps, as well as in the form of fancy glass structures (for example, melted from bottles). It is clear that this is not about the main light, but about the illumination of the functional area.
Fashion trends and trends of modern chandeliers in 2023 are courage, openness to new ideas and at the same time respect for traditions. Lamps can both fit harmoniously into the interior, and set the style of the whole room with brightness, dissimilarity.
Lighting trends 2023
The main lighting trends 2023 will surprise you with their versatility. You can easily apply each of them, and it does not even require special courage. And all because the lighting trends 2023 are based on eternal interior values – functionality, elegance, simplicity and naturalness.
So, let's see what kind of lighting is relevant in 2023, and which lamps you need to choose to give the interior a stylish modern look.
Trend #1: Art Deco Lights
Designers offer to return to the past, or rather to the 30s of the XX century – the heyday of the Art Deco style with its glossy sheen of metal and mirror surfaces. Plafonds of clear and frosted glass, an abundance of gold and brass, modernist shapes and unexpected design twists – this is what an average art deco lamp looks like, designed to give the space an unobtrusive chic of luxury and glamour.
Metal elements in the design of fixtures have an interesting property to visually increase the value of the interior. Hang a chandelier and a couple of art deco wall lights in the simplest and most uncluttered room, and an ordinary living room will instantly turn into a spectacular hall like from the Great Gatsby movie.
Trend #2: Black accents
To add personality to the space, complement the interior of neutral basic shades (beige, gray, white) with elements of black light. Black can be both decor (paintings, vases, wall panels), and lamps – a floor lamp, table lamp, chandelier or wall lamps.
Black elements emphasize the contrast of colors and give the interior the necessary depth. By adding even, a couple of black touches to the space, you will be surprised how much your room will be transformed.
Trend #3. Unusual lamps and floor lamps
In 2023, designers recommend using lighting devices not only for their intended purpose. Now lamps and floor lamps should not only carry out their main function and illuminate, but also surprise, because from now on they have a responsible mission – to arouse admiration – with their design and possibilities for distributing light fluxes. Therefore, feel free to buy unusually shaped lamps and watch the reaction of guests at the first glance at your personal home art objects.
Trend #4. Biophilic design
The main trend of recent years is the course towards environmental friendliness and the use of natural motifs in design. These are mainly lamps with plafonds, lampshades or elements made of natural materials (wood, paper, linen, rattan, cork), a natural palette of colors (all shades of earth, stone, greenery, sky), shapes imitating natural objects, and an abundance of greenery. One of the latest hits is pendant and wall lights with built-in planters that can accommodate live or artificial plants.
Trend #5. Spots instead of a chandelier
More and more designers and owners of studios with low ceilings and atypical layouts prefer spots that successfully replace chandeliers in modern apartments. Do not think that the spot is necessarily something simple and concise.
Trendy spot models look stylish and original and have a number of advantages. They do not burden the space, provide full lighting and are installed on any type of ceiling, including suspended and suspended structures.
Thanks to the movable bracket, the light flux is directed in any direction, which is very convenient. You can control the lighting in the room yourself, creating a suitable lighting design depending on your needs.
Also, an indisputable advantage of spots can be called their low cost compared to chandeliers and ceiling lights.
You can buy fashionable chandeliers, sconces, spotlights, floor lamps and table lamps that will be relevant in 2023.