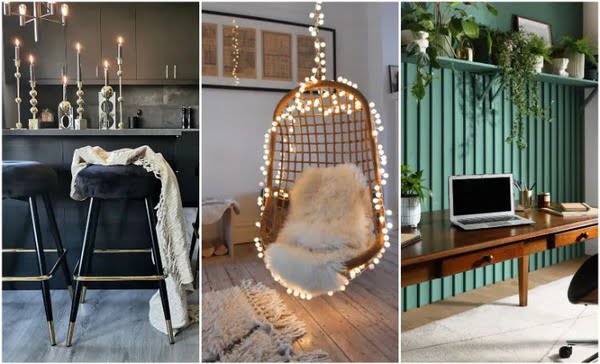 Like every year, Pinterest unveils its small ranking of decorative novelties that will mark the next twelve months. In its report published this day, the platform predicted the interior design trends that will prevail after the holiday season. So what will your house look like next year? What's the coolest 2023 Pinterest decor trend of all? And how can you easily adopt it at home? Indecortrends.com tells you everything on the subject! Focus!
Pinterest reveals the 12 decoration trends that will dominate 2023
It's not just clothes, makeup and recipes on Pinterest, there are decor trends too. In fact, the social network turns out to be a real gold mine when you are looking for an idea to revamp your interior. It is therefore not surprising that the photo-sharing site has fun every year predicting the major themes in decoration, beauty and fashion that will mark the months to come. And after the platform's old predictions turned out to be correct last year, we inevitably decipher the major trends in interior design that will make 2023. Here are 12 inspiration that will delight all decoration enthusiasts!
Rounded furniture
The first 2023 decoration trend that we will see everywhere according to Pinterest concerns the choice of furniture and accessories. No more square interiors with perfectly sharp angles and straight lines, generally prized for optimizing space. Next year will be placed under the sign of curves and curves. So prefer furniture with soft lines and organic patterns: rounded sofa, round wooden coffee table, glass ball lamp, curved chair, half-moon bar table, curved central island, round wall shelf, etc. In short, the more round, the better!
Smart facilities for your pets
Do you have a puppy or a kitten and are you ready to do anything to make them happy? Spend a lot of time with him, give him some homemade treats, buy him toys… there are many ideas for pampering your pet. But in 2023, we are redesigning its interior to create a chic space perfectly suited to the needs of our little furball. Niche built into the wall, designer litter box, playground, dog shower, laundry area, here are some of the decor ideas that will be a hit next year for your pets to enjoy a way of life. quite pleasant.
Gothic style
It's official: the interior decoration in 2023 will be cool and goth! Often associated with the image of the skull, the Gothic atmosphere will be a hit next year. But frankly, this is not a new style. Black wallpaper, dark furniture, brass accessories… many are the decorative elements that we already know and that we find in the Gothic interior. If for centuries, the latter rhymed with sadness, fear and mourning, in 2023, he will prove to you how attractive he can be. This style which has as many worshipers as detractors is on the verge of regaining its letters of nobility, which will allow some (s) to finally fall under its spell. And the room that will benefit the most from the new decor trend according to Pinterest will surprisingly be the kitchen! The space where we simmer our favorite dishes is therefore seduced by the Gothic aesthetic by dressing in black. Despised yesterday, the black is back in force to revamp the greedy room (and not only). All you have to do is adopt it!
Biophilic design
After two years spent under the sign of teleworking, workspaces have largely reinvented themselves. Many interior design trends have emerged to change and improve our living space. This is particularly the case with biopholic decoration! What's this ? For those who have not yet consulted our articles on the subject, biophilic design literally translates to "love of life" (bio, life, and philia, love). Invented by American biologist Edward Osborne Willson during the 1980s, biophilia seeks to re-establish contact with nature by creating healthier living and working spaces. And while teleworking is gaining momentum, biophilic decoration is set to become the norm in 2023. From the living room to the bedroom, including the kitchen and the office, it is everywhere.
Decorative trend 2023 Pinterest: the checkerboard invades your interior
Whether you like it or not, the checkerboard print invites itself into the contemporary interior. After having squatted the podiums and invaded your dressing room, it was only a matter of time before seeing the black and white tiles make their comeback. in decoration. In 2023, the checkerboard will dress the floor as well as the walls. It is a regular alternation of squares of two colors. Usually it comes in all colors, but its most striking illustration is the black and white checkers board, and with good reason! The checkerboard is the most common and the easiest to match in decoration. Unsurprisingly, the best-known application of this pattern is found on floor coverings, especially tiles. However, the wall covering also offers beautiful variations. In short, in 2023, the decoration trend according to Pinterest will be black and white checks. Hottest motif, okay, but in which room? A matter of taste, it invites itself everywhere. As a splashback in the kitchen or as a tiled floor in the bathroom, it's up to you!
Luxurious spaces
Need inspiration for your interior? Thanks to the luxury decoration, each room will be enhanced in 2023. Kitchen, children's room, dressing room, laundry room or luxury garage, why not? The forgotten corners of the house are transformed in no time? But how to adopt the new 2023 decoration trend according to Pinterest without breaking the bank? We know them for their collections of clothes and accessories, but the fashion giants Zara, H&M and Sézane also turn to the world of decoration and we love the products they offer!
XL wall clock
How to revamp your walls in 2023 without spending too much? Wallpaper, wall of picture frames, shelves, climbing plants… no! The Pinterest report is unanimous on this point: THE decoration trend will be watches and XL wall clocks! Some of the most popular searches on the platform include:
stylish clock
watch collection
trendy watches
XL clocks
wall clocks
large ornament clocks
Rococo tableware and tea corner
After the bar corner, the coffee corner and the reading corner, it's tea time. To adopt this trend, Pinterest advises us to invest in beautiful rococo porcelain or earthenware crockery, chic teapots that throw in it and beautiful dessert cutlery. Among the most popular searches, we also find:
hot tea bombs
single tea cups
tea accessories
vintage tea party
Fun and creative decor
Fancy a playful and creative interior? Pinterest reveals some inspiring ideas to relapse into childhood through your decorative elements, your furniture and your activities at home.
quilts for adults
indoor swing
indoor games for adults
fairy adult bedroom
DIY deco for adults
Anti-stress areas
Overcome stress and negative thoughts simply thanks to the interior decoration, what do you think? We therefore have the great pleasure to present you the "emotional" pieces, another decoration concept predicted by Pinterest that we love. The idea? Arrange and decorate a room according to the emotions you would like to feel. We therefore no longer seek to blindly follow current trends. We succumb to the cozy and cocooning spaces, to the meditation and reading corners, but also to the rooms where we can free ourselves from stress. Some popular searches to consider:
musical hall
anger room
reading room
home massage room
massage table
sofa confy
anti stress candle
acupressure mat
lithotherapy chamber
Ancient Greece spirit decoration
Another 2023 decor trend at the top of Pinterest searches is the Ancient Greece-style aesthetic. When the old inspires the new, the interior is transformed in a chic and surprising way. Antique statue, Aphrodite-style wallpaper, golden decoration, Corinthian column carved in stone, antique poster are just some of the decorative elements that are particularly popular on the platform with research exploding at more than 60%. There is no doubt that the Greek atmosphere will be in the limelight in 2023.
Pearl effect
In 2023, we will also succumb to the iridescent decor. Mother-of-pearl floor tiles, pearl white wallpaper, satin wall paint, mother-of-pearl decorative items… pearl decoration will be everywhere and we don't mind!