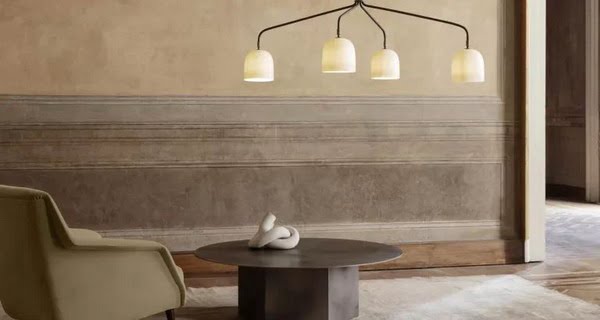 Lighting trends are the trump card of the world in interior design, which he hides up his sleeve. Light up a room with one simple light bulb and it will look bright, with a distinct lack of atmosphere. But consider the "layers" of lighting and all possible options, and you have a winning room scheme. Floor lamps, wall lamps, table lamps are just a few of the many options available when putting together a grand new lighting design scheme. How to choose the right one? Of course, you need to look at the promising lighting trends in 2023.
It's time to shed some light on this comprehensive roundup of the new interior design trends of 2023. With a vibrant selection of new lighting showcased at the recent SuperSalone Milano, London Design Festival and Decorex International. The most stunning lighting effects on the interior market. We dare say that all these trends are in the spotlight.
What Are The Lighting Trends For 2023?
1. Floor Lamps From Metal And Marble
These thin floor lamps, invisible to our eyes, embody elegance and charisma. What are two other things to note besides their small appearance? Well, marble and metallic finishes – both of which also make a big difference in trends – are what makes these floor lamps stand out so much. They all flow into the interior and you attract a lot of attention.
Why should we look for floor lamps that include marble or stone as well as metal parts? Marble is a beautiful and durable material that designers love to use in their projects. Particularly when combined with metal, it gives a very elegant look to your home – really enhances the space.
The popularity of elegant floor lamps is on the rise as we head into 2023 with a notorious abundance of these standout designs seeping through the plethora of brands and design houses. Notice the design like the Vima floor lamp by Bert Frank.
2. Art Deco Forms
It's safe to say that Art Deco has certainly never gone out of fashion over the past decade. It's now distinct, sleek, and potentially old enough (of course, we mean that in the most respectful way) to be described as a "classic" look. However, while we've seen Art Deco lighting styles in the interiors market before, we haven't seen it like this yet. Less glitz and glamor in these new pendants, all of these new pendants draw on the finer details of 1930s Art Deco: a soft scalloped edge, a hint of marble.
There is always a sense of nostalgia when it comes to design, and there are certain eras that we like to return to more often than others. And in this case we are talking about Art Deco. Art Deco is one such style, why? Because he provides endless sources of inspiration through his signature silhouettes, materials and colors.
3. Jagged Edges
What to look out for in 2023? The cool softness of the scalloped edges, as seen in the shade. These soft curves are not for show, but to be stylish and blend with your design details.
The joy of this trend is that it fits in well with current living room trends while remaining understated (but overall chic). One of these shades will look good almost anywhere in the house, above the dining table, in the hallway or even the hallway. We love a lighting trend that claims to be "everything" and can instantly update a space that might be overlooked for whatever reason.
4. Handmade Pendant Lights
Thanks to Covid, society as a whole is showing much more interest in handicrafts and crafts. If you haven't taken up sewing or crafting yourself, then you've probably watched it on various TV shows.
The effect of this renewed interest is that now we all obviously want the things we buy for our homes to have more value: looking for a handmade option, knowing the manufacturer who created or produced the item, instead passing it on to the next generation. Perception of an element as having a short life cycle. All of this matters now as people make interior design and decor decisions based on sustainable lifestyles. Surprise! You can even see this starting to show up in lighting design.
It's our absolute favorite of all the new lighting trends right now and honestly we think it's very durable and versatile.
Not only will you support the craftsmen by purchasing this lighting trend, but the result will be absolutely stunning, referring to "soul and warmth" as characteristics of such products, among other things.
Pay attention to this plafond. This tasteful looking lamp is – believe it or not – constructed from recycled banana peels, with a bronze frame. It is characterized by "thin lighting". Say no more. It's a luminous everyday vibe, a soft addition to your kitchen lighting ideas.
There is also real diversity on the market. Pay attention to such options that are handmade from paper, rattan and bamboo.
5. Space Age Table Lamps
Like the scene in Star Wars, all of these parts of the lamp show something slightly obscure, but a nice visual design. They're not what one would immediately call beautiful, but they definitely have a sweet charisma, and there's something about them – one might say otherworldly. Your home office ideas are about to be taken over by something, not necessarily alien, but definitely "extra" in a design sense.
From designer to designer, it seems like everyone has space invaders in their head when it comes to table lamp design for 2023.
Join this trend if you want to brighten up a room. And, in fact, that's what all these little lamps offer. Who needs a boring table lamp anyway? Not to us. Forget the need to be so practical. Sometimes the trend comes down to being a little quirky and different – this is especially fun to incorporate into small bedroom table ideas in the form of items that can be used as fancy reading lamps.
All these little lamps are unabashedly outrageous, which is why we love them.
Pay attention to design details, including a glossy or lacquered finish, a beautiful base and a striking hue that fits perfectly with current color trends.
6. Architectural Chandeliers
Some may associate the word "chandelier" with the image of shiny glass pendant drops hanging from a decidedly decorative iron or curved brass handle (perhaps in a shabby chic castle?). Others may imagine a boudoir bedroom with overly high ceilings. By the way, all the wonderful and quite acceptable options for using a chandelier.
But stop. Yes, these types of chandeliers exist for those who are inclined to think so, but now – a new look for chandeliers hits the mood boards of our living room lighting ideas. Get rid of traditional curves and centuries-old details. These chandeliers are new, modern, truly chic, and are a great addition to modern glamour!
Chandeliers should be like the crown jewel of your home, but they don't have to be the main source of light. And that's what this new wave of chandeliers seems to embody – the feeling that they are as much about sculpture as they are as a practical light source. You can add other practical wall, table or floor lamp elements to support your lighting level.
You should try pairing one of these new sculptural chandeliers with lamps and wall lights for a great opportunity to add more glam to a room.
Try this new trend in sculptural chandeliers, such as hand-carved oak chandeliers by traditional British craftsmen that offer a light over the dining table or hung from a traditional rose ceiling, blending modern trends with classic style cues.
What Ceiling Lights Are In Trend?
The most fashionable ceiling lights are modern and sculptural chandeliers. They reinvent the classic shabby chic glass teardrop shade, creating something that looks like it's full of architectural wonder.
Modern chandeliers are more about space and form than refracted light. Glass drops disappeared, they were replaced by angular temples.
Out Of Fashion Kitchen Hanging Lights?
Kitchen ceilings have not gone out of fashion at all, although the traditional look of three industrial lanterns above the island has changed a bit. Instead of three separate lights, opt for one large ceiling light in the kitchen. He puts a lot more emphasis.