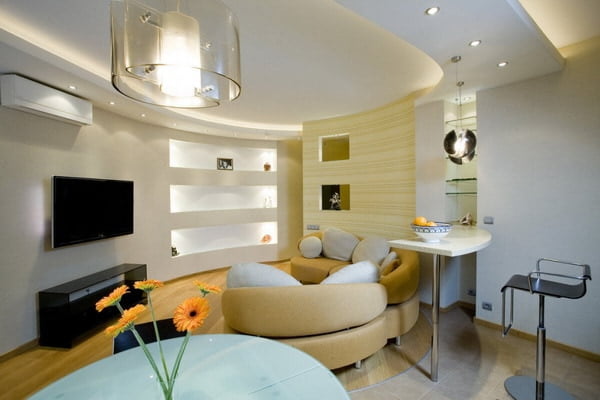 When starting to repair their favorite apartment, many forget to pay due attention to lighting, believing that this is the last item worth looking at. But mistakes in the design of light can turn even the most comfortable room, thought out to the smallest detail, into an uncomfortable room – because the atmosphere in the room depends on the correct location of the lamps.
Let's take a look at the main trends in lighting design for 2021/2022 and talk about the "light scenarios" that should make our life more convenient.
Making hidden light sources while paying attention to quality is one of the main trends. Today, there are LEDs that can achieve this effect. Bus and embedded systems are also gaining popularity. Lighting is becoming more functional, and the necessary accessories (lighting units, transformers, etc.) have become smaller in size. Thus, it became possible to merge lighting systems with architecture – you see light streaming from the side or from above, but you do not see its source.
Examples of hidden light sources:
Recessed fixtures – mounted in the ceiling space, only the outer ring and optical glass will be visible on the surface. Great for rooms with low ceilings.
Positional luminaires – are built into walls, floor or ceiling. Used to create the effect of blurry light in a room. Depending on the chosen location, a completely different effect can be obtained.
Multilevel lighting – makes it possible to integrate lighting devices into walls. Often you may not even notice that this technique was used, but the outgoing soft light you will notice for sure.
Floor lamps – perform the function of additional lighting, for example, as a night illumination in the corridor of the apartment or in the adjacent territory of the house. They also create light ensembles, emphasizing the light on the walls.
Hidden light sources will help to achieve the desired effect and atmosphere in your interior. They are great for emphasizing the architectural form, highlight, for example, the work area and so on.
Portable lights
Unfortunately, we will not arrive until the wires disappear completely. However, portable or desktop lighting without wires is already possible. Today, many manufacturers produce interior lights, for example, for a terrace or porch, working on a charge.
Light scenarios
This is a direction that has existed for several years, which promises to become relevant in the future. Lighting scenarios made possible by wireless technology. Now it has become possible to control the level and intensity of light using a mobile application. For example, you can give a combination of light sources and their brightness that is suitable for a child, or for a party with friends, or to create an evening intimate mood and so on. Technologies allow us to control the lighting in the apartment without getting up from the chair and using only the program on the smartphone. This is all light scenarios.
Within one room, several light scenarios can be created. When creating them, it is important to pay attention to the following points:
functional groups of light sources;
the use of several types of light sources: lamp, chandelier, sconce and so on;
location of switches, switches, dimmers and control panels;
the presence of touch control panels and motion sensors;
light parameters – the possibility of dimming, color temperature;
arrangement of furniture;
type of premises;
color palette of the interior;
natural light in the room.
The light scenario is also a detailed instruction for lighting and automation specialists who will install and configure electrical equipment. Even 1-2 decades ago, for the owners of the apartment, it was enough to have a chandelier in the room and a floor lamp near the chair. Up to six light groups are used in modern interior design, which led to the appearance of light scenarios.
Lighting Trends 2022: Trending Suggestions & Lighting Features
Comfort living
Comfort living is one of the main trends around which the future light design will be built. In 2021, the development of lighting technologies is predicted, which were already announced in previous years. For example, it is obvious that OLEDs (organic light emitting diodes) need to be developed, as this is not yet a stable technology. We can also see a new submission of old models – many manufacturers today seek to open new showrooms that will be created according to non-standard rules to perform ambitious tasks. An excellent example is the new Vibia showroom in Barcelona. Today it is one of the most extensive and unusual stores in Europe, where an architecturally thought-out room was specially created for each collection to emphasize the capabilities of the presented models.
Note, including the desire for customization of lighting, customization according to the wishes of the client – it is possible to choose the size of the lamp and its characteristics for certain tasks.
Many companies, on the contrary, go against the trends in technical light, releasing only decorative light sources. It should be emphasized that decorative and technical light can exist harmoniously, since the tasks that they allow to solve are always in demand.
Top 10 Popular Trends in Lighting Design
In 2021, there are several main lighting trends:
Geometric shapes – at the peak of popularity, lighting devices of regular shapes still remain: spherical structures, clusters of balls, honeycomb compositions, lampshades-cones, cubic shapes, polyhedra, as well as spiral chandeliers.
Combination of materials – incandescent lamps fixed with metal chains on a wooden base with a matte finish. This design fits perfectly into the eco-style.
Black color is a new trend in design. Lighting elements are popular, for example, chandeliers and lamps in matt black, combined with light sconces and floor lamps.
"Rustic" style – a composition in the form of a wooden wheel with wrought-iron "candlesticks" suspended by means of chains will help to dilute the modern and laconic design of the room.
Chandeliers in eco-style – today, designers pay great attention to light compositions made of wood and frosted glass. In the latest collections you can often see the use of wooden beads, lampshades from burlap, twine or rattan. Pendant lights made of frosted glass or fabric look interesting.
Horizontal light – protruding lights in a horizontal arrangement will fit well with the industrial style.
Pendant chandeliers are the hit of the season for bedroom design. Exquisite frosted glass lamps on both sides of the bed emphasize the design idea in the loft or modern interior, perfectly fit into the spirit of minimalism in the living room or kitchen. For country or chalets, pendants with woven lampshades are suitable.
Vintage compositions – the designers' love for vintage was also manifested in the design of ceiling lamps made of alloy and metals. Brass models, gold textures, aged surfaces are popular.
Colored glass – a chandelier or a colored glass lamp – is a work of art that creates unique and colorful lighting.
Sculptural fixtures – along with the growth of lighting technologies, the possibilities in the production of sculptural lighting elements also grow. Shapes can range from clouds and bubbles to artistic images.
This concludes our review of the main trends in light design 2021/2022. We wish you inspiration and manifestation of creativity in the transformation of space!