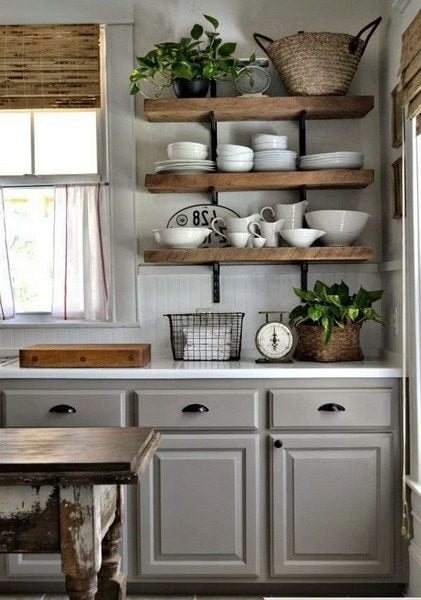 Choosing paint and decoration colors for a room can be a frustrating and time-consuming process when there are so many shades to choose from. When it comes to kitchens, white, gray, blue, red, yellow and green are very good options. Each of these tones help create a warm and cozy space.
If you are looking for color suggestions for kitchens, here we will show you a few ideas and photos of kitchen color trends that can be of inspiration.
White
Most people start their days in the kitchen, and the color white can really energize a room, making it fresh and clean. A completely white kitchen will wake you up the moment you enter it.
You can also add a touch of color on countertops, tiles or accessories such as chairs, lamps or tables.
Blue
Blue is another color that works well in kitchens. When light blue tones are used, they can create a clean and wide look, and it is recommended for both walls, cabinets or even the ceiling.
Dark blues also work well in kitchens, but it is important to dim the rest of the room with shades of white, gray or other neutral tones to avoid feeling too intense and dark. Blue is a toning color and works best when used sparingly, otherwise it can dominate a room.
It can be used in country style kitchens, vintage style, as well as ultra modern and elegant kitchens.
From greyish blue to light blue, through all its shades, blue is one of the most used colors in decoration and is also very popular in the kitchen.
Red
It is believed that warmer colors, such as red, stimulate appetite, making it an excellent choice for kitchens. Red is incredibly versatile and there are multiple shades that can be applied, either in cabinets or on walls.
Red and turquoise blue, a vibrant and cheerful combination. And what better place to use this combo than in a vintage-inspired kitchen that is so fashionable.
Some because they like old things, others for following a trend and others because they do not feel like spending expenses completely remodeling the kitchen (which is not a minor expense), the truth is that the vintage style continues to gain adherents and does not seem to go to go out of fashion soon. The black and white checkered floor as a chess board and the accessories give it an even more retro look.
Orange
Does your kitchen need a change to make it look more modern and cheerful? What color is your kitchen? Isn't it time to paint the walls with a more vibrant color? Why not consider the color orange?
Look for inspiration in the burnt orange tones, since they are the ones that are fashionable, the color of one of the favorite winter fruits of almost everyone.
You can use the color orange to paint the walls or if you do not dare to use it only in some details or for accessories.
Yellow
Like a sunbeam, yellow can instantly illuminate a room. It also has the gift of making people have an appetite, and it also has a calming effect and will instantly make people feel calm and happy in the kitchen.
It is a good option for small spaces, since yellow can make the rooms feel bigger and brighter, and combines well with white and gray details.
This kitchen is very simple, but very beautiful, all its grace lies in the colors chosen, a yellow for the walls, which gives vitality and luminosity to the space, white for the cabinets and accessories in turquoise and green that combine very well . The wooden table and countertop give warmth to this comfortable environment to be enjoyed as a family.
A very beautiful kitchen is decorated with the work of a plastic artist named Bobbie. The beautiful painting of the artist in this bright kitchen is an explosion of color and life.
Green
Green is also a smart tone to use in the kitchen. There are many different shades to choose from, including sage, mint and apple green, which combine very well with white and wood details. You can also try the dark bluish greens, which are very moa in today's city. A striking tone, you can add energy to the kitchen when used for an accent wall, cabinets, an island or even the floor.
A modern and fresh color scheme for this open and bright kitchen. The bright green color goes very well with white, natural wood and stainless steel.
The central module contains the oven and cabinets with drawers to the side of the kitchen and integrates with the living room on the other side with a glass bar and modern stools high in steel and wood.
There are infinite shades of green but the ones that are most seen lately are the green tones that have a high percentage of citrus yellow in their composition.
The green and white combination goes very well with the aesthetics of modern contemporary kitchens, where light wood is widely used.
Gray
Gray is a neutral that has been at the center of attention in many homes lately. It is often classified as too cold, but with the right tone, it can work wonders in the kitchen. Best of all, it combines perfectly with a wide range of other colors and can be the perfect base. It also works well as color in cabinets or countertops.
The kitchen forms an L, with a kitchen island that is used as a dining table. A place for unhurried meals, where lighting is easily dimmed with dimers, not only to promote relaxation, but to decrease the lighting on the faces of guests and bring attention to food. Without adequate lighting, even a spectacularly well designed room will appear flat and without interest.
A very functional kitchen island conveniently located next to the window, it serves as a cocktail bar for guests and also functions as a casual food space.
A couple of kitchen storage units, but instead of having traditional doors, it has glass that lets you see its contents.