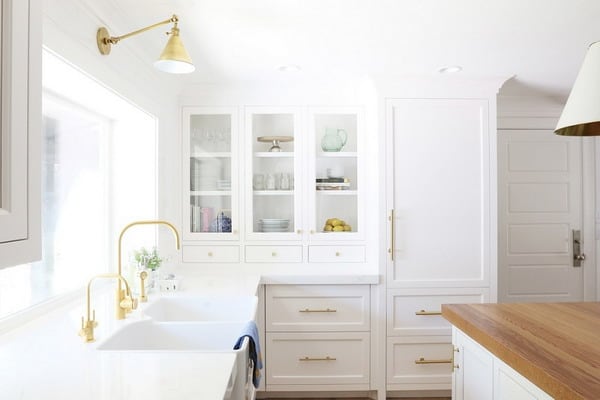 The all-white kitchen was among the most sought-after models in 2023 thanks to its clean, light and bright appearance. There are, however, many trendy options regarding the contemporary kitchen color and the right combination of shades adding a pinch of personality and a lot of freshness to your purist interior. Take advantage of the some artistic ideas below illustrating the right color for kitchen 2024 to marry pure white!
Kitchen color 2024 – white marble and monochromatic field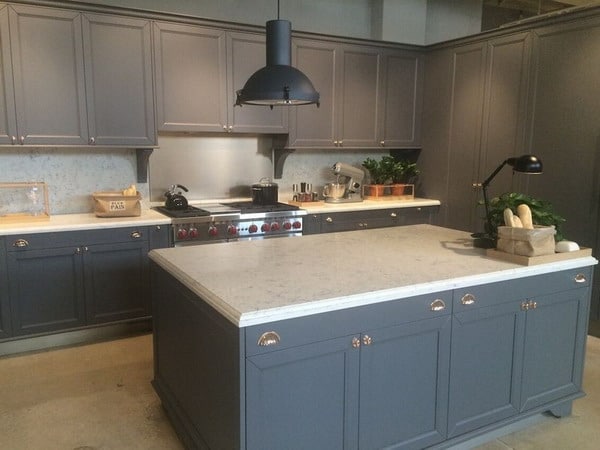 The monochromatic field was very fashionable in 2023 and it seems that this trend will continue in full force and effect in 2024. The taupe kitchen color, pearl gray and anthracite are just 3 of the many trendy possibilities in this sober spectrum. Opt for textural bursts of flooring, worktops, credence, or even light fixtures to create a visually appealing effect at great depth.
Trendy kitchen color – combine white with "hot" metals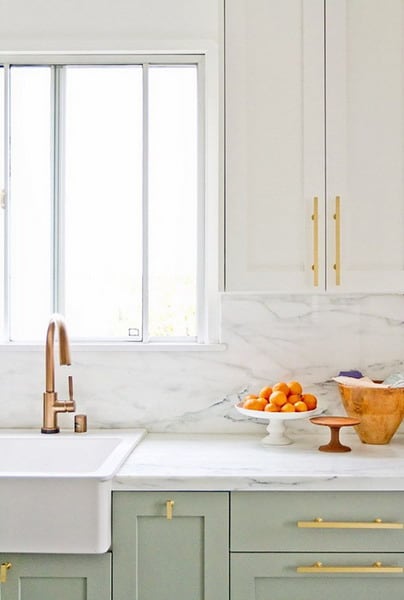 Of course, if you like the look of a white kitchen, but you want to get away from a sterile decor, there are subtle ways to do it successfully. Choose metal cabinet handles, lights, fixtures and fittings, but in the warm spectrum. Please choose the finish gold, brass, bronze, copper etc.
Poppy orange lacquered and matt anthracite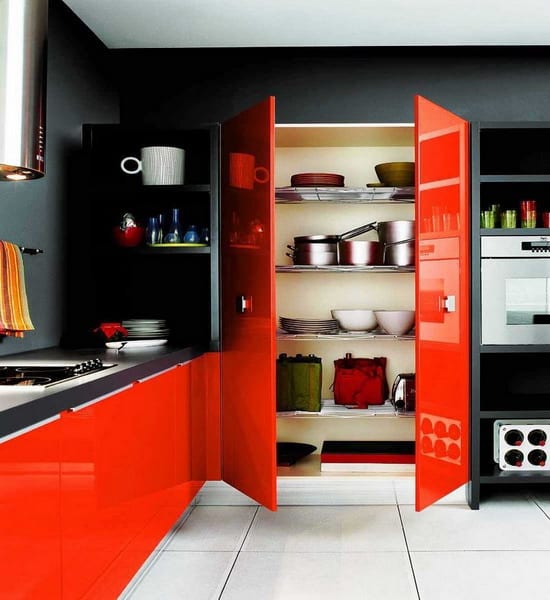 This is a striking combination of classic colors, seen through the prism of modern design. Red is replaced by orange poppy, while anthracite gray takes the place of black. The high gloss of the cabinet doors contrasts with the matte finish of the gray surfaces and further modernizes the space.
Retro-white spirit kitchen color, aqua & red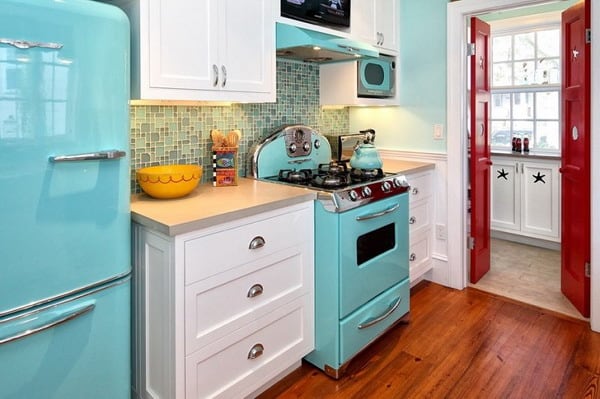 Frankly, the combination of aqua and red is not something that many people associate with modern kitchens . It's actually an allusion to the '70s, but since everything vintage is back, this surprising wedding can not miss our collection. The effect is super energetic, fun and welcoming at the same time.
Set of bold colors as accents – red and orange in the open kitchen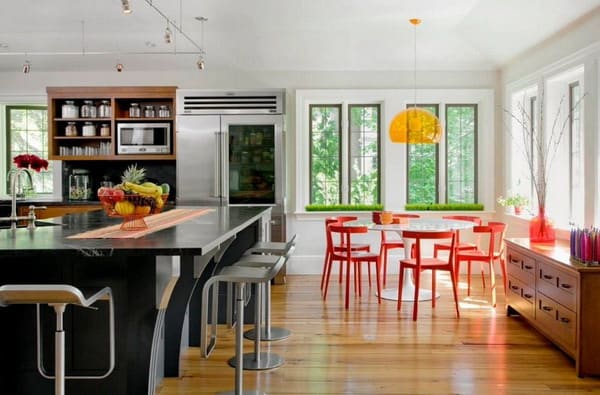 A bold kitchen color such as red, yellow or orange is not made for any contemporary homeowner. However, we can add touches of these tones, especially if it is a kitchen open to the dining room. The orange-yellow transparent acrylic pendant and the modern red chairs around the white tulip table are the highlight in this otherwise neutral and organic kitchen, created by LDA Architects (link at the bottom of the page).
Kitchen color to combine with white and light wood – aqua & chartreuse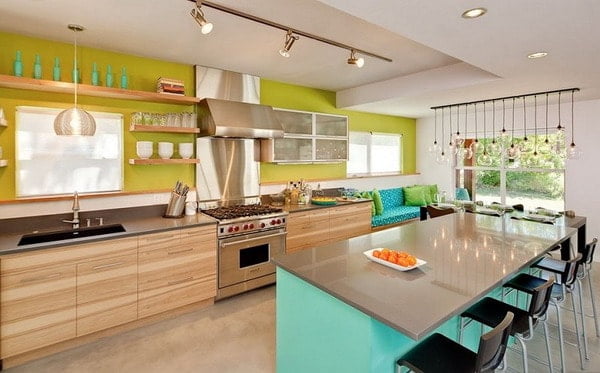 Whether it's chartreuse green, pistachio or goose-poaching, this yellow-green color of the spectrum energizes the decor and is an excellent choice as a kitchen color to marry to white! Add some light turquoise or aqua accents and you have an eye-catching interior that's unmatched!
Blue petrol, white and wood in the contemporary kitchen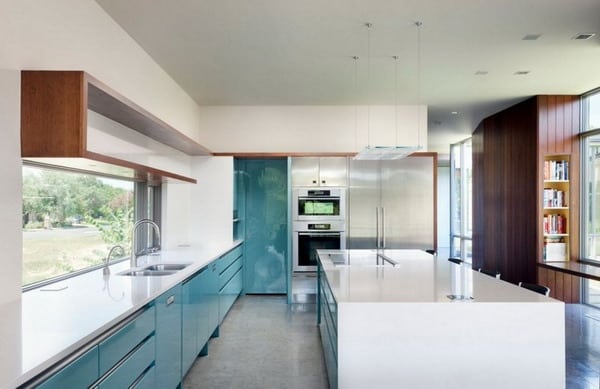 Yes, you are right, "wood" is not a color, but a material. In any case, it is no longer a purely traditional material, as it is more and more often found in the modern design kitchen. Teal, petrol blue and turquoise, among them, are among the most favorite colors in 2023 that will also continue in 2024. In this kitchen design by Alter Studio (link at the bottom of the page), we successfully married white to petrol blue, stainless steel surfaces with wooden finishes to obtain a bouquet of mismatched textures and fabulous colors.
Kitchen color 2024 – lime, anthracite gray & white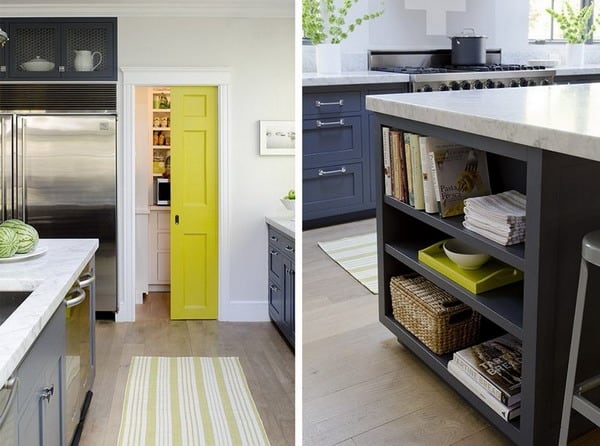 Adding a vibrant color to strategic locations can completely change the look of your kitchen without giving it a complete makeover.
Trendy kitchen color- sky blue, white and sand color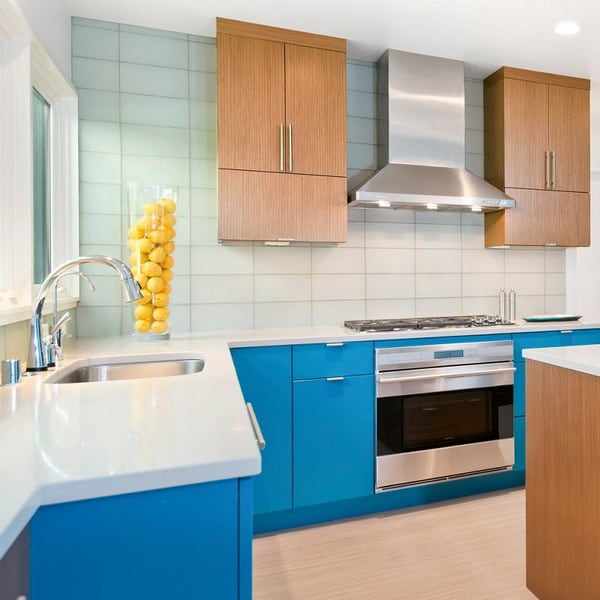 In this space, designed by Design Group Three, we see a vibrant and strong kitchen color, combined with several soft and pale shades – a good solution to balance the integral design.
White subway tile and burgundy cabinets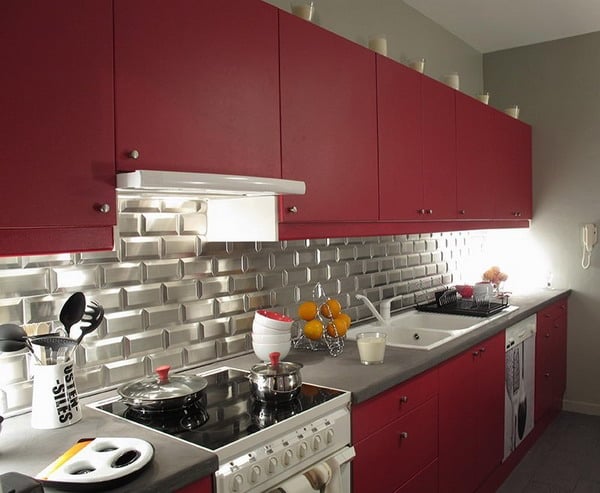 Combine the trendy white subway tile with the burgundy cabinet doors to create an aesthetic contrast. Alternate matte and shiny textures to energize and modernize the decor.
White kitchen with leather accents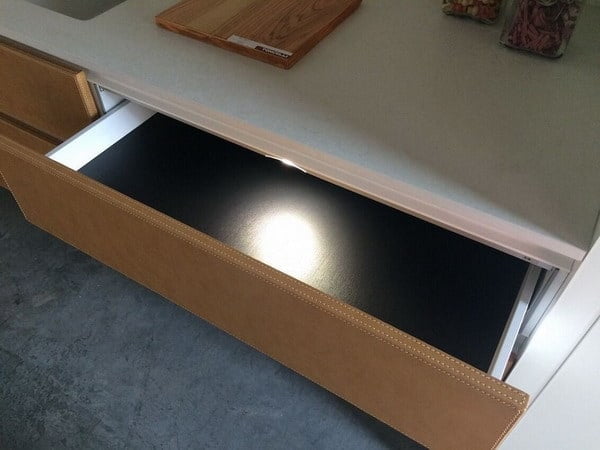 An alternative approach is to warm the white kitchen using another warm material such as leather. It can be used as a cover for the fridge, you can line the bar stools or cover a part of the front of the kitchen.
Namely leather = luxury!
In addition, cognac or chocolate leather blends with wood in matching shades. Namely leather = luxury!
Kitchen color 2024 – chartreuse and bleached wood on a white background
The chartreuse color, which has already been mentioned, is one of those retro-modern colors that is a true chameleon-it goes well with classic kitchens, but harmonizes as well in modern spaces!
Classic and modern kitchen color – white, orangey red and magenta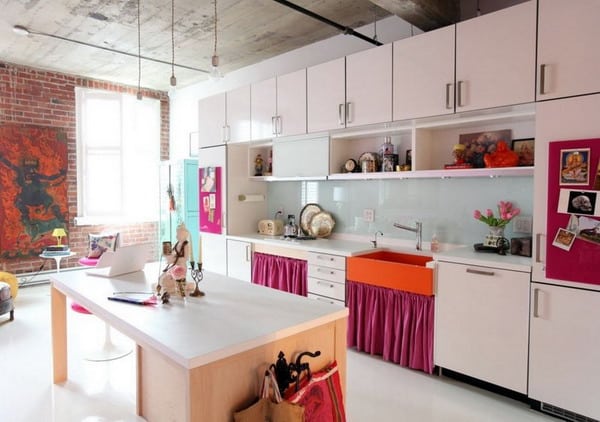 Plum color, sky blue and apple green by Slo Green Goods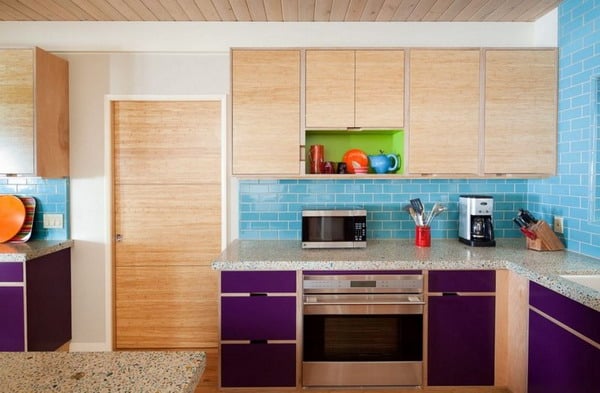 Color of kitchen 2024 to associate with the white – the lime green super fresh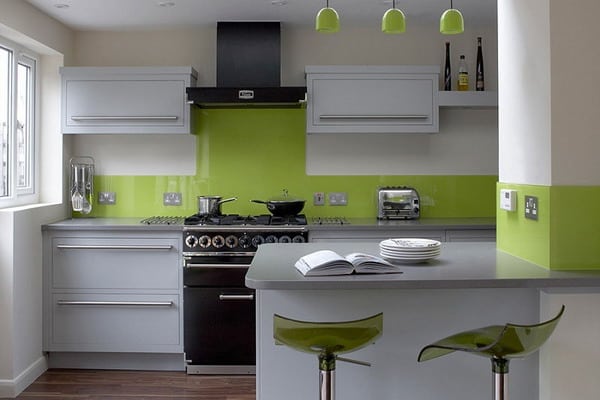 Salmon & White by De Mattei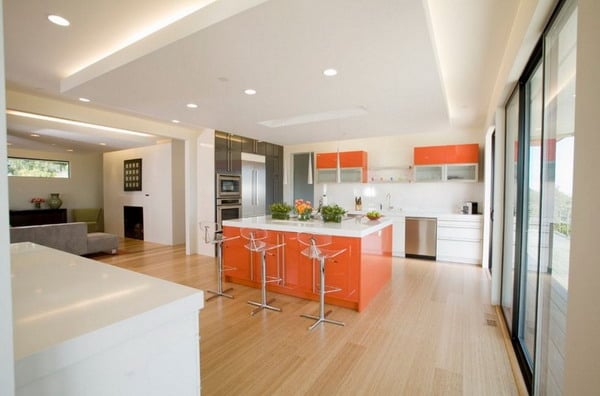 Kitchen color 2024 – fuchsia, white & light wood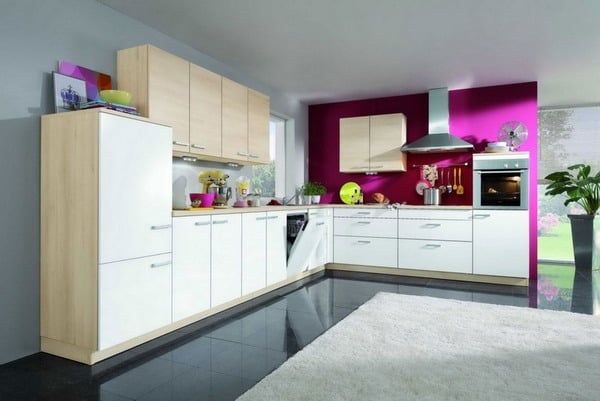 Ideas about the 2024 kitchen color to combine with white – red touches and blue shades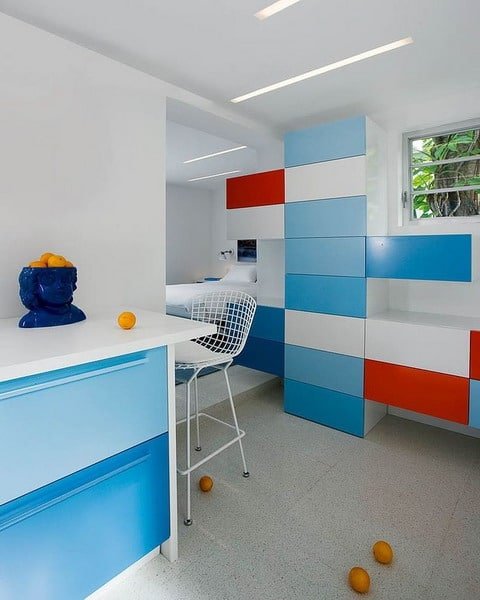 This combination of rich and warm colors by Robert Kaner Interior Design (pictured above) gives a super modern and teasing look at a time.