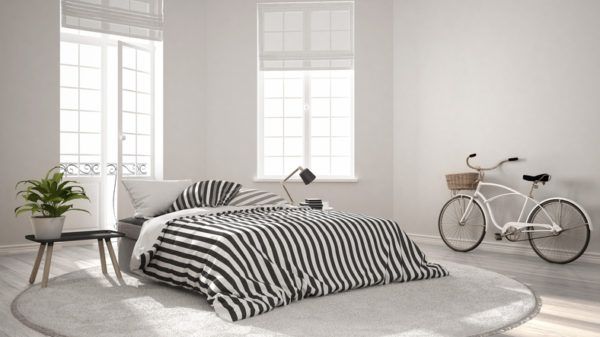 Escape the boring bedrooms and customize the decoration of your room with more personal colors. Indeed, in today's post we want to show you color photos for bedrooms 2021. Among all the photos, we will highlight the colors for double bedrooms 2021, the colors for children's bedrooms 2021, the warm color combinations for bedrooms, the cold color combinations for bedroom and the neutral colors for bedrooms. Do not miss this lively entrance full of color that will make the rooms of your house acquire a special and personal color and go from being places to be to places to live and enjoy.
Colors For Double Bedrooms 2021
This year the colors for marriage bedrooms 2021 that are worn are neutral colors, since they give a much more elegant feeling. However, we want to offer you other proposals that may also fit your color for an ideal double bedroom.
Neutral Colors
Colors such as gray, white or beige are some of the most used in the double rooms 2021 since they provide a more elegant appearance, in addition to providing spaciousness and luminosity to the room.
Walls Of Different Colors
One of the techniques that are currently beginning to set trends are those of establishing walls of different colors. By this we mean that one of the walls is painted in a more vivid tone and the others in a more neutral tone, preferably in white. The sensation that this type of solutions provides is that we have a more spacious and bright room, in addition to allowing the colors of the wall to maintain a constant balance and bring vivacity to the room. So you can get an idea, here is an image.
Painted Paper
The material used in the decoration of bedroom walls in recent years is none other than wallpaper. This technique is quite simple to apply, since it does not require it to dry for a long period of time or for the mixture to remain homogeneous. The only thing we have to keep in mind is that it must fit in shape, so with the help of a series of tools we can achieve it without losing the fat drop. Among the wallpaper designs that stand out in the decoration of double bedrooms, we find that the patterns are one of the most used, like the one shown in the image below.
However, we can also find simpler designs, with plain colors.
Colors For Children's Bedrooms 2021
In general, children are those family members who wake up the most happiness among our loved ones. So, considering this, how can your room not give off joy? The shades of colors that evoke us happiness are those that are more vivid, so we will surely use blue, yellow, green or pink tones to arouse joy in the lives of our children.
Blue And Pink
If you are one of the most classic parents, you may end up using the color blue and pink (blue for children's rooms and pink for girls). The degree of vivacity will be measured according to the room. For rooms that do not have much light, we recommend that you use softer tones to give the feeling that it is a more spacious and bright room. On the other hand, if you already have a good natural light, then we can use more vivid tones to highlight it.
Prints
Nowadays, there are many parents who decide to bet on more personal designs with prints. As for example, a weekend you and your son have nothing to do. Well, even if it seems crazy, painting the wall of your room can be a very important step in your child's life, so how not to bet on painting the wall of your room on a boring day? For this, we recommend that you buy a wide selection of colors and go in various forms, such as the silhouette of a hand, on a white background so that your child remembers that he has also been a participant in such creation.
Warm Color Combinations For Bedrooms
Yellow Or Light Orange
Increasingly, home decoration specialists intend to set aside warm color combinations for bedrooms, since it is an idea that has been coming for several years. Therefore, we recommend that you adapt to the new proposals in home decoration and bet on colder or neutral colors. Among the warm colors, we can highlight the typical yellow or light orange color.
Cold Color Combinations For Bedrooms
Bluish Colors
If you have a fairly warm house, the use of bluish tones on the bedroom walls can be one of the best combinations of cold colors for bedrooms. Not only will it give us a colder space to cope with the high temperatures but the cold tones allow a better circulation of positive energy throughout the house, so it is an aspect to be taken into account.
Neutral Colors For Bedrooms
White
The quintessential color in home decoration. Its fame is mainly because it combines perfectly with any color of the elements we have in sight, so we will not have to worry if it combines with the stay or not.
Gray
Another of the neutral colors for bedrooms most used today. In this case, this type of room acquires an elegant appearance thanks to the use of gray on the bedroom walls.