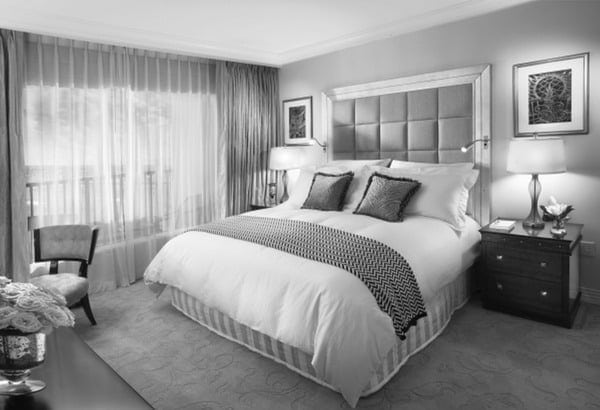 When choosing a color for the bedroom, it is important to consider that some shades can soothe and relax the body, while others contribute to the activity. Therefore, it is important to know what colors – what function they perform. You can find out how to choose the right bedroom color from designers and even scientists from the Edinburgh Sleep Center.
Which bedroom color is best: trends 2025
Designers and scientists from the Edinburgh Sleep Center have the same opinions about the meaning of a certain color for sleep. But opinions on specific colors for painting walls vary.
Blue
In the first place, designers put blue for sleep. And according to scientists, people with blue bedrooms sleep longer than people with bedrooms in different colors. According to scientists at the Edinburgh Sleep Center, the specialized receptors in our eyes (the same cells that report the daily rhythms of our brain) are most sensitive to the shade of the wave.
Yellow
Surprisingly, the second color suitable for sleeping, according to designers, is yellow. A sunny hue stimulates the nervous system, contributing to relaxation. In addition, a delicate yellow tint creates instant comfort in any bedroom.
Green
Green color is in third place in the design of bedrooms. According to scientists, people who sleep in the green bedroom wake up, feeling optimistic and positive.
Silver
Oddly enough, many designers advise choosing silver bedrooms. But according to scientists, people with silver bedrooms can get an unexpected side effect. Most of those who had silver bedrooms said they were more motivated for morning exercises in their bedroom.
Purple
According to scientists, people with purple bedrooms are the least rested of all, receiving an average of negligible five hours and 56 minutes of sleep per night. The rich design in eggplant color stimulates mental activity, which makes it difficult to turn off consciousness after a busy day and potentially causes vivid dreams or nightmares. Therefore, designers are advised to mix purple with white, creating a gentle shade of it (bedrooms in purple, lavender or plum color are appropriate here), only in this case the effect of color will be minimal.
Brown
Coffee bedrooms are not as comfortable as they might seem. Color can make people in the room feel nervous, uncomfortable, and restless. Designers use the shade of "milk oak" mainly in private homes. Due to the large number of windows and light, the room does not seem so gloomy and the very appearance of a private house contributes to the design of the room in the color of "coffee with milk."
Black
Black is also not a good choice for a bedroom. It seems that the room will look rather gloomy, in fact – it is not. It will likely be stylish – as designers say. A study by scientists showed that people slept much more precisely in a graphite-colored bedroom with black linens.
Beige and powdery
Designers like to offer this design of bedrooms to the newlyweds. And not in vain. According to scientists, couples who sleep in a bedroom with a peach, ivory, vanilla or gold decor make love on average three times a week – this is more than with any other shade.
Reds
Red bedrooms are the most unsuitable for lovers. Designers considered this color a fashion of the last century and try not to use it in their layouts. Even the fuchsia color or terracotta fashionable today is used less and less. The exception is lingonberry – pillows, lamps and other small interior elements are decorated with such a shade.
Whites
White is suitable for those who are used to relaxing in the bedroom. Because you won't want to work overtime in such a bedroom. Designers rarely offer this shade to customers – in their opinion, it is extremely impractical.
Stripes, stencil designs, sponge painting and textures can add style to any bedroom. For a truly unique design, you can paint your ceiling in the same shade as the walls. Some interior designers recommend using ceiling paint of muted colors, so that the emphasis is on the interior of the room, and not on the ceiling.
The right combination of tones in the room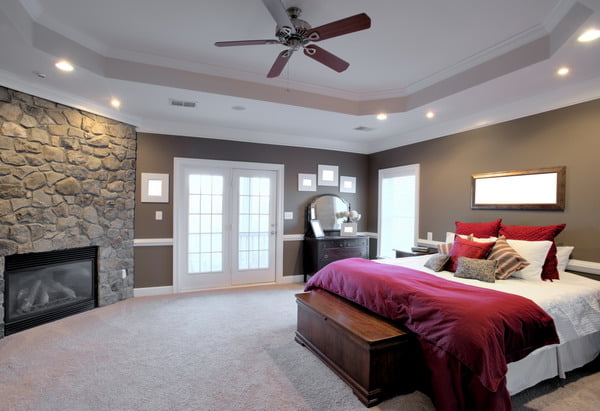 If the bedroom has a bathroom and dressing room or living room, then it is better to plan the colors for all these spaces in general. This does not mean that the colors in the bedroom and bathroom should match, but they should complement each other. So you can create a single look that will turn the bedroom into an ideal personal space, which is so often lacking.
The combination of black and white gives energy and strength, and due to the simplicity of the combination, a calming element is obtained, which may be absent in other combinations. This simple color scheme opens up the possibility of using large templates.
A large black screen or repeating pattern on a white wall can provide a stunning effect. The black soft headboard with white wall, white fur cover and decorative elements creates a decadent luxury look. Black and white combination, as a rule, is considered the most suitable in modern design, but this does not mean that you can not try it in a more traditional style. Forged or wooden furniture, painted in black and combined with soft white linens and faux fur blankets, adds elegance and romance to the bedroom, and the white bead wall adds a nostalgic shade.
The choice of a two-tone bedroom does not mean that you can not use other shades. The combination is combined with one bright color, and this can make it possible to add strokes to your favorite shade, be it red, yellow, cobalt blue or another shade. Using gray accents can help combine two contrasting colors together, creating a soothing effect.
Black and combinations with it can lead to the fact that the space becomes smaller, so when using shades, you need to consider the size of the room. Many people are afraid to use black on the walls of their bedroom, but white, contrasting linens and a large mirror or artwork on a large white canvas over the headboard will help the rooms not look depressing.
Green has the ability to mix with all the colors in the spectrum, making it the perfect choice for walls, bedspreads, carpets, and even floors. Some green shades work well together. Therefore, all shades of furniture fit the green walls.
The choice of colors according to psychologists
According to psychologists, the main thing is to decide what mood the tenant wants to set in his bedroom. Most homeowners want this space to be a place with soothing tones. But this does not mean that bright or dark shades do not belong here. You can use a palette of neutral shades to create an appearance that will leave room for bright accents on bedding, pillows, lamps and other accessories. The neutral palette also works well, because you can change the colors of your accessories to suit your mood.
If you want more color on the walls of the bedroom, let passions become the guides of homeowners. If the inhabitants love green, let them paint the walls green or azure. This is one of the best colors for bedrooms, because it has elements of both warm and cold shades, there is a wide range of shades from which you can choose. With green, you can imagine your room in a modern, traditional or eclectic style. It looks great with extra vibrant furniture colors.
If red is your favorite, you can use it in the bedroom, but be careful. Red stimulates and too much of this color can have an overwhelming effect.
In this case, it is better to choose a muted shade or try to use red color on one wall either behind the back of the bed or on a wall with large windows to break down the intense color. Care should be taken when using wooden furniture in a room with red walls, as it may look elaborate.
According to psychology, soft shades will be more relaxing. Psychologists even recommend black, especially for spouses. But in case it mixes with white furniture and with bright touches such as yellow or turquoise. Bright colors may not be the best options for adults looking for a place to relax in the evenings, but if one of these shades is a child's favorite, psychologists advise using it. A bright shade will turn his bedroom into a fun space.
White, wenge, cappuccino are colors that can create a soothing atmosphere. Lighter shades can also help a small room feel more spacious and airy.
According to psychologists, purple color stimulates brain activity, so this is a good choice for those who have a working area in the bedroom.
Popular bedroom color tones
The three most popular colors for bedrooms today:
Purple
Lighter purple options, such as lavender and lilac, bring the same calm feeling in the bedroom as blue, but without the risk of feeling the facelessness of the room. Soothing pastel lavender is a great choice for children and adults. You can also mix shades of varying degrees of intensity to create a layered or textured effect.
A mixture of purple and red is also popular. This creates a greater emphasis on the walls of the bedroom. Shoppers also opt for purple pillows, rugs, draperies, or lamps in the white bedroom to add emphasis. Many paint only one wall in this color, thereby highlighting certain parts of their room.
Pink
Bright shades of pink add shades of glamor to the room.
But most do not want their room to look too feminine, so they mix their pink walls with tufted backs and carpets in bright green / soft brown or lay down a bed with a large wooden headboard. Rich pink with purple tones can create a seductive design in a romantic bedroom. Pink with hints of raspberries and roses can add extra romance to the room.
Many mix pink with green. Vibrant pink looks great when paired with a white bed, chest of drawers and other furniture. For decoration in the art deco style to the pink walls, you can choose black as an accent and shiny silver metal lamps. Hot pink looks great with other colors such as green, blue, turquoise or orange.
Green
Emerald, lime and other shades of green combine the color qualities of yellow with the calming effect of blue. It is the color of nature, fertility, life and balance. The bedroom in olive, mint, pistachio, light green colors symbolizes self-esteem, harmony and well-being. Shades range from vibrant and fun to deep and elegant. It is believed that if the house does not know what color to paint the bedroom, you need to start with green.
The muted green color blends well with the modern and craft style, which includes many wooden objects in the room. Deep green looks good with a more traditional decor and can be mixed with other colors such as raspberry, burgundy or brown for an elegant look.
The walls of the shade of green apple or lemon color perfectly complement any decor. If households like ultra-bright colors, then you can choose a shade of lime green in combination with purple or red.
Trends for bedroom color palette and styles
Tropical. The general palette of this style is light and airy (colors: green, blue, white). The room is furnished with dark wooden wicker rattan or leather furniture. Fancy tropical motifs such as palm trees, monkeys, flowers and pineapples, as well as ceiling fans, curtains and white or light bedding set this style apart from the rest.
Italian. The palette of earthy tones (mustard yellow, pumpkin orange, brown, olive green, red and gold) seems to add warmth to the interior. Heavy wooden furniture with simple. but rich decor gives the style an elegance.
Modern. Functional, simple, clean and classic colors are the hallmarks of a modern bedroom. The palette is usually muted based on neutral tones such as gray, brown, cream and black. The modern bedroom is characterized by furniture with simple lines, as well as interesting lighting fixtures and the use of mirrors and glass as accents. Mixing textures does not allow the style to be cold.
Asian. The Asian-style bedroom usually has dark furniture, often lacquered and with richly decorated accents in Asian motifs. The palette is based on natural colors: from dark brown and black to creamy white, soft yellow or brown. Although the overall style is somewhat decorative, it is not at all fussy because the number of accessories is minimized.
Nautical. It is not necessary to live near the coast to fall in love with this light style. Palette: blue, green, white and brown, sometimes with red accents. Natural materials: sea herbs and sisal, mixed with old, painted wood, keep the style relaxed. You can use several coastal decorating motifs, such as anchors or sea shells.
Traditional. The traditional bedroom is more formal, but still comfortable and welcoming. Furniture is usually combined with elements of a decorative style. While the color scheme relies on neutral tones, it's easy to liven up a room with a bolder color on walls or bedding.
Print Solutions
Floral motifs . In a bright, comfortable bedroom, floral prints cause a calm mood, especially if the bedroom is in the cottage.
The classic "ditzy florals " look great, especially when several styles are mixed. You can save linen, quilts and pillows in the bedroom in a floral motif, and paint the walls white.
Motives with animals – a classic decorative idea to create a comfortable atmosphere. You can decorate part of the room with such a print or focus on one thing. For example, the headboard can be decorated with a print with animals, while floral ornaments adorn pillows and lampshades.
Cell. Ideal for a bedroom with handmade vintage furniture. Checked walls combine well with muted colors of bedding and soft pillows.
Rules for choosing a favorable bedroom color scheme
The easiest way to choose the best colors for your bedroom is to start with the colors that households love. Using your own favorite color as the base color, you can create a color scheme for the entire interior.
Inspiration for choosing a color scheme for the interior . Magazines and catalogs have always been the main sources of ideas for design. You need to remember your favorite color combinations and use later in your bedroom.
No need to learn color theory to get great ideas from a small color wheel. These inexpensive tools can quickly generate color scheme options. With the rotation of the wheel, you can see how colors can be related to each other and learn the basics of color theory. You can choose the shades of these colors in your favorite paint store.
You need to understand that neutral colors are not so boring . Just because when choosing neutral paint colors, you can update your neutral color palette at any time, showing a creative approach to using colors. A striped wall in neutral colors adds a twist to the room.
Easily create a color chart with famous paintings . You can choose a color from artwork in the museum. Most artists are masters of color and light, creating their own color schemes for their works. You can benefit from their understanding by choosing a color from your favorite work of art.
Do not forget to try lighter or darker shades of your favorite colors . Sometimes a little adjustment is needed to find the right shade.
Fashionable bedroom interior design ideas
Blue and white colors are the source of inspiration in this room, and the unique chandelier gives the space a laid-back elegance.
Pretty flower bedroom. Hand-painted floral wallpaper was the starting point for every other element in this bedroom: an apple-green carpet, a bright pink velvet soft bed and patterned bedding.
The highlight of this room is the screen wall with an emphasis behind the bed. The bright blanket is covered with a soft blue blanket. This muffles the room too bright.
You can change the usual white walls to pale pink, thereby creating a soft and romantic atmosphere.