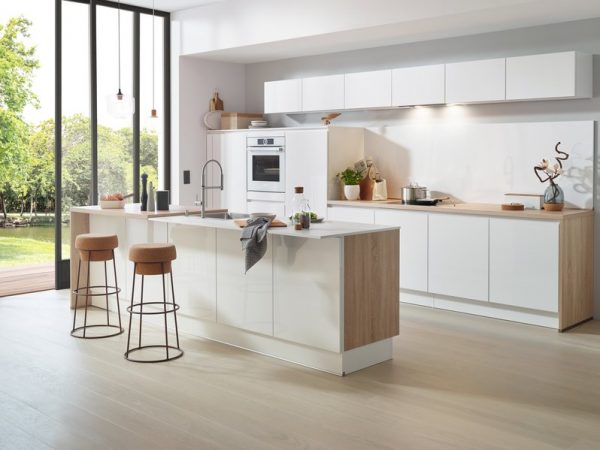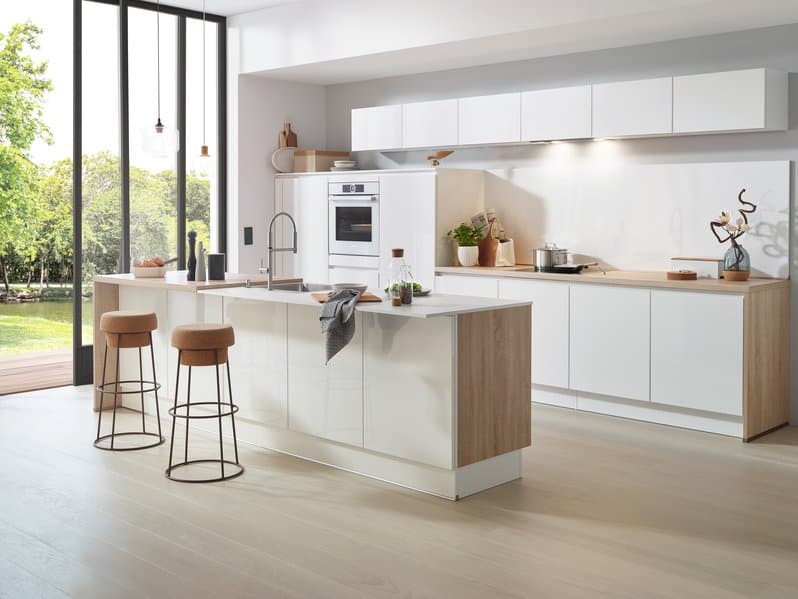 Light wood, clear shapes and friendly colors make the Scandinavian kitchen style so pleasant. We love the natural materials, because they warm us and make our kitchen a hyggeligen feel-good place. We show you how to bring the homely Scandinavian style into your kitchen and let the hygge feel with all its cosiness.
The trendy Scandinavian Trend moves into the kitchen
"Less is more" – a phrase that fits perfectly with the Scandinavian trend of living, which is now moving into the kitchen. Already in the 50s, the Nordic style of furnishing, which is characterized by its love for nature, was developed. Typical of the Scandinavian Trend are organic shapes and natural materials such as wood, fur and leather. In addition, the Scandinavian style is known for its bright colors, simple design and deliberately set accents.
The minimalist, minimalist design trend is timeless and flexible, making it a great fit for a modern urban kitchen style. We will show you what makes Scandinavian living and how to bring the trendy Scandinavian style into the kitchen, With clean lines and a portion of "hyggeliger" way of life set up in your kitchen a cozy, individual and comfortable cooking paradise.
That's why the Scandinavian furniture trend is so popular
The history of the Scandinavian style, also known as Scandinavian style, goes back to the 1950s. Former design icons of the so-called Mid Century epoch such as the Finn Alvar Aalto or the Dane Arne Jacobsen led in the three Scandinavian countries of Denmark, Sweden and Norway and in Finland, a design movement that was characterized by simple formality and minimalism. The aim of the architects and industrial designers was to reflect the love of Scandinavian nature with the respective forms and materials. To this day, the minimalist furnishing style is characterized by various natural materials such as wood, wool, linen or leather, which are combined with bright colors and simple shapes.
At the same time, the forefathers of Scandinavian design pursued a social idea: beautiful and functional furnishings should no longer be withheld from the well-to-do population. The designers are committed to ensuring that everyone can design their own home with a relatively small budget in an impressive and modern way. The style of furnishing not only enjoyed great popularity in the countries of Scandinavia, but has also convinced fans worldwide to this day. Contrary to some other living trends, the Scandinavian style is considered to be consistent and is still considered today in the design of living and living spaces.
Setting up Scandinavian: the right colors and patterns
Because winter is long and cold in Scandinavia, bright colors are preferred in the north of Europe, which make the room look friendlier and more alive. White is the basic color of the Scandinavian furnishing style. With white walls and furniture you bring light into your kitchen, making it more airy, fresher and more effective.
To make the kitchen radiate, bright colors are an excellent choice. Pastel shades such as rose, light blue, vanilla or mint can be combined either individually or with white. With the colors gray and black, in combination with green, blue or red tones, you can skillfully add accents that blend harmoniously into the overall picture.
In addition to colors, patterns in the Scandinavian kitchen furnishings play a major role. Geometric and graphic patterns, characterized by serene shapes and appearing in light (pastel) colors, fit harmoniously into Scandinavian kitchen decorating pillows, curtains or rugs. Typical of the textile design are zigzag, wave and circle patterns, which set specific accents in the Scandinavian device. Even simple, delicate stripe patterns in bright colors are allowed, which emphasize the lightness of the room.
Likewise, nature motifs and leaf prints are used in Scandinavian home design. With these you can wonderfully pick up the love of the Scandinavians for nature and bring in your own four walls.
Form follows function: the formal language of the Scandinavian interior design style
The phrase "The form follows the function" is a design guiding principle that is well known in architecture and product design and means nothing more than that the appearance of a thing must always support its function and usefulness. In a broader sense, this guiding principle even demands the renunciation of flourishes and superfluous jewelery. Instead, you focus on the essentials.
The goal is functional design creations that are characterized by clean lines and a restrained, reduced design vocabularybe shaped. In contrast to the Bauhaus style, which completely dispenses with ornamentation and jewelery, the Scandi-style furniture designs are a bit less puristic and minimalist. Nevertheless, the Scandinavian likes it more practically. According to the motto "Keep it simple", the requirements for the furniture always remain in view.
Soft, curved, organic-looking details and the gentle, elegant curves of the 1950s furniture are still a favorite style of the Scandinavian interior. For example, slanted, round wooden legs are popular with tables and chairs. In addition, the soft forms take on the Scandinavian nature, so wavy lines represent calm, flowing waters, while rounded edges are reminiscent of polished pebbles.
The materials of the Scandinavian interior design style
To fulfill Scandinavian kitchen dreams, one thing is needed above all: wood, wood and once again wood. The natural material is sufficiently available as a renewable raw material thanks to numerous coniferous forests in Scandinavia. Particularly popular is light wood, which is combined with discreet colors and lots of white. This creates a cozy atmosphere in the Scandinavian kitchen, reminiscent of a cozy cabin. Kitchen furniture in light wood colors such as birch, pine and oak are suitable for furnishing a Scandinavian style kitchen. Even ash and spruce promise a homely ambience in the kitchen in Scandinavian style.
If you like more modern dishes, you can use white on your Scandinavian kitchen. A homely feeling of hygge can be created with bright kitchen furniture in white or magnolia, which are combined with wood, eg for the worktop. This creates a modern and timeless look.
Furnish the Scandinavian kitchen with cuddly and warm materials to benefit from a "hyggeligen" coziness. Here, too, a long and cold winter contributes to the longing for a comfortable place to feel at home, thereby shaping the kitchen concept in Scandinavia. If you want to create your own personal retreat, fluffy wool carpets on the floors as well as soft skins and cuddly pillows are a first-class choice. Leather upholstery adds a light rustic touch to the dining area, while cotton or linen home textiles add lightness.
Furnishing style Scandinavian – How to bring the trendy trend to the kitchen
The kitchen is perfect as a furnishing item for the Scandinavian style, as it combines practicality with a cozy atmosphere like no other room. If you want to decorate your kitchen in a friendly and light Scandinavian look, focus on a bright design that is complemented by natural materials. We have a few helpful setup tips for you:
New meets Vintage: Modern kitchen furniture in white can be perfectly combined with wood. As a result, even old wooden chairs or an old oak table fit fantastically to the new kitchen furniture, without the modern, light look suffers.
Scandinavian for every kitchen style: Whether you prefer minimalist design kitchens with handle-free kitchen fronts or have fallen in love with a cozy country kitchen with traditional frame fronts – the Scandinavian living trend is at home in both kitchen worlds.
Order is the name of the game: tidiness and cleanliness are essential in order to fully accentuate the ease of a Scandinavian style kitchen. Therefore, it depends on the kitchen planning on sufficient storage space.
Tone-in-white in white: First and foremost, it's about setting up the Scandinavian kitchen in a way that creates a coherent and beautiful overall picture. Anyone who decides to use white kitchen furniture can also rely on the color scheme when it comes to the equipment: the oven, extractor hood, sink and mixer in white complement each other perfectly to make a white kitchen interior.
Take a seat in the Scandinavian kitchen: A cozy wet bar or a practical bench complete the kitchen in Scandinavian style and contribute to a first class feel-good atmosphere. If you have enough space in your kitchen, plan a large, light-wood dining table topped off with practical dining chairs. The result is particularly impressive when you combine different chairs. It is important, however, that materials and colors are consistent.
Scandinavian eat-in kitchen: The kitchen in Scandinavian style is also suitable as an open kitchen, which is integrated into the living room. Here, display cabinets or sideboards are a very good choice. Let the kitchen shine in addition by illuminating the kitchen cabinets impressively to create a homely atmosphere.
Kitchen ideas in Scandinavian style
Decoration: Less is more in Scandinavian kitchens
A simple and meaningful decoration loosens up the functional part of the kitchen in a casual way. Nevertheless, here applies: "Less is more", because too much decoration can quickly rob the optics of their ease. Decorative objects made of wood, such as candle holders, bowls or pretty wooden boards, support the natural look of the Scandinavian kitchen. Choose your stoneware, ceramic or porcelain utensils – items that go well with the simple Scandinavian furniture trend.
Nature is in the foreground in Scandinavian style. Whether pictures with animal and landscape motifs, a carpet with organic patterns or kitchen utensils made of wood, all these objects can be found in the Scandinavian kitchen. A beautiful vase of fresh meadow flowers is very inviting and makes the kitchen the most beautiful place of the home.
Hardly anyone can describe the Scandinavian way of life better than the Scandinavians themselves. That is why original furniture and decorative accessories from ScandinaviaThe first choice for bringing in the unmistakable Hygge feeling in your own home. For this reason, various manufacturers from Northern Europe also enjoy great popularity in this country. These include, for example, the brands Hay, Muuto or Bloomingville. Also House Doctor, Broste Copenhagen and Bolia know to impress with their high-quality furnishings. Finally, Stelton, Ib Laursen, Nordal and Hübsch complete the list of labels that have successfully established themselves in the European furnishing industry for Scandinavian products and accessories.
A hyggelige kitchen is the best place of luck
Hygge is hip, Hygge is trendy. Whether living, bath, bedroom or kitchen – hyggelig is announced. Yet Hygge is not just a mere trend that disappears from the scene in a few years' time. Hygge is rather an attitude to life, a philosophy of happiness that must be lived. Most translate it simply with coziness. But Hygge is so much more than "just" Danish living happiness. It is an attitude, an attitude to life and the secret of our Nordic neighbors' happiness. Because they know about the happy life. After all, Denmark is the country whose inhabitants, according to the World Happiness Report, are repeatedly considered the happiest in the world.
What else hides behind Hygge, show the many translation options of the word. Meik Wiking, a renowned researcher from Copenhagen and author of the successful book "Hygge – An attitude that simply makes you happy", speaks of translations in the sense of "cosiness of the soul", "art of intimacy" and "joy of the present more reassuring Things "or" cozy get-togethers ".
A particularly hyggeliger place is the kitchen. The place where the threads of life come together, people meet each other, cook together a good meal made of healthy ingredients, conduct inspiring conversations, listen to each other, comfort each other and laugh together. Focus on the simple life. On the opposite of digitization and constant accessibility. All this is Hygge. Also the common walk after the meal: at the sea, in the forest, over flower meadows. Whether out in the open air or in our own home, Hygge does fine. Because it can be so easy to be happy.
We've put together a few tips for you to live the Hygge feel-good in the kitchen:
Try using artificial light sources to create a cozy and, above all, natural light mood in the kitchen. A feel-good lighting with LEDs, which have a low wattage and generate warm light, creates a hyggelige atmosphere. Soft light can of course also be produced with many candles, which make it really homely.
The best sociability can not be achieved with furniture and decorative objects, but with friends, families and all the favorite people, with whom one likes to gather around a huge table to eat together and to have nice conversation.
Likewise to a life in the Hygge-style quiet leisure hours, in which one for example in the Kuschelpulli and wool socks on Sunday morning breakfast extensively and relaxed. You can also celebrate enjoying the time with a good book and a cup of coffee or hot chocolate.
A vase of fresh flowers brings a bit of life into your own four walls and makes you feel even better in your Hygge kitchen.