Total white is a decor trend for 2025 that is booming. It is not suitable for everyone, but do you dare with it?
The total target or total white, as this trend is also known, is a decorative line in which the only color is white. Generally, when decorating a room, we choose a range of colors. They tend to be between 2 or 3 colors.
Choosing only white can be a risky bet for some. Especially for some myths that exist about this color.
Nevertheless, if you like bright, spacious, elegant and pure spaces, total white is a good choice for you.
The white has been claiming its predominant role in interior decoration since 2013, however it is now in 2025 when it has arrived with strength and has positioned itself as one of the essential colors.
This is due, in part, to the rise of decorative styles such as the Nordic or the minimalist. In today's article, we want to tell you all about the total white trend.
Total white: what does it consist of?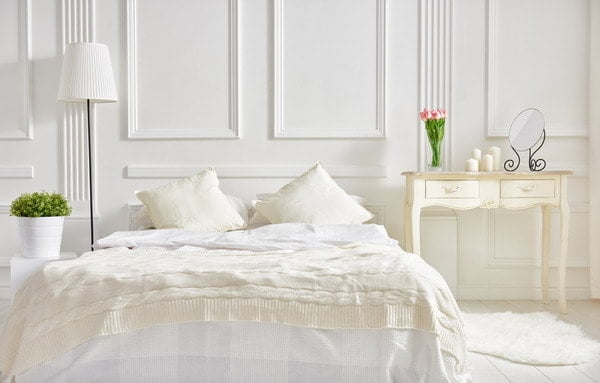 The total white tendency is to decorate a room in white. There are different variants and adaptations depending on the person.
One of them, is the purest line that consists of decorating from ceilings, floors, doors, walls and decorative elements in white.
Another line or variant is the one that introduces some elements in some color to break with the established structure. The colors that are introduced tend to be subtle elements. For example some cushion, a lamp or a vase.
On the other hand, the colors introduced can be strong colors such as red, blue, pink, etc. Or also different shades of white or even very light gray.
Although, as we said at the beginning, the total white is a trend that emerged thanks to the rise of styles such as the Nordic or minimalist, this does not mean that this trend only fits well with these styles.
In fact, in styles such as rustic the total white is very good, as in the industrial.
Keys to get a perfect total white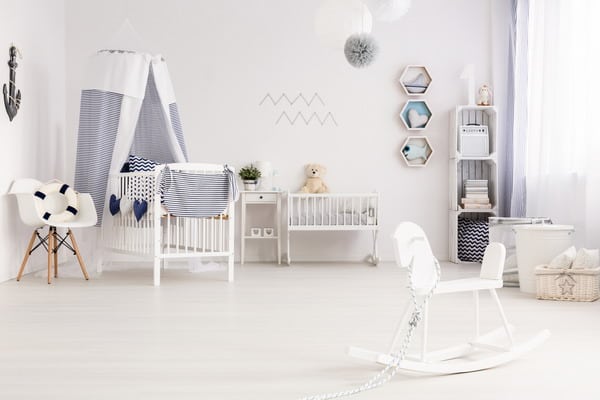 Although a priori it seems that decorating everything in one color is easier, it is not. When thinking about a monochromatic decoration, we must also think that it is important and fundamental to introduce and play with pleasing shapes and textures in view.
This is due to the fact that white is the absence of color, if we do not add textures we will get a linear space and "without grace".
A good option, for example, is to make a contrast between the carpetand the curtains with different textures and shades of white.
Another key to achieving a perfect total white is that all finishes are white: walls, doors, floors, etc. In this way, a full effect will be achieved.
The lighting is also very important in this trend. Being all white, the space will be brighter but for so much light it is not tiring, add lamps with warm light.
Finally, for the total target to be a success, you must take into account that the target reflects what is in your environment.
This means that if in front of your house there is another house with a facade of some color, your total white stay will reflect that tonality.
Advantages and disadvantages of this trend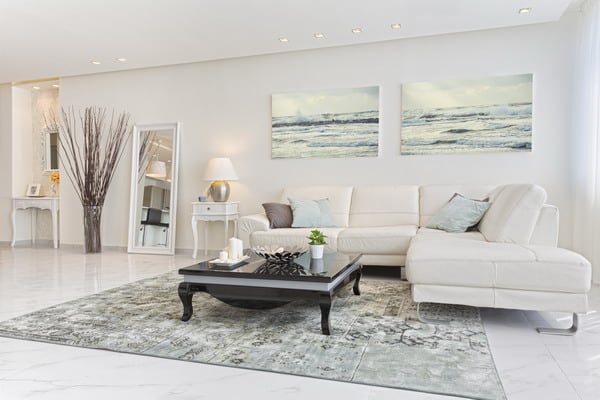 Like all trends, this also has its strengths and weaknesses. As advantages we can highlight the following:
Brings a lot of light.
Create a feeling of spaciousness.
It provides elegance and warmth to the spaces.
Pulchritude since being all white gives the sensation of purity and cleanliness.
It fits with practically any decorative style.
The disadvantages of this trend are:
Being all white, the dirt shows faster. Therefore, everything must be super clean. So we must be very demanding with the cleaning if we want to aim at the total target.
In some occasions, you will not find the decorative elements that you like in white. In that case you must ask yourself if you want a less strict total target to be able to introduce color or forget about this element that has fallen in love with you.
Total white is a trend that can bore fast because it can be somewhat monotonous.
Conclusion
As you can see, the total white trend is very versatile even if only one color is used. This is because, although white predominates, it admits other colors that accompany it.
On the other hand, its advantages mean that more and more people introduce this trend into their homes.
Our recommendation to not get bored of so much white, is that you change the accessories from time to time. In the following link you have mor