Today we tell you the decoration trends for offices 2023 will be essential and that you should not lose sight of in the coming year. Let it not escape!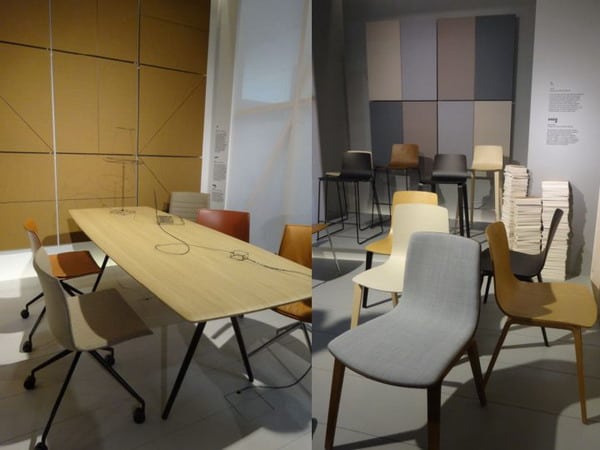 The office furniture is also constantly evolving and it is important to know what new ideas will be presented to us in the coming months. Today we tell you what decoration trends for offices 2023 will be essential in the year that will begin. Orgatec, the Cologne office furniture fair, brought us in October the novelties for the next season in terms of office furniture design. More than 55,000 visitors visited the Fair to learn about the latest news and trends in the world of the office. After three very intense days visiting the Fair we will tell you about the trends of decoration for offices 2023 that want to stick strong in the coming months.
These are the decoration trends for offices 2023
Warm Colors
After the domination of whites and blacks, who undoubtedly continue to occupy an important place in the world of office furniture, now warm tones also come to animate the office furniture and give it a new life. Warm tones that help create more friendly and welcoming offices.
And also many combination options so that the office ceases to be monotonous and monochrome and give a point of color that surely many will cheer up the hours it takes to go through 4 walls. Beiges and ocres are colors that have always had their space in the office and will continue to have it in the new season as the entire range of browns is in full swing from darker tones to lighter ones such as beige and ocher.
But they are joined by other colors that are less in office but will bring warmth like oranges, mustards and garnets. The mustards have long been seen at home and now want to make a hole in the offices, like the orange tones. Garnets are one of the new bets of the season that we liked the most as it is a novelty that can give us a lot of game when it comes to combining. Let's see if really these vibrant colors are able to open a gap in the world of the office that sometimes tends to be too conservative and static.
High Tables And Stools
A large variety of high tables and stools are incorporated into the trends of office decoration 2023. Every day we move towards a model where informal and fast meetings are a reality on the rise and therefore this type of furniture widens its field of action. But in addition they offer us a great versatility from spaces to take something, to attend to clients in a more informal way and less corseted, group meetings… The world of the office as we knew it is instead and with it also the furniture that we will need to meet these new needs in our work spaces.
important technology companies in the world are undoubtedly one of the enhancers of this type of multifunctional spaces in which the same can perform one function than another because versatility and freedom are key in the type of work they develop. Creativity is the most valued and the space we have at our disposal should help us to develop and foster that creativity. What better for that than having versatile and adaptable furniture?
Fonoabsorbent Dividers And Panels
The divisions and panels become essential in the offices. We have been using them for a long time, but every day more, the number of options that they offer us is wide. And it is that they provide us with a wide variety of advantages such as giving privacy to open spaces and separating visually without the need to create permanent barriers in the office. In this way we encourage communication among workers but also to facilitate change and adaptation to the needs of each moment. They make it easier for work to adapt to us and not the other way around!
Offices that adapt to every moment, is one of the trends of decoration for key offices 2023 and it seems that it will continue to grow. The panels also help to favor concentration avoiding the environmental noise that can be generated in a large space without divisions. And each time we find more options and versions of them, high, low, placed between the tables, directly on the floor, wrapping the tables… the options are so many that surely we find one suitable to each need of our office.
Cozy Spaces
The home enters the office. Spaces increasingly designed for the welfare of workers. Another of the innovations that has been supported by major technology such as Google or Apple or Facebook. The office ceases to be a cold and unwelcoming space to become part of our life so we should feel in them as comfortable as possible. We have already seen that these big companies create spaces of rest in all their offices but also offices where they do not work so conventionally and we do not have to be at a table.
A wide variety of sofas, tables, armchairs… populate the offices so that everyone finds their perfect corner to inspire and thus empower employees. Because feeling at home will help us to work at ease and better. Every day the offices are more reflection of it.
Chairs With Clear Structures
In chairs one of the novelties that has caught our attention and we have liked the structures of the chairs that are now passed to light colors, such as white and light gray that replace the classic black or metal housings. In this way the chairs are renewed and offer a more modern and modern look in line with the new offices. We also see that the bases that are stylized and rise away from the ground. Changes that undoubtedly bring novelty to the stalls and the office.
And so far our review of the decoration trends for offices 2023 seen in Orgatec, a Fair in which we could see that trends in office bring us closer and closer to a comfortable and cozy environment in which to feel at home is essential to perform. This new business philosophy has changed the offices both inside and outside and the office furniture was not going to be less. Ideas and news that we hope to see soon installed in the new offices we publish. If you want to see more pictures, you can go through my Pinterest page. Thank you very much for reading and we hope that these trends have inspired you and from here we will see it in the new offices! Until the next article!