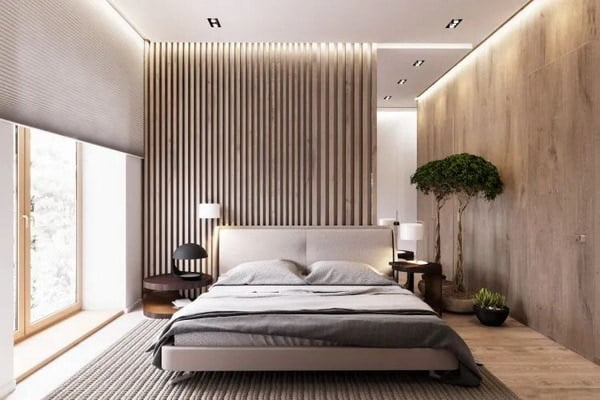 The wooden walls are beautiful. Natural wood is an interior decoration material evoking warmth and comfort. It makes it possible to experiment with innovative solutions, new finishes, and to highlight the rooms, adding a unique texture to them. Choosing a wood wall covering is not easy today, as there are many traditional and contemporary options on the market. The manufacturers' collections give inspiring ideas to dress a wooden wall brilliantly. Check out our photo gallery and see what the latest wooden wall trends 2023-2024 are!
Dressing a wooden wall: why is this fashion not going?
Dressing up a wooden wall is a timeless, elegant and attractive interior design idea. Wood on the walls can add a contemporary touch to modern decor or enhance the traditional style of a room. It is a universally versatile material, suitable for any space in the house. Variations of natural wood offer a wide range of textures and colors. You can also choose exotic and expensive species, as well as inexpensive options for your designs.
Whether it's adding wood slats to the walls or ceiling, or creating beautiful accent walls, this material always looks natural and comfortable. The shades of brown and the gray tones of reclaimed wood provide a friendly, peaceful and relaxing touch.
The texture of the wood enhances the interior decoration, adding an original vision and unique patterns. Natural wood is a flexible material. Designers and architects create fabulous modern wall designs with innovative shapes, cool hues and combinations of different types of wood.
How to choose the style of your wooden wall covering?
First, take a look at the space you want to modernize and think about what types of wood walls work best for your style. Do you want a chalet vibe, with rough textures and knots in the wood? Maybe you want to create shabby-chic style wooden walls by staining the surface white and then marring it? Or, are you looking for an elegant finish with a dark cherry stain, which will make your room more warm and welcoming?
Whatever your style, wood walls are a great DIY project that you can complete with a friend or two in a reasonable amount of time. You will appreciate the transformation that such a construction will bring to your interior much more than what a paint bucket could do.
Wood panels get a facelift year after year
The wooden wall panels are by no means a new design element, but they are very varied. They have indeed evolved a lot over the years, which makes them a very interesting topic of discussion.
Their history began in the 16th century in Britain and Western Europe. At that time, wood panels symbolized luxurious style, and an interior fitted with wood was considered a sign of wealth and magnificence.
Over time this siding went out of fashion, so to speak, until the 1950s to 1970s. The return to the trend was not purely aesthetic this time, but rather due to the fact that wood was easy to install. and profitable. Interior panels have once again made a reappearance, but they've changed a lot from past appearances. The biggest difference with wall coverings from the 1970s is that today's items are made from real wood. They give a rich, natural and authentic look to any interior design style. With them you can create a statement or a simple touch of elegance; they are extremely versatile pieces.
Advances in building materials have also played a big role in how modern wood panels can look amazing. Kebony modified wood, for example, has been a monumental breakthrough in making eco-friendly products for decks and exterior cladding, but we've also seen plenty of examples of its use in a multitude of interior solutions, including wooden wall panels.
If your home's landscape lacks a certain level of warmth, depth, and texture, modified wood panels just might be the positive transformation you need.
Dress up a wooden wall to create an accent
Accent walls are a wonderful way to add an eye-catching dimension to your space, as well as highlighting key notes and items with personal meaning.
An XXL wood accent wall, partition or headboard creates a wealth of texture and depth, and it's surprisingly simple to install. Whether you're looking for a cabin vibe in the woods, with rough edges and less symmetrical lines, or a trendy Pacific vibe with stained and stripped surfaces, there are dozens of finely crafted wood options to choose from.
Dark hued woods give your home a chic and lavish air. Polished or palletized, your wood accent wall will be a bespoke extension of your most poignant tastes and sensibilities.
A wooden wall achieves what paint and wallpaper seldom can, which is to create a setting apart from the whole project, to become a stand-alone interior work of art. Easy to build and offering years of splendor and fluid style transformations, these wood walls will grow with your home and throughout your own periods of rebirth. Like you, the accent wall will only get better over time.
Common points of interest to consider when decorating with wood
The fireplace
If your room has a fireplace, this is the perfect place to start. Even if she isn't the focal point right now, think about how you can transform her and get attention with her. Can you extend the fireplace from floor to ceiling? Can you add shingles around and paint the wood black to highlight it?
The Windows
Yes, windows. Think of a large living room or an open plan where you have a wall with floor-to-ceiling windows. This beautiful view of the outside can be a point of convergence. How can you use this part of the room? Could you dress the wall in black wood? Maybe the neighboring walls should be neutral and the furniture and the rest of the decor should be subtle?
A wall with built-in shelves
You can often see built-in shelves next to a fireplace or in a home office. You can line the wall with wood to highlight these niches.
Other architectural elements
Do you have other unique features in your room? It can be a vaulted ceiling or a large bay window. Think about how you can accentuate these elements to make them stand out?
Wooden wall ideas to enhance your decor
Tired of traditional wall decoration? How about adding a wood effect to it?
We all know wood is an amazing material that adds warmth and welcoming tones to any space thanks to its texture and perfect finish. Wooden walls are known to create a punchy decorative effect with a rustic and natural touch. They can blend into any interior, respecting the beauty and vintage effect.
The wood paneling is very aesthetic and gives a feeling of richness to your home. So we have some great ideas for you.
3-D wood block design
Give a charming variation to your living room by introducing the 3-D illusion effect in the form of a wall of wood blocks. This wall design will add a sense of creativity and modernity to your space, along with the warmth of wood.
The raw look of the rustic style
Try rough wood to capture and maximize a peaceful and relaxing atmosphere around you! In addition, this amazing wooden wall design with its impeccable finish and warm hues will blend in perfectly with your decor.
Dark stained wood with a vintage look
Interior design can never go out of fashion with the bold hues and vintage look of wood. Such a wall is designed in such a way that it incorporates a living element into your room. So if you want to create something unique and natural then definitely choose a beautiful wood with grains and textures.
Wood in an off-white texture
The use of white colored wood in the decoration deserves special mention. The beauty here is in the off-white color and textures with a subtle appearance, which never fails to make the environment relaxing and calming.
A touch of color in the wood
Create a trendy environment around your rooms with the bold colors of the wood wall panels. The colored wood will appear as a minimalist and bohemian transition, which will match perfectly with any decor that surrounds it.
Dress up a smooth and polished wooden wall
Are you in love with the smooth and matte finish of wood? Then such a wall design will surely grab your attention. It will embrace the beauty of your interior with its shiny touch.
Now you know how versatile wood wall designs are. They are quite simply capable of making any environment more organized and integrated. Now is the time to bring a touch of modernity to your home.