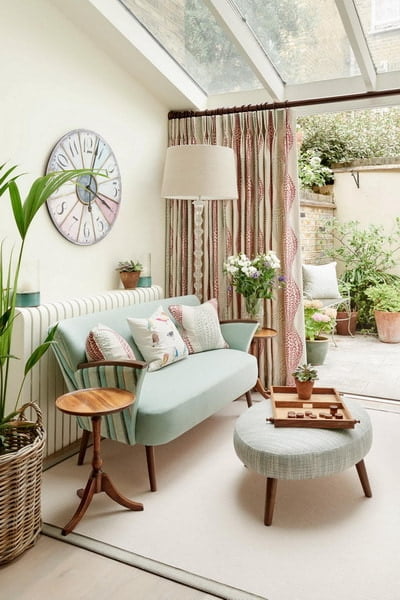 A proven way to improve your mood and get rid of unpleasant thoughts is to change the interior of an apartment or house. Renovating or purchasing new furniture is too expensive. But changing the design of the window opening is a very real event. With trendy curtains that are in line with the curtain trends 2022, you can add a trendy touch to the entire interior.
Fashionable Curtain Design – The Main Directions Of 2022
Minimalism
The fast pace of modern life dictates the pursuit of simplicity in everything – design, use, care. This trend also applies to curtains, the trend of 2022 is laconic designs, without lush and intricate decor. The aesthetics of minimalism and the desire for practicality are successfully supported by roller blinds, vertical and horizontal blinds with slats made of fabric, wood, plastic, aluminum alloys.
Scandinavian Style
The Scandinavian interior is a space with neutral colors and clear lines. Curtains made in this style create a cozy atmosphere, but do not overload the space with unnecessary details. In the conditions of the northern regions, window textiles only frame the opening and practically do not perform light-protective functions.
In living rooms, halls and bedrooms, long curtains are appropriate, corresponding to the fashion trends of 2022. Most often they are used without tulle, which unites indoor and outdoor spaces. This is especially true for country houses.
Thanks to the combination of simplicity and elegance, Roman blinds have received a permanent residence in the Scandinavian style. These can be designs with hard tabs, forming clear folds when lifting, or models without tabs with soft outlines. Convenient and practical roll systems that can be used alone or in combination with long curtains are appropriate in this style.
Japanese Curtains
Otherwise, these models are called "panel curtains", "screens". Initially, Japanese panels were intended exclusively for zoning space, but the Europeans decided that screens could be used to decorate window openings.
Japanese panels fully comply with minimalist trends and requirements for practicality. They are straight panels up to 1.5 m wide, which move to the sides along the guides. Thin fabrics are attached to the frame, and on dense fabrics, a weighting agent is provided at the bottom.
It is not customary to complement Japanese screens with ruffles, bows, cords and other decorative elements.
A New Direction – Curtains With A Pattern In 3d Technique
Laconic doesn't mean boring. If you want to create a bright accent spot in a monochrome interior without overloading it with unnecessary details, pay attention to the new items – fashionable curtains with a pattern made using the 3 D technique. For living rooms and bedrooms, models with natural and urban landscapes, flowers (orchids, roses, lilies). In kitchens, roller blinds with the image of fruits and dishes, fashionable in 2022, are relevant. For a children's room, a child can choose a model with his favorite characters from fairy tales, cartoons or comics. It should only be remembered that a print that is too bright and saturated will gradually get bored and annoying.
Curtain Colors – Fashion 2022
White
The undisputed leader is the curtains of white and its shades. They fit organically into the interiors of almost any color and style solution. White curtains can be dense, translucent and completely transparent. Translucent models transmit natural light well, slightly dimming and diffusing it. At the same time, they protect the room well from prying eyes.
Black And Graphite
Curtains in black and graphite colors are the choice of stylish and bold. Textile curtains with glitter, jacquard monochrome pattern look spectacular. Trending combinations – black with white, black with menthol or other saturated color that is present in the interior as an accent.
Neo-Mint – A Trendy Shade Of Green
This shade of green can be used as a stand-alone color or as a complement to white (and its shades) or black (graphite). If white looks good in interiors of different colors, then neo-mint requires the presence of objects of the same color in the room. It can be – upholstery of upholstered furniture, bedspreads, decorative pillows for a sofa or bed.
Printed Fabrics
Fashion trends – geometric patterns and tropical prints. For spacious rooms, you can choose light curtains with a large pattern, for example, bright green leaves, intertwining vines. Such models look good in eco-interiors.
Another fashionable option is a horizontal, vertical, diagonal strip. The vertical strip visually "lifts" the ceiling, and the horizontal one expands the space. Models in which stripes are combined not only of different colors, but also of different textures are relevant. For example, from sheer tulle and dense shiny satin.
Fashionable Curtain Fabrics
A wide variety of fabrics are used for sewing modern curtains – from dense, opaque, to thin semi- or completely transparent.
Popular options:
Blended fabrics. These can be materials of different density, texture and color. A mixture of natural and synthetic fibers is used for their manufacture. Such fabrics look beautiful, practical and easy to clean. The materials used for the manufacture of roller blinds and roman blinds are treated with special antistatic, antibacterial, fire retardants.
Blackout. These are multi-layered fabrics that can trap up to 98% of sunlight. They are often used to decorate window openings in bedrooms and children's rooms, as they provide ideal conditions for daytime sleep.
Innovative Screen fabric. Consists of high-tech composite yarns, which include: PVC, polyester, fiberglass. The color of such canvases can be very different – from white to black. Screen – one-way fabric. From the outside, you cannot see what is happening inside, and from the inside, the view of the outer space is unlimited. This fabric is convenient for use in offices as it prevents reflections on monitors and TV screens.
Tulle Combined With Blackout Curtains – Fashion Trends In 2022
Tulle is a family of delicate fabrics commonly used to create two-layer designs. In Scandinavian interiors, it can be hung on the window openings on its own. For the manufacture of tulle, complex combinations of natural and synthetic threads are most often used. The most popular are the following types of this translucent or almost transparent fabric:
Organza. It is a spectacular, shiny fabric that lets in a lot of light. It can be smooth or have patterns – printed, embroidered, printed. Organza is produced in one color, with iridescent tints or a "gradient" effect. This material is well erased, does not wrinkle, keeps its shape well. Ideal for living rooms and bedrooms.
Veil. It is made by means of a plain weave from cotton, woolen, silk threads. The veil is smooth, soft, denser than organza. The most common veils are white, but many colors and patterns can be found on the market.
Tulle mesh. Often made from blended fibers. The mesh can have small or well-visible cells. Net tulle is mainly used in two-layer systems.
When choosing the right fabric and style for the new light protection system, not only fashion trends are taken into account, but, above all, the interior design, the functional purpose of the room and the ease of use of the curtain. Curtains should match the color of the walls and furniture, successfully combine with interior textiles and decor items in the room. It is best if the curtains and curtains hide the architectural imperfections of the room and emphasize its merits.