When it is adorned with a thousand colors, the living room is a real treat for the eyes! In touches or total look, here are interiors that give us lots of colorful ideas.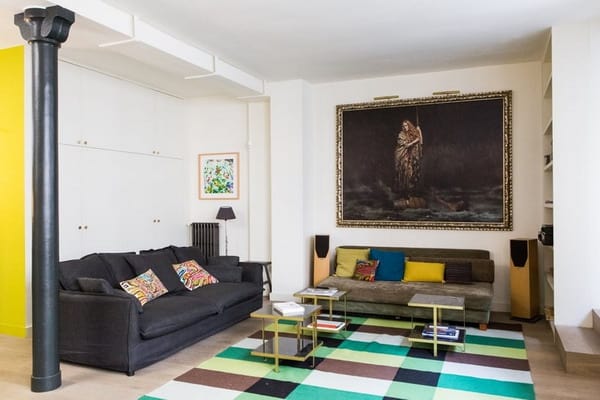 The living room is the main room of the house. The one that welcomes the guests and often, the largest in our interiors. The living room is synonymous with conviviality, comfort, relaxation and sometimes even aperitif. In terms of decoration, it is a space that can give free rein to everyone's imagination. For example, through colour trends. But how to bring colour to a stay? Whether the style of your living room is retro or contemporary, there are many ways to put colors in the spotlight in this room. However, avoid the total look, too risky, and prefer small touches of colour via different techniques.
Keys of yellow and blue
In terms of wall covering, go for a colorful wall, for example a green or blue wall for an exotic atmosphere of the most beautiful effect, at the top of the trend. On the floor, also dare colour with, for example, a flashy carpet shaded by furniture in neutral colors. For the less adventurous, simply put on a multicolored carpet that refreshes the room, whether oriental or graphic. In a rather neutral living room, choose a unique furniture that will bring cheerfulness, aim a sofa, an armchair or a table. And if you do not want to change the big parts of your living room, dare accessories. The spikes of yellow  are raging at the moment for a guaranteed "sun" effect. In terms of accessories,  the cushions  will be your best friends: wax cushions, floral cushions or geometric patterns. They will bring graphics and peps to your living room. In any case, do not hesitate to adorn your living room of different colors according to the seasons and your tastes. Sometimes, even a few details are enough:  think of plaids, candles, posters or curtains.
The importance of colour symbolism
It is necessary to take with care the meaning of the colors, which has a significant psychological dimension, in order to determine its impact. The  warm colors represent the enthusiasm. But red means strength, passion, forbidden and so it will be difficult to use for a corner office for example, unlike yellow. The orange gives the fishing and entails creativity and communication.
Meanwhile, the cold colors have a cooling effect, zen and soothing. The blue and the turquoiseevoke the rest, and give an impression of space. Purple invites to meditation. Green, which is located at the center of the chromatic spectrum, evokes nature. People have references and associate colors with their natural origin. Black and white are very used colors in deco. They each have a positive and negative aspect. Black evokes mystery, seduction, but also death. The purity and innocence of white oppose its cold and impersonal side.
In terms of colour harmony, there are three possibilities:
A classic monochromatic decor around a shade declined (golden yellow, pastel, lemon): the glance will then be attracted by games of materials,
A contrasting background created by complementary colors that can shock the eye,
A search for balance and harmony through close shades on the colour wheel.
How to use colour in the living room?
If, when choosing the colour of your living room, you opt for bright colors, apply them sparingly. Little trick, the use of a distinct tone allows to delimit the spaces. For example, if you like flashy orange, do not repaint your entire living room with your favorite colour! A single piece of wall, like the one behind the sofa, makes it easy to identify the seating area. As a reminder, use this flashy colour with small touches: couch cushions, splinters of this colour on the curtains, candles, vases or other decorative objects… without doing too much. In addition, to bring contrasts, you can repaint your window and door frames with a colour one to three shades higher than your walls.
What colour associations in the living room?
There are a few rules to follow regarding colour matching for a pleasing look.
Do not use more than three colors to create the ambiance of your living room.
If you want to see contrasts, choose colors that are in opposition to the colour wheel, such as red, blue, and yellow.
If, on the contrary, you prefer a rendering in harmony and delicacy, opt for a monochrome or use colors that are next to the colour circle.
Be aware that the satin paint highlights the small flaws, so use it only if your walls are in perfect condition, otherwise, prefer matte paints.
What colour trends in the living room?
The atmosphere "nature" is much requested. This "inside / outside" decoration, where the gaze extends outwards, gives an impression of continuity. We use shades of sandstone and sand colors with more vivid touches like a green foam panel. We can opt for light oak furniture, parquet matt oak or linen.
The atmosphere "bohemian deco", full of contrasts, uses very rich and deep colors, such as purple and aubergine or bright colors such as anise green and raspberry.
The shades of brown such as mocha and chocolate and red are also trendy with industrial and vintage spirits. We dare the fusion of styles by introducing a very warm decor that goes well with galvanized furniture, a very large suede sofa.
One last tip
If the space is empty, it is absolutely necessary to think about the decoration, the future ambience and the furniture that we will introduce. In the opposite case, the existing materials and colors must be taken into consideration. In a word: think about the show as a whole!