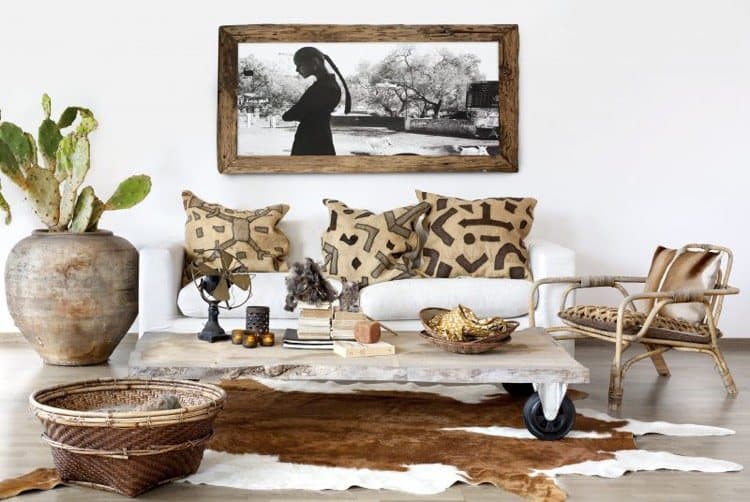 The world of interior design is changing and renewing each season in the image of the fashion world. As for the decorating living room to come, it will be under the sign of authenticity and that of elegance par excellence. This is the natural aspect, returning strong in recent years in the interior, which will impose its influence for the coming seasons. In addition to new colors, materials and finishes, there is also a stream of noble and chic decor, whose path has been started for some years.
Trendy living room decor – what are the colors must for 2024?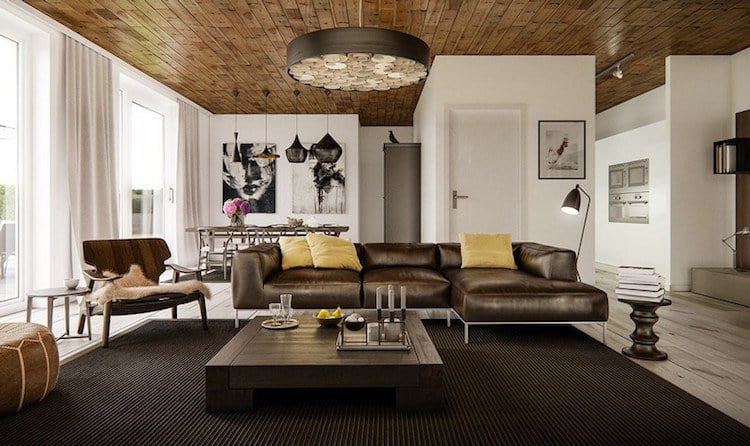 First of all, it should be noted that trendy colors in the field of fashion and that of interior design are two very different things. And, as for the trendy color palette to focus on, it's the deep blues, the intense greens, the original terracota, the rich grays and the pastels (here and there). A diversity that gives everyone the opportunity to decorate a living room that looks like him.
Trendy living room – what's new in furniture?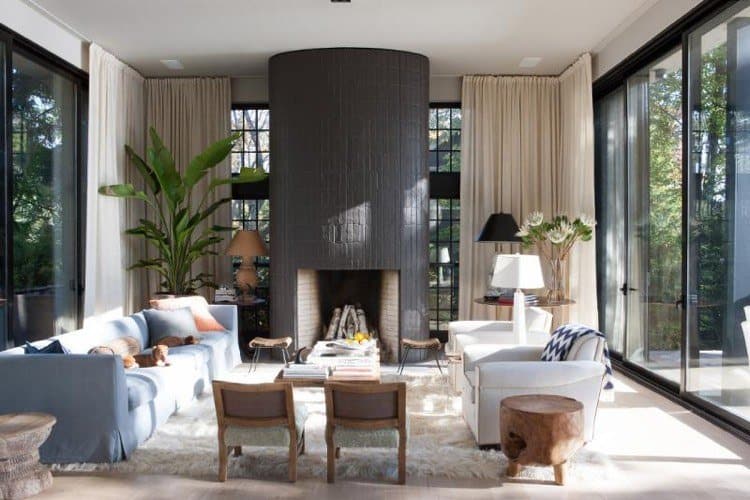 As for the trendy furniture, it is both elegant and practical, inviting relaxation of body and mind! We put on the large blue velvet sofa that brings the living room a touch of trend color and more comfort in everyday life. The Scandinavian-inspired coffee tables find their place in the contemporary living room. Whether in light or colored wood, these practical furniture is the perfect complement to the Nordic interior.
Velvet sofa in dark green with metallic accents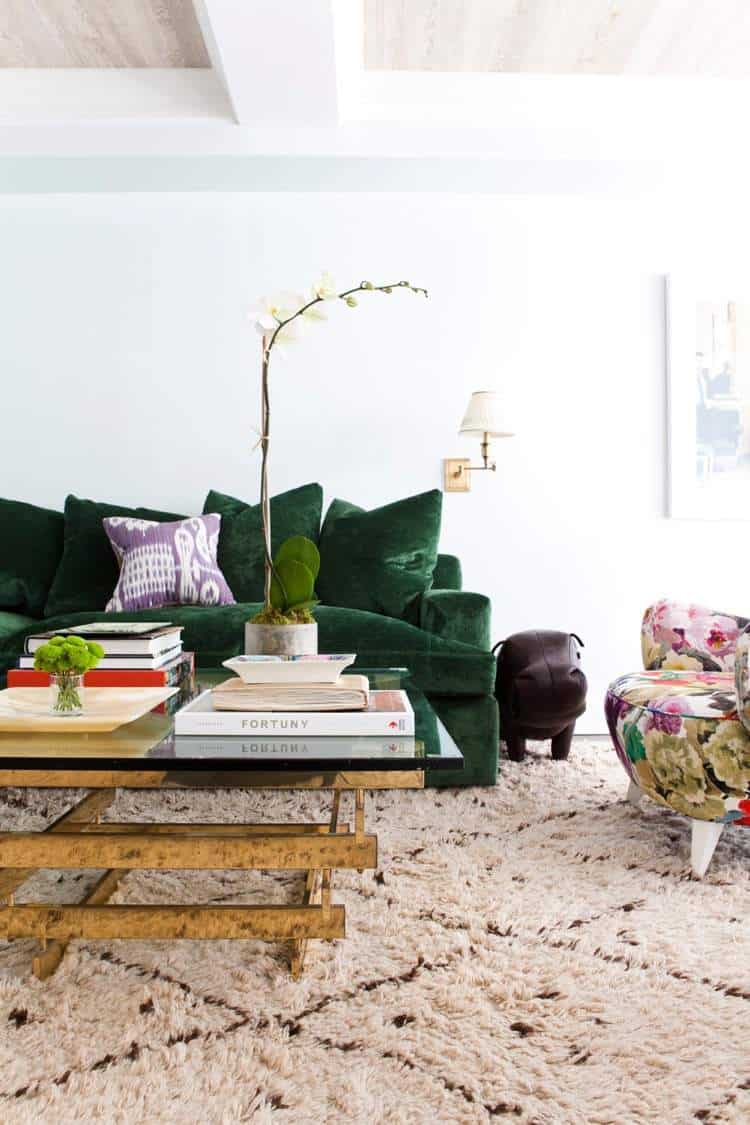 In addition to shades of blue ranging from light to deep, a real must-have, dictated by the trend of living room decoration 2024, it is the velvet sofa declined in dark green. In the white living room, such furniture becomes the absolute accent, which contrasts with the neutral wall painting and the rest of simple furniture and accessories. It can be coordinated with floral tapestries in shades close to the noble green.
Dare metals that create a noble and warm atmosphere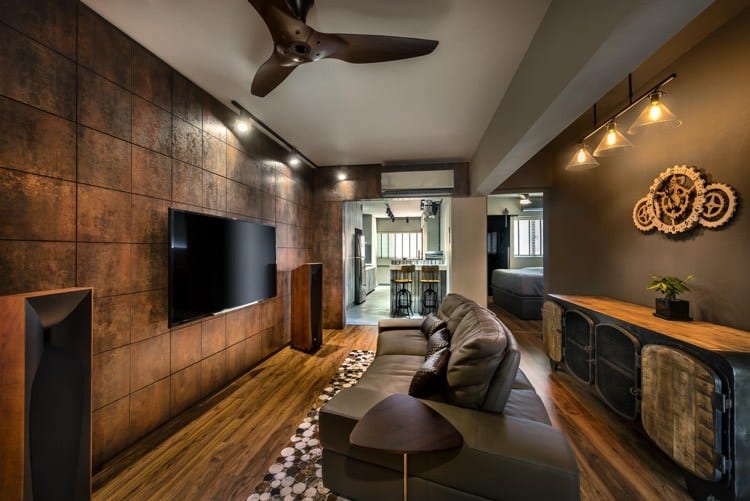 A Corten steel wall cladding, opposite to a wall in brown – a design like this encases the contemporary living room in a setting of nobility and refinement. The anthracite gray leather sofa, the dark wood and brass end table and the wooden floor – this beautiful set creates a warm and super elegant atmosphere.
Trendy living room decor under the sign of Scandinavian charm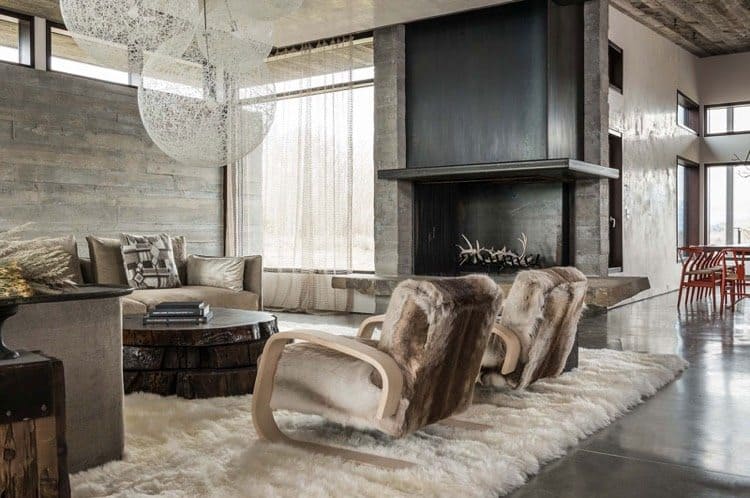 Who does not like Scandinavian style? The sobriety of the furniture, the materials and the cozy atmosphere – these details characterize the Nordic living room and mark the decoration trend for 2024. The predilection for wood and white is also born from the craze for faux fur, the spirit accents nature and geometry.
What details are there about the Scandinavian style at the show?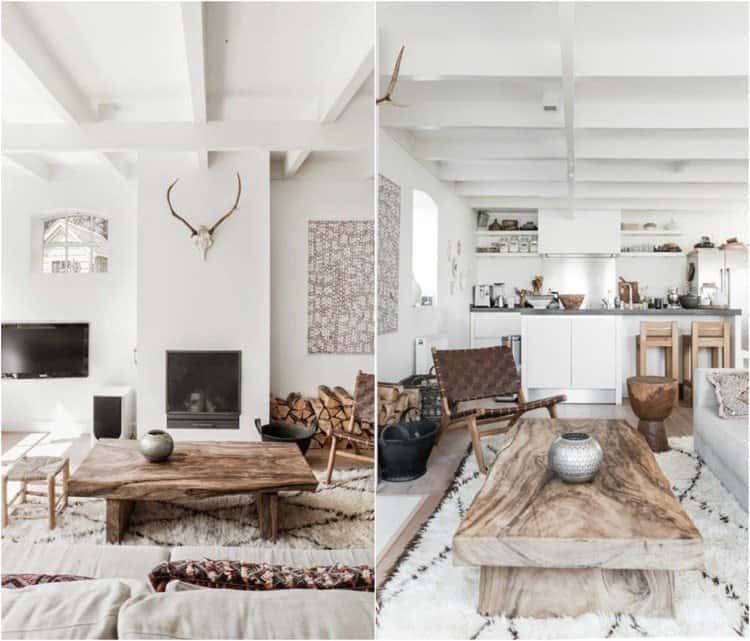 In order to adopt Scandinavian design as a home decor trend, we are looking for simple design wood furniture, carpets and tapestries with geometric patterns, faux fur plaids and so on. White predominates as a mural and it is the wood accents that bring a cozy and warm atmosphere.
Wood and leather furniture and Scandinavian carpet in the contemporary living room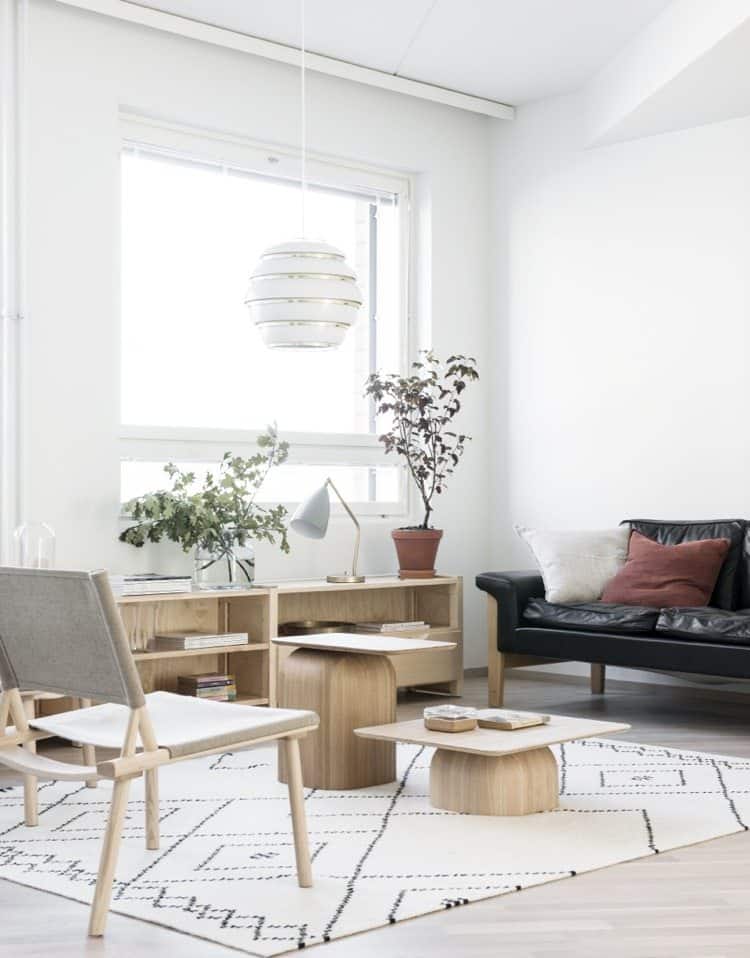 The Scandinavian trend has already taken hold of all hearts! Super elegant, bright and cozy, the Nordic living room invites relaxation and daydreaming. In order to develop it, we adopt the wooden furniture of sober design, the sofa in black leather or gray fabric, the Scandinavian carpet geometric pattern and elegant decorative objects.
Dark green accent wall, faux fur and metallic finish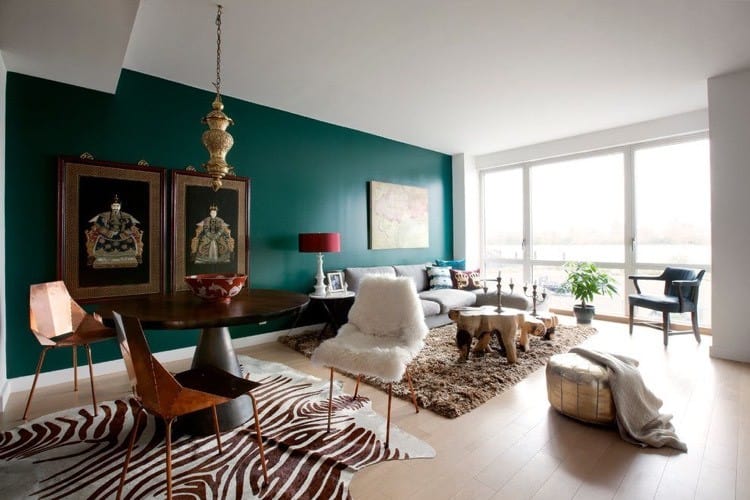 Painting a wall in dark green makes it possible to adopt the trend of living room decor for trendy colors for 2024. A real eye-catching, this wall becomes the ideal backdrop for the sober furniture in gray and light wood. Metals such as copper and brass contrast with deep, rich color and bring a glamorous touch to space.
Wall paneling in sage green, wooden chandelier and mustard leather armchairs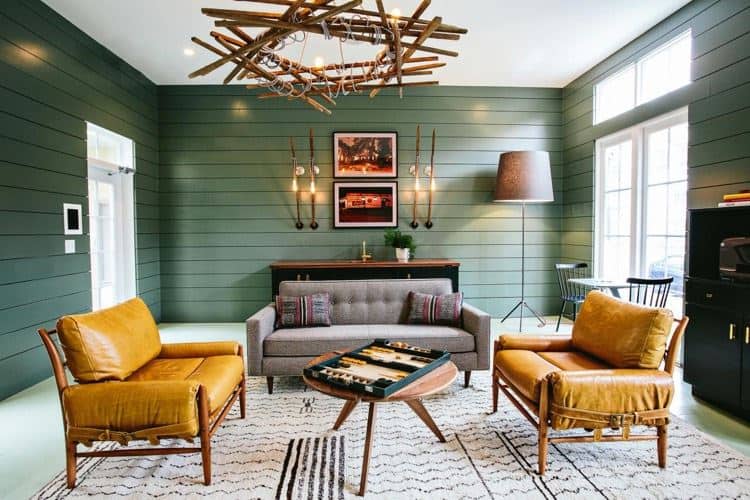 The sage green is among the green tones that find their place in the contemporary interior. This trendy living room nature spirit promises to bring to the space a welcoming and very cozy atmosphere. This soft green harmonizes beautifully with light gray and mustard tapestries as well as Scandinavian wood furniture.
Velvet sofa in lilac and metallic accents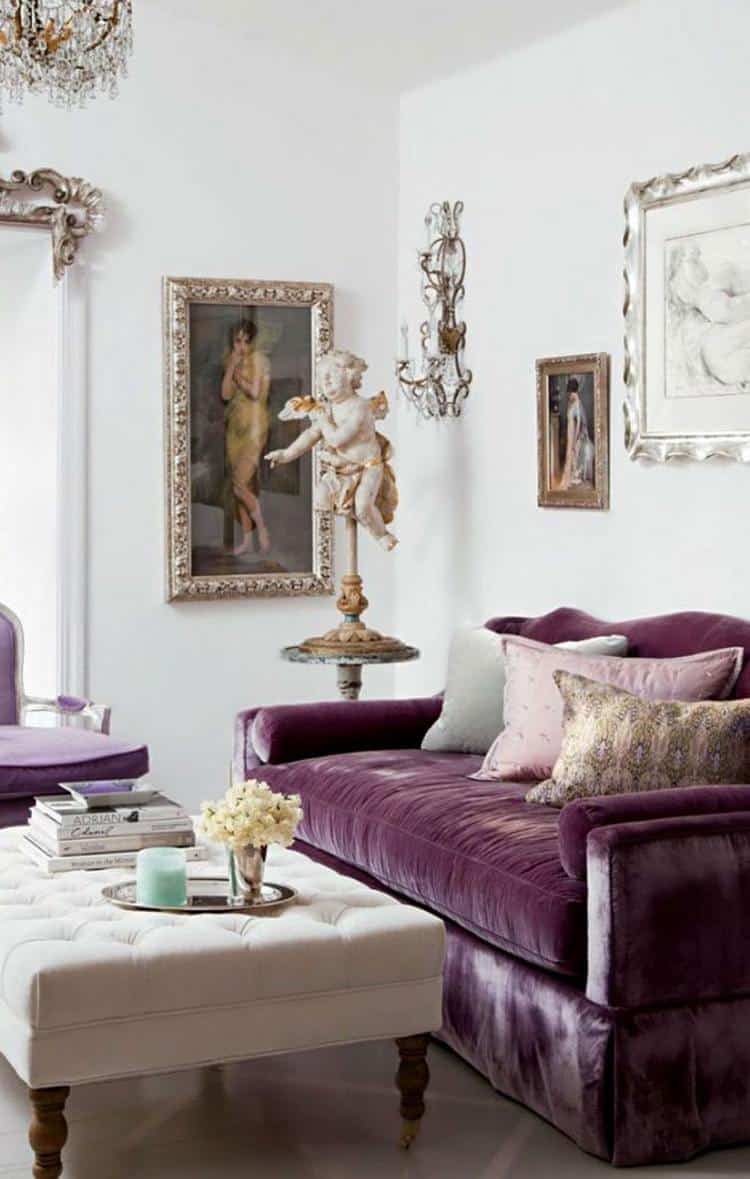 Those who prefer more romantic designs, this is a great idea mixing soft tones of lilac and metal accents in gold and silver. The final rendering is a harmonious atmosphere and super elegant, inviting to dream. Easy to adopt, this living room decor trend promises an interior full of charm and character.
Velvet and navy blue – two trends to adopt without hesitation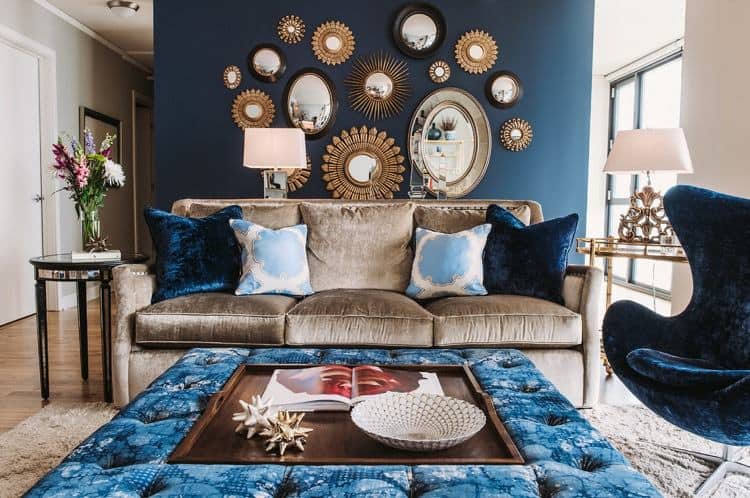 A deco living room trend that befits all styles, navy blue invites itself inside to ennoble! The deep color climbs to the walls, it is found on decorative accessories and tapestries. In combination with a velvet taupe sofa and a wall decoration in gilded mirrors, blue creates a contemporary and refined interior.
Navy blue paint and coffee tables in glass and brass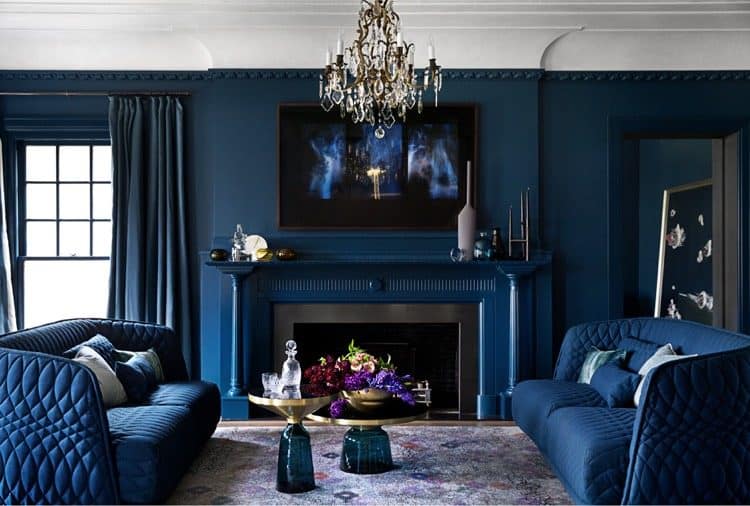 Do not worry about wagering on the navy blue as an omnipresent decorative color in the living room! Deep and rich in character, this shade promises to ennoble your living room in an elegant and interesting way. Play the card of daring and favor the navy blue as a mural, fireplace decor, tapestry color etc. This decorative living room trend is suitable for people who like to change their style frequently.
Living room decoration trends 2024 – predilection for dark olive green and metals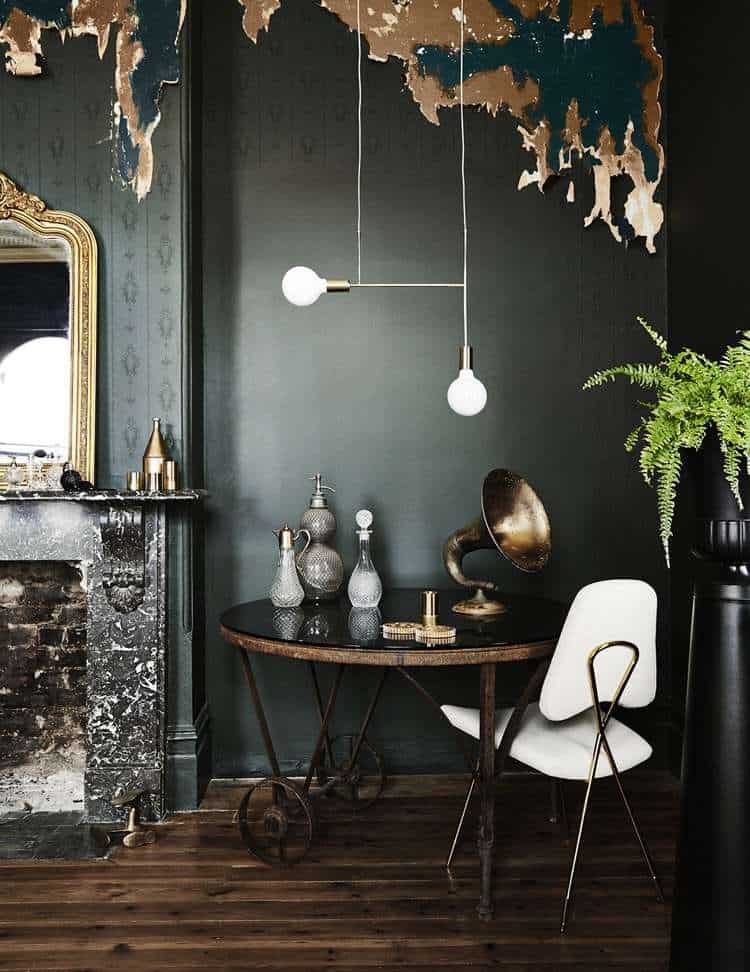 Blue does not tempt you? So, consider adopting the following living room decor trend! Deep, dark green tones promise to give your home an atmosphere full of character and elegance. A dark olive green wall painting contrasts with the wooden floor and create a beautiful decor! This exceptional tone blends perfectly with copper or brass-plated metal accessories.
Mix the graphite gray and the coral pink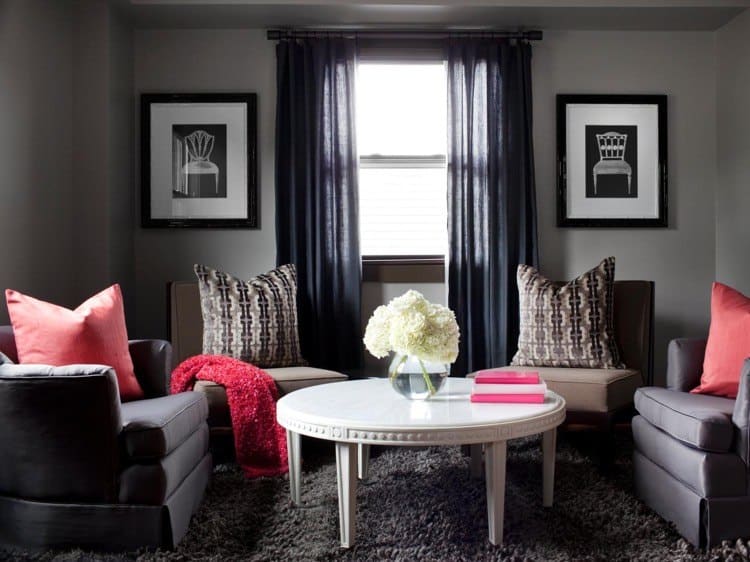 The gray color is a decorative living room trend that melts the hearts of many people. These deep shades form the ideal backdrop for accessories in bright colors. If you decide to decorate your living room in gray, the designers strongly recommend that you favor the touches of coral pink here and there, which will bring life to the monochrome decor.
Cork wall panel and raw solid wood coffee table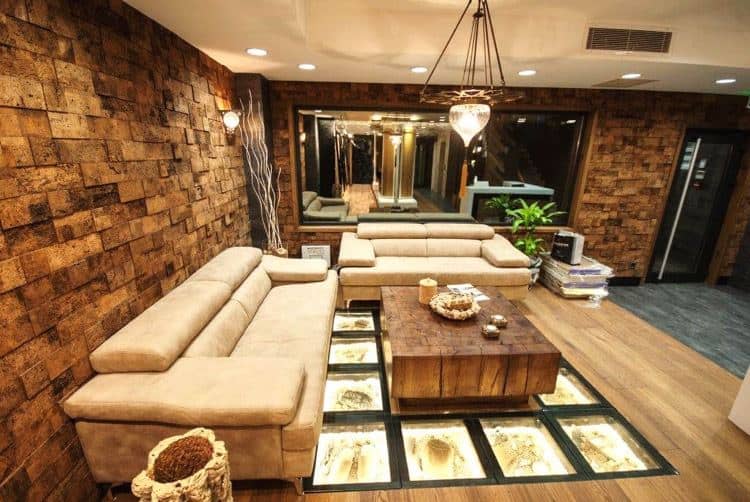 A decorating living room trend to come in 2024, cork finds its place in contemporary interior decoration. Noble, elegant and original, the natural material is invited to the salon to bring an authentic and warm touch. Combine with materials such as beige leather and solid wood parts.
Serving tray in cork as accent on the coffee table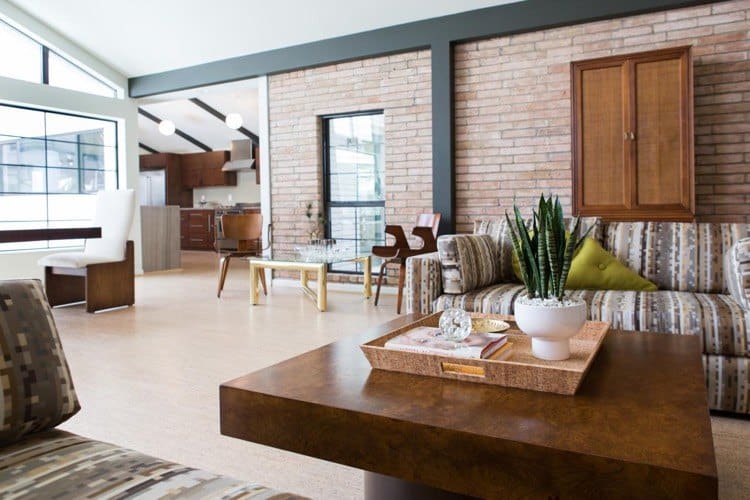 If cork decorating tempts you, try to integrate it in the living room in the image of a practical and aesthetic accessory like the tray of service for example. A green houseplant will highlight the material while adding an additional decorative touch to the living room.
Elegant taupe sofa and coffee tables in brass and glass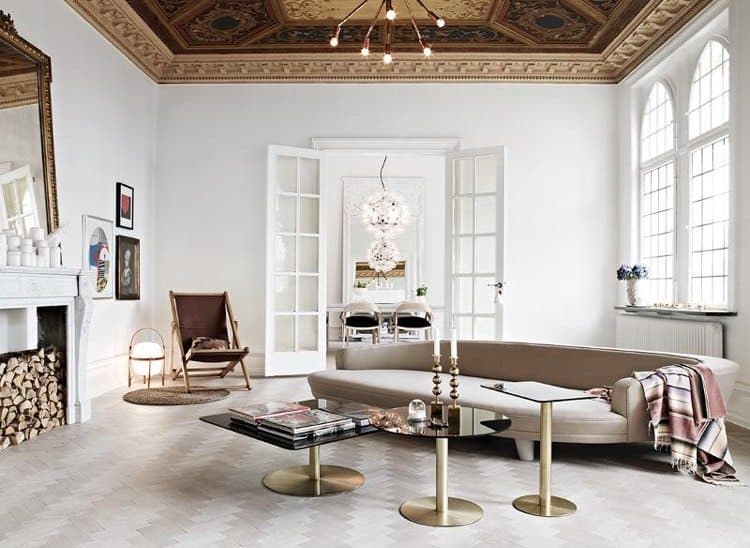 Want to adopt a trend decor for living room that can accommodate all styles? If this is the case, take a look at the coffee tables above. Super stylish, they have black glass trays and brass legs. With such a coffee table you can be sure that your living room will have a noble and personalized look.
Terracotta tile and acid colors in the living room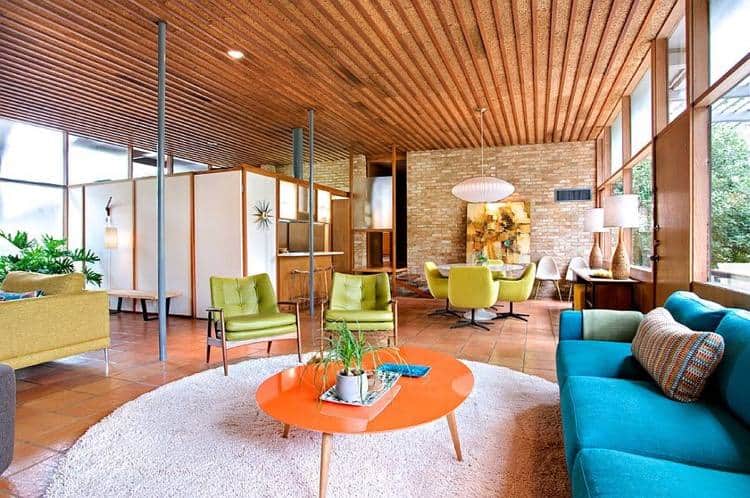 The terracota invites itself into the contemporary interior as a trend decor for living room to adopt in 2024. Spirit beautiful nature and irresistible heat sensation, this color is a must that gives space a modern authentic look. Favored as a floor tile or draw inspiration from the color to paint the walls.
More noble thanks to marble – a trendy living room decor to try right away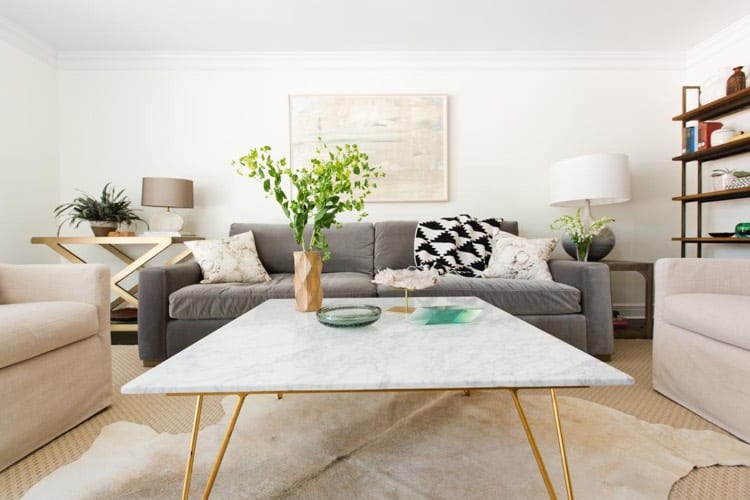 Get yourself a coffee table, equipped with a white marble top and brass feet. Such furniture, both classic and modern, promises to bring more nobility to your space. The marble and brass coffee table is an excellent choice, suitable for interiors with a contemporary, eclectic and minimalist style.
Bohemian decor in the white living room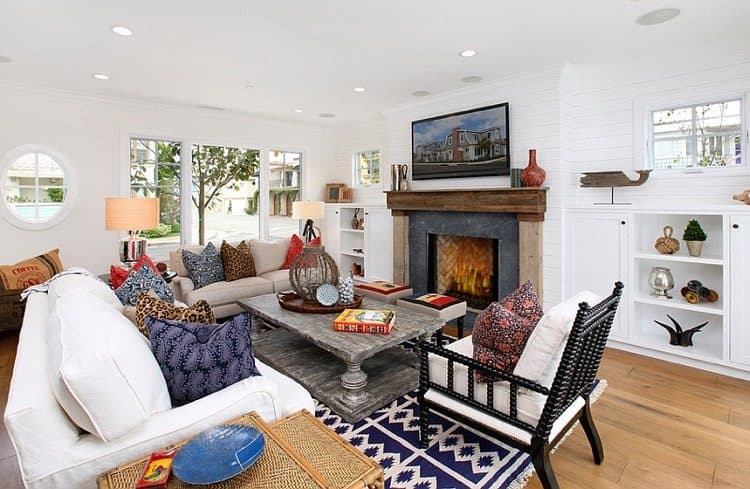 Original and easy to adopt, the bohemian style is part of the decorative trends that will be current in 2024. Original patterned cushions and wild prints, exotic colors and decorative accessories in wood and metal – mix them and you will end up decorating a living space that looks like you.
Touches of bright colors that contrast with the monochrome decor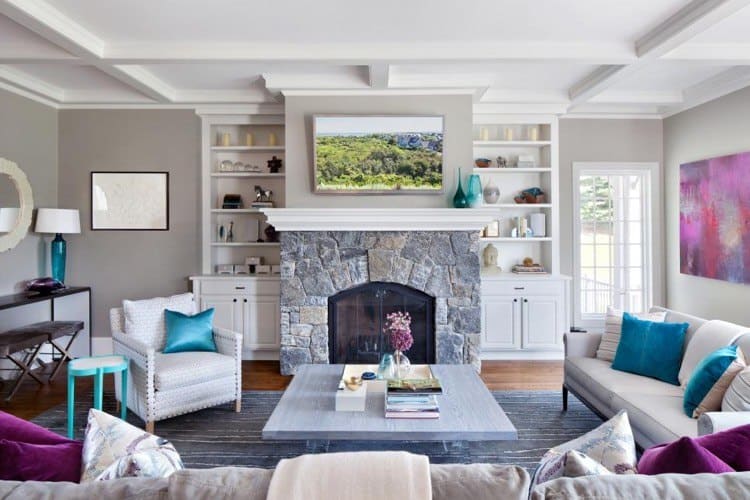 Whether gray or white, the contemporary living room in 2024 will need some fresh and interesting touches of color. Favor the acid colors like turquoise and magenta that contrast with the white and gray furniture and accessorize the living room in an elegant and delicate way.
Trendy living room facing the desert
A neutral color palette, simple design furniture and cozy decor – that's how the decor above can be described. Inspired by the desert, this style includes warm tones like beige, orange, red and yellow, bohemian-style textiles and indoor green plants that serve as the accent. The result is a cozy and charming living room.
Scandinavian minimalism comes to the show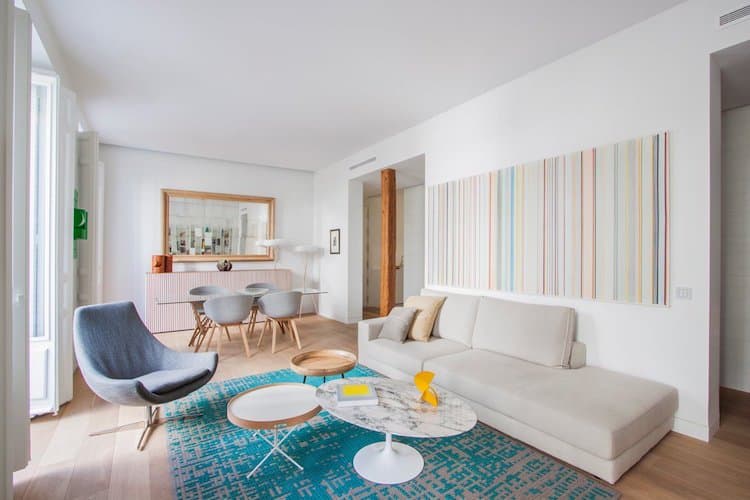 Mixing different styles is a technique to develop and decorate the living room of your dreams. That's why, we can draw inspiration from the interior above, elegantly adopting minimalism and Scandinavian charm. The end result is a living room decor trend to adopt without hesitation in 2024!
Adopt shades of blue to decorate a trendy and super stylish living room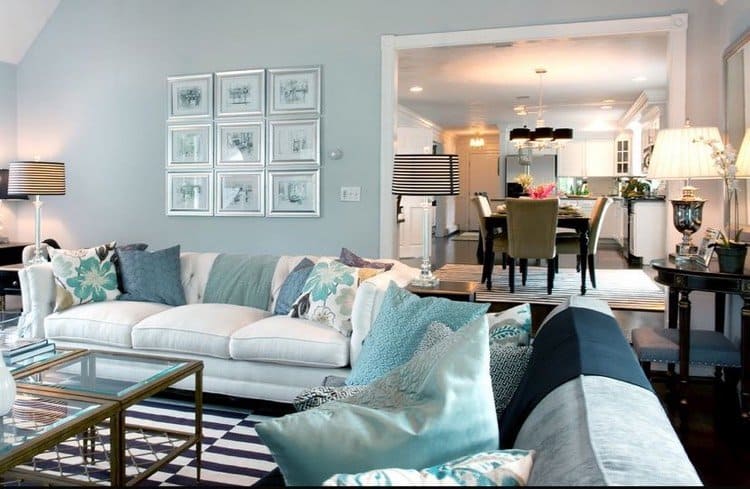 If you're a fan of blue tones, then, the idea above is right for you. This palette of ice blue, blue-gray and navy blue brings the living room an elegant and bright atmosphere. Some metal accents contrast with the blue palette and serve as additional accent.
Pastel yellow accents in the bright living room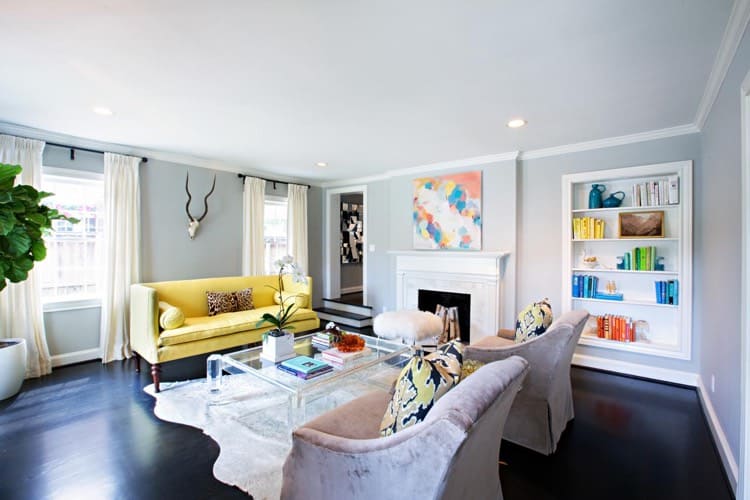 Transparent materials and acid colors – adopt them and you will not regret your choice. A pastel yellow sofa and an acrylic coffee table will be your trusted allies in the coming year. Very current and interesting, this furniture will allow you to customize your space according to your desires.
Mix of yellow and blue and glass coffee tables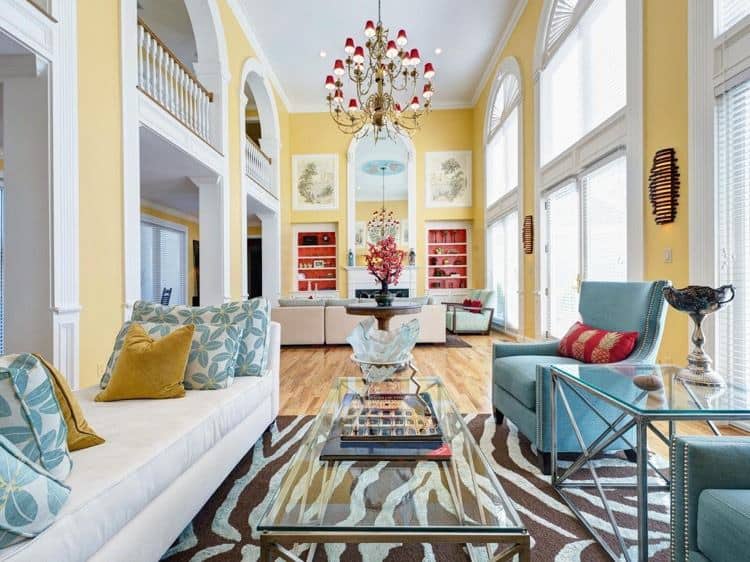 Dare the soft tones and mix them to succeed the fresh and original living room decor. Glacier blue and yellow harmonize perfectly and bring to the space an elegant and inviting atmosphere.
Trendy living room decor – adopt modern ethnic style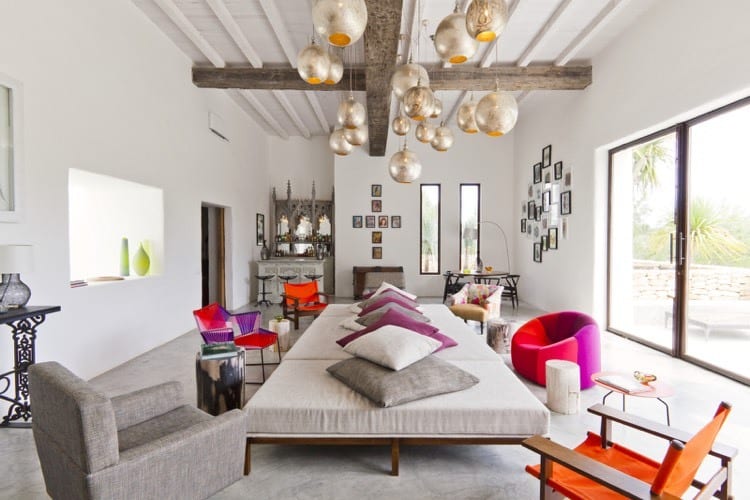 Let yourself be inspired by the living room decor trend that we present to you in the photo above! This contemporary interior demonstrates that the mix of styles is a great way to personalize the space by accessorizing it with just a few accessories. In this case, it is about several accumulated cushions and some chairs declined in acidulated colors.
Cozy minimalist living room with blue and dark wood accents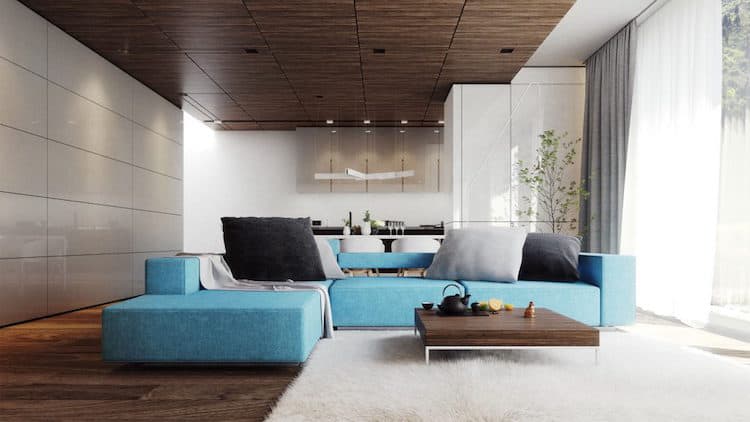 An excellent example adopting the minimalist but cozy living room decoration trend, the interior above boasts a turquoise sofa inviting relaxation and a trendy long pile rug. Impossible to resist it!