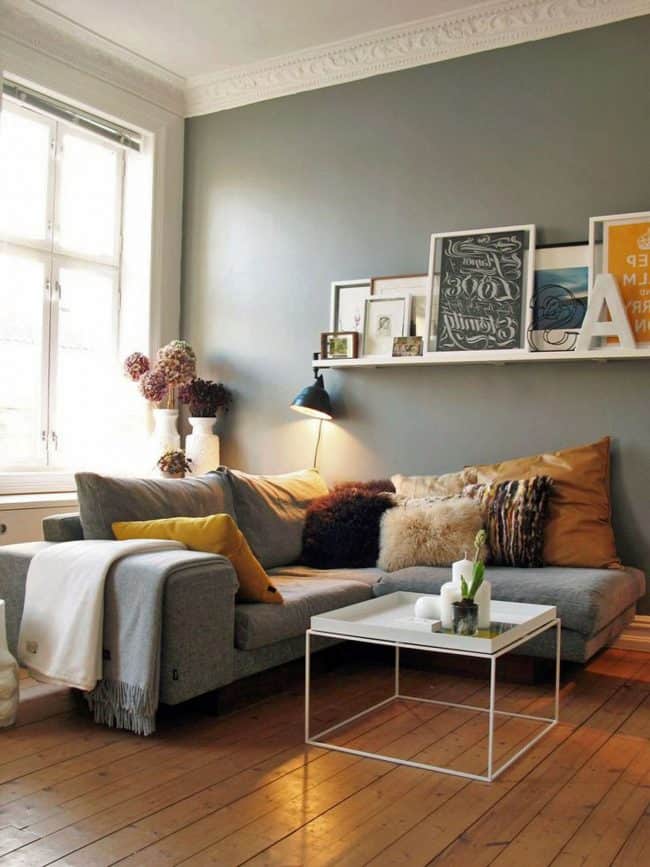 The living room is probably the most used living room in the house to spend most of the day. That is why it is essential that its decoration is in such a way that captivates the people of the family and visitors, making them feel comfortable and comforted. That is why we will give you some ideas for decorating living rooms, their layout and design.
The living room is the center of our home, therefore, it is important to have a nice and practical design for all those who live at home. They are fun to decorate and should be functional, trying to make the most of your space.
Design Trends 2025 for Living Room
Sofas and furniture for living rooms 2025
The most prestigious interior fair in the world, Salone del Mobile in Milan, showed us a lot of trends for 2025, which were highlighted by a combination of history and future, high technology and nature. these opposite opposites, combine to achieve proposals of comfort and elegance.
The luxury of colors and materials and their combinations are impressive. Shades of green, from the color of grass to oil green combine with yellow and red-pink. The base color is always gray, in all shades. Wood is the dominant material, and various metals such as copper, brass and chrome, essential details in the furniture elements, which in combination with other materials such as glass or plastic or materials provide a stylish and very sophisticated atmosphere.
The armchairs and sofas are the protagonists par excellence in the living room. Salone del Mobile definitely focused on a particular trend: a comfortable elegance according to the Danish concept of "hygge", which means a cozy and pleasant atmosphere, mixed with a totally Italian vision of sophisticated style.
TV furniture is simple in design but rich in materials. They are accompanied by comfortable sofas with low backs, with elegant slim legs, following the style of the 50s and up. Coffee tables are a composition of elements of different dimensions and materials, and are dominated by metal and stone. The armchairs are soft, with oval shapes, and the new thing is that the design of the exterior armchair fits perfectly into the interior atmosphere. The carpets are faded, abstractly, with floral motifs and geometries and the ethnic motif is still present.
Neutral colors
1) The shades of white are what are used this year as neutral, especially on the walls, to highlight the touches of color, for example green, because remember that it is one of the colors of this year.
2) Also in 2025, the walls can be renewed with the flush color. This yellowish-pink inspires softness and looks very vintage chic.
Dark colors
Many people are often afraid to use dark colors, believing that they may feel suffocated. If they are dosed correctly, darker colors will move away the walls on which they are applied.
Walls decorated with watercolor
It is reinvented to be projected in large format. We love its transparency effects and the appearance of the light it emits. Impossible not to be happy in a place where organic and floral tones are proposed.
Reupholstered sofas
Roche Bobois has been proposing this type of concept for years, but few dare. In 2025, it will be time to make use of a good selection of fabrics in the market and look for the service of an upholsterer.
Brown leather
It is easy to combine with all colors, both cold and warm. If you want to invest a good sum for the long term, brown leather is timeless and is a very good bet, as it never goes out of style.
Sculptural coffee tables
More than a functional object, coffee tables almost act like art this year.
Colorless carpets
The colorless and worn look makes a precious and authentic object. The rugs are easily integrated into any interior style, from a contemporary or classic ambience. Raspberry tones with khaki accents are used a lot this year.
Articulated reading chairs
Pompons
Bring a little fun and a bohemian touch, at the same time, with tassels and pompoms, both in the curtains and cushions.
Exhibit the books
Mix covers of all kinds, books, novels and magazines. A surprisingly harmonious whole can be achieved.
Design in the decoration of living rooms
If you want to give a new air to the heart of your home, and do not know very well where to start, or have not yet considered how you are going to achieve it, we provide you with some ideas to get a nice and functional living room decoration.
Define activities that take place in the living room
To begin, a list of the activities that the family carries out daily in the living room must be made in order of time that is dedicated and important. Then make another list with the furniture or appliances that is needed for each activity.
Choose a focal point
The next step is to choose a focal point of the living room, around it will rotate the rest of the furniture. This can be anything that is the most striking in the living room. It can be the fireplace, a painting, a window, a carpet or whatever you consider convenient.
Distribute furniture
After this begins the layout of where each piece of furniture will be. Here you have to have several points present. Do not overfill the living room, take care that both the windows and doors can be opened wide, leave the pathways well defined, where possible have tables next to the chairs or a coffee table, among many other tips.
All this must be pointing to the chosen focal point. If there is more than one focal point and the living room is large, two subspaces can be created within the same living room.
Space measurements
Calculate the size of the living room and prepare a list of all the furniture. This will ensure you do not buy items that are too big or too small.
Choose the sofa
Choose something elegant. The material, color and design of the sofa will improve the style and atmosphere of our living room. The width of the wall that will be used, to place the sofa is an important element to consider, as it will affect the entire presentation of the living room.
TV
Nowadays the televisions are thin and can be easily mounted on the wall and use the TV's auxiliary furniture for storage, such as: video consoles, decoders and other items. The audiovisual systems of today are multi-functional and include television, multimedia PC, speakers, amplifiers, DVD / CD, etc.
Conference living room
To create an intimate living room, perfect to share and meet with loved ones, the best option is to place the furniture in a way that helps generate this good atmosphere. For this, you should place the chairs and chairs relatively close and leave space in the rest of the living room. The seats must form a rounded figure to be able to converse in a more comfortable way. It is also good that all the seats reach the central table. Finally, light the meeting round with lamps.
Room with play areas
If it is a family living room, it is perfect to organize it so that they can socialize without having to be doing the same activity, something perfect for the youngest of the house. You can create entertainment areas, such as a table with board games, a piece of furniture near the armchairs and sofas, and television so that everyone can see it. Also, place video games on television.
Room with areas for children
If you have small children, you can create a similar living room by leaving a lot of space in front of the television so that they have their play area, and you can relax and socialize with the rest of the family without losing sight of them.
Rooms to watch television
If in your home you watch television in a group, such as sports or movies, the best option is for all the attention to be taken by television. You must ensure that all seats have a good view.
Room to read
Finally, we show you a reading living room. Comfortable sofas to be long while enjoying a good book. It is also important to include a television for those nights that have a good program, but television should definitely not be the focal point of the living room.
Ornaments and decoration accessories for living rooms
The rest of the secondary decoration will be done according to the basic principles of the style that you choose. Decorating the living room with small furniture and accessories will be essential to make the living room look cozy and beautiful. The lonely corners can be enlivened with plants and lighting elements.
A very simple way to get an original living room decoration is to mix vintage elements with the furniture you already have at home. For example, put on your auxiliary table a radio with retro air, giving an interesting touch to the living room. Also think about the small details that you can change in an economical way, you can always acquire a vase of a striking color, or that it is transparent and place large flowers of bright colors.
Finally, something very comfortable and that gives a chic touch at the same time romantic, is to make a reading corner. Choose the living room with more light in your living room, a table and a comfortable armchair, it is also interesting to buy a lamp with dim light, and enjoy.
Remember that the most important thing to achieve a decoration of original and beautiful living rooms is to think on the one hand on comfort, and then enjoy the work done and the purpose you have achieved.
Colors in the decoration of living rooms
Think about your favorite color, the general style and the theme of your home. You can combine or contrast the colors of the wall with the curtains and furniture, everything depends on your personal taste.
It is important before making decisions to get a sample of the color and apply it on a small portion of the wall to get an idea of how it will look.
The first thing that you have to think about when giving a new look to your living room is in the color of your walls, now they take a lot of bright colors, combining them with furniture in light tones, or in reverse. For example, you can paint the walls in white, with cushions and red carpets.
Decorating cozy living rooms
The cozy living rooms are those that, through the use of colors and decoration accessories, achieve to give the living room a pleasant and comfortable appearance. We will show you some ideas to inspire you.
This is a decoration of retro style living rooms whose charm is the mixture of subdued colors. Even the armchairs are of different colors. Oriental style carpets add an interesting touch to this living room and unify all the disparate elements.
You can add a fun and different touch to a traditional style living room. In this case a coffee table that was an industrial car, painted in yellow and decorated with lush vases add interest.
Inspired by an English country style, this living room is full of antiques, sculptural furniture, and botanical prints. Some different details have been added, such as patterned cushions in giraffe skin and a hanging tropical style lamp.
Bamboo green curtains and blue patterned cushions dot color, mostly decorated in neutral tones: walls, sofa and the rest of the decor.
A simple white living room gives charm to antique pieces, such as a 19th century wooden tub used as a coffee table and a vintage sideboard.
A simple decoration in black and white looks very beautiful. The mirror expands the small space available in this living room.
A loop wool rug illuminates the deep brown browns of this living room. A coffee table made of iron and the stainless steel elements of the kitchen also illuminate this dark space.
The stripes in blue and white give this living room a nautical look.
Whether it's ceramics, works of art or magazines, you can create a visualization of our favorite items and add interest to the living room. Plexiglas is ideal for creating furniture that allows the visualization of books and magazines.
You can hang a large canvas behind the sofa to frame and add interest in the living room. Try to combine the colors of the canvas with the accessories and furniture.
If the decoration is very pale and neutral, you can give color and life with tapestries in colorful ethnic prints. You can hang them on the wall or cover the central table.
You can introduce organic forms, which allude to the curves of the leaves or the fine sculptural lines of the delicate foliage. Simple designs and strong, shiny surfaces achieve a contemporary look.
You can decorate the walls with geometric panels in soft colors. The colors of the furniture harmonize with the colors of the wall.
Pale pink and gray in giant overlapping shapes. The geometric figures even cover the door.
A combination of calm and neutral colors can be enlivened with contemporary floral prints. The windows with translucent curtains allow light to pour in.
A mix of styles, sometimes it does not hurt. A little art deco and eclectic can generate a good conjunction if you know how to handle the colors.
The floral theme alternated with white bases and very soft pastel colors generate an environment with an unparalleled freshness.
This could be said to be a mixture of the previous style with a more rustic style, incorporating more colors.
Room cooler style, but with an interesting elegance. With a set of cold colors and much use of glass.
Modern style. Maybe not so cozy; one more living room for work than for a relax.
Room with a mix of classic and contemporary. With a sculptural plant that lets loose the imagination of those who pass by.
The conjunction of all the good details came together in this living room. Warm, cozy, cheerful but soft colors and wood details.
Decoration of modern living rooms
The essential piece to achieve a modern living room is the sofa. The large modular sofas can be an excellent option, as we can accommodate our space and available measurements. Then the central table, the furniture for the TV and shelves on the wall. This base set is what will give a modern look to our living room. We must also bear in mind that a minimalist style will help us achieve a modern look, as well as neutral colors.
Decoration of minimalist living rooms
Minimalism is not just a way to decorate the home. It is a philosophy of life inspired by oriental cultures. The main idea of this philosophy is that with a minimum of furniture and objects in a living room, there will be more energy in space. Therefore, the living room, a meeting place, is a perfect place to apply this philosophy, and thus achieve a positive and energetic space.
Minimalist modern interior design is increasingly popular, especially in large cities and urban areas. The basic elements of this decorative style include reducing the number of furniture to a minimum, which eliminates excess decoration and optimizes functionality.
The minimalist design is perfect for open interiors and full of natural light.
Typical materials for minimalist decoration include cement, glass, metals such as aluminum, stainless steel and chrome, wood, stone, artificial materials such as vinyl, PVC or acrylic. Some natural polished black stones, such as marble or basalt, are very popular.
The luminaries are another important element. They should not be too sophisticated. The decoration accessories are minimal.
The emphasis is on the contrast between light and darkness. The different shades of white, black, gray and blue are the most used.
Decoration of affordable living rooms
Next, we will give you some ideas to inspire you to make a cheap decoration in the living room.
A colorful wall in your living room, can transform the atmosphere with very little money and effort.
If the sofa is aged or has a very old upholstery, you can change the coating with little money. Several stores offer a wide variety of fabrics.
Consider updating the lighting in your living room. Light is very important because it creates the mood. In the big decoration stores, you can find very cheap options.
You can also choose wallpaper walls. You can place it in a section of the wall in order not to overload the atmosphere. Whether retro, floral or geometric, it can bring a lot of style to the living room.
Buy a canvas to paint, some brushes and paint, put the sleeves and hands to work. There are many easy techniques to compose a good canvas.
A collection of objects is also a cheap way to add interest to a decoration.
Bonsai, yucca, ficus … there are many varieties of green plants, which, besides being very economical, are a very simple way to make a living room look beautiful and pleasant.
Cushions are items that do not cost too expensive. Therefore, it is a good way to decorate the living room without spending too much. You can also simply change their covers.
Decoration of small living rooms
Here we show some photos that can help you in this type of living rooms.
Rooms without windows
Here are some ideas for your interior living room to shine with the same force as a living room full of windows.
Opt for lots of lighting. Keeping the living room well lit will be detrimental to its lack of windows.
Hang a mirror in the form of a frame window. A mirror-shaped window frame is not only an interesting way to decorate, but also serves the purpose of reflecting all available light. This makes the living room look bigger and more open.
Choose a focal point of the living room. To order the furniture that will look towards the focal point. The goal is to draw attention to the focal point and lose attention from the lack of a window.
Add works of art to give more color to the walls and improve the theme of your decoration. Make the most of empty walls using the space available for paintings, tapestries and even a mural.
Include several pieces of bright colors in your decoration. Colorful pillows, candles or carpets prevent the living room lacking natural light, seem boring.
Install a fireplace in the living room. A fireplace brings warmth and character to a living room while giving the area a sense of comfort. No one will notice the lack of a window if their attention is immediately attracted by a cozy fire.
Incorporate a lot of green areas in your living room decorating scheme. Plants give life to a living room and give a sense of depth and intimacy. In addition, the plants provide a feeling of fresh air and freedom.
Use different colors in different areas. The use of colors in groups causes the eye to travel around the living room and settle in the color schemes, instead of the empty walls.
Floating floors
Giving your living room a warmer style, giving it more comfort, sometimes it's easier than you think, and you'll get it in the blink of an eye. One of these options is to place a floating platform, so we show you how to place floating platform in a simple way.
You will need to
Decking according to the measurements.
Baseboards.
Wedges of wood of approximately one centimeter.
Hammer.
Insulating plates.
Step by Step
The procedure is very simple, for this you must unwrap the platform and leave it for at least two days in the space that will be occupied later, so that it will take shape.
The next step is to place the insulating plates on the floor, so that the pallet will not spoil easily, once you have it ready, seal it with electrical tape. Once the insulation is in place, you have to couple the platform little by little, taking special care to leave the male socket to continue coupling rows of platform. It is important that when the plate sticks with the wall, place a wooden wedge to make it more resistant to changes in temperature.
To finish, you have to place the baseboards. To place them you must introduce them little by little with a hammer blow.
Remember that wood is a material that is usually very susceptible to changes in temperature, dilating or contracting, so you have to take this aspect into account when placing it.