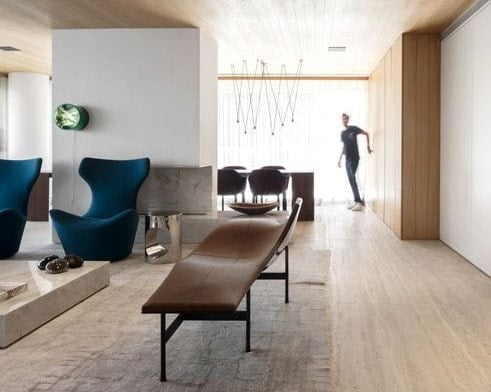 One of the most exciting prospects and examples for the upcoming interior design trends for 2021/2022 season are innovative experiments by industry and designers to create unusual and new materials that guarantee exquisite beauty and style, but at the same time without harmful effects on nature, which requires a balanced approach between nature and technology. In addition to the eco-friendly approach, another steady trend has been outlined in the rethinking and transformation of the interior space, dictated by the growing dynamics of the modern lifestyle. And at the same time, one of the trends that made a strong impression on interior design – the nostalgic retro style continues to remain popular.
Integrated interiors – a new distribution of space
Due to the dynamic requirements of a modern lifestyle, architects and designers are now faced with a more complex spatial distribution, trying to reflect the requirements, hobbies and preferences of the client. The traditional separation of common areas, rooms, kitchens and bathrooms no longer works for modern homes. Digitalization and a flexible work schedule allow more and more people to work from home, which allows designers to create homes with special work areas that are integrated into the design of the house. This is a steady and complex trend requiring creative design solutions. Urban interiors are becoming integrated – in addition to traditional spaces for recreation, entertainment and everyday activities, a new space is needed for work and creative inspiration. Therefore, complex interiors,
The project from Manuel García Asociados is a multidisciplinary studio specializing in interior design and graphic design.
Architects from IDIN Architects have created a comprehensive interior with more than one function  – a  house, office and library in one such interesting home project in Thailand hides many intriguing solutions under its smooth wooden surfaces.
The house created by Fernanda Marques Arquitetos Associados is aimed not only at comfortable modern living conditions, but also at modern minimalism.
In an open plan interior space, the kitchen is definitely becoming the center of the house. Its location among open social zones allows you to create a space that corresponds to the dynamics of the modern way of life of people who combine the preparation and consumption of food with social and family events. These spaces have become characterized by flexible, hidden and movable furniture designs to achieve a neat and clear design.
The use of glass partitions (fashionably framed by thin black metal frames), sliding doors or partial walls that do not reach the ceiling, as well as other visual tricks of the decor composition, helps designers to achieve the spaciousness and free sensation of the limited space of apartments.
The interior in the classical style from Homecult Design, created by designer Victoria Pankova, offers an open-plan layout of the kitchen, dining room, living room with a small working corner and a separated glass partition of the bedroom.
The project of architect Boris Denisyuk combines light wood and soft shades of gray with expressive black elements. Using a flexible and fashionable separation system  –  glass partitions with a metal frame, the designer achieved a feeling of spaciousness and atmosphere full of natural light.
Materials and colors
The search for natural, organic and sustainable has a strong influence on the production of materials, textures and colors that modern designers use to create modern homes. Handwork is a significant and worthy trend recently. This allows you to preserve traditions and unique techniques and bring unique beauty to any decor composition.
The use of natural materials, such as sea grass, bamboo or corn, already occupies a strong niche and affects the production of elements of modern furniture and decor details. And of course, the most important aspect for all industries is to reduce the use of plastic and its recycling.
Also, the traditional presence of other natural materials continues to be popular – wood, marble, stone and ceramic elements (especially handmade) should still be considered as a rich textural addition and a fashionable element for decor. They offer not only a natural and organic atmosphere for homes, but also add a rich textural and tactile insert to compose a luxurious space.
The project from Guangzhou Herabenna Interior Design has the main idea – to be closer to nature and feel nature.
Rich textural expressions will be the theme of the upcoming season – velvet upholstery, hemp curtains, cork walls and plywood, wickerwork and jute for furniture and decoration – everything is rich and organic.
This design project by Olga Fradina demonstrates the combination of a variety of rough organic textures on the walls, floor and ceiling, which are compared with the luxurious interior decor, in the form of velor upholstery, marble surfaces and the modernist shine of stainless steel smooth kitchen cabinets, which makes this interior eclectic.
The fashionable color palette offers soft and slightly retro shades of peach, pale pink and pistachio, which will provide fantastic support for choosing organic and natural materials. An intriguing color cast is gaining speed and offers an unexpectedly warm nuance – a deep ocher-yellow.
The young Sens Studio created the atmosphere of a modern apartment using unforgettable combinations of marble-terrazzo and pastel colors.
Living Room 2021/2022
In order to keep up with natural materials, earth tones and organic retro stylistics of the new season, the forms of the basic elements of furniture also evolve – straight, rigidly square lines disappear, but smooth bends, wavy shapes and soft edges are gaining momentum.
The Italian brand Verzelloni interprets an elegant style adapted to the needs of the modern world.
And if we talk about furniture, its classic models will be reprinted again, and retro elements with new materials will occupy a significant place on the design stage. The yellows, oranges and browns that match the style of the 70s have returned with a more modern look, which has allowed to breathe freshness and newness into the retro style.
For compositions for the decor of the living room for the coming season, metal gloss is also actively used, presented in bronze, gold and chrome metal elements and details, which adds a hint of glamor and luxury. And this glamorous shine will be perfectly combined with such luxurious material as velvet – another trend that has been following since 2018, and also remains popular. This luxuriously looking velvet upholstery blends perfectly with rounded corners and oblong shapes, with a palette of organic materials and with a sheen of metallic accents.
Bedroom decor
The following key trends that guide modern designers in the 2021/2022 season can be identified in the sanctuary of the bedroom. For smaller urban spaces, smart designs such as hidden or movable bed platforms and folding furniture are required. And as a result, the platform of the bed becomes a great opportunity to store things.
If the bedroom is large enough, then for it you can consider a four-poster bed, which has gained great popularity in recent years (not only in bedrooms in the boho style). Many famous designers and stylists in the fashionable bedroom decor use four elongated racks, interconnected by a top frame, which can be open or draped.
Thus, to summarize – the presence of warm and delicate shades, a rich variety of textures, light and transforming structures and eco-friendly materials can be noted in the interior design, all this occupies a high place among modern trends.