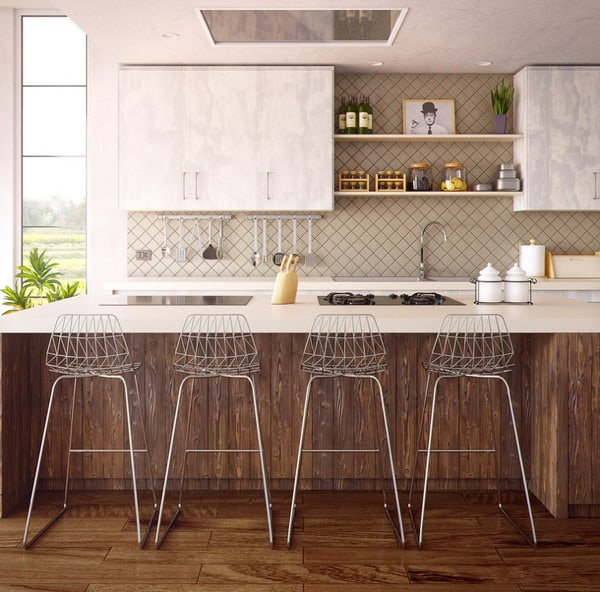 At the turn of the year, it is a tradition in many countries that intentions are made. What should be different, better and more beautiful in the new year? What annoying habits can be discarded? Many people want something to change in the new year. Be it annoying extra pounds, the job or other annoying little things. Power and energy should be a constant companion in activities, challenges and decisions. But not only the private life can change, but also the furnishing of your kitchen.
Next year, many new kitchen trends will hit the market in 2025, which will make you dream. Let yourself be inspired, if you through the gigantic assortment of furniture, lighting articles, fittings and Co. What you should look out for when setting up, upgrading and designing your kitchen for the year 2025 is explained below.
Kitchen Trends 2025: Fascination "Invisible Kitchen"
The integration of living space and cooking area
2025 will be the year in which kitchens will no longer be given their own space. But this should not deprive the kitchen of rank, but rather move it into the everyday life and feel-good area of the residents. The approach for this is the fusion of living area with dining area.
But how does this symbiosis succeed?
Kitchen islands or kitchen bases serve as a work surface and dining table
No color or stylistic changes
Kitchen must be "hidden" (sliding work surfaces, sliding walls)
Avoid sharp edges (opener instead of handles)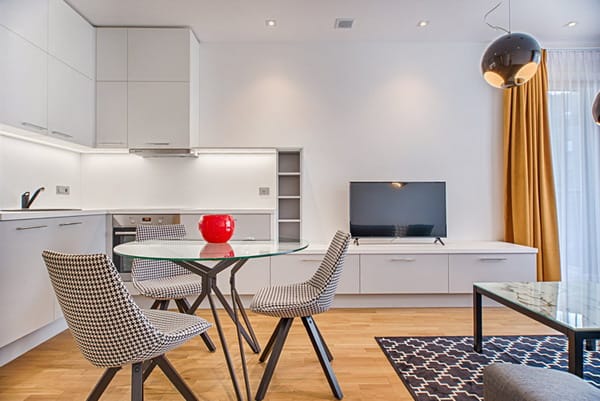 Especially important for the combination of living, dining and cooking area is the smooth transitionbetween these individual areas. There must be no sharp changes that allow a clear demarcation of the individual areas. Rather, a uniform whole is to be created through furniture, colors and decoration. This does not only affect the look of the kitchen.
Rather, behind this soft confluence of the premises is the psychology of the home furnishings. If there is a sharp separation of two areas in a room without having to go through a door, you will feel uneasy. The human brain is accustomed from childhood to undergoing a change as it passes through a door. However, if this does not happen, the brain can hardly associate the jerky change between two areas of life.
Kitchen Trends 2025: Plan the kitchen in advance in detail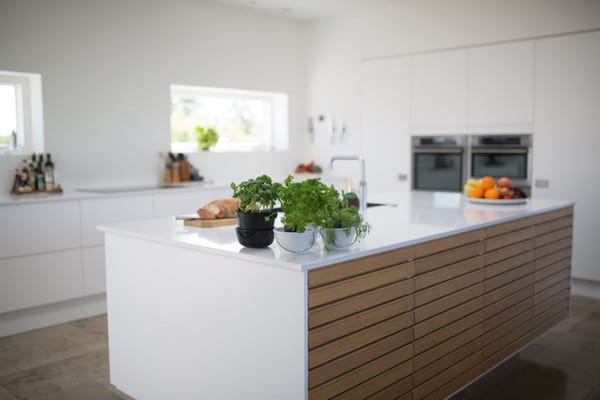 An open kitchen requires much more planning than a conventional, integrated in a room variation. First, pay attention to the spatial conditions. It is very important that you have a room in your home that is big enough. After all, the kitchen, dining room and possibly even living space must be accommodated in one area. The biggest mistake that you can make is planning too compactly. After all, it is an open kitchen, which should ensure freedom of movement and openness. If the surface is used unfavorably, pieces of furniture are too close together and hinder the desired atmosphere.
If you have not already planned your invisible kitchen while building a house, the concept can succeed through professional support of an architect. This allows him to quickly determine which walls can be breached without hindering the load-bearing capacity of the walls.
Kitchen trends 2025: color pop or light-dark contrasts?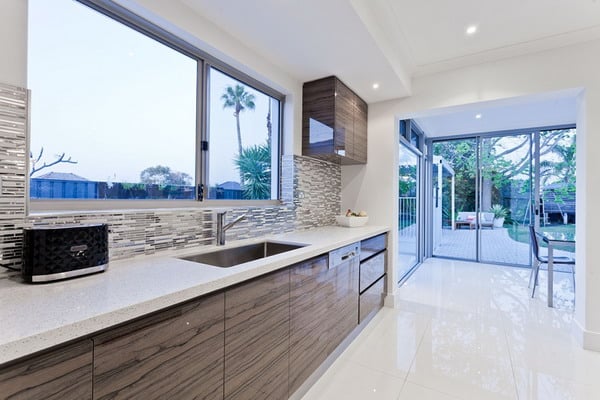 So far, kitchen trends have been pervading bright colors. But in 2025, new trends will be set that will go to black, gray and dark brown. Combinations of both colors, which are associated with different materials, are especially beautiful.
An example of a unique combination in dark nuances:
The kitchen is basically kept in deep gray, but gets special highlights in dark reddish brown. The gray areas give the impression of high-quality stones or marble, whereas all shades of brown bring a wooden look. This skillfully sets accents that guide the eye.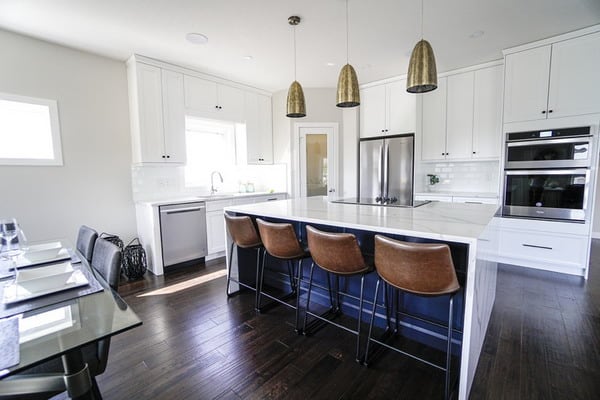 In order to really succeed in this trend, you should make sure when choosing the furnishings that not only the furniture itself is kept dark. Similarly, decorations and details such as handles, taps and more must be kept dark. Even the devices will convey stylish elegance in dark colors, with a small area of high gloss finish.
A tip: Make sure that you only use high-gloss surfaces only occasionally. Whole glossy kitchens will be out of fashion in 2025. Rather, designers tend to dull surfaces, which are lifted by the deliberate use of light in the foreground.
In 2025, the term "Dusty Colors" is coined, which describes the very use of muted, smoky colors.
Kitchen Trends 2025: If it's not too much black and gray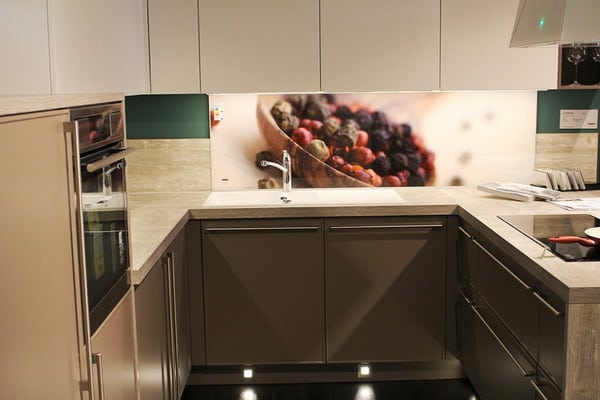 If a complete kitchen set-up in black, gray and brown is too much of a dark color, you can still look for the style of the Dusty Colors. In addition to quartz gray or mocha brown, color plays such as sage green, blue gray, ever green can also be used. These colors can be used as color accents, for example by choosing shelves or cabinets in this color or by painting the walls appropriately. Do not be afraid to reach into the paint pot. However, a dark shade of your favorite color should find its way into your kitchen.
Worth knowing: An exception to the Dusty Colors regulation can be found in Rose. In 2025, a combination of black furniture with rose-colored accents is in demand. Many designers integrate the light color to make the room look deeper. For example, you can find a shelf with a black outer wall but a rose-colored interior. This makes the depth of the shelf shine in a completely different light. In addition, the kitchen gets a vivid impression, because the eye is led from light to dark areas.
Kitchen Trends 2025: cooking only with the perfect lighting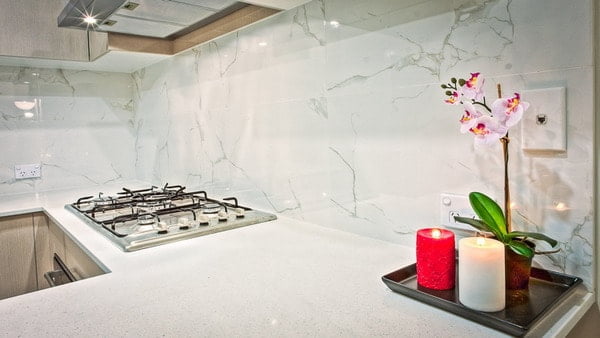 Sophisticated lighting concepts can be perfectly combined to color brightening. While you plan your kitchen, you should always keep in mind that you are using dark colors. These swallow a lot of light, which can not scatter in all directions. Likewise, matt surfaces reduce the reflected light intensity. Thus, in a trendy kitchen of the year 2025, you have two factors that require the use of special, high-intensity light sources. Nevertheless, you should not conclude that the light trend is going to intensive direct lighting. Rather, you should rely on indirect lighting, which specifically set a focus.
What is meant by indirect lighting?
It is not a light source that is suspended centrally in the room like a conventional lamp. Designers integrate the light sources specifically in shelves and wall units, which highlight highlights on countertops, the sink or the stove. A perfect illumination of all relevant areas is thus ensured without there being a central light source. In addition, you can follow a very hot trend, which attaches to the lighting not only a benefit, but also a decorative effect.
Increasingly, LEDs are incorporated in the kitchen base. A radiant eye-catcher becomes the center of your kitchen and connects all elements of the kitchen. In addition, the lighting is well suited to find a transition to the living room. In the evening, when you sit with a delicious red wine and a good movie on the couch, the cozy indirect lighting of the kitchen socket fits perfectly.
A year full of innovations – How kitchen appliances change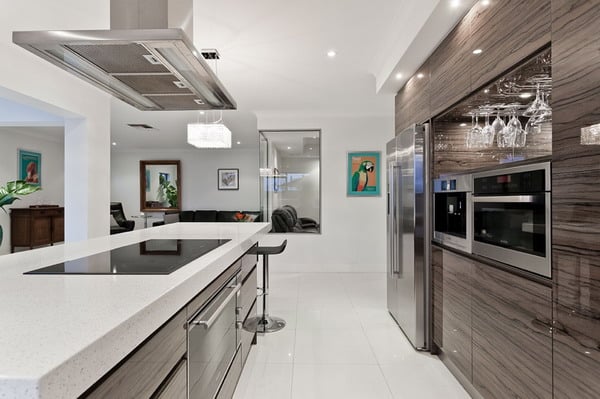 It has been evident for some years now that kitchen appliances are becoming ever more technological. But in 2025, there will be a fusion of smartphone and kitchen. In order to save time while cooking, to assign automatable work to a helper or just to have more fun in cooking, smartphones are coupled with the kitchen.
So there are kitchen systems that brew the morning coffee to the minute, without you have to get out of bed first. The oven and stove can be switched on and off with the smartphone, so that even when on the move a control glance at your kitchen can be thrown. If you want to follow the kitchen trends for 2025 next year, you must definitely focus on the topic of "Smart Home". In the same breath should also be mentioned language assistants like Siri or Alexa, who will probably also find their way into your kitchen. On voice command you start the cooking fun with technological support.
Kitchen Trends 2025: No room for sweeping cooker hoods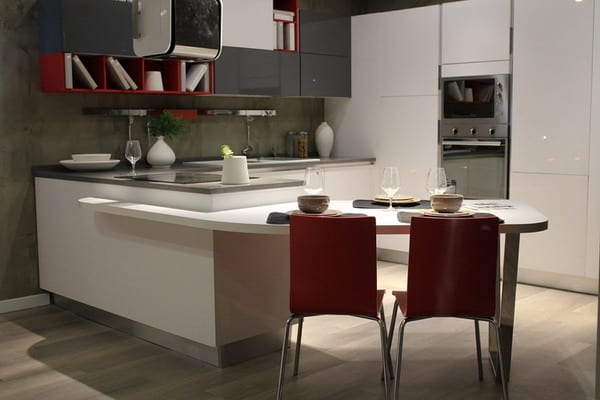 In the course of the minimization as well as the fusion of living space with kitchen, also finds a conventional exhaust hood in the year 2025 no more place in your kitchen. Instead, it has to fit into the room without any problems and virtually disappear. Two systems are particularly popular for this purpose.
Dump ventilator with down-draft:
As a hollow ventilator you have two different executions available. The table fans are located in the middle of the hob. It is a rotating spiral, which sucks the resulting vapor directly. Thus, it can not ascend and condense in space. The minimalist integration in the hob you always have the view while cooking. In addition, you can freely use the space that now arises above the hob. Mount narrow shelves to grow your own spices and herbs here.
The table extractor hood is also a model based on the hollow fan principle. Here, the hood can be sunk in the worktop behind the hob. At the press of a button, the extractor hood moves out of the table and is fully operational. Thus, if you do not just want to prepare the food, a lot of free space, which can be used elsewhere.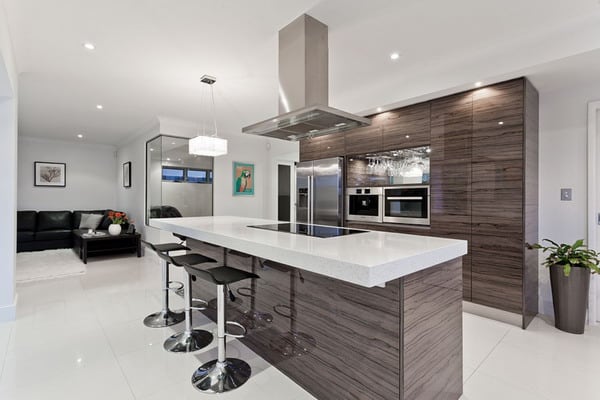 Vertical hood for wall mounting above the hob:
Another way to protect your head from bumping is the vertical hood. It is simply mounted above the hob. It does not have to be extended or opened for operation. This is particularly good when ergonomic work is desired on the hob, where you do not want to crowd under the hood, to the rear plates of the hob.
Likewise, angular cooker hoods are very much in vogue. Similar to the vertical hood, the intension behind these models is the protection of the head as well as the enhancement of comfort.
For this purpose, the hood is at an angle, which rises towards the ceiling. In the area of your head, the hood is located at a distance of a few centimeters to the wall. So you can be sure that you can work relaxed.
In general, the comfort of the extractor hoods in 2025 will be a priority. This is not only evident in the geometric design of the models. The manufacturers attach great importance to minimizing noise pollution. So the kitchen should become a quiet, pleasant place where cooking, baking and cooking are carried out for relaxation. Accordingly, a reduction of the volume is the absolute must-have.
Kitchen Trends 2025: From the tiny saucepan to the giant roasting pan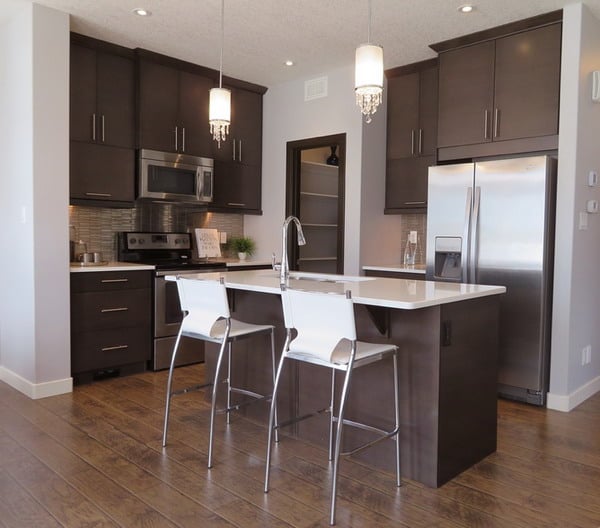 Not only hobs, which work by induction, it must be 2025, but also flexible versions. This makes it possible to connect the hobs so that every cookware can be used, from a small cooking pot to a sweeping roasting pan.
Furniture trends: These facilities are absolute highlights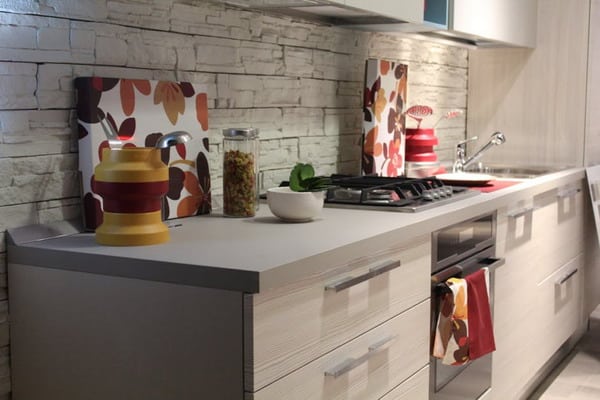 The focus of the facility is increasingly on kitchen designers on a simple appearance. An example that combines functionality, design and elegance is the so-called "Flying Bridge".
In a kitchen Induction hobs, oven, dishwasher, microwave and more are not missing. But when these devices are positioned in space, the concept of the invisible kitchen can hardly be realized. Thanks to the Flying Bridge, all these devices are hidden under a fine quartz stone worktop. So that you can start cooking in no time, this plate is mounted on a slide rail. With a loose movement you push the plate beyond the work equipment. All required devices will be released directly.
In the closed state typical kitchen appliances are therefore no longer visible. This is referred to as a "clean look", which is in full swing in 2025.
Kitchen Trends 2025: What makes the clean look perfect?
Minimalist decorations
Basic color white with shades towards cream, off-white, ivory or light beige
Combine with anthracite or pearl gray (with care, since the clean look is achieved only with little use of color)
True to the motto "Less is more"
In addition to countertops, which hiding a large part of the kitchen equipment, attractive and visually appealing, there are other methods to implement the clean look. For cabinets or drawers, care should be taken that they are designed without handles. This allows the formation of clean, straight transitions, completely free of interference contours. Such furniture is opened with light pressure or by special notches into which you can reach into my hand.
Likewise, not only the furniture should be designed in a clean look, but also the colors used. White, beige or other uniform bright colors make the look perfect. In addition, such a furnishing style dispenses with intensive decorations. "Less is more." Is the motto that you should follow. Set skilful accents with precisely selected items. In order to perfect their integration into the space, it is advisable to pay attention to geometric shapes. Square vases, round lamps and triangular candles are uniquely integrated into the flair of the clean, invisible kitchen.