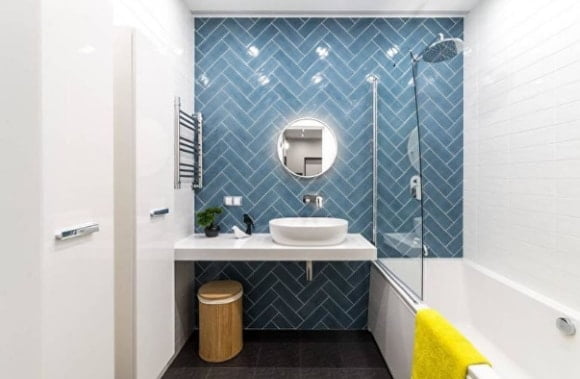 Can't decide on the appearance of the bathroom? Then you are not in vain came to this page. We will help you create the best bathroom design 2022-2023. The modern ideas for bathroom presented in the article will contribute to this.
Design options for a small bathroom combined with a toilet
In most modern homes, builders have resorted to planning a small bathroom for the ergonomic space used.
A small bathroom can perform all the functions assigned to it, however, small-sized bathrooms of this type can confront residents with some design and layout problems. Usually, the latter are combined with a toilet.
Now we will consider examples of some of the most successful, in our opinion, options for such a neighborhood of plumbing equipment. From here, you can highlight a couple of ideas for yourself:
A particularly interesting example of all is the last photo, which shows how well everything can fit into a small area. Here we have a washing machine, a sink with bedside tables, a toilet, and even a standard-sized bath. Maybe something useful could also be mounted in a niche under the bedside table and sink.
In one of the articles, we have already examined in detail what the design of a bathroom for a small bathtub can be, if you are interested – follow the link and study!
Varieties of bathroom tiles
Tile is an excellent material for bathroom cladding. Tiling allows not only to make it beautiful from an aesthetic point of view, but also to extend the durability of the bathroom, as this material perfectly withstands moisture.
It comes in a variety of shapes and sizes, so in this regard you can let your design imagination run wild. If you are going to take this material, then carefully approach the choice of the manufacturer.
There are bona fide manufacturers who will provide you with excellent durable tiles for good money, and there are those who can deceive you and provide material that can be damaged already at the installation stage.
There are a lot of tile manufacturers and here, most likely, it is better to rely on recommendations from friends or numerous reviews from consumers.
We would like to pay attention to one of the most interesting types of tiles – mosaic. Let's take a look at a couple of good options for using it in a modern interior.
Mosaic tile
Mosaic tiles are a great material for a bathroom. It is good not only because it costs a little less than the "large" analog, but also has a huge number of different pattern options, which is a great opportunity to implement even the most daring design ideas.
Below we present to your attention some interesting ways to use mosaic tiles in the interior:
By the way, sometimes you can not only make a pattern from this tile yourself. More and more often there are "patterns" already prepared by the masters of design ideas, ready for editing.
Beautiful, trendy and modern bathroom interior design options
Bathroom renovation design needs to be calculated to the smallest detail. When designing, it is necessary to take into account not only technical aspects, but also aesthetic aspects. After all, you hardly want to redo everything again after the completed work.
And not everyone, in fact, has a taste, so when designing it is worth paying attention to new items from the world of bathrooms. To make it easier for you and minimize the risk of an error, we present to your attention real photos of fashionable, beautiful and cool options for arranging this zone.
And in more detail, we already once understood in one of the articles what your modern bathroom can be, if you are interested, follow the link and study it carefully!
Under the tree
Wood remains more relevant than ever in bathroom planning. It creates a sense of rigor, consistency, aesthetics. Also, a good tree not only looks good, but also fights well with wet environments.
If the tree is well processed, then it will serve you for a very long time. Also, it is worth considering that there are a lot of wooden shades on the market, so you will not be limited in design and approach to the latter.
Marbled
Marble remains a fairly noble material in bathroom decoration. Gives it sufficient solidity. Also, this material is very durable and can serve unchanged for several decades.
Regarding marble, it should be said that delicate bedding tones in the interior are still relevant. They not only look beautiful, but visually "increase" the space if your bathroom is small.
The main thing to remember is that you should not interfere with more than two shades of marble in the interior, as this can greatly disrupt the visual composition.
Shower bathroom with toilet without bath
When the question of saving space really comes up, then you can consider the option of planning a bathroom without a bath. She is not the most necessary attribute in fact.
Practice shows that most people live in such a rhythm of life that taking a shower before work / study, etc. is sufficient and comprehensive to maintain good hygiene.
And water bills can be nicer. Here's a great design for a bathroom without a bathtub:
Beautiful Bathroom Tiles Design Ideas And Popular Trends
A shower stall, if you have good planning ideas, can very well be attached to the bathroom. Fortunately, there are countless numbers of them in the modern construction market.
They are rectangular, square, triangular, with a smooth or sharp contour, narrow and wide, etc. There are even showers with built-in beauty.
They, of course, will be larger in size than their counterparts, but if your desire to soak up in warm water for half an hour interrupted the desire to save space, then this option is also quite suitable for consideration.
Fortunately, the bathrooms for such showers are slightly smaller than their versions without a cabin.
Bathroom decoration with plastic panels
Very often, to save money in the layout of the bathroom, you can find pvc panels. But here the golden rule is that cheap doesn't mean worse.
Pvc panels have a number of advantages, which include their moisture resistance, durability, ease of installation and many others. It is also worth highlighting that they look very good in modern interiors for the reason that they can be found on the market in a variety of colors and form factors.
Also, the advantages of these panels may be that if you are tired of the previous design, then these panels can be easily replaced with new ones.
Another interesting fact is that pvc panels can be well disguised as tiles, stone, marble. This can play into your hands if you want to make the look more solid.
Stylish bathroom design ideas 2022-2023
In 2022-2023, the bathroom design project did not step forward much, unlike in previous years. The minimal style, the absence of unnecessary details and the uniformity of the materials used in the decoration are also welcomed.
In this section, we will consider several interesting and relevant solutions for this year, which are undoubtedly worth paying attention to.
With jacuzzi
Let's start with such an interesting option as a bathroom with a Jacuzzi. Jacuzzi can not always fit well into the interior due to its size and the difficulty of connecting plumbing.
At the moment, corner jacuzzi options are very popular in the layout for the reasons that they are designed to save space.
Unlike their round counterparts, they can save from 1.5 to 3 square meters of the bathroom, thanks to which this space can be used profitably – for example, to put a cabinet or a washing machine.
With corner bath
Also, in 2022-2023, options with a corner bath are popular. A corner hottie can take up even less space than a corner jacuzzi, so these design ideas might come in handy for anyone considering it too.
At first glance, it may seem that a corner bath in terms of area occupies the same place as a Jacuzzi, but this judgment is misleading for the reasons that options of this type do not need pump mechanisms for pumping air.
This "squeezes" the latter, saving you from 0.5 to 1.5 square meters, which can be additionally used for some nice little things.
No bath
But what about those who have a very small bathroom? Where neither the jacuzzi nor the bath fit? There is also a solution for such people – a bathroom without her.
As you can see, the absence of it will replace you with a semblance of a shower without a partition or shower stall. The only big disadvantage of such solutions is that while taking a shower, water will get into the toilet, sink or various cabinets.
Therefore, it is very important to design the place correctly – you need to clearly determine how far the shower will be from the toilet and other parts of the interior of your bathroom.
Without toilet
In most bathrooms, when designing, they can also refuse to have a toilet.
As you can see, the absence of a toilet bowl in the bathroom is not a problem and saves you an extra square meter for installing something useful.
Yes, and in most modern houses, they increasingly began to make a bathroom with a toilet separately, and combined bathrooms are slowly but surely beginning to become a thing of the past. This is not so much a matter of functionality as a matter of hygiene.
With table top
A bathroom with a countertop is one of the main design attributes in bathrooms of this kind.
The table top is not only a beautiful attribute, but also your friend in terms of space saving. Under it, you can not only hide various cabinets for small things, but also a whole washing machine.
The main thing to remember is that the tabletop should be made of high-quality material that will withstand moisture and temperature extremes. For example, it can be stone, granite or marble.
As a rule, in such elements, saving is not the most reasonable step. The lifespan of a good countertop usually ranges from 15 to 35 years.
With window
For those people who love light and space, we suggest that you familiarize yourself with the option of a bathroom with a window.
A window not only visually enlarges your bathroom, but can also perform a useful function – quick ventilation, for example, to get rid of accumulated moisture.
The main rule when designing a bathroom with a window is to pay attention to where your plumbing will be located. After all, you hardly want to catch someone's surprised looks from the street, directed at you at the time of taking bath procedures.
But in any case, you can always pick up good moisture-resistant curtains or, in extreme cases, roll-curtains designed to make your bath procedures completely intimate.
With washing machine
Moving on to ideas for a bathroom with a washing machine. A washing machine is a very important attribute and sometimes it is not so easy for it to find a place in a given area. This even applies to seemingly such babies as two or three kilogram models.
Alternatively, you can take it out into the kitchen or hallway, but most people prefer a more "traditional" layout.
As you can see, it is very convenient to put the washing machine under the sink or countertop – it is not only beautiful, but also saves you space well. Another undoubted advantage of this arrangement is that your washing machine will be securely fixed and during the spin cycle it will not "go away", as it can often happen to them.
With shower screen
Next, we move on to exploring the interesting design of a bathroom with a shower screen. The shower screen is a new trend and is often used in new homes when designing a bathroom.
Such a solution looks not only spectacular, but can also increase the area for receiving your water procedures by about 2 times, in contrast to a shower cabin.
When choosing a shower screen, remember that the material of the latter must be strong and withstand the load. Also take a close look at the tightness.
Typically, this is how well the water holds behind the shower screen, thanks to the rubberized magnetic joints. You don't want to flood your entire bathroom, do you?
It is also important to pay attention to the "dullness" of the glass and its fastening. Partitions of this type must be securely in place.
Large bathroom design
Some people are lucky and in their apartments or houses they can have a large bathroom, in which you do not need to puzzle over the location of certain design and plumbing elements.
You don't need to measure every centimeter, think over every little thing and hope that everything will fit in as it was intended. Despite this, the appearance of a large bathroom still cannot be approached slipshod.
But due to the large space for action and the unwillingness to make any mistake, people often try to resort to design services for such turnkey premises.
We bring to your attention several options for a large bathroom in the photo:
Narrow bathroom design ideas
It also happens that the bathroom can be a narrow space. In this case, you often have to resort to non-standard plumbing solutions.
It is required to look for a certain format of a bath, washbasin, cabinets, mirrors and other elements, and also try to fit them well into the overall picture. A narrow bathroom can be of the following design:
As you can see, the differences from standard-sized bathrooms are that you have to mount a toilet, sink, washbasin and other paraphernalia closer to the bathtub.
If installed incorrectly, this can bring certain functional problems, although if you approach the design wisely, you can get very good and cozy bathrooms.
Bathroom design in light colors
As we said initially, light colors have been a very relevant design decision for the past few years. Especially in 2022-2023.
There are several of the most relevant colors that are used in bathroom decoration. We will talk about them below.
Gray
Bathroom in gray tones looks not only futuristic, but also allows you to focus on various small details.
In this type of area, white backlighting of some basic elements, for example, mirrors, looks very good.
Green
Green is the color of freshness and good mood. You can use it in your bathroom design if you want it to cheer you up every morning.
This solution looks fresh and relevant.
Yellow
Like green, yellow is tuned to lift your spirits and energize you all day.
When using this color in the bathroom, it is appropriate to have some vegetation to enhance the effect. Or various useful little things from the SPA category.
White
White is the most popular color in bathroom design. As we have stated, this is the color of sterility and purity. Also, the white zone looks stylish and orderly.
In the appearance of a white bathroom, it is good to use elements with sharp corners. They bring not only a touch of futurism, but also fully show your taste.
Blue
Blue is the color of water. Also, this color is known for being excellent at calming the psyche. A blue bathroom is a great solution.
You can feel a little bit in the "sea" atmosphere, which is an excellent pastime, especially after a hard day at work.
The beauty of this design can be complemented by various marine elements – shells, candles, jars of beach sand, and so on.
Beige
Beige brings a touch of classics to the bathroom design. Elements of wood and marble are very well combined with this color.
The main thing is not to overdo it with lighting when using this color scheme, as it strongly drowns out the color palette and the bathroom will look unnatural.
Bathroom design in dark colors
Don't forget about dark colors this year as well. They have remained relevant for many years and give the bathroom austerity and do not allow it to look pretentious.
The only thing to consider is that the dark colors in the design should contrast with the rest of the living space. Below are some of the current color schemes for your reference.
Black
A black bathroom, especially with white fixtures, looks not only stylish, but can also speak well of your taste. When using quality facing materials, you can achieve an amazing design effect.
Together with black, you can try using elements of red, gray, beige. Not only do they work well with black, but they can also highlight some details that you want to emphasize.
Blue
Blue, like light blue, can be associated with sea water. Although it is heavier than blue, it is still used to create visual calmness.
The main thing when using blue cladding is not to overdo it with the pattern.
Purple
The purple bathroom is already a more specific design solution, however, with the right approach, it looks just as good as the rest of the dark tones.
Although it is said that purple is the color of depression, with the right approach, it can create a very stylish environment.
Lilac
Likewise with purple, this also needs a special approach. In the elements of a lilac bathroom, you can safely use various prints and patterns.
This will "simplify" the overall picture and remove unnecessary visual burden.
Red
The use of red in bathroom design can be considered one of the most difficult decisions, as the color red is not very much combined. Don't use any yellow, blue or purple elements.
Give preference to the combination "red-white" – this is the only correct solution. If you do not overdo it with color elements, then a red bath will look not only stylish, but also quite unusual.
Black and white
We have already written about the black and white combination. This is one of the most successful combinations. And, by the way, not only for the bathroom, but in general, for the entire living space.
The black and white bathroom has always been and remains at the peak of the popularity of design solutions and more and more people are resorting to it.
In such a color scheme, you can safely use elements of other colors. For example, red, yellow, blue, and so on.
Examples of bathroom designs of various sizes
It is worth saying that living quarters are completely different. Someone has more, someone less. As a rule, older houses have a more "compressed" square, while new ones go to large areas and there is enough space in them for virtually any idea.
The same goes for the bathrooms. Now we will consider some of the most successful, in our opinion, design options for bathrooms from 3 to 10 square meters.
3 sq. meters
As practice shows, bathrooms of 3 square meters remained for the most part only in "stalinkas" and "Khrushchevs". Unfortunately, in such a space you can't really roam and you have to get out in order for the bathroom to be not only functional, but also not to have to squeeze in the latter between various plumbing fixtures.
When choosing a design for a small bathroom, give preference to compact plumbing: take a washing machine up to 3 kilograms, you can take a washbasin of a narrow form factor.
As for the bath itself, it is better to use the latter of the standard type, since, for example, the jacuzzi will no longer fit. With such a squaring, several lockers are appropriate, but you should not walk around especially, as they can also bring functional inconveniences.
But it is better not to use anything superfluous at all and be guided by the "bath-washing machine-sink" scheme.
4 sq. meters
By adding an extra meter we have valuable space for additional elements. The "bath-washing machine-sink" scheme can already include the use of not only various cabinets, but also mirrors with shelves.
The rest (plumbing) is practically no different from a 3-meter square.
In one of the articles, we already once considered what the design of a bathroom 4 sq. meter, if you are interested – rather follow the link and study carefully!
5 sq. meters
A bathroom of 5 square meters is the "golden mean" among other quadratures. Unlike 3 and 4 squares, additional plumbing can be easily placed in this bathroom.
For example, 5 square meters can easily accommodate a jacuzzi, a large sink, cupboards, a standard-sized toilet and a bidet (optional and required).
Even after installing all of this, there is still bathroom for several different design details. With this quadrature, the threshold begins when you are practically unlimited.
6 sq. meters
The bathroom of 6 square meters is already crossing the "standard" threshold. Such bathrooms are usually made in private and residential buildings of a new type.
It easily fits a large jacuzzi, all plumbing, cupboards, toilet and bidet. Although such a bathroom loses its certain coziness, it gains space and does not have to solve design puzzles regarding the most successful placement of plumbing.
10 sq. meters
10 square meters is a truly huge bathroom space. With this kind of squaring, you are completely unlimited.
Regarding the placement of plumbing, everything is the same as on 6 square meters, but here you can easily place, in addition to the bath, a spacious shower, several washbasins, a large countertop, a couple of mirrors and other useful (functional) things.
Square bathroom design
It does not often happen that a bathroom is a square bathroom. This means that the choice of plumbing should be approached especially carefully.
After all, most countertops, washbasins and baths are designed for rectangular bathrooms. Then the question arises – what to do in this case?
We will consider the design of a square bathroom 3 × 3 and 2 × 2 sq. meter, since in such exceptional cases this is the most common squaring of bathrooms of this form factor.
3 by 3
As you can see, the 3 by 3 bathroom differs from its "standard" counterparts in that it requires the installation of a smaller bucket than in standard bathrooms of this kind.
Also, for the most part, this applies to the sink, countertops, various cabinets and the toilet (if it is combined).
2 by 2
In a bathroom of 2 by 2 square meters, it is very important to calculate everything down to centimeters, since this is a very small square.
In this case, the plumbing should only be a "basic" set.
Triangular bathroom design
In fact, triangular bathrooms do not exist as such. bathrooms are called triangular in which at least one corner is beveled.
The location of plumbing in such areas is standard and not replete with any extraordinary ideas.
Design options for individual bathroom details
Having talked about the overall design of bathrooms, we move on to an equally important topic regarding various modern elements. We will talk about the current trends in 2022-2023 regarding the sink, ceiling, light, mirrors, wall painting.
It is these things that give the uniqueness of your bathroom and make it special, unlike many other ubiquitous options.
Sink
The sink in the bathroom should not only be comfortable, but also functional. Its size directly depends on the size of the bathroom, but by and large, small, neat options are popular.
Square and oval sinks are also in demand. Recently, sinks in the form of a bowl have also become more and more famous.
Ceiling
Regarding the ceiling, it should be said that the stretch ceiling in the bathroom is one of the best solutions. It has many advantages – simple installation, moisture resistance, good service life.
Also, in any design, it looks aesthetically pleasing and not pretentious.
Shine
As for light, the most popular option is LED bulbs.
They not only take up little space, but also have a good service life, moisture resistance and sufficient lighting.
Mirror
As far as the mirror is concerned, it all depends on the size of your bathroom. One thing is certain – the larger the mirror, the better.
Basically, options for a rectangular form factor remain popular. Also, options are illuminated or built into various cabinets (to save space).
Painting the walls
Regarding the painting of the walls, gentle bed tones are relevant in 2022-2023.
These are colors such as blue, green, beige, gray and the like.
Varieties of bathroom design styles
At the moment, there are several of the most popular styles. This is oriental, sea, Scandinavian, minimalism, provence, loft, classic. Let's go through a little more detail on each of them.
Oriental
If you want to add a twist to your bathroom design, then the oriental style is what will suit you perfectly. It looks quite unusual and restrained.
This style uses many patterned marble elements. There is also a lot of stone present. For the most part, this style always looks quite wealthy.
Nautical
Marine style soothes and gives a feeling of complete immersion in the hypostasis, where water reigns and nothing else.
Scandinavian
Light colors, brick, marble and wood are your faithful allies when creating Scandinavian style – one of the most popular styles not only in the design of the bathroom, but also the entire living space.
We have already talked about the intricacies of creating a real Scandinavian style in various interiors here, be sure to check it out.
Minimalism
This style encourages the use of only the most essential plumbing.
The motto of this style is nothing more.
Provence
Provence is a rather specific style. It should only be used if your entire apartment uses its elements.
However, it adds a lot of solidity to your bathroom, making it look like a real palace.
Loft
More light elements, brick, stone and concrete.
Perhaps only Scandinavian and minimalism remains more popular than this style.
Once, in one of the articles – loft style in the interior, we examined in detail the features of the loft style in the interiors of various bathrooms and premises, we advise you to carefully study.
Classical
In the classics, as in Provence, you should not overdo it with elements.
It is best to use this style strictly in combination with other bathrooms in the house or apartment.
Bathroom design in a wooden house
A bathroom in a wooden house can be played quite nicely. The main thing is not to use a lot of wood elements in relation to plumbing fixtures, cabinets, mirrors and other attributes.
White stone or marble works best for wood. In the worst case, light plastic. Then all the elements will be in harmony with each other, creating an unsurpassed and cozy environment.
Bathroom in a private house / cottage
Requirements for the design of a bathroom in a private house or cottage are akin to item 15. Although there is a slight difference – it is better to do it in the style in which the cottage itself or a private house is sustained.
This will allow you not to make a mistake in which the bathroom will be too pretentious and not harmonious.
Bathroom design in an ordinary apartment / panel house
We talked a lot about this kind of design options in the first paragraphs of the article, so we will attach the most successful ones (in our opinion).
Earlier, in one of the articles, we have already examined in more detail what your modern apartments can be, if you are interested not only in bathrooms – rather follow the link and study!
Bathroom in the attic
The owners of private houses most often resort to designing a bathroom in the attic. If you approach correctly to the design of the bathroom design in this bathroom, then it will look unique and inimitable.
This is achieved due to the presence of a sloped roof and windows in it (in most cases). Based on this, the use of light material is encouraged in the elements of the bathroom in order to emphasize all the elements at the expense of natural light.
Well, that's all, it's time to say goodbye. We hope that now you have definitely identified the best bathroom design 2022-2023 for yourself. The modern ideas for 110 photos presented in the article clearly contributed to this. It remains only to recreate what he saw. So for the cause, friends and great luck to everyone!