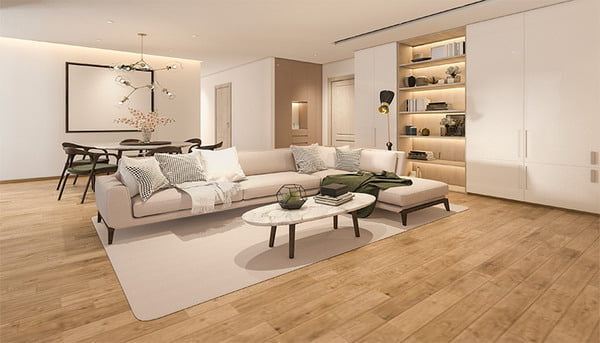 In this post, we are going to discuss a topic that you have asked us a lot: tips on decorating houses with wood. We are going to give you all our recommendations on how to decorate your house with different types of wood, examples of houses decorated with wood and much more.
You already know that in building house we like wood. The most current style uses wood to achieve a warm, rustic, industrial and even retro atmosphere. Dark, rough wood fits perfectly with the industrial style, and natural or bleached wood is perfect for turning a cold, simple room into a cozy Scandinavian-style room. We believe that whether we decide to adopt the form of chairs, blinds or place them on the floor, the wooden elements can bring a homely atmosphere to each room.
The decoration of houses with wood is becoming a trend highly sought after by users since they offer a very elegant atmosphere to our home, in addition to creating very cozy spaces.
If you also want to give your home a change and wood is the material that calls you the most, this article is for you. Get inspired and collect ideas.
Best materials for a correct home decoration with wood
There are countless types of wood that you can use to decorate your home. From the most used such as oak, pine, beech or maple, to sophisticated tropical woods such as teak, Iroko or rosewood. All of them present a natural and unique beauty and are resistant and very durable as long as we have minimal care.
Depending on which way you are going to use it, it will be better to choose one or the other. And also, the geographical location is very important. Because depending on where you are in the world, it will behave differently. Do not forget that wood is a living material and undergoes changes depending on the temperature and the degree of humidity.
In general, tropical woods are suitable for outdoor use. Like conifers like fir, which with proper treatment, will be very durable.
Who is the decoration of houses with wood aimed at?
If you are a lover of nature and natural materials, wood will give your home that feeling of warmth that you want to feel when you get home.
This type of decoration is focused on people who seek to achieve a cozy and comfortable place, surrounded by natural and very elegant materials such as wood, since they know that a good combination of different woods will create a unique place to be.
Placed on the ground, you will get a pleasant textured feeling in the tread. If you use a water-based varnish as a finish, maintenance will be very low, so you won't have to spend a lot of time on it. A trick, if instead of varnish, you use special oils for the finish, when refreshing with the mop, you will get a natural perfume.
5 ideas for decorating houses with wood
The applications of wood in a house are endless. From covering floors, ceilings or walls, to the manufacture of furniture, sculptures…
I love designing unique pieces that combine various natural materials and integrating pieces of wood cut into small slats.
Try combining ceramic pieces with wooden pieces to create a unique piece.
Porcelain wood offers extraordinary possibilities; adds a great design offer and a total guarantee at a technical level, avoiding any type of maintenance.
A trend to decorate houses with wood are murals used as authentic works of art.
Wood on ceilings and walls
Try covering the floor in the wood that you like the most and continue covering a wall in the same direction. You will generate a feeling of seclusion in the room you choose.
Large-format tables create a feeling of spaciousness. While if you combine smaller boards and play to compose a continuous pattern, you will get a sophisticated parquet that you can also use on walls.
Traditionally, wooden beams have been used to build the roof of houses. With a good design, you can update those ideas, bring a classic style to your home or make your business unique.
Wood in bedrooms
As it is a noble material, it is naturally pleasant to surround yourself with wood. So using it in an environment of rest and relaxation is very successful. It is important that the woods are treated with water-based finishing products. They are not harmful to health and reduce the environmental impact in manufacturing processes and in their future disposal.
Try a volume effect with pieces of fire-treated wood.
Wood in Kitchen
There is nothing I like more in a home than choosing wood for the kitchen finish. You can use it to make the fronts and doors, but also for the countertop. The trick is to use hard woods and treat them with a waterproofing agent that will increase the appearance and properties of the wood over time.
Wood in the bathroom
As in the kitchen, you just have to treat the wood with a water repellent and be careful with the constant humidity. Remove excess water from your furniture or floors as soon as possible. Although with very hard woods if you want you can even make a wooden bathtub. You dare?
Wood in Dining Room
Who has not ever fallen in love with an oak table in which the veins that tell us about time can be appreciated…
A dining table is a perfect piece to show off the beauty of wood. Even more so if the table is made from a single plank. If you make that decision, it is important that you opt for certified wood, which guarantees the sustainability of the means of production.
Benefits of wood decoration for the home
As I said before, the human being from its origins, has developed in the natural environment. This is why surrounding ourselves in the home with natural elements gives us a feeling of peace. Back to our own essence.
In addition, wood as a living element contributes to creating a healthy atmosphere.
Wood is a material that adapts to any space, it is an all-rounder
They have a very low cost maintenance
Wood is a very versatile material
It is a sustainable guarantee material
Wide and durable durability for your space
The beauty of decorating your home with wood
We have already talked about the beauty of wood grain, its combination and modulation possibilities. But we cannot ignore that, in general, the wood has warm tones. A key factor in creating a feeling of home.
For me, wood is undoubtedly one of the main materials in my projects.
Do not stop using it in any part of the house.
A very current trend is the irregular wooden tables completed with epoxy resin. With different colors, incredible effects are achieved.