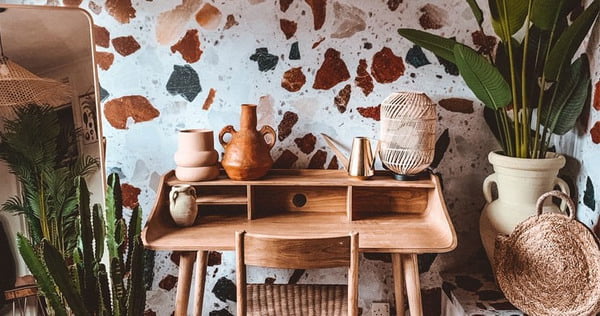 The countdown to 2023 has begun… it's time to set your expectations for the new year, forget the past and live your best life!
Interior trends for 2023 are extremely fun and varied. We see natural, rich, earthy tones and an influx of light pink with pistachio green. There will be new shades of red, such as terracotta, rust red and burgundy red. Not to be forgotten are warm ocher yellows, everything that is raw and industrial, geode patterns and walls covered with terrazzo pebbles! Already excited?
So before the clock strikes 12 noon on New Years Eve, start planning your best life for 2023 by checking out these New Years wallpaper trends. After all, an important element of achieving happiness is surrounding ourselves with things that make us happy. Where we live is important. It is the place of refuge that relaxes us and inspires us to fulfill our dreams and live life to the fullest.
Well, there is no time like the present! Read on to discover the new year wallpaper trends that will transform your home for 2023…
Pink and pistachio colored tropical prints to spice up your home!
Vintage shades of pink and pistachio will be trendy in 2023. In addition, palm leaves and tropical prints will continue to flourish. So what better way to celebrate these two popular styles than with our stylish Pink Jungle wallpaper from our huge jungle wallpaper collection ?
This stunning tropical wallpaper is a true blogger appeal. You can really imagine your favorite influencer adorning this beautiful mural in their home. So why not share a bit of that magic and install this stylish palm leaf mural in your own home?
We think this gorgeous wallpaper comes into its own when you can find a decor that revels in similar shades of retro pink and pistachio green. Choose an Art Deco style velvet sofa and air-purifying green plants. Add natural wood furniture like a coffee table or cabinet for the perfect recipe for combining style and nature.
We love this pink, tropical themed bedroom. The dusty pink Art Deco headboard and the palm leaf wallpaper are not only extremely luxurious, they also celebrate the outdoors. Just look at these soft pillows and blankets: they make you want to jump in the picture and take the perfect nap!
Start the new year with the birth of the new red
While we love pastel pinks, we'd like to introduce you to its more adult, sophisticated relatives. May I introduce: terracotta, burgundy, reddish brown and burnt orange. These warm, sexy shades are reminiscent of lush autumn leaves and luxurious red wines. Stunningly paired with light grays and frosty blues, the new shades of red will come out big when it comes to wallpaper trends for 2023.
We also see these warm and rich shades of red paired with bronze-colored metal decor. It really takes us back to the 1970s interior design mixed with an exciting futuristic element.
This geometric terracota tile wallpaper is a fantastic mix of terracotta and burgundy red with cool gray tones. It exudes a futuristic element and at the same time celebrates those retro-sultry reds. By using a combination of red and gray tones, this stunning mural does not overwhelm us with one color. It keeps us curious and excited with patterns and hues.
Wallpaper trends for the New Year that you can use to make your interior design industrial
We are pleased that the wallpaper trends in the new year will continue to include the industrial look. After all, it seems that today you can't go to a single bar or restaurant without finding raw concrete and rust walls. Not to mention hanging lightbulbs from the ceiling and iron grating partitions.
Choose this trendy Aged Concrete wallpaper if you want the perfect mix of concrete and rust. The raw gray tones and burnt orange rust seep through into this stunning concrete wallpaper.
This industrial wallpaper would look amazing next to recycled ornaments. The reuse-reduce-recycle movement is at the center of interior design in 2023. There is no better way to live your best life by actively helping to improve the world's environment.
These rustic coffee bean sack planters from Etsy are fine examples of recycled and reused ornaments. Installed alongside an industrial mural, these unique plant pots will look amazing in your home. They reflect the raw, textured feel our rusty concrete effect murals exude.
Yellow ocher New Year wallpaper trends that will brighten any home
The love for yellow ocher will continue into the next year. This lovely shade of yellow is warm and inviting, and brightens a room without being garish or overwhelming.
In keeping with 2023's love for anything organic and environmentally friendly, this beautiful vintage yellow flower meadow photo wallpaper is ideal. It's a fantastic combination of both: nature and yellow ocher. Not only is this floral wallpaper gorgeous, it is extremely versatile and would look amazing in a bedroom, living room, or even your bathroom. Combine it with mustard yellow ornaments, velvet pillows and even an armchair.
This yellow ocher, recycled glass vase from Liberty London is all about 2023 and the love of environmentally friendly interiors. It is the perfect accessory to accentuate the colors of this cheerful floral wallpaper.
Celebrate patterns and metallic tones with designer wallpaper
When it comes to New Year decoration, we will be a lot of minimalist style metal furniture. So why limit everything metallic to your decor? You can also experiment with your walls and install a wall with a metallic effect.
We are very excited about this stunning Horizon wallpaper by Elizabeth Fredriksson. Your wallpaper collection is absolutely captivating. She finds aesthetic value from a grain of sand to the entire universe. As a nature-loving artist from Sweden, Fredriksson's work is the perfect amalgamation of rawness with minimalism.
Although not created with glossy metallic inks, these metallic effect wallpapers are just as stunning. This abstract wallpaper transforms any room into a sophisticated, stylish zone. Browse your store or online for chairs, tables and lamps with brass / gold legs. This is how the beautiful gold-effect drizzle of this minimalist wallpaper comes into its own.
Geode wallpaper for a mix of style and relaxation
Fortunately for us, sophisticated and stylish geode wallpapers will accompany us into the new year. Geode walls are not only sophisticated and stylish, but they also reflect the beauty of nature. Their naturally formed patterns that twist and tilt are utterly calming and relaxing. They celebrate a 2023 combination of the love for metal and nature, while also taking an alternative look at marble interiors.
This mesmerizing geode wallpaper would look fantastic with metallic gold or bronze decor. Why not even add a pink velvet sofa or bed headboard? Or, if you really want to show off the raw element of this geode wallpaper, go for natural wood furniture like a closet and coffee table. Just imagine the faces of your friends when they come over to see your new wall. You won't be able to believe the transformation!
Wallpaper trends for the new year that incorporate the terrazzo look
We can't get enough of terrazzo wallpaper for 2023! It's another unique variant of marble, where splashes of color, like scattered gemstones, are thrown across the wall.
The blogger and interior influencer Natasha received this brown, white and black speckled terrazzo wallpaper from our expanded range that looks fabulous in her home office. In addition to the color brown, which is celebrating a comeback in 2023, Natasha relies on natural room accessories. We love how amazing the wicker lampshade and rug look. Not to forget the lush, tropical plants, the natural wooden table and the rustic vases – wonderful!
You might love this look but don't dare to do it in your own home. Then just do it! Remember that in 2023 you will be living your best life. This includes being confident and accepting the things you love. After all, we only get one chance to enjoy life!
Have we inspired you with our eclectic selection of wallpaper trends for the new year 2023? Are you ready to live your best life? We hope so, of course! But if you have any questions or want to share your own interior changes for the new year, leave us a message in the comments box below.