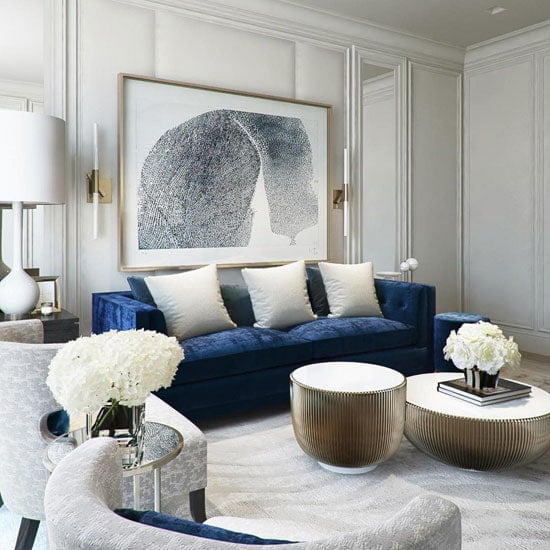 Our life changed during the pandemic, and so did the interiors of our houses. How significant are these changes and what trends are gaining popularity in the new 2023.
The shift to telecommuting due to COVID-19 is forcing people to spend more time at home than before. The first place comes to the functionality of rooms and furniture, the importance of good design, practical tasks that the fashionable interior of 2023 solves.
The trend is laconic forms, monochrome interior, the absence of banal contrasts in the decoration of walls and floors. Comfort is paramount. Round, streamlined design, shatterproof materials and stable construction.
Color
Love for naturalness, natural nature extends to the colors in the interior. Shades of brown, blue, gray, green and cream will be in fashion, expressing the nature and cleanliness of environmental friendliness.
Today everyone expects calm and relaxation from home, multiplied by comfort. Therefore, the neutral palette of natural shades came to my liking. This includes, first of all, the basic colors: achromats in the form of black, white and shades of gray, as well as muted tones.
Brown-beige Brave Ground is named the leading color in the interior of 2023. – a neutral warm, natural shade is associated with peace of mind, calmness, confidence, which we lack so much in today's difficult moment. It adds warmth and depth, complements the bright and bold colors that can and should be combined with it.
White is again at the peak of popularity. So is the eco-friendly Scandinavian style that loves this color. The light space will continue to give coziness, push apart the walls and give heights to the ceilings. You also need to take a closer look at the shades of green. You can "dress" furniture or walls in this color of grass and leaves, or add live colors to a black and white interior. It goes well with the trendy 2023 natural materials, wood, tiles and stone.
Minimalism
For the interior, unobtrusiveness becomes a priority, the ability not to bother or irritate. According to the designers, in the new year, the Scandinavian style, minimalism or wabi-sabi, natural color shades, with high-quality decoration and paintings will be appropriate. Far-fetched loft styling, classics will finally become a thing of the past. The most important feature will be the ability of the interior to quickly change its image in order to diversify the stay at home.
Minimalism is recognized as the fashionable style of 2023. This is another global direction, reinforced by the 2022 situation. It is about minimal decoration and use of furniture. The presence of air and free space is the main requirement for an apartment. A soft palette in beige and gray is very relevant today in such rooms.
The tendency is supported by the principle of reasonable consumption, the desire to limit ourselves only to vital things, to plan the premises more precisely, to carefully select items for the future interior so as not to clutter it up, to buy high-quality products and materials that will last a long time. Less is more is more relevant than ever.
Freedom and space have become the main trends of the outgoing year. Multifunctionality is a fashion requirement. Particularly in demand will be available prefabricated furniture and compact individual elements that can be adapted to different room sizes, customized for yourself. If you can make a comfortable bed out of a sofa, and then fold bedding into its space, then it is the best solution. Living "on the second level" is in trend: from bunk beds, typical for children's rooms, to two-level spaces with mezzanines and a sleeping area on the mezzanine.
Mix of styles is another trend associated with the philosophy of smart consumption. Old "unstable" items will be restored and reused. Perhaps even nothing will remain of their previous style, but a new one will be created that meets the requirements of eco-friendly.
This style is likely to become a new breath of eclecticism. This daring mix of styles will be very popular in the new year, because it has no boundaries and allows more than others. This beauty, practicality and audacity, the desire to do in their own way is inherent in all lovers of eclecticism.
Natural materials
One of the main trends in interior 2022-2023 and a timeless classic. Natural materials are used not only for comfort, but also for environmental reasons. There is a growing interest in recyclable and recyclable materials. This applies to decoration, furniture and decor.
The most popular textures are stone and wood in light colors with its natural texture. Materials are especially good as accents. It can be wood paneling on the wall or floor with a natural stone effect. Traditional favorites are rocks, including marble, travertine, slate, sandstone, ceramic elements and complex types of ceramics – porcelain and faience.
Light wood furnishings add coziness. Textiles (linen and cotton) and ceramics will complement the overall picture. There is nothing better than running your hand over a real oak countertop and feeling the roughness of the wood, touching the curtain, feeling the texture of linen, and stepping on the warm floor in the bathroom – the ribbing of the stone.
Wood products can be easily re-sanded, varnished or waxed, or repainted, giving old objects a new life. Natural materials such as sisal, wool or linen are also strong and durable (and are good at repelling dirt).
The combination of natural materials with different textures in the interior brings dynamics to the interior and helps to create an effective impression with little effort. They fill the house with warmth and comfort, and tactile surfaces prevent the room from looking dull and monotonous.
Many natural materials age well and beautifully and even look better with a slight touch of noble antiquity like patina. Therefore, products made from them will look good even after many years.
Comfortable furniture
Comfort is paramount in every home, especially in the bedroom. Compact, visually appealing upholstered furniture such as two-seater sofas or armchairs is a trend. Particular attention is paid to ergonomics. Console tables, folding tables or small shelves provide a sense of order in everyday life and become an integral part of the interior. Comfortable hammocks, in which it is pleasant to relax, move from garden to house. Stools and benches are provided with soft upholstery to add comfort to the kitchen and dining area. The sofas are adjustable and also stand on a platform that raises the cushions to a higher level. They are complemented by built-in tables.
Rounded shapes
Soft rounded shapes are at their peak today: this applies to architectural solutions, and the choice of furniture, and decor. The clean lines and layout are softened by furniture without corners.
Tables, lamps, poufs and sofas – almost all designer furniture loses right angles, they are rounded. Even the chairs and stools have a softened body, rather than a rigid, straight structure.
Manufacturability
In the coming year, technologies will enter life even more densely. Most likely, new elements of a "smart home" will appear, optimizing indoor air quality or regulating temperature without unnecessary energy consumption.
The same thing happens in the field of product and interior design. Lights serve as speakers, bedside tables are equipped with wireless charging stations for mobile phones, sofas memorize individual preferences of seated people, beds are gently nudged into a different sleeping position. Technology is becoming an integral, inconspicuous piece of furniture and a leading trend in 2022/2023.
An important trend next year is the rejection of mass and an emphasis on individualism, a call to ignore all fashion vectors and focus on adapting and personalizing the home interior based on their own interests and tastes.
There is a growing demand for designer furniture and items that can be easily customized (movable lamps, interchangeable shelves, modules, etc.), interest in vintage items.
Combined spaces with privacy
A separate kitchen and living room are not popular today. Many designers are trying to combine rooms, turning the hall into a kitchen-living-dining room on the principle of a loft.
Functionality and ergonomics of the interior is one of the main trends of the quarantine period. This is a request for a well-organized kitchen: a well-thought-out work area, a comfortable table for the whole family. The main burden in almost all cases fell on the living room.
At the same time, even in the combined rooms, privacy should be preserved. Mandatory organization of workplaces that are maximally adapted for work, isolated and comfortable.
In this case, partitions are a way to create privacy zones. They allow you to transform the room at any time. These can be both analogs of glass and metal doors, and simpler elements in the form of thick curtains or separate structures.
Home Office
When transferring work to a remote format, you need to organize a comfortable, functional and beautiful workplace at home. If repairs are not planned in the near future, but an equipped workplace is needed, try to start by rearranging the furniture. Surely somewhere there is a corner for a small desk and chair. Built-in, hanging shelves, cabinets free the desk from papers and office supplies. They can be hung over the table, on the next wall.
It is important that the place is well lit. This is not necessarily natural light from a window; artificial lighting is also possible in the form of mobile, functional and as simple as possible table lamps. The windowsill space can be considered as potential places: in the bedroom or in the living room – it depends on the layout, free corners or niches. You can equip a small table near the kitchen island by correctly determining the height of the desk.
Options on the balcony look good. It is easy to retire here, the space is already private. True, if the balcony is not insulated and not glazed, repairs will require investments.
Home garden
Another interior design trend in 2023 is home gardening. The decor is now green plants instead of vases and figurines.
Plants will need attention. But this is easy to cope with by picking up non-capricious specimens.
Indoor flowers are now not just a part of the decor, but an expression of concern for psychological health, a way to establish a connection with nature as a source of energy.