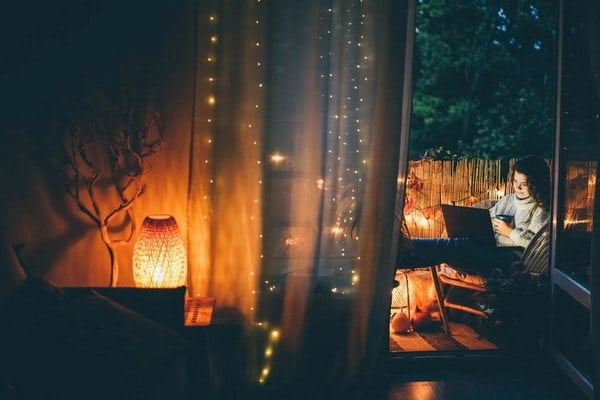 The main trend for balcony furniture 2023 is already clear – no plastic. Furniture made from sustainable materials that extends from the inside to the outside and serves both areas is hip this season. This trend responds to the need to create a fluid, eclectic and relaxed environment in all areas of the home. In this article we give you some tips on how to set up your balcony in a beautiful, ecological and functional way according to the latest standards.
Balcony furniture 2023: Before you start setting up, you should pay attention to the following
The comfortably furnished balcony can feel like an extension of the outdoor living area. In order for this to succeed, however, there are a few things to consider when setting up. Remember that all the furniture and plants you choose for your balcony will be outside all year round and will be exposed to a wide variety of weather conditions. Make sure they can withstand frost and precipitation as well as heat and sun.
When designing your patio, think about the purpose you want it to serve. Will it be used for grilling and eating or just relaxing? The orientation of the balcony is not unimportant. Passionate sun worshipers can best relax on a sun lounger on a south-facing balcony. Romantic evenings outdoors are best enjoyed on a west-facing balcony. An east-facing balcony, on the other hand, is ideal for early risers who want to enjoy the first rays of sunshine of the day at breakfast.
The more often you can use your outdoor living space, the cheaper it will be. If you live in an area where the weather is cool in the spring and fall, consider freestanding heaters to extend the outdoor season. If you live in an area that gets very hot in the summer, consider a retractable awning or parasol that provides shade.
Match your balcony furniture to the style of your home
Matching your 2023 balcony furniture to the architectural style of your home is essential to creating a beautiful and harmonious living space. For example, if you like medieval style, consider using heavy wood or wicker furniture for your balcony. If you live in a colonial style house, you will opt for wooden or metal furniture with classic lines. And if you have a modern home, you could opt for resin, metal or rope furniture with sleek, modern lines.
What materials are in fashion for balcony furniture in 2023?
Whether furniture for the terrace or the garden – this year the designers are relentless: no plastic. The balcony furniture 2023 must be produced in a sustainable way. Those made of oil-treated or untreated teak are particularly relevant. Pillows and blankets should also be made from natural fibers. However, make sure that the fabrics are weatherproof.
Balcony furniture 2023: create comfort on a large terrace
The pandemic has had a significant impact on trends in this regard. Being forced to stay indoors, we started to think of the balcony as an extension of the interior space. That is why we treat the outdoor areas with great care, being more interested in their comfort, ergonomics and functionality.
In a way, the living room is moved outside and the balcony becomes an oasis of calm. Outdoor furniture is becoming more and more comfortable. The trend is towards elegant lounge sofas, hanging chairs and day beds. Outdoor loungers made of fabric also create a special atmosphere of good mood. Because their padding is waterproof, they can stay outdoors all year round.
Decorative accessories such as carpets, umbrellas or canopies as well as LED lights, fairy lights or lanterns are now indispensable accessories for your balcony.
Which furniture set is suitable for a small balcony?
Many furniture experts recommend furniture with organic shapes for small, angular balconies. Round or semi-circular tables that are attached to the railing and can be folded out if necessary are particularly practical and create a cozy atmosphere. Folding tables and chairs are easy to store. A small, low sofa or mini seating area can also be considered.
There are many other details that can be used to turn a small balcony into a summer oasis. The right choice of lighting fixtures and plants can contribute a lot to the atmosphere of your balcony. You can also save space by hanging them or placing them on shelves that are attached to the walls.
Balcony furniture 2023: Lighten up the atmosphere with outdoor lighting, carpet and plants
To add a touch of elegance to the outdoors, place some table lamps with colored shades on your balcony or hang an outdoor light in a particularly dim spot to create a romantic atmosphere.
Large area rugs help delineate the living space and make the outdoor living area feel like a "room". Contemporary outdoor rugs don't need to be moved, they are designed to let moisture through and retain their color for years to come.
When one thinks of an outdoor space, one usually thinks of plants. The options for integrating plants on the balcony are extremely varied: whether it's a practical hedge to protect against prying eyes, beautiful flowering shrubs or fragrant garden herbs.