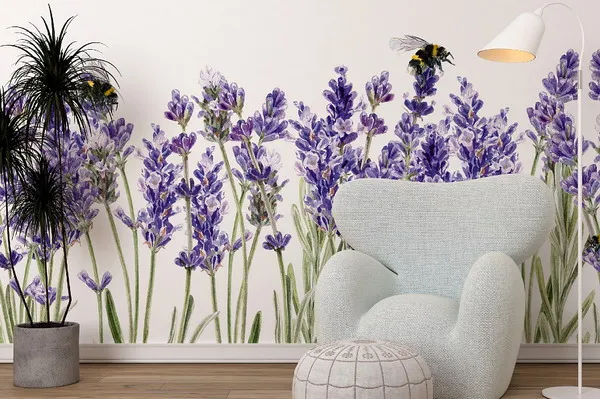 We start the new year with analytics and guess in what direction the design of photo wallpapers can develop. Based on Pantone's Color of the Year, interior designers' predictions, and the popularity of our own patterns and styles, let's take a look at our predictions in Wallpaper Trends 2025.
10 top wallpaper design trends in 2025
Interior designers explain how wallpaper has changed a lot in recent years: "Gone are the days when paper was just printed on. Now you can decorate textile wallpapers with almost any pattern. Using prints on wallpaper has also become bolder and more daring. There are no limits to fantasy!"
Check out our top wallpaper trends to find inspiration for your home in 2025.
1. Design with unique artistic composition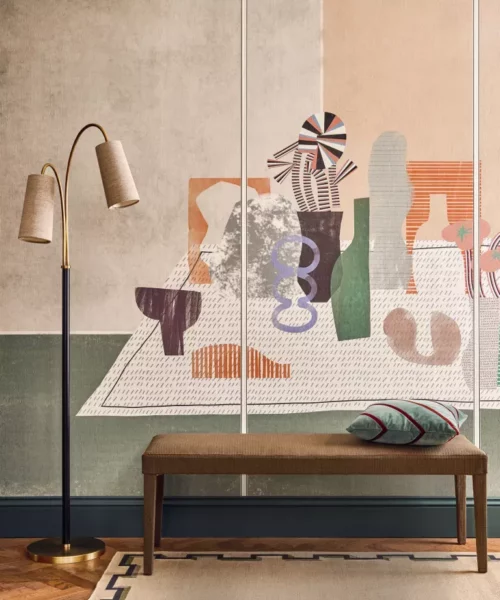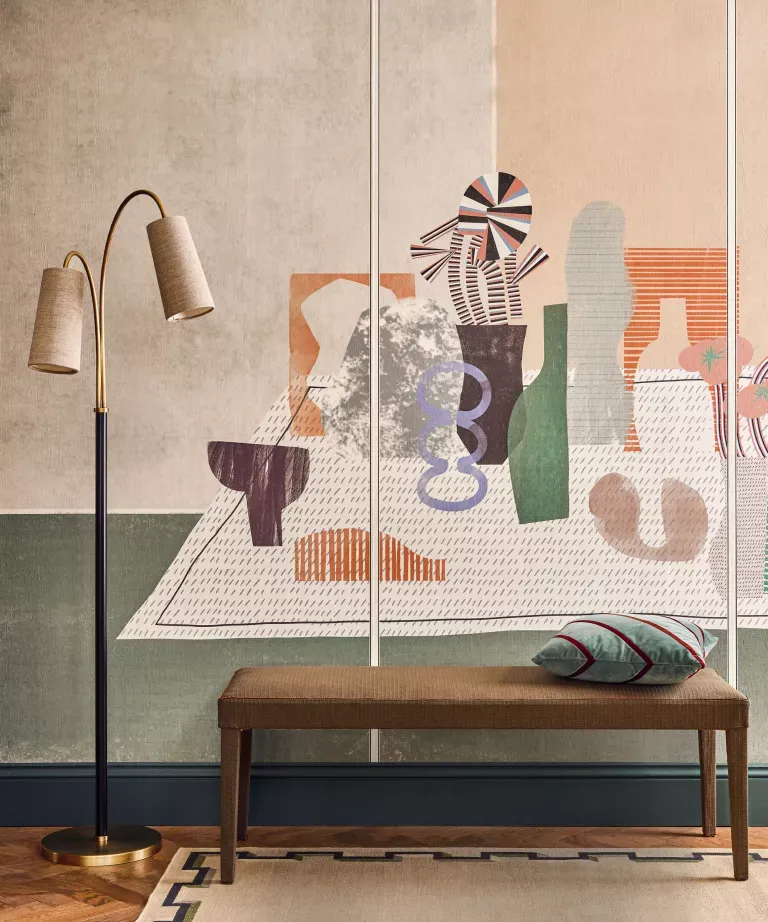 An interesting wallpaper works just like a piece of art hanging proudly on the wall. They can enrich your space with accent color, shape, and pattern, as well as being an attractive talking point when people first step into a room.
To further enhance this artistic connection, choose a wallpaper that features a unique artistic composition. Take a look at an example of a beautiful fresco: a modern abstract still life adds unique intrigue and style to an entryway.
2. Elegant wallpaper borders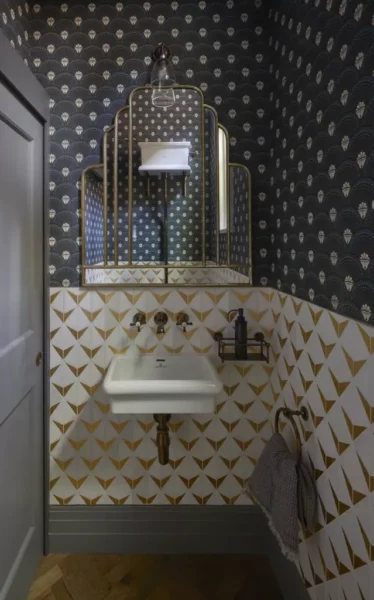 Bordered wallpapers are back, and they will be the main trend of 2025.
Historically, photo borders have been used to hide imperfections and putty on walls rather than for decoration. With the resurgence in the 1980s of the use of borders in homes, often with floral and botanical prints, borders became more decorative than practical. And now they're making a comeback, with a variety of stylish and unique prints to choose from.
Wallpaper with a border, as in the example, not only creates a beautiful contrast against the blue painted walls, but also elegantly highlights the door and baseboard, and complements the dark wood and brown palette used in the furniture, carpets and lighting.
Here's what the designers have to say about it: "Front edging has been used for years to elevate the simplest spaces by adding subtle details. They require less effort than wallpapering an entire room, yet add color and interest to the walls and add accent. ", contrasting or complementing the room. The possibilities with them are endless. Modern wall murals already include the composition of the borders and you do not have to buy them separately."
3. Wallpaper with stripes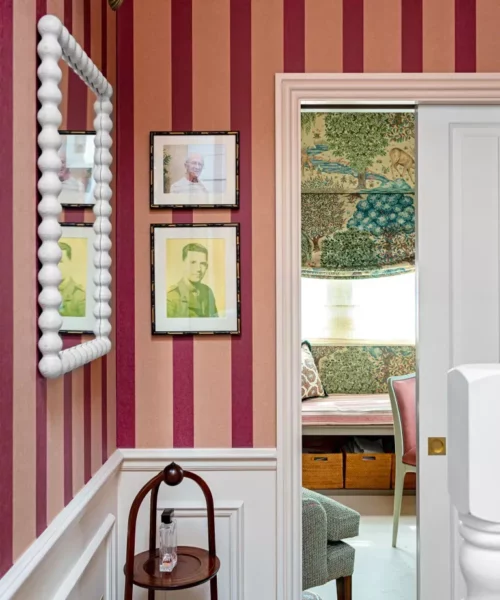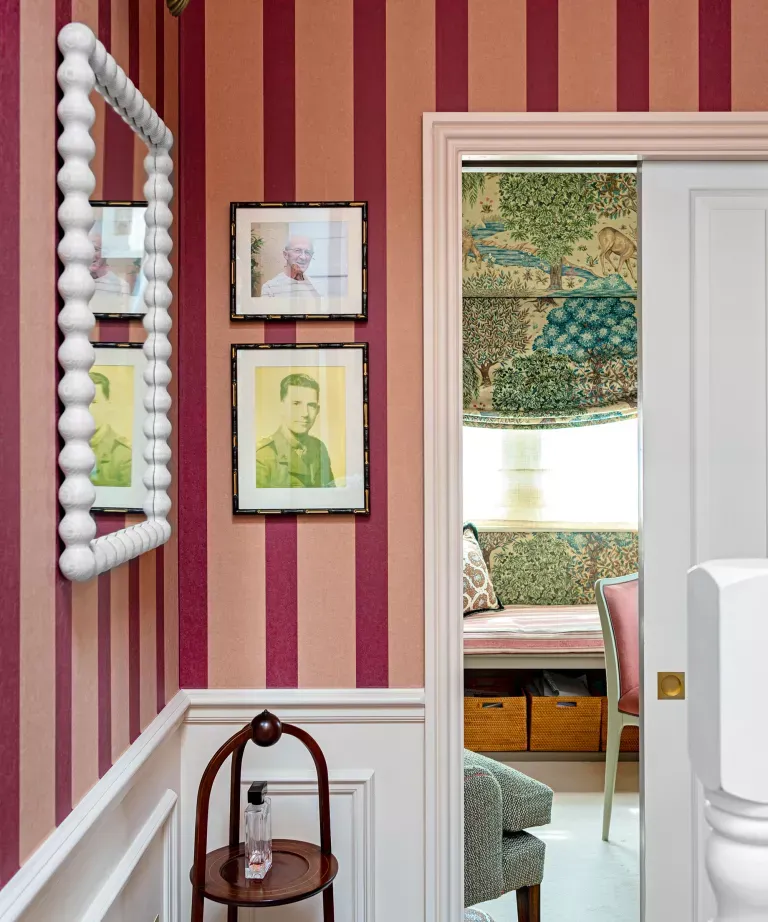 Stripe décor will always look timeless, but the past few years have seen a huge resurgence of classic simple patterns like stripes and plaid decor in all areas of interior design, from wallpaper to upholstery and carpeting.
In 2025, striped wallpapers are still on trend, they can create a sophisticated, elegant look in the house. Especially in 2025, consumers are becoming more mindful and conscious of how and where they shop, as well as what they purchase – by choosing a more sustainable approach and investing in quality, timeless designer pieces. As a result, stripes will continue to grow in popularity and become a staple of the interior, much like vests and striped wardrobes."
Using striped wallpaper can be a great start if you want to bring a more subtle pattern to a space rather than a bold print – the wallpaper design example above shows this with an invigorating palette of pinks.
4. Colorful wallpaper … on the ceiling!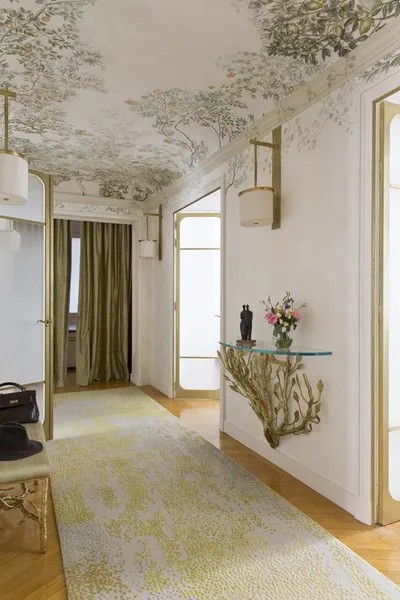 A trend that we have seen more and more throughout 2024 and that will continue into 2025 is ceiling wallpaper ideas.
Decorating a ceiling with wallpaper can give a room a dynamic and exciting look. For a long time, ceilings were ignored when it came to wallpaper and paint. But an interesting and stylish ceiling will add luxury to the interior, as well as enhance the depth of the room and expand the space.
Small spaces are the perfect place for bold and adventurous paint and wallpaper solutions, whether it's a small bathroom, dressing room or luggage room, these spaces are perfect for experimenting with unique and impactful designs.
5. Deep dark colors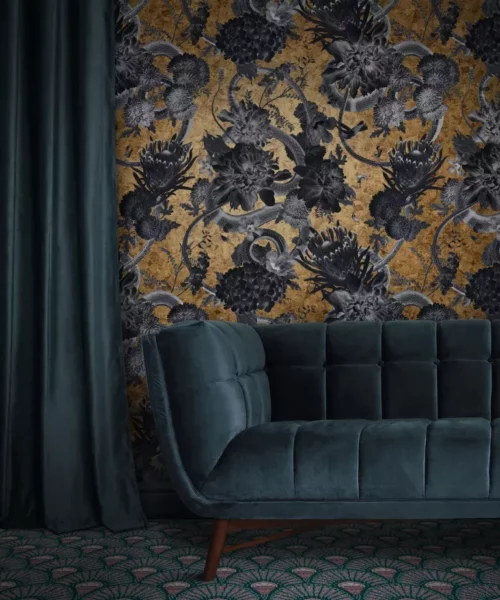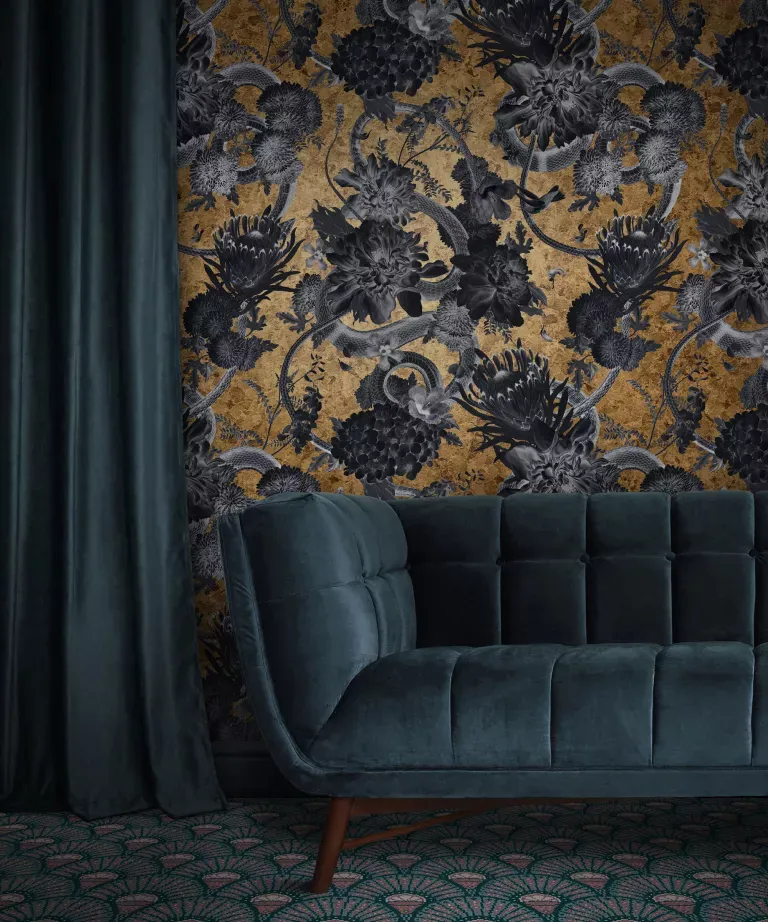 Previously, dark colors were avoided, the room seemed dark and gloomy – but now such colors are one of the wallpaper trends in 2025.
With the right use of space, namely the right accent colors, furniture and good lighting, deep royal blues, moody metallics and opulent emerald greens can create a luxurious effect.
The wallpaper in the example is a beautifully illustrated large-scale print of flowers intertwined with sweeping snakes, complemented by a sumptuous gold background.
Architectural details have been decorated with gold leaf for centuries, and gilded interiors are certainly experiencing a renaissance. As a color, gold has a raw, organic connection to the earth, helping to create warm, soothing and uplifting interiors with a decadent, luxurious twist." The new gold leaf wallpaper evokes the romance of a long tradition and winks at our passion for playful patterns.
6. Wall panoramic frescoes with landscapes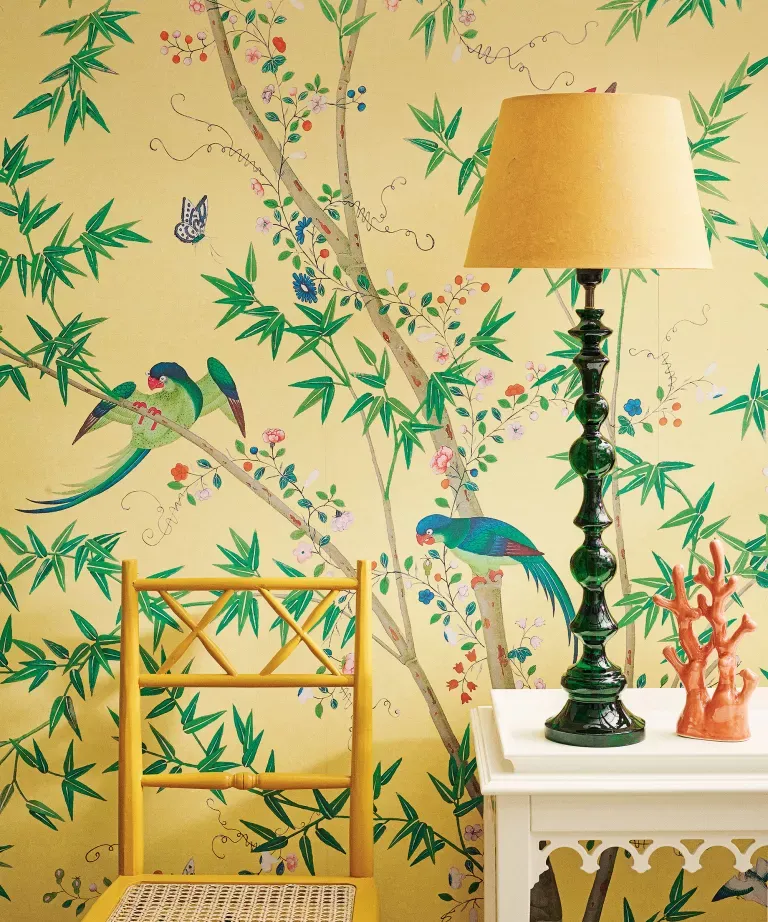 Landscape wall murals ideas are one of the biggest stories in wallpaper trends for 2025. Surprisingly atmospheric, stunning wall murals transform and capture the imagination.
There are many wallpapers designed for this very purpose, such as chinoiserie wallpaper.
Not only can a panoramic mural take you to another space (both figuratively and literally!), a nature-inspired design will blur the lines between the interior and the outside world.
To create a relaxing atmosphere in the bedroom, take a look at tropical wallpaper with palm and other leaves. Complete the look with furniture, bedding and pillows in earthy ocher and sand tones for total immersion.
7. Maximalism in wallpaper design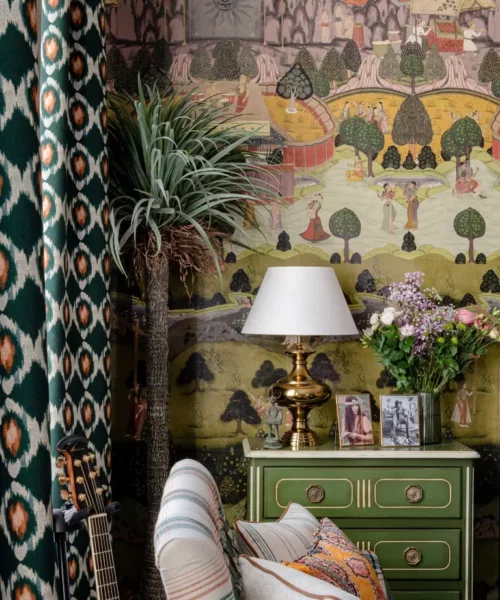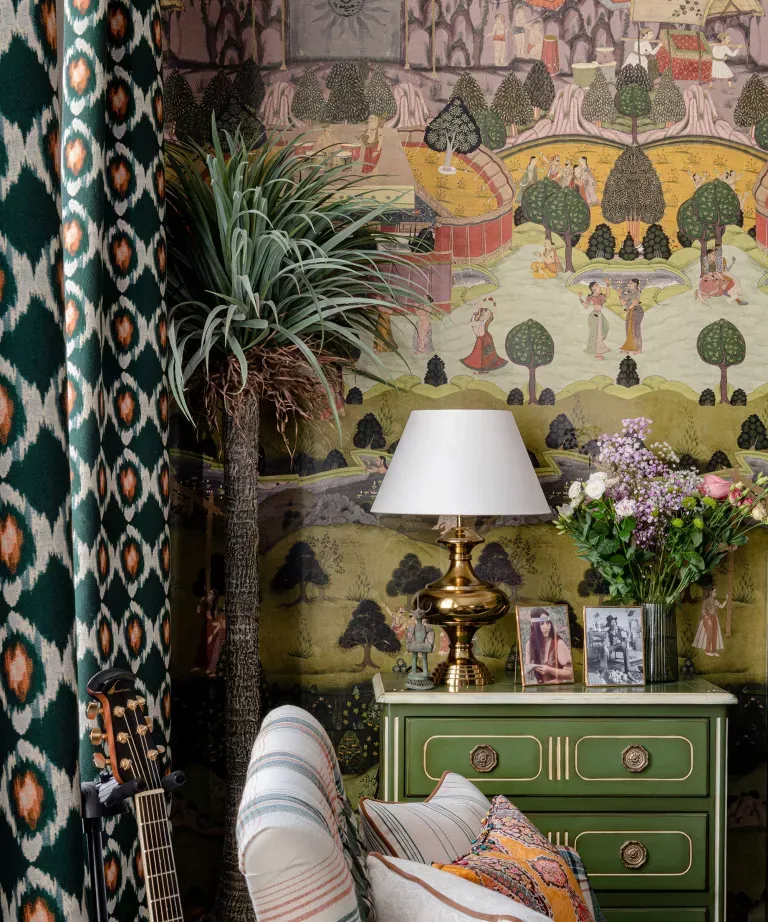 Maximalism is an interior design trend that is making a comeback in a big way, and we predict that this bold look will stay here.
In bold contrast with restraint, this living room décor idea shows off the wild side of the design world. An amazing combination of leopard prints, patchwork, as well as stars, stripes and metallic skins show the power of maximalism.
8. An abundance of floral patterns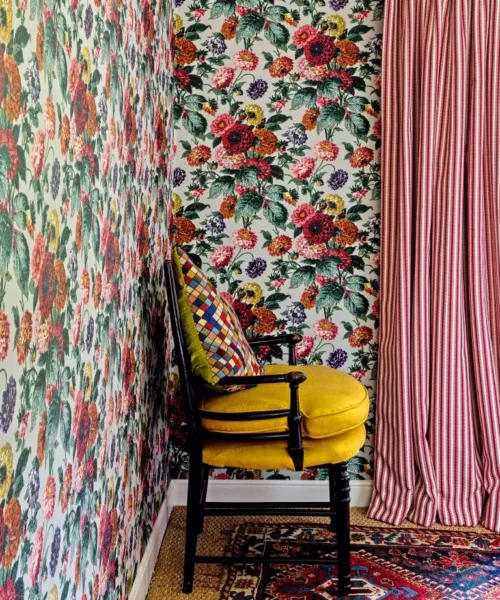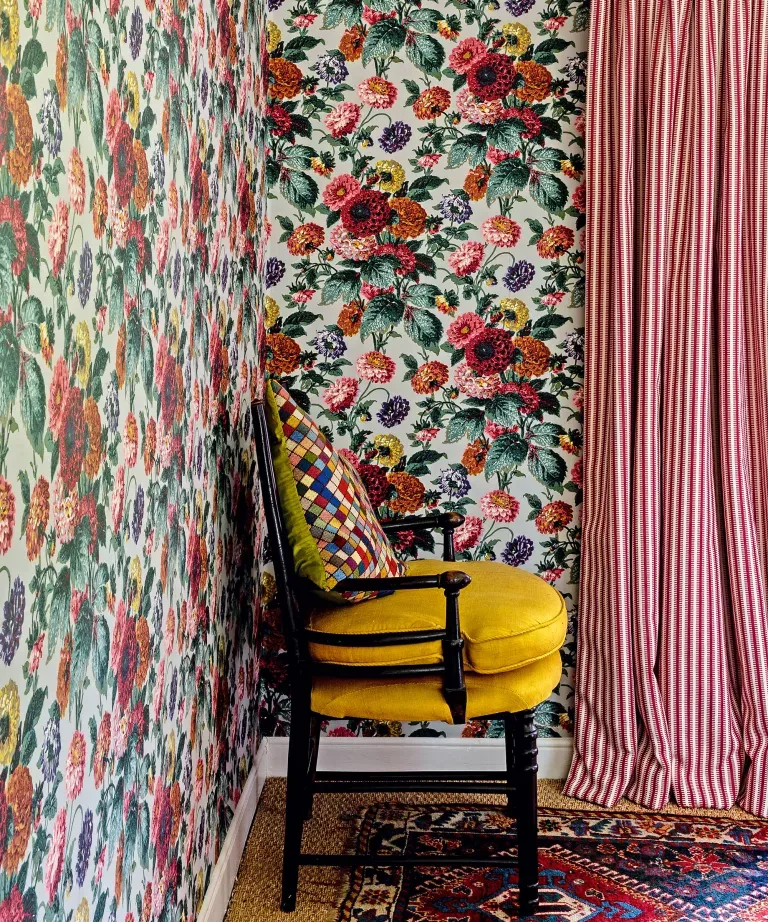 Floral decor can be adapted to any space, be it vintage, retro or modern. These new seasonal designs raise the stakes of style and make it easy to incorporate beautiful flowers into your décor.
Start by thinking about color. The palette you choose will determine your decisions when choosing flower arrangements and will form the basis for creating a unified scheme.
When using floral prints in your home, think about the scale of the pattern. Large prints can make small rooms feel even smaller, so opt for more appropriate patterns to create the illusion of space.
9. Botanical patterns and plants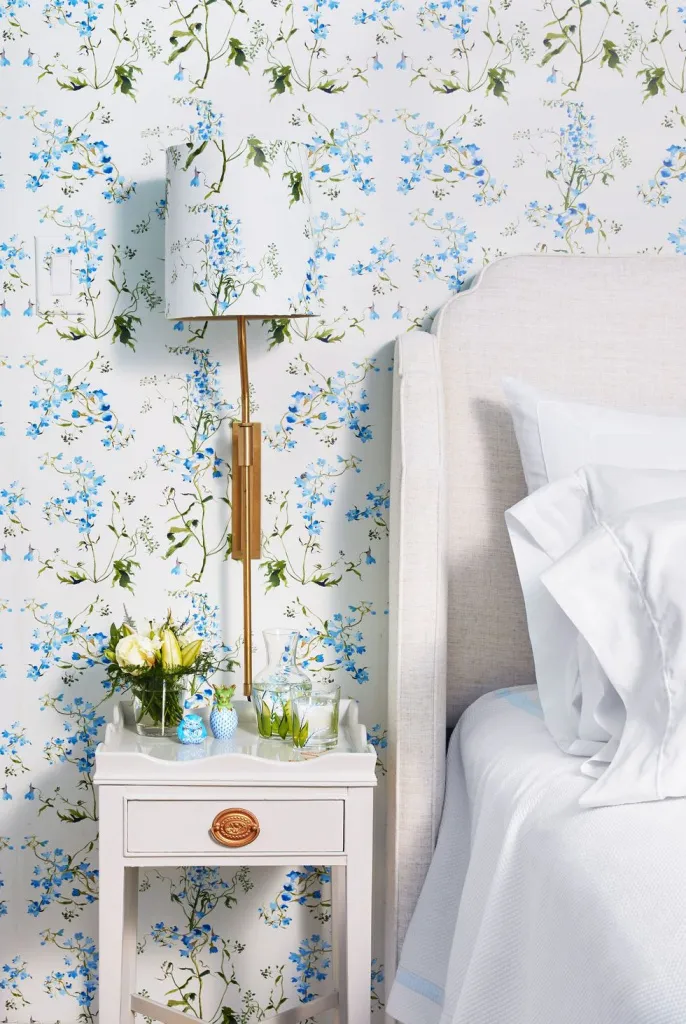 Environmental friendliness, comfort and happiness in the house are the main priorities of 2025. The harmony of man with nature is becoming more and more noticeable, and durable, environmentally friendly and textile materials are becoming more and more popular.
This year, the trend for floral wallpaper with leaves continues to grow, which creates a green effect in the interior. Any mention of the penetration of the outside world into the room will affect well-being.
10. Geometric monochrome patterns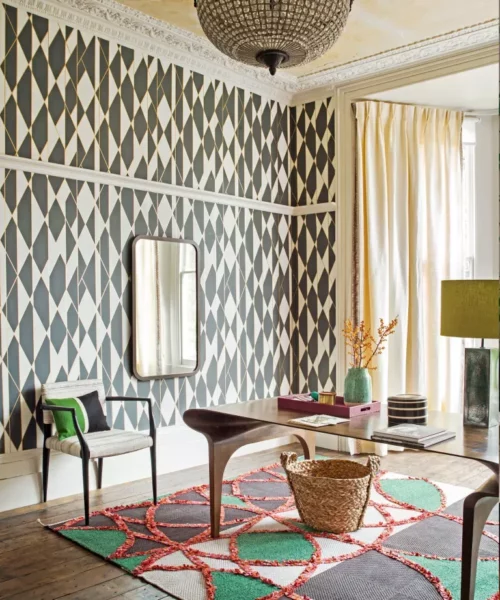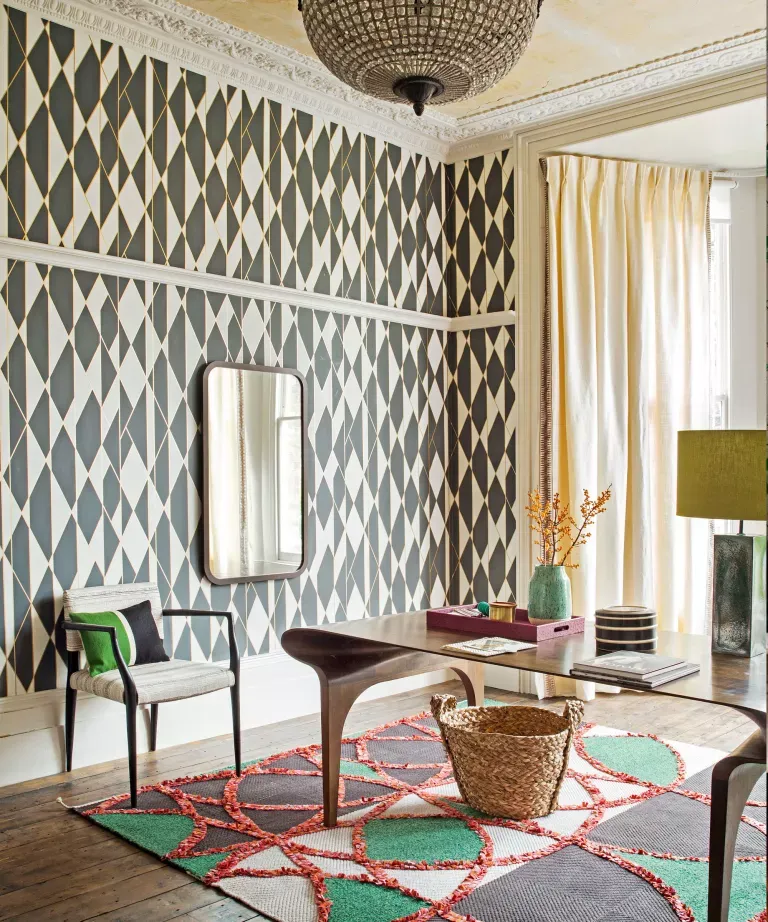 This year we have all been looking for security and stability during the turbulent times of the past few years, and the growing need to impose systems of order and control in all areas of life has led to a rise in the popularity of more simplified, structured design.
Interiors that use rudimentary geometric shapes, subtle reliefs, and a monochrome palette create a sense of comfort that can be found in patterns and everyday life.
Vintage wallpaper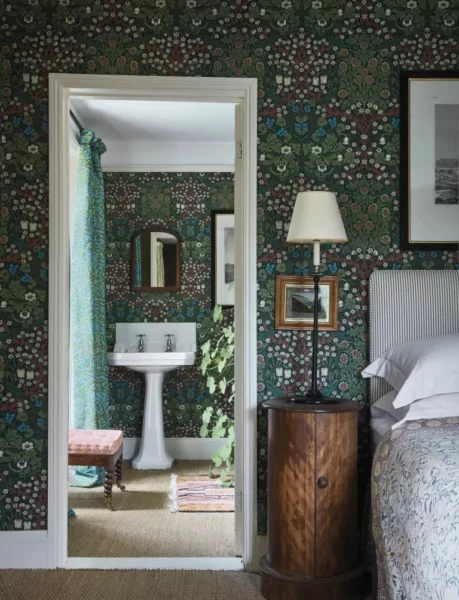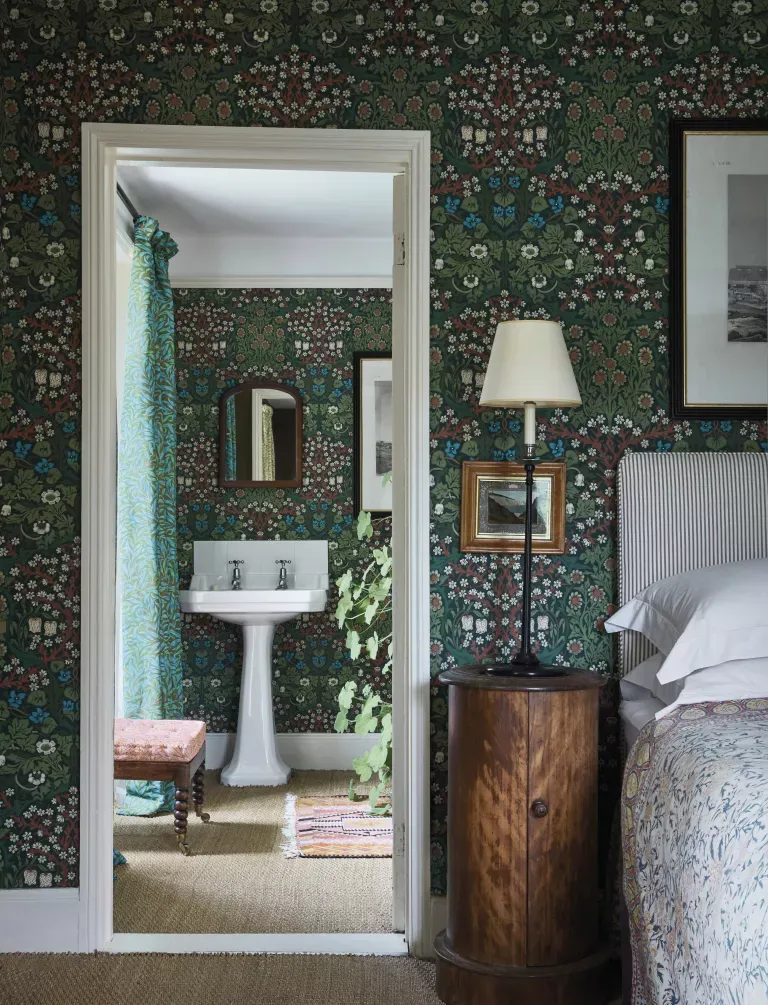 For a while, wallpaper seemed old-fashioned and dated. But, as interior designers say, now people are leaning towards the classics again: "We see classic patterns and colors coming into fashion. When retro elements are back in fashion, wallpaper complements them."
Experts note how wallpapers return to other eras: "This year, among the popular styles of baroque and art deco, large-scale geometry and abstract modern patterns."
What is the most popular wallpaper of all time?
It's hard to pinpoint the style or pattern that is the most popular wallpaper of all time because, as we've discussed throughout this article, so many trends come in and out of style! However, there will always be wallpaper styles and instantly recognizable patterns that seem to stand the test of time.
From whimsical floral and botanical patterns to stripes and damask patterns, there are plenty of enduring wallpaper trends that are always popular in interior design.
When it comes to choosing wallpaper for your space, it's always worth looking into both classic designs and the latest trends so you can make the perfect choice for your space that reflects your style.