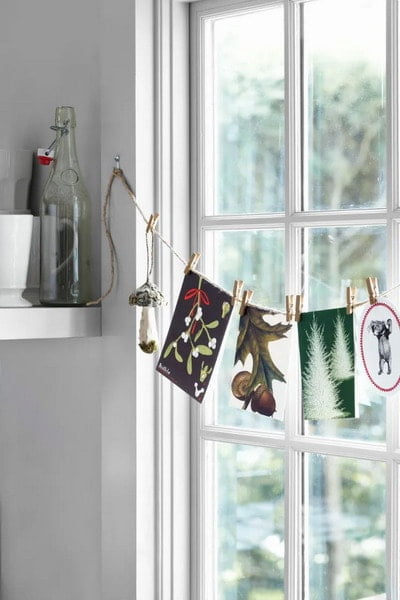 The most beautiful time of the year is just around the corner and the holidays would only be half as beautiful and contemplative without a suitable, atmospheric decoration. Whether a winter decoration made of natural materials, with fir green or minimalist – it brightens up the cold, dark days and puts us all in a festive mood. Have you already decorated the Christmas tree, brightened up the front door and the garden and are wondering what's left? You wouldn't be the first to miss his windows, but after reading this article, we hope you'll be the last. Windows play an important role in our home and ensure that the interiors automatically appear more inviting and larger and that our four walls get enough daylight. Whether your decorating mantra is "the more the merrier" or you prefer to keep things simple and elegant, window decorations for Christmas 2022 will convey a sense of comfort and coziness. what are you waiting for? Transform your home into a true winter wonderland and be inspired by our decorating ideas!
Christmas 2022 window decorations for a festive atmosphere
Although we are free to customize our window decorations for Christmas 2022, there are still a few things to consider. In order to bring sufficient daylight into our home and so that the rooms do not become too dark, the windows should not be blocked unnecessarily. Therefore, it is recommended to use delicate shapes, translucent materials and lighter colors. If you can't bear the thought of spending even more money on Christmas decorations, then we have good news for you. You can find plenty of budget-friendly decorating ideas in our list, and some of them are even easy to make yourself. Think of garlands made of fir green, snowflakes made of paper or beautiful Christmas decorations made of branches and twigs – there is guaranteed to be something for every taste and style of living!
Christmas window decoration with pine cones
We often forget that nature always provides us with the most beautiful accessories. Natural materials, such as pine cones, are wonderful for a pretty window decoration for Christmas in 2022. And the best thing? A short walk through the park is enough to collect enough of them. A Christmas decoration made of pine cones gives our home a cozy atmosphere and is ideal for festively decorating our windows. For example, you could quickly make a hanging decoration out of it. Simply thread several pine cones on a ribbon, hang them up and you're done! It is even more interesting and atmospheric if you first spray the pine cones with gold, white or red varnish.
Funny window decoration with chalk marker
A great window decoration for Christmas 2022 can also be easily conjured up with chalk pens. A chalk marker decoration has been very trendy for some time and is a source of great joy for young and old. The best part is that you don't have to paint such complicated artwork or perfectly drawn lines to get a beautiful result. In addition, the pens can be easily wiped off with a clean cloth, which automatically means less work.
It doesn't matter whether you draw freehand or use practical templates from the Internet – anything you like is allowed. However, the latter variant is ideal for children's activities during the holidays, because the little ones can color in the templates directly. Whether it's several snowflakes, Christmas decorations or just a little saying – there are absolutely no limits to your creativity when it comes to window decorations with chalk markers. The works of art are always a real eye-catcher and are guaranteed to put you in a good mood.
Make snowflakes out of paper for a cheap window decoration for Christmas in 2022
An old newspaper, string and 15 minutes of your time – that's all you need for this decorative and affordable Christmas 2022 window decoration. White and ice blue snowflakes are one of the most popular decorative elements during the cold season and are always a great way to add a festive charm to our home. And no, you don't have to be a professional hobbyist to do this. There are numerous templates for snowflakes in all imaginable shapes and sizes on the internet that you simply have to print out and cut out.
Candles and lanterns for a romantic atmosphere
When it's cold and dark outside, we want to make ourselves as comfortable as possible at home. Fairy lights, candles and lanterns are simply part of our winter routine and are a very good choice for a charming window decoration for Christmas 2022. When the candlelight flickers gently in the apartment, there is always a particularly cozy atmosphere. In combination with a natural fir green decoration , candles create a romantic atmosphere and are a real eye-catcher. It is up to you whether you use it to decorate the Advent wreath or the windowsill.
A Christmas 2022 window decoration with candles is a wonderful and fairly simple idea to get us in the festive spirit. If you'd rather keep it simple and elegant this year, stick some candles in empty bottles and position them on the windowsill. This creates a very playful and at the same time puristic Christmas decoration . Perfect for decorating any room for Christmas!
Christmas wreaths made from natural materials
Whether on the door, on the Christmas tree or as a window decoration for Christmas 2022 – Christmas wreaths in all shapes and sizes are an absolute must for the holidays and should not be missing in any house. Above all, home-made decorations made of branches and twigs exude a special charm and are ideal for bringing a piece of nature into your own four walls. Just take a walk through the park, collect a few twigs and you have everything you need for your Christmas window decorations from nature.
Christmas tree decorations as a great window decoration
Christmas tree decorations are only for the Christmas tree? But we see it differently! In fact, the ornaments come into their own everywhere in the home and always create a happy atmosphere. Got some bullets left? Then conjure up a beautiful window decoration for Christmas 2022. Don't be afraid to play with different colors and shapes and experiment until you are satisfied with the result. For a harmonious overall picture, you should coordinate the color of the window decoration with the rest of the furnishings in the room.