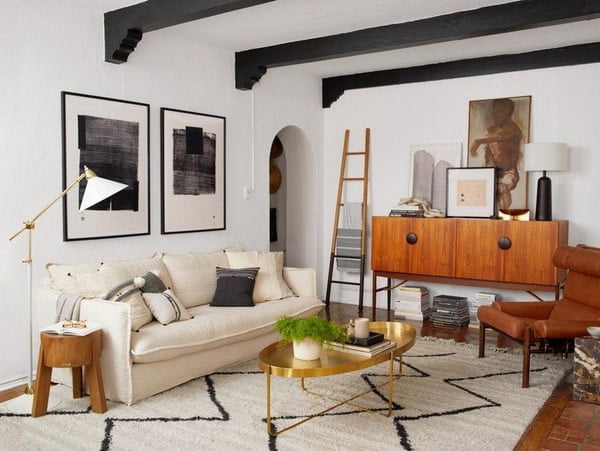 Last year, most people spent more time within their own four walls than ever before. We don't know when everything will return to normal, but one thing is certain: we have started to appreciate our house even more. If you spend the majority of your day in your living room and want to make it even more comfortable and stylish, you've come to the right place. From choosing a new sofa to wall decorating, we'll show you the best modern living room ideas 2022. Take inspiration from our image gallery and turn your room into a welcoming retreat.
Modern living room ideas 2022: layout
Before tackling the beautiful interior design ideas for your living room, focus first on the practicalities and especially the separation of space. Whether you're starting from scratch in a new room or just updating, furniture layout can affect your interior design decisions.
When it comes to living room design, we tend to push everything against the walls, put a coffee table in the center of the room, and have everything face up to the TV. However, if you want to deviate from this stereotype, move furniture away from the walls and you will find that the room looks more airy than ever.
The open living space
This great trend of recent years is also current in 2022. The kitchen and the dining room integrate perfectly with the living room. This arrangement is suitable for both large and small apartments where you want to save space.
Separate surface
This year, however, another design is emerging and it is called "Broken Plan Living". There is a reason for this. People who work from home are looking for a place to relax after the day's work. The broken layout plan is to divide the open living spaces into different areas with the help of fireplaces, movable partitions, shelves and plants.
The small modern living room
In smaller apartments, open or semi-open floor plans are often not an option at all. For those tight living spaces, we've also put together some ideas for comfortable and warm modern living room equipment.
Materials
The materials used in the layout of the living room play a key role in the overall impression of the room. This not only applies to upholstery, but also floors, wall coverings and furniture. Here are the materials that will shape the modern living room trends in 2022.
Nature in its purest form: wood and natural stone are in the spotlight
Natural materials such as wood and natural stone create a warm atmosphere in the living room and bring nature into your four walls. You can bring them into the interior in the form of furniture, decoration or floor and wall coverings. Without a lot of work, this effect is achieved even with imitation wood, stone or concrete wallpaper. Brick and marble are also welcome.
Glass is making a comeback in the modern living room of 2022
Whether in the form of a transparent table top or an impressive chandelier, glass is one of the most popular trends for the modern living room in 2022. The material is quickly becoming a real eye-catcher in the room. and goes perfectly with all styles of furniture. Those who don't plan for big changes in their interior but only want to give it a little update, small accessories like a glass vase or a side table are well advised.
Organic materials and fibers
Organic materials and fibers have been very popular since last year. Anything related to nature is allowed. The rattan furniture or covered with linen, silk or hemp are particularly popular, as are decorative items, lighting and many more. In short, the more natural and untreated, the better.
Combine materials and textures
What all trendy materials for the modern living room in 2022 have in common is their particular texture. The combination of different materials and textures is indeed highly recommended by interior designers. Whether you are betting on a soft, plush rug, a smooth glass table, or a rough natural stone wall, the important thing is that the living room surfaces have an impact on your vision and sense of touch. The result is a pleasant atmosphere that invites you to rest and relax.
Colors and patterns in the modern living room in 2022
The choice of color and pattern almost always determines the overall decor of a room. However, color can also be added a bit later with small decorative items or furniture. The year 2022 has many colors to offer, especially for interior decoration. The gray (Gray Ultimate ), for example, is one of two colors according to Pantone flagship institute. This classic shade can be found in a lot of shades that add dimension to the living room. Other very popular tones this year are beige, warm undertones of terracotta and green, and the combination of gray and beige called greige.
Beige and other neutral shades
Last year we spent more time at home than ever before. Emphasis has therefore been placed on creating warm and welcoming spaces in which you feel good. And what colors can actually look warmer than light, earthy tones?
Color trend 2022: greige
What do you get when you mix a cool tone with a warm tone? The perfect balance. This is how we can describe the color greige. If you opt for this combination of colors when furnishing your living room, the harmonious atmosphere of the room is guaranteed. For incorporating some dark accents, brown tones are perfect.
Want colors? Blush, terracotta, green tones and navy blue are ideal for the modern living room
Whether you just want to set some accents or go for a colorful wallcovering, you will do exactly the right thing with warm terra cotta, light greens and dark blue. By the way, pastel shades are not as popular as they used to be and are being replaced by other shades such as blush.
Modern living room ideas 2022: the most fashionable patterns
For patterns in decoration, the natural touch again plays an important role. When it comes to wallpapers, we focus on floral designs, leaves and natural stones. Geometric patterns are still popular for textiles.
The furnishing style
The style of furnishing can really influence the ambiance of a living room, but why limit yourself to just one concept? The combination of furniture of different designs, often called "mix and match", is particularly popular this year. Nevertheless, Skandi style, Boho Urban as well as modern vintage remain at the top of the list.
Scandinavian style and boho style
Vintage modern
The vintage style also includes what is known as Grandmillennial style where the interior design details are inspired by the homes of our grandparents (or rather the grandparents of millennials).
Furniture in the modern living room in 2022
If you're planning to completely renovate the living room and aren't sure where to start, we've got some advice for you. First, select the sofa of your dreams and adapt the rest of the furniture to it. Review, the sofa is the most imposing piece of furniture in the room and as such influences the overall decor. Then come other furniture such as the coffee table, dressers, bookcases, shelves, etc. Finally, these can be more easily harmonized with the sofa than the other way around. Below are the most beautiful modern living room furniture ideas 2022.
The retro sofa is in the spotlight again
After the glamorous velvet sofa that was all the rage a few years ago, retro sofas are making a comeback in 2022. Rounded shapes and fabrics such as corduroy and wool give the sofa a touch of modernity. combine wonderfully with the natural habitat trend. In the coming months, we'll also be celebrating the return of the corner sofa that was relegated lately.
Furniture with rounded edges for a modern and chic living room
Now is the perfect time to purchase that funky, curved sofa you've been craving for months. Curves and rounded edges are very trendy and pair well with some of the natural materials that are popular right now. Also, this trend doesn't just apply to sofas. Pairing a square couch with a curved coffee table can make a statement, too. It's about creating contrasts and balancing materials and design.
The homemade mini-bar
With the closure of restaurants, clubs and bars, many are bringing entertainment to their homes. Therefore, the home mini bar is currently one of the biggest trends in modern living room equipment. In this context, it is up to you to decide whether you will buy a special piece of furniture with a cooler or whether you will transform a simple side table.
Multifunctional furniture
Furniture that performs multiple functions is also in the spotlight in the modern 2022 living room. It could be an upholstered stool with storage space or a sideboard that converts into a desk. Wall niches and desks integrated in cupboards (cloffice)  are just as trendy this year.
Modern living room lighting 2022
If you are planning a remodeling of your living room, you should think about the lighting concept at an early stage. Good lighting can really make your room stand out. So it's worth taking the time to plan how many lights you'll need and where you'll install them. Furthermore, light sources can make a statement as well and act as real decorative objects. A trend that has gained momentum in recent times is that of lighting with woven and knotted textiles. Add to that chandeliers and floor lamps made of glass and rattan. The rule is: the more eye-catching the design, the better.
Decoration and accessories
If you don't want to completely renovate your living room but just add a touch of freshness, incorporating a few decorative elements is a good idea. Now we bring you the best living room decorating ideas for 2022 that you can quickly and easily copy.
Art
This year, everything from old posters to large-format abstract paintings or drawings is used to personalize our spaces. Whether you choose to shop online, search specialty stores for antiques, or even frame your own artwork, you can't go wrong for sure!
Graphic images
Superimposed rugs
Minimalism still appeals to us in 2022 but a designer coffee table, a side table or a fireplace mantle give an impression of fullness and comfort. This is because the easiest way to add dimension to a room is to cover its floor with overlapping rugs. It's creative, aesthetic and you will protect your floor as well.
Houseplants and dried flowers in the modern living room 2022
The best way to bring nature into your home is with flowers and houseplants. Depending on the furnishing style, you can bet on green, live or artificial plants, and arrange the dried flowers and herbs in beautiful containers.