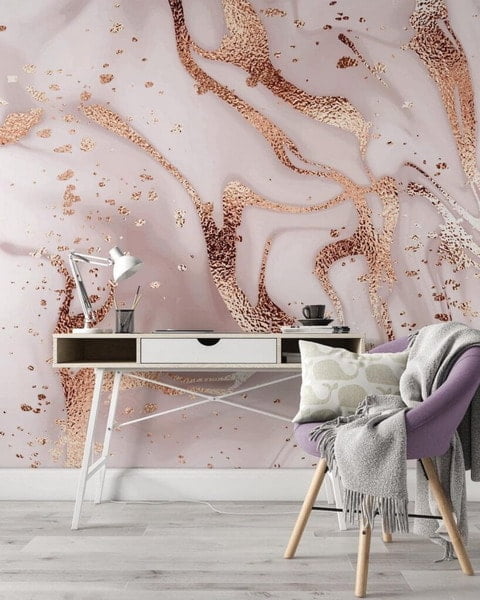 Wallpaper in the rating of finishing materials does not lose its leadership position, thanks to the constant improvement of quality, taking into account fashion trends in the field of interior design. The 2022 season maintains the established trends and offers original trends to watch out for.
Knitted wallpaper – warmth and comfort in every centimeter
Fashionable wallpaper trends 2022 with a pattern stylized as a knitted fabric creates a unique atmosphere. This solution finds particular relevance when creating an interior with elements of the Scandinavian style. It is recommended to decorate the seating area in the living room with wallpaper with an expressive retro print. A warm knitted blanket thrown over a sofa or armchair will serve as a harmonious addition.
Toile de jouy. The wallpaper, created with a touch of the popular French Toile de Jouy style, is characterized by sophisticated graceful lines. Exquisite monochrome patterns scattered over a monochromatic cream, beige, white canvas give a unique charm.
The thin lines are reminiscent of a pen. The main plot is the image of landscapes. Often there are scenes of hunting, with shepherds, from peasant life. Idyllic pastorals, curly lambs, girls harvesting fruits, walks in a shady garden – the plots on modern wallpaper have hardly changed. This design perfectly emphasizes the elements of the Provence style.
3D wallpaper – stylish interior with a three-dimensional image
3D printing used in the production of modern finishing materials gives incredible effects to wallpapers with large format images.
Volumetric imitation of flowers, animalistic subjects, geometric shapes, abstract compositions creates a realistic enchanting atmosphere in the surrounding space. You can choose from the offered range of variations with fluorescent flicker or backlight. With 3D wallpaper, you can set a certain mood for any room.
Fantasy 3D sounding wallpaper instantly transforms any room, filling it with dynamics and modern sophistication, but it is important to decorate one accent wall with them. The rest of the surfaces are recommended to be performed in the same tone, choosing a single color palette.
Textile wallpaper – trend of the season 2022
Comfortable, cozy fabrics made of felt, silk, jute, velor, synthetic, cotton, linen fibers stand out among the variety of finishing materials focused on wall decoration. The basis of these types of wallpaper is vinyl or non-woven, which provides good thermal insulation and sound absorption.
On a note! Among the advantages of textile wallpaper, one can also note an exquisite decor, environmental safety, resistance to temperature extremes. They do not fade.
Textile wallpaper is the favorite material for wall decoration for most designers.
Silk varieties look rich and prestigious in any room. Walls in this design do not lose their magnificent decor for a long time. Linen wallpaper not only provides reliable protection against external noise, but also has antibacterial properties.
Felt soft surfaces are pleasant to the tactile sensation. They perfectly mask minor flaws in wall surfaces. Jute varieties give the planes an expressive natural texture, bringing an atmosphere of tranquility, coziness and comfort.
Liquid wallpaper – all ingenious is simple
In the season of 2022, liquid wallpaper in the interior remains in demand. Their popularity is due to their ease of application on planes that do not require perfect alignment. The texture of the viscous material allows you to close small potholes, cracks, level minor differences in height.
An extensive assortment allows you to choose the right shade. If necessary, it is easy to change the saturation of the tone or add a color accent in accordance with the overall design of the room.
With the help of liquid wallpaper on the wall, you can create amazingly beautiful landscapes
Among the advantages of liquid wallpaper, the possibility of obtaining a surface of different textures without seams is noted. Often during the kneading process, sparkles are introduced, giving a mysterious shimmer.
Wallpaper with greenery – a corner of wildlife in your home
The current topic of environmental safety can be traced in the increased popularity of fashionable 2022 wallpaper with a natural print. In modern design, tropical motifs with lush lush greenery are considered fashionable.
More often, a certain area in the living room is distinguished with such combinations, for example, a fireplace. The rest of the planes are decided in calm colors. You can ennoble the resting corner with pacifying plant compositions, where a fluffy green rug is additionally laid on the floor near the sofa or chair.
Fashionable wallpaper 2022 with a beautiful design
Interest in photo-wallpaper, which received a completely different sound, flared up again. Compositional solutions are in trend, bringing perspective even into a limited space. Expands the volume of the image of a road going beyond the horizon, the view of a window with a charming landscape behind it, sea or space.
Drawings are becoming fashionable, filling even a modest living room with a sense of luxury. It can be an image of shelves with books in bindings with rich decoration, stylization of a majestic fireplace. Over the past few years, hypertrophied juicy flowers, butterflies, exotic landscapes on the walls have enjoyed unprecedented success.
Ethno wallpaper – timeless classic
In a fashionable interior with beautiful 2022 wallpaper, a special place is occupied by coloristic modern canvases with ethnographic themes. Exotic motifs always look bold, original, and distinctive, provided that the uniform style is maintained and an impeccable sense of proportion is maintained.
If desired, you can bring a fantastic feeling of African settlements, Indian originality, majestic Egyptian style, sophisticated Arabic sound to the room.
Among the dominant features that make it possible to distinguish African energetic motifs among the variety of wallpapers, the following features can be called:
expressiveness;
dynamism;
coloration;
expressive contrast.
In addition to the fashionable wallpaper 2022, other elements of the surrounding entourage should serve. The general idea can be supported by pillows with imitation of the skins of African animals, carpets stylized as sultry sand dunes, pictures with tropical lush vegetation.
The prevailing shades also create the feeling of a burning sun, hot sand, dried grass. Sand, juicy yellow, brown, fiery orange color is used more often.
The introduction of Egyptian-sounding wallpaper into the interior fills the space with a sense of refined luxury. You can highlight a similar style by the following features:
the image on the wallpaper of majestic graceful frescoes;
variety of pure colors;
complementing the wall decoration with colorful carpets and rich curtains.
Basic shades are yellow solar color, ocher, noble beige, ivory. The Egyptian ornament on the wallpaper should dominate a certain area of the living room, contrasting with the monochromatic finish of the rest of the surfaces.
Wallpaper depicting mountains is quite a fashionable and popular solution for decorating walls in a living room.
An Indian sound in the interior involves the use of wallpaper imitating rich textiles. On the wallpaper, which allows you to reflect the variety of blue, burgundy, emerald colors typical for Arab countries, you can see the image of arabesques, ornaments from oriental fairy tales.
Eco wallpaper – being closer to nature is so easy
The popularity of the ecological direction increases the attention of consumers to natural finishing materials, which remain in trend in 2022.
Eco-wallpaper is made not only from traditional paper. The raw material can be bamboo, as well as cork. The latter option is especially relevant in rooms where high sound insulation is required.
Connoisseurs of luxury use leather wallpaper, but this option is only valid for spacious rooms and should not be found on all surfaces.
A sense of richness allows you to create durable fiberglass wallpaper. They are usually combined with a pastel plain basic solution of the room, highlighting one zone most advantageously.
Textile varieties are in demand, which are paper canvases, the composition of which is improved by the addition of fibers – linen, cotton, silk, viscose. Such wallpapers adhere perfectly, masking small irregularities in the walls. They preserve the decor over a long operating period.
Wall finishing materials made on the basis of natural non-woven fabric remain popular. Due to the inclusion in the composition of cellulose fibers, such wallpapers do not emit toxic compounds. They are hygroscopic, so mold does not form on the walls.
Geographic maps – exploring the world in your home
Amazing canvases on the walls, depicting various geographical maps, have become a bright highlight of the interior of recent years.
Particularly attractive is the stylization of old card drawings with scuffs and blurred monochrome outlines. Such decoration brings an atmosphere of intelligence and mystery to any interior. The images impress not only with their unusual decor, but also with the opportunity to gain new knowledge.
Abstraction – we give the interior unique characteristics
Abstract patterns remain fashionable. Beautiful 2022 wallpaper with spots of various configurations is often present in modern design projects. Once again at the peak of incredible popularity, the bold, extraordinary, flamboyant design style of the eighties of the 20th century Memphis. It arose at the intersection of art deco, kitsch, pop art.
A distinctive feature of the Memphis style is the use of geometric shapes, luscious neon and pastel colors, repeating bold elements of the pattern in the images.
Fashionable wallpaper design trends 2022
Innovative trends in the field of large-scale production of wallpaper amazes with a variety of materials, textures, patterns. The following options remain relevant:
A blurry, low-contrast light geometric, landscape or floral pattern perfectly supports a variety of styles. The overall compositional solution was sustained in pastel colors – light coffee, bluish, noble gray, beige.
Gradient wallpapers create a modern flawless sound. When using them, an atmosphere of dynamism arises, thanks to the unusual soft color transitions.
The optimal solution for small living rooms is the elegant 2022 wallpaper with a beautiful design and clear geometry in the pattern. They look compositionally from various angles. The figures can have a strict ordering, and they are also located randomly on the canvas, creating, respectively, a static or dynamic atmosphere in the surrounding space.
On a note! In modern versions, metallized or mirror inserts act as an addition, which makes it possible to use a similar design of wallpaper 2022 to form a bright accent element that attracts attention in a common monochrome space.
In 2022, the influence of bright solutions for the design of fashionable interiors is noticeable. Exclusive interiors, in which bright colors reign, are becoming a sign of modernity. They are used to decorate a canvas with a universal white background, on which juicy colors are located in fancy interweaves. Their intersection creates an impression of randomness and randomness when applying strokes.
The trend is wallpaper 2022 with a beautiful design and a veiled blurry pattern, which visually feels hidden under a layer of transparent water. In a room with a similar wall design, a comfortable, pacifying atmosphere is created. Wallpaper balancing the space with ornamental motives – geometric (zigzags, honeycombs, rhombuses, etc.), floral, animalistic, does not lose its popularity.
The vertical strip remains relevant, especially for rooms with a low ceiling. More often they use a pattern with alternating lines of different thickness or color. This solution avoids monotony.
Black and white wallpaper will always be in fashion, 2022 is no exception. Light wallpaper does not catch the eye and does not hurt the eye.
Connoisseurs of the exotic pay attention to the trendy 2022 wallpaper with animalistic drawings. Modern options for this design acquire a sophisticated decorative effect, easily fit into a modern interior, making it stylish and extraordinary.
Wallpaper colors 2022 – new season
Fashionable tones in the design of the walls are taken into account when choosing wallpaper in order to bring a modern touch to the space. Among the favorites remains the deep classic blue color scheme, which is especially relevant when decorating south-facing rooms.
Designers also choose noble shades from a list of universal tones that are combined with almost the entire color range. These include white, gray, cream, sand color. Light beige, delicate creamy, lavender, pinkish, mint color does not lose its relevance.
Wallpaper with golden flowers on a white background will change the interior of the room for the better. Wallpaper and decor items play an important role in the interior design of an apartment.
Wall Decoration Ideas – Trendy & Trending Wallpaper 2022
In the living room, designers, in addition to decorating all walls in a single key, allow different options for combining wallpaper. For example, they select canvases with the same pattern, but different shades. It is possible to use wallpaper identical in color, but different in pattern.
With sufficient experience, an excellent result is demonstrated by combining different textures into a single composition. In this case, the general style solution of all objects in the room must be taken into account.
Pop art trendy wallpaper
By its color scheme, the wallpaper on the wall should correspond to the general style of the room.
When decorating with different types of finishes, the walls are divided horizontally, vertically, diagonally, or create a composition. Exclusive bright wallpaper is often used to decorate an accent wall or part of it. Such canvases help to zone the space of the room.
Expensive handmade wallpapers are glued into the molding, for example, decorating a section of the wall next to a green corner, a fireplace or a cozy armchair. Among the novelties of the 2022 season, we can mention wallpaper for a prestigious interior with neoclassical elements. If you wish, you can purchase a variety of textured finishes with noble gilding, graceful floral patterns that bring notes of aristocracy and nobility.
Natural motives in the interior – the trend of the season 2022
Brave young people will love wallpapers with elements of fast-paced high-tech style. These motifs are reflected in the technical finishes and in the dynamic metallic effect on the high-gloss surfaces that are created.
Well-known manufacturers offer varieties of wallpaper stylized as stone, rough brickwork, wood, leather, crumbling plaster – materials that create an atmosphere of rebellious loft style. Against the background of such a finish, modern glamorous furniture looks unexpectedly organic.
When choosing wallpaper 2022 for the purpose of high-quality interior decoration in the light of modern fashion trends, one should pay attention not only to their ornamental and color scheme, but also to correctly determine the overall harmony of the room.