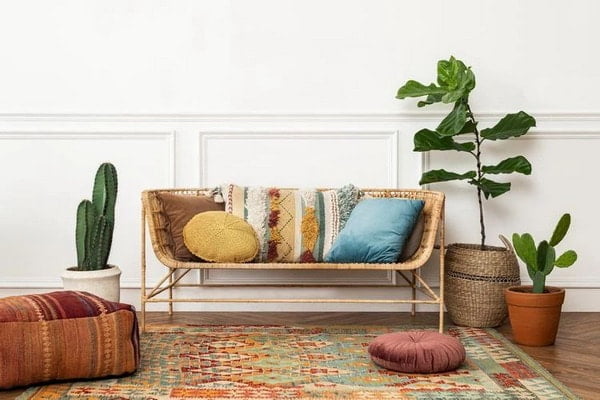 Fill your home with the freshest spring decor trends and enjoy vibrant interiors all season long. Open the windows so you can feel the higher temperatures. Be inspired by our fresh spring ideas: the beautiful pastel colors, the floral patterns and many more are modern this spring. Below we explain the spring decoration trends 2023 so that you can prepare your home for spring.
Spring decoration trends 2023: popular plants
As you take the luxury of interior design outdoors, you also embrace greenery and the hottest houseplant trends for 2023, allowing you to breathe new life into any room in your home. This is no surprise – the human love for plants is endless. Especially in spring, when it's still too cold in some areas to venture outside, a little greenery can provide the coziness you long for.
Choosing plants with accents of color will add vibrancy to any space. Try to choose plants that are easy to care for, or opt for artificial or dried flowers that don't require maintenance and don't need to be replaced regularly.
While plants and flowers are blooming outside, this time of year also sees more and more green indoors, lifting the spirits after the long winter months. For example, if you prefer and love eclectic boho furnishings, you can go one step further and beautify your home. You only need a few basic elements of boho style: Berber rugs, vintage furniture, brass accessories and of course lots of plants.
You can follow one of the other spring decorating trends 2023 and create a living plant wall in your home. This pretty wall of greenery will literally brighten up any room and will be a gorgeous focal point in your home.
Soothing pastels: one of the must-have spring decorating trends of 2023
Bold colors are out and cool and calm ones are in. But that doesn't mean you have to stick to the usual beige, white and gray tones. You can still add splashes of color and thus be fully in line with the spring decoration trend. This season, the focus is on light, soft and hopeful shades such as butter or sunshine yellow, pistachio green, baby pink or open sky blue to convey warmth and freshness. Your home should not be seen as a consequence of any particular trend, but as a storehouse of personal energy. Think calming colors and you will find the color palette trends for spring 2023.
Just in time for spring, sunny tones exude a positive mood indoors. From delicate lemon yellow to spicy turmeric, there's a delicious, honey-yellow decor to brighten up any room. Also, the color yellow, with its light hue, brings a cheerful feel to the room, which is exactly what one wants for spring. If you want to add a bold accent, use a yellow bedspread or quilt. If you're looking for something understated, a yellow pillow or sheet is a good choice. Whatever yellow you choose, it will definitely brighten up your room this spring.
The blue color trend in spring 2023 reminds people of the most beautiful travel destinations, which is why different shades of blue can have a positive effect on your well-being. Immersing yourself in the big blue ensures that all of our senses can have a therapeutic effect. Use this soothing color palette of soothing pastels to rebalance yourself.
Decorative accessories with soft curves in spring
Architecture, furniture, decorative accessories and cocoon-style curved lighting fixtures inspired by the female form bring a fluid, soft aesthetic to all contemporary spaces. A key Spring 2023 decorating trend, the streamlined silhouettes evoke a sculptural style that has a convivial edge. Soft curves are the order of the day for all furniture and decorations this spring. You should look out for things like rounded beds and sofas to make a statement that isn't too gross.
But if you just want to bring a touch of spring decorating trends into your home without a complete redecoration, something as simple as rounded cushions on your sofas and beds will do the trick to keep up with the trends. Buying a globe for your office, for example, might not seem like much, but it can brighten up your busy home office.
Combination of natural materials as one of the spring decor trends
Wood, raffia, jute, limestone and rattan will be big in spring 2023, because naturalness and tranquility are important this year. There's something very relaxing about going back to simple textures and materials and getting rid of the complexity.
Even if you just buy a new rattan chair for the living room or replace an old dining area with hand-woven chairs and a wooden table, you can make your home spring-like. You don't have to go big with your natural textures, but having a few in your space will create a calming environment for you, your family, and your guests. You can also combine wooden elements in your home with flowers and candles so that your home is well prepared for spring.
Don't forget floral patterns as a spring decoration trend
Floral patterns are also very popular this spring. Buy decorative cushions, vases and flower pots with classic flower, leaf or grass motifs.