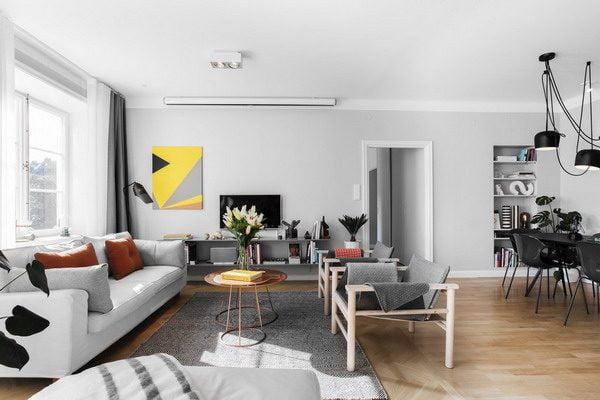 Interior design in 2026 is not only new fashion trends, colors and trends, amazing shades and innovative design solutions. This year and the next seasons, we primarily strive for perfectionism – we know exactly what we want and are looking for real professionals among designers so that all stages of the project called "Our New Dream Home" are held at the highest level.
In this review, we will show, by the example of the work of designers, how fashionable and trendy interiors look in 2024-2025, what ideas can be especially interesting for those who want to decorate their home or apartment with taste and what color solutions now popular.
If you are interested in learning about the latest trends in the world of interior design in 2026, getting information about the most fashionable shades and design techniques, then we also advise you to look at the Studio's portfolio.
Top 10 fashion trends in interior design
Speaking about fashion trends in interior design in 2026, it is worthwhile to understand that not every design technique fits all styles in the interior design of apartments and country houses.
Nevertheless, we made a selection of the most versatile fashion trends that can often be seen in interiors made in different styles in a segment
1. BIOFIREPLACES IN LIVING ROOMS
Perhaps, not a single living room design project in 2026, regardless of style, is complete without a fireplace zone. New models of automatic biofireplaces with wi-fi control make controlling this device extremely easy and convenient. Lively flames, elegant portals and decor provide designers with ample opportunities to complicate the space and create a warm atmosphere of home comfort in the room.
2. WALL DECORATION WITH SLABS MADE OF NATURAL STONE
When it comes to premium interior design, one cannot but mention such presentable material as natural stone. In the modern interior in 2025, accent, full and partial wall decoration with slabs made of natural stone is popular.
Most often you can find on the walls of apartments, mansions and residences such stones as marble, granite, onyx, travertine, agate, as well as slate and amethyst. Natural stone gives the interior monumentality and a special elegant chic.
The unique beauty of each slab is exclusive – since the stone is natural, you will not find the exact same picture anywhere on the wall as on your wall.
3. MIRROR ART DECO WALLS
In the interior of this beautiful bedroom, we see one of the most exciting design trends of 2025 – mirror wall decoration with fatset. This technique is used both in the Art Deco style in which this room is decorated, and in some other styles – French, classic, neoclassical.
Faceted mirrored decoration is popular not only in the design of the bedroom, but also in the living room, dining room, front door or staircase. This can be either a small horizontal insert, for example, in the area of bedside tables, or a whole accent wall or a block of mirrors with fatset.
4. INTEGRATED LIGHTING FOR CEILINGS, NICHES AND ACCENT AREAS
Color in the interior of 2025 is very important – at the end of our review we will also look at various popular color schemes and fashionable shades. But the backlight, including the bright accent areas, is very actively developing and becoming more and more complex.
Lighting in the interior plays a major role in the evening. False ceilings with illumination around the perimeter, spot lighting of worktops in the kitchen, kitchen island and in the office are now popular. There is also illumination of niches, accent walls and zones, furniture and decorative structures made of drywall.
Lighting is one of the most important tools of a professional interior designer. Despite the fact that the selection of decoration materials and furniture, as well as decoration is important to create a harmonious image, it is lighting that allows you to enjoy a skillfully composed ensemble of all the elements in the evening and night.
5. NATURAL STONE IN THE DESIGN OF THE FLOOR, COLUMNS AND FIREPLACE PORTAL
Natural stone is also used for the design of stairs and fountains, small architectural forms, kitchen worktops and window sills, as well as in the design of the floor. Earlier, we said that slabs are often used in a fashionable interior for wall decoration, but, as you can see, this is not the only area of application of such beautiful stones as marble, agate or onyx.
The most popular stone for the design of floors, columns, fireplace portals and window sills is traditionally marble. In the world there are a huge number of its varieties. For example, around the world, the legendary white Carrara marble from Italian Tuscany, which is quarried in the slopes of the Apuan Alps, is famous. Here, in Italy, there is blue marble, white-yellow, brown-red and many others. In Austria, you can find rare breeds of marmore, such as Intersberg and Alpingruin. Marble is quarried in France, Belgium, Turkey, and Switzerland.
Each of the deposits is unique, so in order to buy marble of a certain color or format you need to contact suppliers from the right region. True, in a professional design project, marble for your interior is already selected by the designer, so you do not have to choose the one that suits you perfectly from several hundred breeds of this noble stone.
6. FALSE CEILINGS OF A COMBINED TYPE WITH ORNAMENTS, LIGHTS AND MIRRORS
It's no secret that suspended ceilings make our interiors truly beautiful and charming, especially in the evening. It seems like you find yourself in a fairy tale: in the chalet-style interior – in the Christmas, in the style of minimalism or futurism – fantastic.
Our studio is developing exclusive combined-type suspended ceilings – we use not only drywall and lighting, but also ornaments, textures, reliefs, mirrors and various types of decorative plaster, gilding and decorative 3D panels to create your ideal ceiling.
Sophisticated versions of suspended ceilings are most often used in living rooms, but also in the popular interiors of dining rooms, kitchens, bedrooms and front halls. Interesting multi-colored ceilings are suitable for a children's room, and even in the winter garden or on the veranda, the built-in lighting will add special charm to the interior.
7. KITCHEN ISLAND IN THE KITCHEN WITH A BREAKFAST BAR
In this charming interior in white colors, we noticed one very important trend in kitchen design – the kitchen island. Usually this is a freestanding design with a worktop, which can be supplemented by a bar counter, stove and sink, a wine cooler and extractor hood and other integrated elements.
The kitchen island acts as an excellent zoning element in a modern open-plan interior – it divides the room into zones of the kitchen and dining room or kitchen and living room.
In addition, the kitchen island is one of the main international trends in interior design. It is used in almost all styles – from classical to minimalism and from art deco to rustic!
8. VENETIAN DECORATIVE PLASTER FOR WALL DECORATION
This luxurious bedroom is decorated using the most fashionable type of decorative plaster – the Venetian. Often you can find on the walls so decorated, golden or silver reflections that make the room amazingly beautiful!
Venetian stucco appeared in ancient Rome, but Italian masters made it a trend, calling it "stucco veneziano" and making it fashionable due to the excellent interiors of private palazzos and palaces in Venice.
Marble is used in the production of Venetian plaster, so it is both expensive and very durable. It was her who was used in such works by such great artists as Raphael, Michelangelo and many others. Modern Venetian plaster uses either marble soap, or granite or quartz.
9. BUILT-IN STORAGE SYSTEMS FOR BEDROOMS WITH BRIGHT FACADES
Now interior designers are trying to make the rooms not only beautiful, but also comfortable. If earlier luxury was prized first of all in mansions, chateaux and palaces, now designers and decorators first create a thoughtful layout, if necessary, demolishing and erecting new walls to make the apartment or house as comfortable as possible, and decorating is done at the last stage.
So, things with embedded storage systems today are much better than before. Such dressing rooms, which are now being designed for premium-class homes and Moscow apartments, were not even among European kings and dynasties of aristocrats. Roomy, with silent mechanisms, almost invisible in appearance due to light facades, with sliding doors and a wide variety of storage formats, they will inspire any woman to repair in her own house!
Built-in storage systems can be in dressing rooms and bedrooms, as well as in hallways, offices, kitchens and utility rooms. Usually, the more of them, the more convenient your life will be in 5-10 years. Even if right now you don't have so many things to, for example, choose a layout with 4 dressing rooms in the house, then believe me – in the future they will come in handy.
10. OPEN PLAN KITCHEN-LIVING ROOM WITH VISUAL ZONING
An open plan in the interior design of 2025 is one of the components of a successful project as a whole. The comfort of a combined kitchen and main dining room or kitchen and living room is difficult to overestimate. In American homes, such layouts began to be popular half a century ago, and now they are easy to find even in small European apartments.
At the same time, in projects with a larger area plus a kitchen-living room, a home cinema and a grand dining room are arranged, as well as a children's playroom, and you will not lose privacy in any situation.
11. BATHROOM WITH SHOWER AND FREESTANDING BATHTUB
The layout of the bathroom in a modern interior is also undergoing changes. The most popular format for a bathroom in the master bedroom or master suite is what you see in the photo above. Thus, in the main bathroom of the house, it is fashionable to arrange a shower niche, and a free-standing bathtub with legs or in a modern style. In addition, the use of two sinks is popular here. Sometimes this bathroom is complemented by a dressing room and a sauna.
Popular ideas and examples of fashionable design solutions
If at the beginning of our review we discussed the main trends in interior design, but below we will consider examples of the embodiment of some fashionable ideas, as well as materials popular in decoration.
In addition, you will learn about the birthplace of the legendary mirror furniture, why gloss does not go out of fashion in this decade, and how the lighting of furniture changes our lives for the better.
GLOSSY PANELS AND FURNITURE WITH GLOSSY FACADES AND COUNTERTOPS
Gloss has become an integral part of a good modern life – polished marble, glossy facades of kitchens and built-in furniture, the splendor of home electronics and our iPhones, the glossy splendor of popular interior design magazines – all this has already firmly entered our lives.
In 2025, the gloss in the interior design firmly takes one of the leading positions – here everything that is brutal is replaced by a perfectionist, glamorous gloss in a variety of forms. For example, in the design of countertops in the kitchen with stone, in the design of a false ceiling or chest of drawers.
Glossy surfaces, decorative elements and furniture, parts and fixtures are what will be fashionable in premium interiors in the coming years, and not just one or two seasons. In an effort to create more concise interiors, gloss is becoming our main companion.
VENETIAN-STYLE FURNITURE WITH MIRROR FINISH
The style of the Hollywood golden era of the 20-30s, the atmosphere in the style of the Great Gatsby and Art Deco or the legendary Venetian luxury of the palazzo – if at least one of these images inspires you, it means that mirror furniture should definitely be in your dream home.
Venice is the birthplace of not only mirrored furniture, but also the mirrors themselves. Therefore, it was here that the first furniture was produced with a mirror finish of facades and mirror countertops, which then became famous throughout the world. She was loved by the Hollywood divas, the new American aristocrats and the wives of businessmen, and the Venetians themselves are still proud of themselves for such a wonderful invention.
Mirrored furniture is such a luxury piece of decor that it should be used with care. There is so much sparkle, chic and glamor in it that only styles such as art deco or neoclassic are ready to take her into their arms.
VERTICAL LANDSCAPING IN THE LIVING ROOM OR KITCHEN
In this luxurious living room, our designers used vertical landscaping to create an almost futuristic image of an elite interior. The vertical garden usually has an area of 4 to 10 square meters and is used to decorate living rooms, halls and corridors, balconies and loggias, conservatories and kitchens.
As a novelty of design, it is great for decorating rooms in such styles as minimalism, futurism and loft, but a professional designer can fit this element into the interior in any style.
A vertical garden is usually created in hydroponics and almost does not require your attention and care. Plants are selected taking into account the general concept of the interior – there can be unpretentious plants, which are just a green wall that fills the room with oxygen, and exotic flowers and creepers that create an atmosphere of tropical utopia in your home.
SILVER-PLATED, GOLD-PLATED AND MIRROR-REFLECTIVE ACCENT PANELS
In the interior of an apartment in the style of 2025, we often find decorative panels that are used as accents in the design of walls. For example, gold, silver, bright or pastel. They can be made of different materials, with imitation of metal (gold, platinum or copper), wood (as well as precious wood), stone, and also have a glossy or mirror surface.
Such decorative panels are used to create a focal point in the interior. For example, at the console table, on the wall opposite the mirror or on the wall with a mirror in the hallway. In the bedroom it can be a wall behind the head, in the living room – a wall with a TV.
The interior designer also uses decorative panels to visually increase the space, create perspectives, and maintain a common concept. For example, in the minimalism style, decorative panels made of polyurethane with 3D effect, metallic futuristic reflections and ornaments in the innovative style of parametrics can be used, and in a modern style with a bias towards the Art Deco – beautiful gilded panels, as in the photo above.
HIGHLIGHTING FURNITURE AT FLOOR LEVEL IN A CONTEMPORARY STYLE
And to create this home theater interior in a country house, our designers used the spotlight of a coffee table, which looks very futuristic!
The same lighting can be done for furniture in the TV zone, and for the kitchen, sideboard, boudoir table or bed. In your office you can make a stunning lighting for the library, and in the nursery – for a rack with toys or a work desk.
Such a spotlight for furniture will help you visually zoning the space and focus on a specific part of the room. For example, if in a home theater the main backlight would be a chandelier rather than a diffused light from a shelf and a coffee table, then focusing on the TV would be much more difficult.
A professional design project will be made so that every moment you spend in the house, you will enjoy total comfort and thoughtful interior. Including backlight.
CERAMIC PARQUET FOR FINISHING FLOORS AND WALLS
Strict symmetry of the parquet is to the liking of many – but in practicality, parquet is often inferior to ceramic and natural stone. In this case, a compromise was found in modern interior design – ceramic tiles in the form of parquet boards with a print in the style of wood (including imitation of valuable wood, which is now at the height of fashion).
Ceramic parquet is used in the design of the bathroom, loggia and balcony, terrace and kitchen and has already become one of the favorite decoration materials from Moscow designers in 2025.
Trendy colors and shades in the interior of 2026
Colors and shades – fashionable in 2025 and subsequent seasons – transform the traditional look of a room in a certain style, as we used to see it. For example, if in the modern interior of the living room you see a shade of chartreuse in the form of a plaid or ottoman, then we can say with confidence that this interior was created recently!
HUE ULTRAVIOLET
Another popular group of shades that are most often used in living rooms is the violet-red spectrum. This includes a dark, bewitching eggplant hue, bright and fashionable fuchsia for several seasons, a delicate and slightly reddish plum hue, as well as lilac and pale lilac hues.
In this group, we also find purplish pink, Persian blue, indigo, violet, amethyst, Tyra purple (matte red-violet), and the color of wisteria (blue-violet).
All these shades are most often used in dark or gray, pale interiors, where the depth of purple color will be appreciated. In addition, this group of flowers is also popular in styles such as neoclassic, art deco, modern art and minimalism, in the Arabic (and Moroccan) style.
And the Pantone Color Institute in 2025 named ultraviolet (PANTONE® 18-3838) one of the main colors of the year. At the same time, designers advise using it not only for small accessories, parts and decor, but also for painting walls and upholstery of upholstered furniture!
ULTRAMARINE, COBALT AND SAPPHIRE
Such specific – deep, amazing and almost magical, shades of cobalt, ultramarine and sapphire are now at the peak of popularity. They are used in upholstery of upholstered furniture, textiles, textile panels in the design of bedrooms and children's rooms, as well as in the decoration of walls with natural stone – for example, agate, as in the photo above.
In any case, deep and dark shades have now almost completely replaced blue standard and even light ones. For example, cornflower blue and blue can be found now much less often than 5 years ago. So, legendary colors such as azure blue and ultra-marinous, which have been popular for several seasons, also remain popular.
The peculiarity of the fashionable blue color palette is in deep, saturated colors, in the predominance of dark over light and contrasting over pale. Excellent dark blue colors look in the design of the walls in the living room, upholstery of upholstered furniture, the design of children's rooms for boys, armchairs for the dining room and bar stools, as well as in the design of carpets, curtains and decorative pillows.
PASTEL COLORS
An interior with pastel accents always evokes a pleasant feeling. Such delicate colors as mother-of-pearl pink, pink-peach, white-lilac, lavender and beige-pink can make any room more feminine and elegant.
In addition, ashen pastel shades are now in fashion – ashes of roses, ashen blue, beige gray, gray-white! They are popular in various interior styles and even not only in Provence – for example, in minimalism, Art Nouveau, Scandinavian style and neoclassic they are no more popular than in pro-French styles – Art Deco and French classics.
So, pastel colors will be popular for many years to come, as we have just begun to fully reveal and understand their aesthetics. Along with them, dark, saturated shades are becoming popular – dark blue and dark purple, as well as monochrome palettes, which will be discussed below.
BRIGHT MONOCHROME PALETTES
A bright and monochrome palette is a favorite for decorating a bedroom, as well as often a living room and kitchen in a modern apartment. So, beige, gray, white and various other light color schemes with halftone transitions look just fine in such styles as modern, minimalism, neoclassic and art deco.
For example, in a modern neoclassical style living room, shades of wet stone for heavy curtains, thunderclouds for a large sofa, delicate abalone for light parquet, coventry for pillows and delicate bluish river mother of pearl for walls can be combined – all are gray and quite close to each other so that perfectly take root together and at the same time create an aesthetic variety.