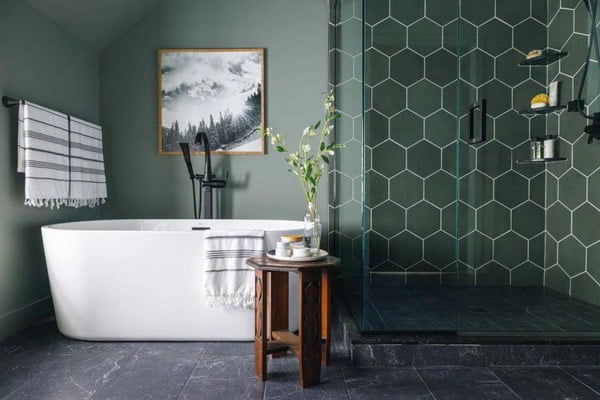 Ceramic tiles do not lose their position as a finishing material, especially in rooms with high humidity and temperature changes. Huge decorative possibilities are also considered the advantage of such a cladding. Tile trends 2024 are so diverse that they allow you to choose a design for any style and with a different budget. Although there was no revolution in the design of wall materials this year, many new collections have appeared. What is now at the peak of popularity, we will analyze in the article.
Ceramic tiles 2024 – top trends
An analysis of current trends allows us to highlight several trends in the color and design of tiles. But the first thing designers recommend paying attention to when choosing products is the competent use of all available space. For example, slabs of rich colors with a glossy finish reflect furniture and decor – this allows you to visually increase the area of \u200b\u200bthe room. The open spaces and lightness of the interior also help to add geometric patterns.
Modern trends require naturalness and ergonomics, noble restraint and the use of laconic color combinations.
Now there is a trend in tiles for naturalness, natural tones, as well as additional volume due to geometry.
Classics and natural colors are always in fashion, but sometimes it is recommended to add bright accents to the decor. They help to enliven the space and make it cozier. For example, a classic beige coating will noticeably improve a small panel with floral motifs, golden or silver splashes. Paints do not have to be flashy and overly active, but they should play an accent role.
Modern bathroom tiles are the basis of decoration. Its diversity makes it possible to independently choose the color, size, pattern, dominant accents that are suitable for certain rooms. When choosing them, you should focus not only on trends, but also take into account existing conditions and your own wishes.
Nature theme
One of the main tile trends 2024 is the embodiment of all kinds of natural textures and natural colors. This direction includes wood and plant motifs.
Wood motifs
Natural wood look porcelain stoneware is well suited for places where, due to high humidity, it is not possible to install real wood flooring. In bathrooms and kitchens, wood will begin to change its look and characteristics, while ceramic will remain intact and last for about 20 years. If you are close to this finish, take a look at the Aspenwood collections from the Russian brand Vitra, Aviona from the Polish manufacturer Cerrad and other items in our catalog.
Wood effect porcelain stoneware is actively used for both floors and walls. Its surface has a relief coating, which outwardly is almost indistinguishable from real wood. Even to the touch, the difference is almost imperceptible. Due to the uneven texture, the slip coefficient of the tiles is minimal, and its installation is possible even in the wettest rooms: bathrooms, kitchens. In the rest of the rooms, wooden flooring will create an atmosphere of home warmth and comfort.
Facing with such porcelain stoneware can be carried out either alone or in combination with other coatings. For example, with canvases imitating natural stone.
Plant patterns
Floristry on ceramic tiles allows you to create an elegant and light design. This design allows you to add eco-style details to minimalist interiors, bringing brightness and interesting accents to them.
Multi-colored flowers look especially advantageous on a monochrome background. Worthy examples are the Albi series (manufactured by Fanal), Botanica and Braga (manufactured by Ceramika Konskie).
Actual decor
Among the decor trends in 2024 are Mediterranean motifs, geometry and relief images. The first one usually embodies majolica, which combines conciseness and romance of warm European countries. Geometric patterns can be made in contrasting colors and are great for boho style, as well as minimalist canvases for classics or modern trends. Relief decor allows you to make the walls more expressive, especially in combination with smooth textures.
Small tile
Despite the difficulties of installation in comparison with tiles of standard sizes, small-format models do not lose their popularity. If you do not want to spend a lot of time laying, then you can choose ceramics of a standard size with a pattern in the form of smaller tiles. Such, for example, are available from the Spanish manufacturers Click and Emigres.
The light colors of the plates are preferred: white, beige, cream are suitable. They are perfectly complemented by golden or silver borders with a characteristic sheen.
Tile "under the wallpaper"
Wallpaper is not used in bathrooms and other wet rooms, so wallpaper-like tiles are considered a great alternative. The material has become popular due to the huge variety of shades and textures.
Marble tiles
Marble -look finishes that feature unique patterns and sophisticated hues are back at the peak of popularity in 2024. In addition to wall and floor cladding, tiles are suitable for finishing a screen under a font or a washbasin in a bathroom. Designers also offer such a solution as pastel-colored marble panels on the ceiling. To implement these ideas, you can choose the Calacatta collection from the Realistik and Cerrad brands, the Orinoco series from the Argenta brand, etc.
Wood effect tiles
The stylish texture of natural wood is a classic design that never goes out of style. High-quality imitation perfectly replaces a short-lived wood coating and is combined with any ornaments. The finish also looks beautiful in combination with plain ceramics.
Moroccan tiles
Despite the predominance of neutral colors in modern design, expressive and vibrant Moroccan motifs are in great demand.
This style becomes the accent of the room, without overloading even a small area. The rich color and oriental motifs of the tiles attract creative people who want to decorate their home in an original way.
3D tiles
Thanks to the improvement of techniques and equipment, new designs appear regularly. Among them is 3D effect ceramic tiles, which have conquered the market in recent years. So far, few manufacturers are ready to offer this format, but large brands are already selling products with a three-dimensional texture. These are Ceramika Konskie, Pamesa, Vitra.
A 3D veneer is created by applying multiple layers. Such a design may have an exact pattern or be an abstraction. The three-dimensional image is suitable for finishing the floor and ceiling, making them more dynamic and modern.
In addition, thanks to the glossy or matte top layer, it is possible to create an optical illusion. It helps to visually enlarge the room of any area.
Mosaic tiles
Mosaic panels in 2024 are among the leaders in the ranking of finishes for various rooms. Small parts are difficult to install, so manufacturers offer special stamps with an original design. They are produced in various shades that can play in contrast with a plain wall. Volume is added by a glass mosaic with illumination.
Brick tiles
Imitation of brickwork is relevant for retro style, which is in demand in modern houses and apartments. The classic design is offered by the Keramo Rosso brand in the Palermo collection, while the trendy white brickwork cladding can be found in the Spanish manufacturer Emigres ( Microcemento series ).
Relief tiles
Structural finishing can be called one of the most spectacular and dynamic options for the interior. Large details are often used in fragments, in combination with a smooth background.
The location of the relief vertically will visually make the ceilings higher, and when laid horizontally, expand the space. Facing looks stylish with the help of the Afternoon collection from the Polish manufacturer Ceramika Paradyz, Aranza brand Emigres.
Snow-white embossed tiles, which create a feeling of purity and freedom, are considered relevant in 2024 in design. There are collections in white, for example, from the Keraben brand, Ceramika Konskie. Other natural shades, stylization of natural materials (wood, stone) also remain trendy.
Terrazzo tiles
The composition of the material is cement with the addition of small fragments of marble, dolomite, granite and glass. After grinding them, a surface with a beautiful uneven texture is obtained.
In the ranking of types of tiles for bathrooms and other rooms, the Italian terrazzo coating is in the first position.
In most cases, with the help of tiles, an accent zone is distinguished. For example, the area around the sink or tub. Combinations with models decorated with stone chips look good. Laying ceramic tile ornaments is another interesting way to finish. Designers are even able to lay out entire panels with an original pattern.
Metal tile
Original ceramic tiles with a metallic surface are the trend of 2024. This is especially true for gold, silver and copper shades.
The peculiarity of finishing in this way is that it is not recommended to place ceramic sheets on all planes. A room completely lined with metal will quickly get bored, over time it will put pressure on the eyes. Therefore, metallized plates should be placed fragmentarily. Their combinations with a neutral background and bright accessories look especially good.
An innovation in ceramic tiles with this design is a three-dimensional pattern on a shiny cladding. This solution looks dynamic and copes well with the visual increase in space.
Golden elements
Nickel and chrome in plumbing (in bathrooms and kitchens), as well as decor, can be called classics. At the same time, in recent years, many apartment owners have begun to prefer brass and golden hues to them. They pair well with the gold borders and decors of the tile itself, creating a truly royal setting. This can be called one of the characteristic features of the classical style.
Tile patchwork
Tiles with a colorful pattern are just gaining momentum, struggling with the minimalism and conciseness of modern ceramic tile models. But the warmth that she carries in herself captivates many. Therefore, it can often be found in floor and wall cladding, as well as accent inserts in more neutral interiors. In the patchwork style, brands such as Monopole and Pamesa successfully work. The unique prints they offer are well suited for decorating private homes as well as decorating public spaces.
The novelty of 2024 is considered to be small-format tiles in rich shades of orange, yellow, terracotta and other tones that set you up for a pleasant stay.
Marine theme
In 2024, designers are in no hurry to abandon the marine theme, but they advise making it more calm. For example, avoid accent images of marine animals, ships and other pictures.
Of the colors, the color of the sea wave is especially relevant, as well as turquoise. This palette will be a good background for the walls. Small details and accessories are selected to match. It is good if they resemble shells, pearls and other marine paraphernalia in their shape.
Tile colors trends 2024
The influence of colors on the perception of the interior is difficult to overestimate. They not only set the atmosphere and style, but also form a certain mood, affect the human condition.
Ceramic design has long been dominated by a discreet, minimalist palette. The classics are not going anywhere, but gradually designers have become bolder when working with shades and now offer many more options. Now there is a gradual transition from universal gray and beige tones to more saturated and active ones.
Green, orange, red, blue and other colors can be found in many modern brands. For example, bright collections are offered by Mainzu, Ceramika Konskie, Monopole, Pamesa and other foreign brands.
The trend for saturated colors returns from 2024 to the 80s, when bright colors were a must-have addition to a space. In addition to playing the role of the base, rich colors become the basis of various decor. Here the play on contrast and chromatic diversity are connected. Plain coatings with a matte and glossy surface, products with an active geometric pattern, original majolica, soft watercolor transitions and active color combinations – this is not a complete list of possible variations.
Bright ceramics is a great opportunity to add variety to a too regular and boring design, as well as to place accents. It can be used as the main finishing material when decorating a monochrome design or as an addition, decorating with it a part of a wall, a niche or a kitchen apron.
At the same time, the style of the room can be anything: from unusual pop art or ethnic trends to restrained modern or hi-tech. Juicy colors in a competent proportion will not only not spoil the interior, but also set the mood for the room.
Speaking of popular designs in 2024, it must be said that the main tone is still set by minimalistic and calm ceramic coatings. Light gamma, high-quality imitation of natural materials ( marble, granite, onyx and wood ) are the trends that designers have been celebrating for years. The trend towards naturalness and environmental friendliness is also supported by floral motifs, which only slightly transform over time.
Among the novelties of the 2024 season, it is worth noting the spread of metallic surfaces, which are especially relevant for modern styles. Golden shades will also find their place in apartments and houses this year. This trend can be clearly seen in the classic style.
What is in trend is worth considering. But when choosing ceramic tiles for finishing your apartment, you do not need to mindlessly chase after them. You should focus primarily on the quality of materials and practicality, as well as the relevance of ceramics in the space of your home.
Ceramic tile trends 2024
The pandemic of the new coronavirus caused a change of routine. People started to spend more time at home with the adoption of the home office, domestic tasks are less outsourced and internal spaces have never been so used.
If before the projects considered that a home was a resting place from a hectic routine, now it is necessary to think of the house in a functional way, without neglecting the sensations that it provides to the residents.
These changes have had an impact on architecture and interior design, and some ceramic tile trends have become evident for 2024.
In general terms, functionality, simplicity and warmth form the tripod of priorities for homes this year. That's why we've selected the top 5 ceramic tile trends 2024.
Ceramics is the big bet
The pandemic has driven a change in household behavior, leading to a "do it yourself" trend when it comes to home maintenance. For this reason, ease of cleaning has become the most important factor when choosing materials for the house.
Therefore, ceramic coating is the big trend for 2024, as it combines resistance and simplicity of maintenance and cleaning. In addition to the attractive design, with variations in formats, colors and textures, ceramics also have great impermeability, being great for all rooms in the house, especially in bathrooms and kitchens.
Monochrome ceramic coating
Monochrome is the application of a single color throughout the environment. This style has emerged as a major trend of 2024. Betting on ceramic coatings from the same pantone results in elegant rooms.
Stronger colors like dark green, for example, are the most popular, used mainly in bathrooms and washrooms.
Terracotta color for living environments
Another great trend for interior decoration is to use colors that refer to nature, and the terracotta tone has gained prominence in projects because it is warm and brings a feeling of comfort and warmth.
The earthy color is versatile and can be used in different environments, but it goes very well in living spaces such as living rooms and balconies. With nuances between brown and orange, ceramic coverings in this shade bring more warmth to the decor.
Minimalist aesthetics for the whole house
The philosophy "less is more" does not go out of style, but it is in full force in 2024. In architecture and interior design, minimalist projects seek to create spaces focusing on the functionality and simplicity of forms.
Investing in ceramic tiles in neutral colors and easy-to-assimilate solutions are premises of the minimalist style. This trend promotes a cleaner and more timeless atmosphere to spaces, in addition to increasing the amplitude of the environment.
Rustic style for outdoor areas
The big trend for outdoor areas, such as balconies and gourmet spaces, is ceramic tiles with a rustic style. This aesthetic refers to country houses, bringing warmth to social environments.
Shades that refer to natural elements, such as wood and clay, are the main bets to ensure that these spaces become warmer and more comfortable.
Also bet on the combination of ceramics with similar tones, which bring a touch of naturalness and rusticity to the external areas.
It is worth considering these trends to build a cozy and functional home, but it is essential to evaluate which of these styles best suits you. After choosing the favorite trend, the next step is to define the type of ceramic tile to be used.
What is the latest trend in tiles?
Are you looking for inspiration to update this room in your home? So, we are sure that these latest trends in kitchen tiles will be of great help to you.
Today kitchens are very practical, functional and easy to clean, but that does not mean that we put aside their styling. For this reason, today we want to show you a series of decorations with different textures, colors and decorative styles so that you can find the ideal look for your kitchen walls.
The most modern latest trends in kitchen tiles
As you could see in our article on the latest trends in kitchens, these are currently simple, open, multifunctional spaces and with touches of originality in the decoration of their fronts or walls.
Now, if you want to renovate your tiles but you don't feel like going into renovations, remember that with our adhesive vinyl you can cover them without any kind of complication, since you won't have to use glue or glue for it.
Let's see these latest trends in kitchen tiles that we have brought to you.
Marble, the most successful texture
Marble continues to be the star finish in interior decoration. In fact, it is very common to see it even throughout the house – rooms and locations – however, this material is very expensive, so it is increasingly common to use products that imitate it.
And how can you decorate your kitchen with marble?
White color is always a hit, especially in small spaces.
Mix it with natural materials such as wood to bring warmth to the room.
Combine it with metal to create a more elegant and sophisticated aura.
Pastel colors are also a good way to soften the hardness of the marble.
To avoid the endless reforms at home, the fastest and most durable alternative is an adhesive vinyl, which in addition to renovating the space, provides a realistic and quality appearance. Do you want to see how our material looks?
Wood in all its combinations
Another of the latest trends in kitchen tiles is wood, the decorative element that is the absolute protagonist of natural decoration.
Wood has earned a prominent place in interior design, since it is an organic, aesthetic, highly resistant material that is easy to combine.
Likewise, it helps to naturally condition the environments in which it is located, providing comfort, warmth and well-being in the home.
It is a fact that decoration with wood can be somewhat expensive, which is why it is fashionable to use elements that emulate it, and without spending a lot of money, as is the case with imitation wood vinyl.
As previously mentioned, wood is an expensive material and difficult to find in the exact shades you need to modernize the entire front of your kitchen, so today we bring you the perfect solution: wood effect vinyl.
Maintain the retro and vintage aesthetic in the tiles
With the terrazzo it is intended to rescue the interior decoration of yesteryear, although now it is given a more modern and daring touch.
Did you imagine that this trend would return with such force? Well yes, modern terrazzo is a very versatile texture that we can find in countless spaces such as kitchens and bathrooms, or on all kinds of surfaces such as fronts or walls.
It is very likely that you do not feel like doing works and everything that entails, so today we bring you the easiest and most economical option on the market, terrazzo vinyl with which you will create very dynamic and original environments.
Tiles with a more natural look: cement and stone
Natural finishes in interior design are always a great success, since they give spaces organic touches and authenticity.
As with the rest of the materials extracted from nature, these also tend to have higher prices, so they are less accessible.
Thanks to the cement and stone effect vinyl you can incorporate this appearance on the walls of your home and go in line with the latest trends in kitchen tiles.
If you want to be fashionable in this decorative trend, our vinyl is the alternative you were looking for, since they are easy to put on, they do not get dirty, cheaper than a reform and if you get tired of that style you can change it whenever you want and without damaging it! your walls or tiles!
Rectangular design with neutral tones
Simplicity is also part of these latest trends in kitchen tiles. For this reason, it is customary to use rectangular tiles in neutral colors -such as white, beige or black- in order to create serene and pleasant spaces.
This simple design helps to bring order to the room, and by allowing any type of combination, it can provide that touch of personality that it requires.
Tiles with metallic finishes
Are you one of those people who loves to take risks when decorating their home? If so, this is the right style for you, don't you think?
Using this metallic finish will keep you up to date with the latest trends in kitchen tiles, since its nuances are capable of creating environments with a unique, special and sophisticated character.
It is also ideal with a multitude of shades and materials such as wood, iron, metal, neutral colors such as white, black, gray or beige, providing the room with a greater sensation of warmth and calm.
Hydraulic tiles return
The hydraulic tile designs are true jewels in interior design because wherever they are placed they will provide a unique personality and an unmistakable style.
Best of all, thanks to their fusion of styles, they fit perfectly in retro, vintage and bohemian environments, as well as being ideal with more modern furniture.
It is true that it is common to see these finishes on the floors of the home, but let us tell you that you can use it as a covering for the walls of your kitchen. So you will have your home in the latest fashion.
You can also provide this special and handmade touch on the walls of your kitchen with our ceramic vinyl.
We are sure that this trend will amaze you, but never find that design that combines tradition and modernity.
What latest kitchen tile trend do you prefer?
We like that with it you can create spaces with a unique personality, don't you think?