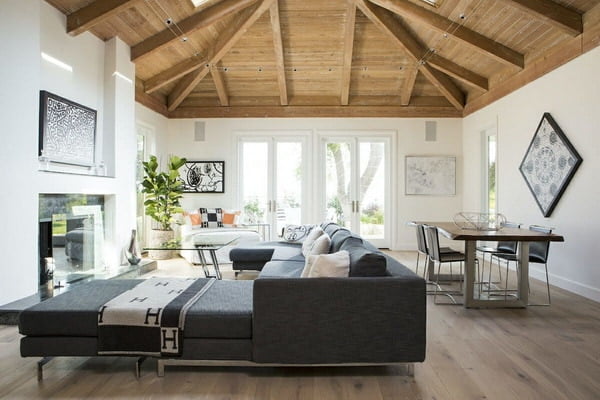 Interior design trends 2024 are proving to be Instagram-worthy looks that you will definitely want to replicate in your home. We've rounded up the best home decor and interior design trends for 2024 that we're sure you'll love!
Popular Types of Interior Design Trends 2024
Every year there are design trends for every part of the house. Here we bring you the hottest ideas for overall interior design:?
Major Interior Design Trends 2024
The emphasis on nature and sustainability continues to grow from the domestic trends of previous years. Not surprisingly, their aesthetic becomes even more refined and desirable.
What's more, we're seeing a subtle fusion of retro, natural, and zen elements in 2024 interior design trends. In addition, the importance of setting up home offices and keeping the premises clean plays a significant role in the preferred appearance.
1. Retro throwback to the 70s
A touch of retro style is more than enough to decorate a home. Delicate offerings of burnt orange, moss green and other warm neutrals brighten up forward-looking interiors?
Loving the retro interior design trend is one thing, but finding the perfect piece for your home is another. Here are some quick tips for achieving vintage style.
Regularly visit local antique shops, fairs and markets. Perseverance is the key to finding what you're looking for at a price that suits you.
Look for lesser known brands. Popular brands tend to be more expensive and harder to obtain. Explore alternatives by researching the style or item you want.
Buy vintage furniture online. However, stick to reliable and well-known websites to avoid the risk associated with online shopping.
Attend a real estate sale or antique auction with a friend. You will need to attend more than one of these events in order to acquire something worthwhile.
2. Nature-Inspired Interior Design Trends 2024
Add authentic greenery to your home with your nature-inspired design. Plants will not only complement your natural and warm browns, but they will also purify the air. Also, watching your flowers grow brings a deep sense of fulfillment and joy.
Best Plants for Green Interior Design Trends
Be sure to do your research before buying your favorite plants. Some will simply be better and easier to care for than others. Here are the best greens for interior design:?
Sweetheart Plant: A versatile climber that is happy in semi- and fully shaded rooms.
Fiddle Leaf Fig Tree: A hardy and beautiful bushy tree that needs full sun and weekly watering.
Monstera: A large family of plants with unique carved leaves that thrive in interiors in low light.
Palm: Another family with a wide variety of large and small plants that thrive in partial sun.
Snake Plant: Rumored to absorb negativity, this plant thrives in indirect sunlight and infrequent watering.
3. Multipurpose Spaces
Disposable spaces seem to be a thing of the past. In light of architectural advances and design, we expect interior design trends in 2024 to include great ideas for multifunctional rooms. Make the most of every corner with a clean and innovative room division tactic.
There are many possibilities in any room. Often, many people skip them, forgetting about the vertical space that your room offers. Shelving, ladders and platforms can open various doors and even function as room dividers.
4. Attentive Zen Interiors
Demonstrating sustainable living in interiors serves a dual purpose. On the one hand, it exalts ingenious and environmentally friendly design. This may encourage others to look for eco-alternatives for their own homes. On the other hand, it is a reflection of a clear and undistracted mind.
Light wood, clean lines and floating surfaces set the tone for Zen living. These spaces lean towards a less is more approach, keeping the décor organic and natural. The emphasis here is on understanding how the space, as well as furniture and decor, will affect emotions and overall well-being. Personalized interiors will dominate with spaces that encourage the best versions of ourselves.
5. High-tech houses and furniture
Technology is becoming mainstream and central to home and furniture design. Homeowners today are looking for the convenience and peace of mind to control security, temperature and music from their smartphones. Other high-tech gadgets might include self-shadowing windows, induction hobs, or underfloor heating.
Smart furniture inevitably also includes items with integrated technology or design with function in mind. For example, accent tables can also accommodate speakers and controls, while remote control shelving can open up to reveal a TV. Other popular items include polygonal sofas, sculptural storage and surfaces, and speakers that go as decor.
6. Home Office Interior Design Trends 2024
There is an increased interest in creating the perfect home office. From a spacious space with everything you need to a fold out desk in your living room, home offices come in all shapes and sizes.
But whatever the look, the goal is to make your space work for you. So when designing your own office, keep in mind that functionality, practicality and aesthetics are equally important.
5 Things to Consider for a Home Office
No matter the style, shape, or size, your home office will need a few basics to be a productive space. So when you incorporate office trends into your design, keep the following points in mind as well.
Location: Ideally, your workspace should be in a quiet area of your home. If a whole room isn't an option, a fold out table in the room might work just as well.
Hardware: Be sure to include everything you need to work effectively without indulging in things that only clutter up your space.
Storage: The home office needs to be organized, and ample storage will help keep things neat and in place. Choose beautiful containers that can double as decor.
Color: Choose colors that calm and focus the mind, such as subtle blues, greens, and neutrals. And avoid very bright colors that are energizing, as they can lead to anxiety.
Decorate: Keep embellishment to a minimum to stay focused. You can include wall art, striking shelving, plants, and fun rugs to save space.
Home Decor Trends 2024
As new forms of design emerge, organic shapes and tactile surfaces are becoming more popular. Again, we see that home decor trends in 2024 will have sustainability at their core.
7. Sustainable & Organic Materials
Home decor trends in 2024 have a move towards maximizing glass. For example, walls and oversized hangings are among the many ways glass can be used to minimize the use of plastic.
Creating Eco-Friendly Interior Design Trends 2024
Sustainability is trending, but it's definitely a long-term approach to greener design. Here's what you can add to your home to make it more sustainable:?
Choose an energy efficient design that reduces the need for appliances, heating and lighting.
Choose sustainable materials that are either recycled or reused, or from certified sustainable sources. This category is extensive and includes reclaimed wood, bioglass, recycled metal and jute.
Stick with green finishes. To minimize your environmental footprint, choose paints labeled "non-toxic", "low bioside" or "milk".
8. Rounded edges
The lush furniture design trend of 2024 is furniture and decor with softer edges/corners that are both feminine and cozy in design, giving the room a romantic feel.
Rounded furniture is also another relic of the modern era. However, this time the curve goes beyond sumptuous C-shaped sofas to include anything from soft-edged tables to reimagined contemporary chairs. These relaxed shapes bring lightness and romance to interiors.
9. Interior Trends 2024: Leather Furniture
Textiles return to the classics in 2024. Leather, whether faux or real, is a material that can instantly elevate an interior to the next level. It is definitely an attractive fabric for living spaces and bedrooms.
Either let the skin be showcased in its natural color or really make a statement with a bold color. Feel free to contrast the material with soft accents or textured throw pillows.
Moving away from maximalist styles, leather brings a luxurious touch to sophisticated and understated interiors. It is likely that this natural material will be equally at home in minimal and organic spaces. In turn, this addition will add warmth to styles that may feel cold or unwelcoming.
10. Lovely Outdoor Furniture
Interior design trends 2024 are not limited to just the interior of our homes. As people seek to leave their homes, outdoor furniture and decor will be taken to a whole new level. Expect quality compositions that rival the best interior design.
Comfort, relaxation and entertainment will be the focus of these high quality outdoor oases. Along with sunbathing, outdoor kitchens and restaurants will play a significant role in the updated exteriors. Fresh air and luxury living have never gone so well together.
11. Global Home Decor
With a return to travel, interiors will be influenced by your travels to other parts of the world. Without a specific destination as their main source of inspiration, these spaces will be as unique as their owner's interpretation of their travels.
However, if this is a trend you would like to emulate, be careful not to overdo it. There is a fine line between taste and horror.
12. Timeless Style
Some trends are just a fad, while others stand the test of time. And in 2024, durable styles take precedence.
The previously mentioned sustainability trend plays a role here. Consumers are becoming more conscious, so choosing furniture and decor that won't be sold or updated every year will become more popular.
In addition, choosing an interior that is built well enough to last for many years will also be of key importance. So, splurge on quality key pieces like sofas, credenzas, and accent chairs.
Interior Design Color Trends 2024?
While it's easy to fall in love with trendy colors, remember to create a cohesive scheme. Everything from the big accents down to the smallest finish needs a curatorial approach.
And 2024 color trends are sure to have choices for whichever end of the color spectrum you're on.
13. Earth Tones & Browns
Browns and earth colors open up a lot of possibilities for your home. In fact, by sticking to natural hues, you always have a forgiving canvas. Choose paint colors that will make your raw material feel right at home. Think stone greys, shades of black and warm chocolates.
If you prefer a little more color, choose hues like terracotta, rust, sage, or navy blue. If you're having a hard time choosing, use a photo of your favorite landscape for ideas. Nature always provides endless inspiration.
14. Bold patterns and colors
2024 is the year to let colors, paintings and patterns shine in your home. The great thing is that you can decide how much or how little of each you use.
If this is your first time venturing into a world of bold colors, start by adding playful accents like pillows, wall art, or a rug on a neutral backdrop.
On the other hand, if you're all into yourself, get creative, mix and match colors and patterns with each other. Printed and textured wallpapers will also find a home in this trend. And this style goes well with the 70s retro trend we mentioned earlier, so give your space a fun vintage feel.
15. Colors of the Year
Color trends wouldn't be complete without the addition of this year's colors. From Pantone's light purple color inspired by Very Peri to the wide selection of colors nominated by various paint brands, you're sure to find one that suits your taste.
As with any color or trend, feel free to start by adding a little bit of it before spreading it all over the room.
16. Painted Doors & Finishes
Intersperse gaps with protruding doors and overlays. You don't need much. In fact, the leftover paint may be enough to create the feature of a doorway. Without having to introduce any new colors, this is an elegant way to bring color to your interiors and exteriors.
17. Colorful Curtains
We are seeing an increase in window treatments drenched in color. Solid panels will remain a classic, but patterns of all types are likely to become a favorite. And since the curtains are easily interchangeable, this is the perfect place to experiment with a new shade or pattern.
18. All Color
It's not for the faint of heart, but the whole color trend really packs a punch if done right. With this trend, finishes, doors, walls and ceilings are painted with the same paint color. It's also a handy trick for making small rooms look bigger or lower ceilings appear higher.