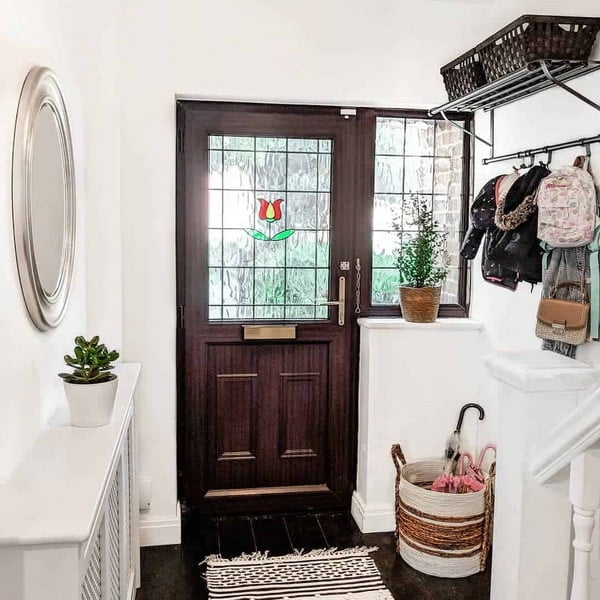 The entrance hall is a multifunctional space. Special attention must be paid to its design. After all, as you know, there is no second chance to make a good first impression. Here's how a 2023 hallway should look like.
In the light of what has been said in relation to an apartment, it is very important that the arrangement and appearance of the room where a person enters, stepping outside the threshold of a house or apartment.
We invite you to find out how a modern hallway design trends in 2023 should look like and get acquainted with the main trends in its design.
Hallway Interior design trends 2023: Color
The main principle of modern interior design is a lot of light and maximum open space. However, designers offer other solutions as well.
White or green hallway
In this regard, "white" hallways will always be in trend. Such premises with beige or ivory finishes will continue to be relevant. However, nothing prevents you from slightly diluting the monochrome design. For example, you can use menthol green, super trendy next year.
Bright green will do. Imagine a completely snow-white interior with such a long pile rug. It will resemble a green lawn and will be a real decoration for your hallway.
Black Hallway Design trends 2023
The phrase "black hallway design" may surprise. However, designers also offer such an unusual trend that breaks all the rules and stereotypes. Let's make a reservation right away, such a 2023 hallway is not suitable for everyone. A black light setting can only be chosen if you have a very well-lit hallway. This is usually rare in apartment buildings.
It is better to equip a black hallway in a private house. A large glass transom above the front door will help add light. The trend is to decorate this room with wood, which is painted with matte black paint. Not only furniture should be in black, but also a wooden plank or "tiled" floor, walls and ceiling.
If black is too dark for you, then choose a dark gray hallway. The main requirement for such an interior design is the use of only matte surfaces. This even applies to ceramic tiles. By the way, the latter is the ideal choice for the hallway floor, as it is easy to maintain. Alternatively, you can suggest combining white walls and ceilings with black floors and furniture.
Hallway 2023: Decoration materials
It is recommended to finish fashionable hallways 2023 with glossy materials that reflect light. This applies to both the ceiling and the walls and floor. Tiles, glossy stretch ceilings, glass, etc. continue to be in trend, as they contribute to the visual increase in space.
Wood and natural stone are also suitable. In addition, fashionable wallpaper for the hallway in 2023 will be relevant. For budget options, painting the walls will be a good choice.
Fashionable wallpaper for the hallway 2023
Wallpaper is one of the interior trends of the next year. The choice of pattern depends on the size of the room and its style. Designers offer trendy 2023 hallway wallpaper with geometric print. It can be pronounced or resemble a pale pencil drawing.
Plant motives are relevant. If the hallway is spacious enough, you can use fashionable wallpaper for the hallway 2023 with large tropical leaves and flowers. True, you should not get carried away, since the larger the pattern on the wallpaper, the more cramped the room will look.
Designers offer especially many options for creating a neoclassical hallway. First of all, this is wallpaper with silver or gold embossing in the form of ornaments.
Hallway Design 2023: Stone Finish
Natural stone is an excellent and sustainable finishing material. Nature has given us a huge variety of such minerals. Using them in interior design is not a cheap pleasure. However, the result is luxurious and stylish interiors. For the status interiors of the hallway, polished marble and granite in white or light beige or gray shades are perfect.
If your goal is a modern eco-style hallway design 2023, then it is better to use almost untreated or, as it is also called, "wild" stone. Its combinations with finishing materials with a perfectly smooth surface look especially original.
Hallway 2023: Styles
Today, fortunately, no one needs to be convinced that all premises in a home should be decorated in the same style. The entrance hall is no exception.
At the same time, it is required to take into account that this is a multifunctional room. Therefore, the interior of the hallway 2023 should be not only attractive, but also comfortable.
Modern hallway 2023
You can conditionally divide the hallway design styles into two groups: modern and historical. Eclectic and Fusion stand apart, as they mix everything and everyone.
Modern options, in turn, can be with features of Minimalism, High-tech and Loft. The latter, however, is quite rare. After all, the Loft does not imply the delimitation of space into separate rooms. For 2023, designers do not offer revolutionary ideas in terms of style.
However, there are several trends. So, a modern hallway 2023 should have features that are inherent in both Minimalism and Eco-style at the same time. The combination of white finishes with very light wooden furniture facades and light wooden floors is relevant.
Continuing the Eco-theme, the designers recommend using a coating for one of the walls that imitates natural raw stone.
Neoclassical hallway design trends 2023
Among the conventionally historical design styles, the undisputed leader is Neoclassicism. She is chosen to create status luxury interiors. Since we are talking about the hallway, designers do not recommend getting carried away with decor.
You can create the right atmosphere by using a couple of noticeable details. So a rather laconic design will become luxurious if you choose separate materials with glossy, reflective surfaces and install a column with a marble bust or statuette in the corner. Complete this with a large wall-mounted hanger with nifty coat hooks for a stylish neoclassical hallway.
Hallway 2023: Scandinavian style
In the coming season, fashionable hallways in 2023 in the Scandinavian style will be in trend. They look simple yet stylish. The use of knitted items in the decor is encouraged.
For example, capes or pillowcases for decorative pillows on the sofa. A small black and white rug can be placed on the wooden floor.
In general, hallway floor carpets are also trendy. Note, however, that they should be small and not cover the entire floor.
Hallway Trends 2023: Decor
To get the current interior of the hallway 2023, you need to use stylish decor.
Plants
Indoor plants will be trending in 2023. They will enliven the minimalistic design, diluting it with notes of "eco". We are not talking about pots or "potted flowers". It is recommended to choose large plants in large tubs. They fit perfectly into the interior of a spacious and bright hallway.
Mirrors
For small rooms, it is better to use mirrors as a decor. They can be of very different shapes and sizes. After a long oblivion, round mirrors are in fashion again. They should be large enough and practically frameless.  Last year's trend, according to which one of the walls of the hallway was made mirrored, has not lost its relevance either. This choice allows you to create the visual effect of a very spacious room. Mirrors look especially beautiful in neoclassical interiors, combined with white or light beige trim.
We hope that we were able to help you decide what the fashionable hallway 2023 should be like in your home. We invite you to often look at our website to always be aware of the latest in interior fashion.
2023 entryway trends
Any person who finds himself in a strange house, first of all, enters the entryway. By the appearance of this room, they judge the apartment as a whole, the taste and prosperity of the owner. Therefore, it is important to make the interior design of the entryway 2023 as comfortable, cozy and functional as possible. As in the past, so now, the layout of the apartments takes into account the functionality of the premises. Kitchens, living rooms, bedrooms and entryways perform their assigned functions. And although people spend relatively little time in the entryway, its interior is important, characterizing the apartment as a whole.
2023 entryway trends
When developing the modern design of the entryway 2023, the practical absence of natural light in this room and the presence of a large number of doors, including the entrance, to the bathroom, living room and kitchen, are taken into account. The task of the designer is to create a well-thought-out interior that would make the shortcomings hardly noticeable, and sometimes even turn them into advantages, and some methods are used for this.
Color matching
Choosing the optimal color scheme for the entryway 2023 is not easy and it makes sense to trust a specialist. After all, the selected color palette can be both pleasant and annoying. And although there are no specific strict limits set here and everything is generally individual, professionals still give some recommendations. For example, the ratio of colors.
The lower zone of the room is made darker, the middle part is lighter, and the top has the lightest shade. It is necessary to try to avoid contrasts, and in the case of their use, to make the lighting satisfactory due to additional lighting devices. In modern apartments, entryways are made small and the designer in his project tries to expand the space to the maximum by selecting colors and other techniques.
Wall and floor finishing
Having correctly designed the walls in the entryway, the ceiling and the floor, you can hide surface irregularities, adjust the corner zones and focus on the height of the ceiling. Of great importance is the choice of flooring, because the floor in the entryway wears out much faster than in other rooms.
Dust and dirt are absorbed into the floor material, which has to be changed over time. Frequent wet cleaning also does not have the best effect on the type of finishing material, which should be designed for use in conditions of intensive cleaning using water and detergents.
It is hard to imagine the arrangement of a beautiful entryway 2023 without a spectacular laminate on the floor. However, it must be remembered that conventional laminate is afraid of excessive moisture and quickly loses its aesthetics due to frequent water ingress.
Today on the market there are samples of waterproof laminate with imitation of various types of natural wood and a high level of protection against moisture, which are practical and fit perfectly into the interiors.
On a note! For the entryway floor 2023, beautiful ceramic tiles are often chosen, which are not afraid of either moisture or temperature differences. With its help, they also delimit the entryway area from other rooms.
Lighting
The lack of light gives the room a dull and gloomy look. Artificial lighting comes to the rescue here: additional light sources, floor lighting of walls, as well as in the form of aquariums and luminous paintings.
Designers who follow the fashion trends in entryway interior design 2023 usually apply solutions that give the room an exclusivity and dynamism. For example, the brightness and uniformity of lighting visually expands the space, and also due to the correct lighting, you can visually lengthen the room.
Furniture in entryway 2023
Furniture should be selected at the planning stage of repair work, and not at the end of it, which will make it possible to make repairs taking into account the arrangement of furniture, as well as conveniently and harmoniously place objects in a small entryway area. For example, a built-in sofa or wardrobe will save space and place other necessary interior items in the entryway: a chest of drawers with a mirror, a wardrobe, shelves, and so on.
Decoration and functional addition to the entryway can be a housekeeper, an original shade for a chandelier, or a beautiful picture. All this should be aesthetic and well-groomed, leaving only positive emotions for the people who entered regarding the accuracy and thriftiness of the owners of the home.
There are a lot of stylistic decisions today and, as a rule, any customer's dreams can always be embodied in one of any entryway design projects 2023.
How to rationally use space
In many apartments, the entryways are small, narrow and elongated, with an uncomfortable layout. But in any case, you can choose finishing materials, furniture and accessories in such a way that this part of the apartment will become beautiful and cozy.
Outerwear, shoes, umbrellas and hats are usually stored in the entryway. Instead of built-in wardrobes, it is better to install a convenient floor-to-ceiling closet in this place, in which everything you need can be placed behind sliding doors.
For guests, you can put an open designer hanger that will bring a "zest" to the modern interior of the entryway 2023 without reducing the precious area. Designer hanging shelves also do not take up much space.
The fashionable design of the entryway 2023 can be increased by the adjacent room. If a pantry adjoins it, then why not combine them? Another way to increase the space is to widen the doorway. The entrance to the room can be arranged in the form of an arch.
In the entryway, as a rule, there are no windows, so you need to take care of good lighting. It is better to make it multi-level. Lamps should not only be on the ceiling. Additional light sources can be hung on the wall, attached to furniture cornices.
Mirrors in the interior of the entryway 2023, in addition to their main function, will help visually expand the space, make the room even brighter. A mirrored canvas on the entire wall will increase the effect.
A room with light walls seems more spacious. When decorating walls, it is better to give preference to colors such as ivory, light shades of gray.
Using fashion trends in entryway interior design 2023, you can significantly improve the layout of the room, make the room functional and bright.
Narrow entryway 2023
So that the room does not seem so narrow, it is better to divide it into two zones – the entrance hall and the hall, using different materials for their decoration. For example, lay the floor in the entryway with tiles, and lay the laminate in the hall, and the materials should differ in color and pattern.
If the floor level of the second zone is also raised by one or two steps, then the entrance zone will turn into a separate, more compact room. A built-in wardrobe with a large mirror on the facade will help add volume to it. It is better not to overload this part of the room with furniture. And in the hall you can put a small sofa or a couple of armchairs, a coffee table, a floor vase.
Wide entryway 2023
Spacious and long entryways 2023 in modern apartments are a rarity, but sometimes this option is also found. Such a layout is inconvenient, since it creates the isolation of individual rooms in the apartment, does not give the feeling of a single living space. Therefore, it is necessary to reduce the area of ​​​​the long and wide entryway, dividing it into zones. For this purpose, partitions or racks for books and souvenirs are installed. Separate zones can also be distinguished by applying different types of lighting.
In a spacious room you can place the largest and most solid set of furniture for the entryway. In addition, you can order additional built-in wardrobes, make niches with shelves for storing shoes.
Entryway 2023 open type
The entrance hall, from which all rooms are visible, is most often found in new buildings. It's hard to redesign here. If the area allows, the best solution would be to arrange a recreation area in such a room – place upholstered furniture, a music center, a small coffee table here. This space can be separated from the entrance area by an arch, which will make the entryway not so open.
A large tub with an ornamental plant, a floor lamp or a wall lamp will create a pleasant, relaxing atmosphere. The entrance area can be decorated with a sliding wardrobe with a mirror and LED lighting.
The recreation area will look stylish and respectable if you decorate it "antique". For this, an elegant chest of drawers, a picture in a carved wooden frame or a retro-style clock are the best fit. The effect can be enhanced with an antique chandelier, bronze or brass sconces.
Cabinet for shoes in the entryway 2023
Crossing the threshold of the apartment, we find ourselves in the entryway. It is very important that this room is "welcoming" and comfortable to use. This can be achieved through beautiful furniture.
Nowadays, what you just don't see in a furniture store. Manufacturers offer both ready-made systems and modular options for entryways. In all this variety of choice, you can get lost and forget about one very important item that must be present in a stylish entryway interior 2023 with a beautiful design.
We all use shoes that we change with the change of season. A large number of pairs of shoes is largely due to our temperate continental climate, which can bring us cold and heat, and rain and blizzard. To be ready for the surprises of nature, you need to have a set of different types of shoes, and the question arises, but where, in fact, to store all of them?
If you leave it on the floor, it will soon be difficult to get out of the apartment, and if you constantly hide it in the closet and on the balcony, then, if necessary, you will need to use it to carry out a whole search operation, which will take a lot of time. In order to avoid such problems and for our convenience, shoe racks were invented. Arriving at a furniture store, you can find a decent selection of a wide variety of types of this entryway interior item.
Corner, closed and open shoe racks in the entryway 2023
According to the materials used in the construction, they can also be divided into several groups. Basically, the most popular are models made of wood and materials based on it. However, you can also find specimens from other materials, for example, plastic and metal shoe racks.
Which one to choose? What shoes to buy for the design of the fashionable interior design of the entryway 2023? All models have their pros and cons, it is important to determine for yourself what qualities and advantages of the model are paramount for you and make your choice based on this.
Open shoe racks are interesting in that any open design visually increases the volume of the room, and besides, you can immediately notice the pair of shoes you need at the moment, and the search time will be minimal. The negative points include the insecurity of shoes from dust, which will invariably penetrate into the structure.
Closed shoe racks win in this regard, but their weak point is their sashes, or rather the accessories for the shoe rack. If low-quality materials are used in the design, then such mechanisms for shoe racks will not serve you for a long time.
According to the materials, as already mentioned, models from chipboard and solid wood are in the lead. Any wood products always organically fit into any style of the room.
he whole apartment. After all, people entering the apartment, it is precisely by the first room they see that they get a general impression of the whole house and the taste of its owners. The modern entrance hall 2023 should harmoniously fit into the interior of any home, and most importantly, make it more comfortable and cozier.
Hallway ideas 2023
We all want to see every corner of our home beautiful and practical. If we consider from the point of view of repair such an extraordinary space as a hallway, then its organization requires a particularly careful approach. Not only because it is subject to pollution and other loads, but primarily because it is this zone that accompanies us when leaving and entering the room, and creates the first impression. Therefore, the hall should be neat, aesthetic and functional, as well as in line with current trends and the style of the rest of the home.
Design Features
The modern design of rooms for any purpose implies fairly light principles – comfort and simplicity will be the top priorities in 2023. For many owners of Soviet-style apartments, a definite plus will be simple geometric shapes, the rejection of abundant luxury and the use of minimalist motifs that will bring a modern touch to any interior. In almost all cases, the hallway has a small area, sometimes "rewarding" the owner with its irregular shape, moreover, there is almost always no source of natural light. These features and limitations make the selection of each design element a responsible task.
This part of the dwelling is a kind of transition zone from the noisy and teeming with excessive rhythm of the street to the living rooms, alluring with comfort and relaxing atmosphere. For people who are faced with the design of a small area for the first time, it may seem that it is much easier to equip a small space than a more spacious one, but this is only on one side. The hallway frames limit your choice of solutions, so you should strive to create the most practical and pleasant environment that will take into account the desires of the household and the parameters of a particular room.
The recommendations of designers dedicated to the current year 2023 suggest carefully adhering to the principles of comfortable minimalism when planning the hallway. You should refrain from unnecessary elements, while focusing on the necessary interior items, in which case even a modest area will be able to please the owner not only with its functionality, but also with a beautiful exclusive environment.
Hallway color ideas 2023
The specificity of the hallway with its small dimensions requires a responsible approach to the selection of colors. For such a zone, the most successful solution would be to use basic shades as a base with bright splashes of color.
White hallway
The snow-white spectrum is an indicator of purity and accuracy. This is the most favorable tone for the visual expansion of the boundaries of space. Together with the right lighting and large mirrors, white will completely get rid of the effect of crushing walls and give a feeling of freedom and spring lightness.
Beige hallway
If you don't want to surround yourself with a cold palette, but still get a delightfully airy and fresh result, stick with beige. Warm colors envelop and soothe residents and guests. Using woody notes and greens, you will create an atmosphere of relaxed naturalness and softness of lines, which always looks very stylish.
Gray hallway
The trend color of graphite in 2023 actualizes gray with renewed vigor. Dilute a cold dark shade with white, woody, green, red and beige. This tone is quite solid and serious, so it will easily perceive relaxed, and at times even funny details in the form of a picture with a cat, a cheerful rug on the threshold, and also a plant falling to the floor.
Yellow hallway
The color of the sun is full of life-giving energy. It's nice when, upon entering the monastery, you immediately feel the light and warmth. This year, feel free to delight yourself with lemon and mustard shades, garlands, wide mirrors and beautiful plants.
Red hallway
Red tones return their leading positions. Decorate your entryway with muted terracotta or glossy classic red and you'll exceed your expectations – a previously unremarkable hallway will be a spicy top to your entire apartment design.
Finishes and materials
For a competent approach to the selection of finishing materials, one should take into account the entire scope of the features of a particular room: its area, as well as the location of all doors. The fundamental factors in the choice of materials are the following: periodic clogging of surfaces, mechanical stress, as well as temperature changes that occur in private households, because they do not have a buffer in the form of an entrance.
Floor
One of the best options for finishing the floor in your hallway will be floor tiles. In most cases, porcelain stoneware will work best. It is a ceramic product, the strength of which is achieved through various additives. Installation and the cost of the material will cost more than, for example, linoleum, but these costs will justify themselves, as they are investments for many years – ceramic or porcelain tiles are one of the longest-term options for flooring.
Walls
Unlike flooring, walls have a much smaller amount of negative factors and loads. However, when choosing finishing materials, a number of features should be taken into account here. The use of some types of wallpaper will not be advisable, since paper wallpapers quickly lose their original appearance and cannot be cleaned, while their textile counterparts are much more expensive and you will have to abandon detergents when caring for them.
Based on these observations, we can conclude that washable, liquid wallpaper, some types of wall panels and paint, brickwork, as well as decorative plaster can be a practical and suitable material for the hallway ideas 2023.
Ceiling
To decorate the ceiling, you should choose the most versatile and simple finishing materials. Given the shape, as well as the area of ​​​​the hallway, it will not always be appropriate to use designs with several levels and bright colors.
The snow-white canvas at first glance does not look like a very creative design option, but its use will visually increase the volume and will suit any chosen wall and ceiling lining, and will also remain modern and stylish for a long time. Original lighting fixtures will help you dilute the monotony of monochrome.
Hallway furniture 2023
Not all dwellings have a spacious hallway. Based on this, furnishing becomes a difficult task, especially given the factor that solutions must be combined with the needs of the family. The layout of typical apartments, as a rule, involves a small corridor, which is also limited by interior doors or has an irregular configuration.
Ideal for space-constrained areas, a built-in closet holds outerwear and shoes, as well as the wardrobe and accessories you use every day. If the area does not allow to install even a small-sized built-in wardrobe, you can get by with only a system of wall hooks, as well as a shoe rack that can be successfully installed under them. In the latter approach, one should also take into account the aspect of contact between clothing and the surface of the walls, so it is worth resorting to appropriate finishing materials.
If, nevertheless, your entrance hall has a sufficient area, then you need to use this unique opportunity. The spacious rooms can accommodate not only storage for outerwear, shoes and accessories, but also additional racks for various purposes, based on your needs and preferences.
Decor and textiles
The limited space and lack of windows tells us that without a large number of lamps, as well as their correct location in a modern hallway, you simply cannot do. Before leaving the house, each person needs to take a good look at his image. Thus, a single small chandelier or wall lamp may not suffice.
Install several ceiling lights, or place a couple of chandeliers right next to the mirrors. Thanks to such actions, you will visually increase the size of the space, and if you install large mirrors in addition, you will multiply the effect, since the light will be additionally reflected.
Based on the fact that the entrance hall is a small room with a large functional load, there is not so much room for decorative maneuvers. In many cases, it is best to limit yourself to beautiful plants, frames, original texture and pattern on a carpet, chair or bench. An interesting technique is to paste over the wall with an application in the form of a tree, and then place the hooks for things in such a way that they hang from the branches of an imaginary plant.
The interior of small hallway 2023
Only a few apartment owners can be congratulated on a spacious entrance hall, which also has the correct shape. As a rule, the corridor is a very small space, bounded by the doors of adjoining rooms. At the same time, this room is the first place where any incoming person enters, it creates the first impression of the atmosphere of the entire housing and its inhabitants. That is why the considered part of the house deserves a decent arrangement.
Systematizing all the aspects that were considered in the previous sections, we can distinguish the following solutions for decorating a small hallway:
– Light and light surface finish;
– Predominance of minimalist tendencies is desirable in the setting;
– Use of built-in storage systems;
– The use of glossy and mirror surfaces instead of matte;
– For some cases, the best solution would be to place a minimal set of hooks for outerwear and a small shoe rack. In other circumstances, the closet should be moved to other living rooms in order to free up an already tiny corridor.
We invite you to familiarize yourself with the real projects of hallways, embodied for spaces of various sizes. The latest interior design trends for 2023 have been taken into account in their finishes. We are sure that elegant and practical solutions will inspire you to your own design exploits!