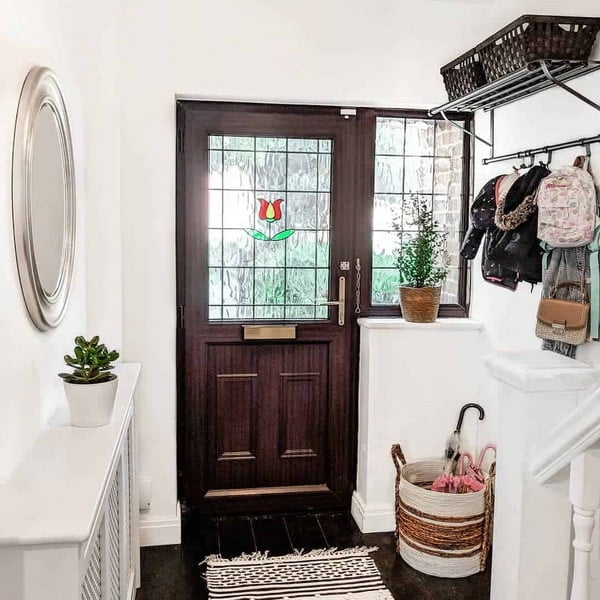 The entrance hall is a multifunctional space. Special attention must be paid to its design. After all, as you know, there is no second chance to make a good first impression. Here's how a 2023 hallway should look like.
In the light of what has been said in relation to an apartment, it is very important that the arrangement and appearance of the room where a person enters, stepping outside the threshold of a house or apartment.
We invite you to find out how a modern hallway design trends in 2023 should look like and get acquainted with the main trends in its design.
Hallway Interior design trends 2023: Color
The main principle of modern interior design is a lot of light and maximum open space. However, designers offer other solutions as well.
White or green hallway
In this regard, "white" hallways will always be in trend. Such premises with beige or ivory finishes will continue to be relevant. However, nothing prevents you from slightly diluting the monochrome design. For example, you can use menthol green, super trendy next year.
Bright green will do. Imagine a completely snow-white interior with such a long pile rug. It will resemble a green lawn and will be a real decoration for your hallway.
Black Hallway Design trends 2023
The phrase "black hallway design" may surprise. However, designers also offer such an unusual trend that breaks all the rules and stereotypes. Let's make a reservation right away, such a 2023 hallway is not suitable for everyone. A black light setting can only be chosen if you have a very well-lit hallway. This is usually rare in apartment buildings.
It is better to equip a black hallway in a private house. A large glass transom above the front door will help add light. The trend is to decorate this room with wood, which is painted with matte black paint. Not only furniture should be in black, but also a wooden plank or "tiled" floor, walls and ceiling.
If black is too dark for you, then choose a dark gray hallway. The main requirement for such an interior design is the use of only matte surfaces. This even applies to ceramic tiles. By the way, the latter is the ideal choice for the hallway floor, as it is easy to maintain. Alternatively, you can suggest combining white walls and ceilings with black floors and furniture.
Hallway 2023: Decoration materials
It is recommended to finish fashionable hallways 2023 with glossy materials that reflect light. This applies to both the ceiling and the walls and floor. Tiles, glossy stretch ceilings, glass, etc. continue to be in trend, as they contribute to the visual increase in space.
Wood and natural stone are also suitable. In addition, fashionable wallpaper for the hallway in 2023 will be relevant. For budget options, painting the walls will be a good choice.
Fashionable wallpaper for the hallway 2023
Wallpaper is one of the interior trends of the next year. The choice of pattern depends on the size of the room and its style. Designers offer trendy 2023 hallway wallpaper with geometric print. It can be pronounced or resemble a pale pencil drawing.
Plant motives are relevant. If the hallway is spacious enough, you can use fashionable wallpaper for the hallway 2023 with large tropical leaves and flowers. True, you should not get carried away, since the larger the pattern on the wallpaper, the more cramped the room will look.
Designers offer especially many options for creating a neoclassical hallway. First of all, this is wallpaper with silver or gold embossing in the form of ornaments.
Hallway Design 2023: Stone Finish
Natural stone is an excellent and sustainable finishing material. Nature has given us a huge variety of such minerals. Using them in interior design is not a cheap pleasure. However, the result is luxurious and stylish interiors. For the status interiors of the hallway, polished marble and granite in white or light beige or gray shades are perfect.
If your goal is a modern eco-style hallway design 2023, then it is better to use almost untreated or, as it is also called, "wild" stone. Its combinations with finishing materials with a perfectly smooth surface look especially original.
Hallway 2023: Styles
Today, fortunately, no one needs to be convinced that all premises in a home should be decorated in the same style. The entrance hall is no exception.
At the same time, it is required to take into account that this is a multifunctional room. Therefore, the interior of the hallway 2023 should be not only attractive, but also comfortable.
Modern hallway 2023
You can conditionally divide the hallway design styles into two groups: modern and historical. Eclectic and Fusion stand apart, as they mix everything and everyone.
Modern options, in turn, can be with features of Minimalism, High-tech and Loft. The latter, however, is quite rare. After all, the Loft does not imply the delimitation of space into separate rooms. For 2023, designers do not offer revolutionary ideas in terms of style.
However, there are several trends. So, a modern hallway 2023 should have features that are inherent in both Minimalism and Eco-style at the same time. The combination of white finishes with very light wooden furniture facades and light wooden floors is relevant.
Continuing the Eco-theme, the designers recommend using a coating for one of the walls that imitates natural raw stone.
Neoclassical hallway design trends 2023
Among the conventionally historical design styles, the undisputed leader is Neoclassicism. She is chosen to create status luxury interiors. Since we are talking about the hallway, designers do not recommend getting carried away with decor.
You can create the right atmosphere by using a couple of noticeable details. So a rather laconic design will become luxurious if you choose separate materials with glossy, reflective surfaces and install a column with a marble bust or statuette in the corner. Complete this with a large wall-mounted hanger with nifty coat hooks for a stylish neoclassical hallway.
In the coming season, fashionable hallways in 2023 in the Scandinavian style will be in trend. They look simple yet stylish. The use of knitted items in the decor is encouraged.
For example, capes or pillowcases for decorative pillows on the sofa. A small black and white rug can be placed on the wooden floor.
In general, hallway floor carpets are also trendy. Note, however, that they should be small and not cover the entire floor.
Hallway Trends 2023: Decor
To get the current interior of the hallway 2023, you need to use stylish decor.
Plants
Indoor plants will be trending in 2023. They will enliven the minimalistic design, diluting it with notes of "eco". We are not talking about pots or "potted flowers". It is recommended to choose large plants in large tubs. They fit perfectly into the interior of a spacious and bright hallway.
Mirrors
For small rooms, it is better to use mirrors as a decor. They can be of very different shapes and sizes. After a long oblivion, round mirrors are in fashion again. They should be large enough and practically frameless.  Last year's trend, according to which one of the walls of the hallway was made mirrored, has not lost its relevance either. This choice allows you to create the visual effect of a very spacious room. Mirrors look especially beautiful in neoclassical interiors, combined with white or light beige trim.
We hope that we were able to help you decide what the fashionable hallway 2023 should be like in your home. We invite you to often look at our website to always be aware of the latest in interior fashion.