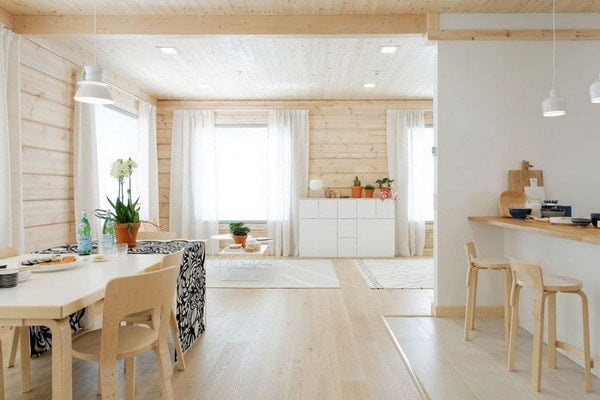 It is always good to stay updated, and that also applies to our home. It is nice to be fashionable, even in small details. And today, thanks to technology and social networks, I can bring you the design and decoration concepts that will be a trend in 2022, so that you can already plan the changes at home!
Discover the 6 main trends in interior design of the next season 2022
As in 2021, the interior design trends in 2022 are full of impressive ideas and aesthetic concepts that can be adjusted to any preference or environment. The best way to define decoration trends in 2022 is the fact that they will have to do with personality and character. Depending on your mood and predilection, you can find your own design solutions, so without further delay, let's start our list of trends.
1. Naval color trend
The naval color or classic blue, continues to be part of the interior design trends. An even darker blue color will be the trend for 2022. The "new black" is suitable for creating elegant and contemporary spaces. In fact, one of the top furniture trends in 2022 is the  naval retro velvet sofa, a stunningly beautiful piece that also comes in other bold colors like dark green, burgundy, terra cotta, and even muted yellow.
If you don't like the full monochrome approach to your interior design project, you can easily accent your space with some kind of eye-catching furniture or other decor item.
2. Light woods
Scandinavian-inspired,  light woods will be a trend material for interiors. This material will be used not only for floors but also to cover walls and ceilings.
Interior designs in 2022 are all about establishing an organic and ecological environment, which is predominantly highlighted with the use of sustainable and natural materials, and especially wood.
The light woods in color and raw aesthetics will be a highlight for multipurpose spaces. A natural accent with a touch design trend in 2022.
Next year you will notice that many interior designs include natural materials such as  different types of wood, bamboo or handmade fabrics, as well as  iron, steel, concrete, among others.
Japandi
Japandi interior design is a blend of Nordic and Japanese style. Simply put, Japandi is a hybrid trend. It takes the modern flair of Scandinavian design and combines it with the timeless elegance of Japanese aesthetics to create a style that brings together the best of both worlds. It is not difficult to see why these two styles have been combined. Although they come from different parts of the world, they share similar principles. They are both minimalist. Both emphasize the importance of creating spaces based on defined functions, with a few pieces, rather than an abundance of decoration.
It's their differences that make this mash-up especially interesting. While Japanese spaces can be overly elegant, the rustic details in Nordic design add warmth. When Scandinavian interiors tend to be so neutral that they can appear antiseptic, the rich color palette of Japanese design adds warmth to the room.
3. Sustainable modern design
Since we have already mentioned the trend of natural materials and their important role, it is important to highlight that one of the most innovative trends for interiors and furniture in 2022 will be  sustainable furniture.
The great concern that climate change aroused forced to develop creative solutions for all the wasted plastic. In this way, interior design in 2022 points to a new era in the development of sustainable design, both in furniture and also in fashion.
New bioplastic materials, reusable ones and low impact on the environment will definitely have a place in the minds of designers when it comes to coming up with new ideas. It should be noted that many designers dare to create wall tiles from new and unusual materials.
4. Grays and Neutrals
Neutral color schemes  will never go out of style. The most important aspect of this type of space is to introduce several subtle details that will give a little more character to the interior. Ideal for creating  more intimate and welcoming environments.
The main color focus for the upcoming season is  gray combined with other neutrals such  as white, beige, soft brown or similar light colors.
Additionally, many interior designs in 2022 will include muted colors like  light green, blue or coral  that blend beautifully with neutrals and grays.
Neutrals are also prevalent in  furniture design  in 2022, which by the way, is very much  inspired by the Nordic style.
5. Industrial elegance
Generally speaking, industrial elegance can be incorporated into the interior with design elements such as  painted brick walls, concrete or wooden floors, impressive metal stools, crystal chandeliers and many other unique design pieces.
The best part of this twist on the industrial style is that it can go perfectly with the neutral and gray colors, light woods, and other 2022 interior trends mentioned in this article.
6. Vintage style
Although it is a style that has been used for many years, it will continue this year.
Art deco  or classic style furniture , updated with contemporary materials and textures, will be very present in the interior design. They can also have a boho touch.
Wabi Sabi
It's about bringing out the beauty of the old and worn.
Items inherited from previous generations, second-hand market finds, DIY projects, folk art and vintage pieces all coexist very well in these new decorating styles, providing contrasting textures and many patterns and colors.
This is one of the trends in decoration that will continue to boom. Distressed-looking pieces add a lot of texture and personality to a room.
And you, what expectations do you have about the interior design trends to follow in 2022? Share your opinion with us!