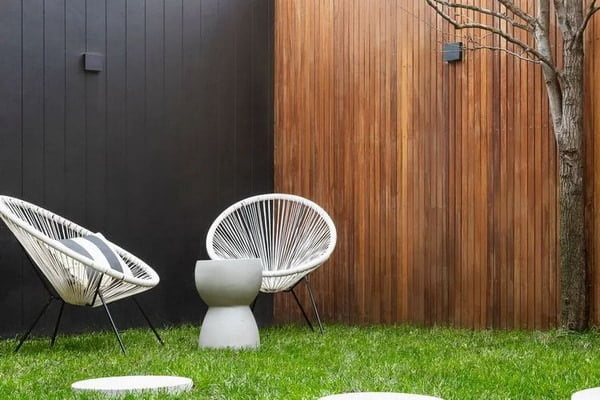 It's time to take stock of the top patio and balcony trends for 2024. Outdoor areas have become real extensions of living spaces in recent years. Whether small or large, they are more important than ever to recharge your batteries and enjoy sunny days. Even for the nice season, the outdoor area expresses the values that are in trend more than ever before. The furniture is very important in the balcony and terrace design, so we present you the most modern outdoor furniture 2024 and the exclusive trends in this area.
Choosing the right outdoor furniture 2024
When temperatures rise, there's nothing better than getting outside and enjoying the fresh air and sunshine. Perhaps the best thing about nice weather is lounging outside on a plush sofa and taking in the natural beauty of the area. The key to creating a personal retreat on the patio or balcony is finding the ideal pieces of furniture that can enhance your outdoor space.
With the wide range of outdoor furniture and materials to choose from, there are many things to consider when making a purchase. Nevertheless, you should always orient yourself towards those that best suit your space. It is very important that your furniture is made of the right material as this determines its durability and maintenance over the years. In addition, they should embody your personal furnishing style that you have already established in the house and meet the needs of your family.
Modular outdoor furniture trends 2024
Small or large outdoor spaces rely on modular furniture. Increasingly popular, these elegant pieces of furniture with their curves make it possible to create convivial spaces that can be adapted depending on the number of guests. They make all wishes come true: a lounger separate from the armchairs to relax, a stool that can be transformed into an improvised coffee table, a very large sofa adapted to the number of guests – everything is possible when you have modular pieces of furniture.
Relax at altitude
Hanging wicker swings in the form of a cocoon or a gazebo have become a real hit this year. They look stylish both on the balcony or terrace and in the apartment. They give the outdoor area a bohemian and relaxed look. For more comfort, you should supplement the swing with soft pillows and a blanket. An alternative to an armchair is a hammock, which is fixed in a corner of the terrace.
Innovative textiles for lounge furniture
No other material gives the patio at home as much living room flair as textiles. As an outdoor sofa, the lounge has been an extension of the indoor living space for a number of years. In addition to completely fabric-covered lounge furniture and innovative textiles, this season there is another innovation in terms of fabrics: the upholstery and covers come in a coarser fabric and previously only known from upholstered furniture for indoor use. In general, eye-catching surfaces that you can not only feel but also see will play a major role on the terrace and balcony this summer.
Extravagant table frames
In 2024, people have had enough of boring four-legged table frames and are admiring the extravagant table frames from this year's furniture manufacturers' collections. The offer ranges from minimalist column frames in the middle of the table top to the unusual cross version, in which a cross forms the table leg.
Best outdoor furniture 2024 for families
Another fashion trend in the design of the outdoor space in 2024 is minimalism. A set of acacia wood furniture with 4 chairs and 1 table is ideal for a family as it offers the necessary resistance to any situation. It is made of wood, so this product can last for many years. Users highlight the good quality in relation to the price and the ease of assembling the parts. It easily adapts to any desired aesthetic, but fits perfectly with boho chic and vintage style.
Pieces of outdoor furniture in pastel colors
In 2024, pastel colors are extremely popular in the fields of decoration and furniture. Neo Mint was even named the most important color of 2024. Pastel shades always look friendly, gentle and reserved. Nevertheless, pastel-colored pieces of furniture manage to bring a subtle color to the terrace and balcony. A single garden bench or a compact seating group as a striking eye-catcher can give your outdoor area that certain something.
Deep seats offer relaxation
Recently there has been a smooth transition from standard pieces of furniture to lower furniture with deeper seats. They have been specially developed for the relaxed atmosphere of outdoor areas. Low sofas, armchairs, poufs, tables and chairs are perfect for a long, cozy outdoor party. They look even more comfortable and stylish with soft pillows and textiles of different textures.
Steel side tables
There is another piece of furniture that is perfect in the living room, but also on the balcony or terrace. A steel side table is always a great help. You can find different shapes and variants of such tables to suit your space. However, an asymmetrical profile is popular this season.
Outdoor furniture trends
Unwind outside on sunny days or look at the starry sky on mild evenings on your terrace, balcony or in the garden after a delicious dinner: In the warmer seasons, we like to spend a lot of time in our outdoor living room. It should be comfortable and trendy at the same time. But which garden furniture is in trend this year? Which materials ensure comfort in our open-air paradise? And which colors are fashionable in summer? We have put together the most beautiful outdoor furniture trends 2023 for you.
Everything about the outdoor furniture trends in 2023
Trend 1: The open-air living room
A trend that has been established for some time now and is continuing this gardening season is the ideal of the so-called "outdoor living room": in this trend, our outdoor garden furniture continues the charm and convenience of our outdoor living room furniture. Because comfort in the garden, on the terrace or on the balcony is still the trump card!
With lounge furniture, outdoor sofas or armchairs, you can ensure cosiness outdoors in 2023. The weatherproof upholstered furniture looks confusingly similar to the upholstered furniture for indoors – and lets us spend cozy hours in our garden, on our balcony or our terrace. The great trendsetters are often made of (poly)rattan mesh on steel or aluminum frames worked. Provided with soft upholstery in pleasant colors, they invite you to relax. Their popularity is also due to their versatility. Because no other outdoor furniture exudes the stylish level of chic living room seating and Mediterranean laissez-faire at the same time. When it comes to garden furniture trends for 2023, there is hardly a way around trendy lounge furniture.
A little tip: Let your new lounge furniture become the center of attention in your garden. Place them free-standing on your terrace or in your garden – and enjoy cozy hours in your open-air paradise.
Would you like to transform your garden or balcony into your open-air living room with a comfortable seat? Discover our comfortable garden furniture and have the high-quality pieces of furniture delivered to your home free of charge.
Trend 2: beach chair and porch swing
For those who prefer a more traditional style on the terrace or in the garden, we recommend our two favorite design evergreens: the beach chair and hammock swing are part of the garden furniture trends for 2023, along with comfortable upholstered furniture!
You can relax alone or as a couple in the stylish, maritime beach chair – and always have a place to put a cool drink. The shady roof directly above your head is perfect for hot summer days. And if you close your eyes, you might even hear the sound of the sea.
A porch swing is available in different sizes – even as a narrow one-seater for one person. This makes the hammock trend just right for small and large gardens. Depending on the type of covering for the cushions and cushions, you can set a discreetly modern or a playfully romantic accent in your outdoor area. In any case, you can relax wonderfully on the soft cushions while swinging.
Trend 3: Multifunctional Garden furniture
Multifunctional furniture is not only ideal for those who have little space outdoors. Multifunctionality is particularly popular because it is sustainable and environmentally friendly. The clever garden furniture combines several functions so that you save yourself the purchase of additional pieces of furniture. This protects your wallet and resources at the same time. How about, for example, a piece of furniture that offers seating and storage space at the same time?
Trend 4: Rope, teak, poly rattan and aluminium
From natural to modern: rope, teak, polyrattan and aluminum are the material favorites this year.
Rope describes a modern weave with a cord look. Rope garden furniture is robust, weatherproof and durable. They are light but still stable. In addition to a modern look, garden furniture made of Rope scores above all with its comfort.
Teak: Wooden Garden furniture is still a classic. But sustainability is also playing an increasingly important role in garden furniture. Teak wood is therefore particularly popular this year! Because the tropical wood is sustainably obtained from old boats or houses. Teak garden furniture not only ensures comfortable hours outdoors, but also gives us the good feeling of making an important contribution to protecting the environment.
Polyrattan mesh creates a special feeling of well-being on your terrace. Polyrattan means a synthetic fiber that is made from polyethylene as a braiding material. The material is particularly resistant to moisture and UV rays. The braided synthetic fiber has therefore been a popular material for garden furniture since the late 1980s – and is enjoying particularly great popularity again this year.
Aluminum: The use of aluminum brings the industrial style into our outdoor living room. Aluminum garden furniture is usually available in muted colors such as anthracite, gray or silver.
The special feature: This year you don't have to decide on a material. A mix of materials is allowed: teak wood meets aluminium, polyrattan meets steel. 2023 is the year of interesting contrasts.
Organic shapes: round and oval garden furniture
What applies to the furnishing trends in 2023 also applies to the garden furniture trends: round and oval tables are popular! With this trend, you can quickly create a pleasant atmosphere in your open-air living room. There is space for the whole family at the organically shaped tables.
Trend 6: It remains discreet and becomes colourful
Does that sound like a contradiction? Not this year! In addition to subtle, warm and natural colors, colorful garden furniture is also popular in 2023.
Naturalness and closeness to nature in earth tones
When it comes to design details in your outdoor area, the garden furniture trends 2023 are all about naturalness and closeness to nature. Everything to do with the colors green, terracotta or earth colors delights our eyes. The colors help us to forget the hectic everyday life behind the patio door. They ensure well-being, relaxation and that certain incomparable holiday feeling. In addition to beautiful plant pots and boxes in different designs, raised beds are still trendy. It has never been so easy to plant your own herbs or vegetables right at home. Assembly, filling and care are not difficult at all. Test your green fingers, you will be amazed!
Trend 7: Atmospheric lighting for maximum comfort in your garden
Whether it's a chain of lights, solar-powered LED lights that unfold their magic only after dark, or an illuminated water feature: atmospheric lighting is also part of your outdoor living room this year. There are no limits to your design imagination.
Trend 8: Less is more
Minimalism has also found its way into outdoor furniture. True to the motto: "Less is more!"
Minimalism is about consciously limiting yourself to the essentials. Instead of using many pieces of furniture and decorative elements, with minimalism you rely on a few practical and aesthetic elements. Garden furniture without playful details is particularly suitable for small terraces or balconies. But minimalist furniture also looks great on spacious surfaces.
Tips for buying new garden furniture
Rely on high-quality materials: the selection of garden furniture is huge. This is also reflected in the price range and the quality of garden furniture. When making your choice, look not only at the look and the price, but also at the materials. Do materials withstand external influences? Are they stable and durable? How can the materials be cleaned and maintained? Quality garden furniture lasts longer. This protects the environment and is trendy.
Only follow trends that suit you: you certainly don't want to buy new garden furniture every year, but instead want to create a timeless, yet modern outdoor living room. When buying, ask yourself the question: How do I set up my own four walls? Rather modern, romantic or rustic? Carry your style further into your outdoor living room. So you can be sure that you will also feel comfortable there.
Put your garden furniture in the foreground: Your new garden furniture can be an eye-catcher in your garden. Place as few other objects as possible around your garden furniture. A few plants may find space. However, you should place larger flower pots or eye-catching decorations elsewhere in your garden.
Outdoor trends 2024
With the arrival of higher temperatures, the desire to spend time outdoors returns and design moves outdoors, on balconies, terraces and gardens. Among country atmospheres, tables of colors and flowers of eccentric colors. Here are the best outdoor trends 2024.
Look boho chic
Among the 2024 outdoor trends, a look that evokes rustic and country atmospheres wins. In fact, the warm tones of the earth, white and delicate pastel tones that characterize the boho chic style are capable of decorating the exterior spaces of the house with taste.
The issue of sustainability is very important, especially in outdoor spaces. Therefore, the materials that cannot be missing are wood, glass, wrought iron, stone, rattan and wicker, accompanied by fresh pots, plants at will are quality outdoor furniture that lasts over time and respects the environment. Finally, hemp fiber, also synonymous with sustainability, should be chosen for rugs, blankets and chandeliers.
The table in the garden for pleasant lunches and dinners
The table set on the terrace and in the garden, thanks to the colors and aromas of flowers and plants, is capable of giving a touch of style outdoors. Spending pleasant moments in the open air, around a table sharing a good meal or drinking excellent drinks, creates a sense of continuity with the interior capable of instilling comfort among all the guests.
The ideal outdoor seating meets all needs. Especially for those who want to surround themselves with a sustainable decoration characterized by natural fibers and certified and quality materials to further personalize the exterior. However, for this purpose you can use, for example, also recycled wood, pallets, fruit boxes, and other objects to give new life by changing the use.
A comfortable balcony
Even those who do not have a large garden, but have only a small balcony in the apartment can comfortably set it up. Harmony and organicity are the words that characterize outdoor decoration 2022. The important thing is to follow a few simple steps. The colors chosen for decoration and furniture should be relaxing. Mixing the range of neutral colors with greens, blues and the exclusive Very Pery, also in the choice of fabrics, such as the textures of a cotton rug or a rattan or linen blanket.
Potted plants are also essential, which in addition to being a decorative element, are capable of purifying the outdoor space with their perfume, instilling a sense of well-being.
Minimalist outdoor style
Minimalism is an evergreen that never goes out of style. This year is characterized by the combination of black and white, ideal colors for a modern and elegant decoration. Outdoor furniture and decorations win, in these colors, with smooth lines and beveled corners. The winning idea is to combine them as they are or combine two different patterns.
Lighting and designer lamps
Among the 2024 outdoor trends, lighting care cannot be missing. In fact, the light design constitutes a real furnishing element with its importance.
This maintains its main function: the lighting of the table or the outdoor living room to spend pleasant and cool summer nights. There are many solutions, including the innovative smart-light, low-consumption LED lights that can be adjusted by smartphone to also make lighting in outdoor spaces more efficient.
Outdoor lounges
The last of the trends for a modern garden, but not the least, is the creation of true outdoor living rooms. Durable, but at the same time comfortable and easy to move thanks to its modularity that also allows you to modify them according to your needs.
Garden furniture trends
The trends in garden furniture for this year point towards sustainable, very natural directions, where elegance and comfort are not at odds. This 2023 we want to enjoy, more than ever, our outdoor spaces, so we bring you the trends in furniture and accessories that will get more juice out of your balcony, terrace or garden. Bring your exterior up to date, without missing detail!
Trendy garden furniture
The trends in outdoor furniture for this year are designed to spend more time outdoors and enjoy every moment in a cozy and cheerful, updated and practical environment.
Garden tables: the clearest trend in this category continues to be wood, with a couple of new notes. The wooden tops are combined with metal legs and structure, creating a very modern rustic-industrial mix. The shapes that are most popular are round or oval, since they make the most of the capacity of the table, allowing more people to be accommodated in a more comfortable way.
Garden chairs: natural fiber continues to be the queen in terms of materials for outdoor chairs and armchairs. The Acapulco-style armchairs, metal seats with special vintage touches or the classic folding director's chairs made of wood and fabric are other must-haves this season. Special mention for the cannage or grid, this type of braiding that has made a strong comeback in backs and seats.
Garden sets: coordinated garden tables and chairs are always a hit, since they give a harmonious air to your exterior, especially if it is small. As for sofas and coffee tables, to create a cozy and very chill out outdoor living room, they take inspiration from the indoor living rooms, creating in out spaces, where borders are blurred. Aluminum, natural resins and wood are three of the star materials for corner sofa structures that promote communication, thanks to their design and functionality.
Terrace and balcony games: folding or extendable tables and chairs are essential to make the most of space. Made of bamboo or metal, these sets are light and easily transportable, versatile to remove and put on. Give a Nordic style to your small outdoor or tropical or country. There are three current trends to keep in mind.
Loungers: they are centerpieces of any garden, especially in spring and summer. In this 2023, sun loungers with rounded lines and smooth edges are in fashion to give them a more pleasant and safe appearance. Made of natural fibers, a wooden structure and with fabric accessories in gray tones, they will provide a simple, uncomplicated style that will enhance the relaxed look of the garden. The folding ones with a fabric seat and wooden structure, the bamboo divans and the aluminum models continue to hit the spot. Being furniture with so much presence, it is important to choose its style well, since it will condition the image of the rest of the exterior. If you like the 'new Mediterranean' style, bet on loungers with striped textiles. If yours is more exotic, opt for bamboo ones and, if you love the modern style, don't hesitate,
Garden Benches: Benches, stools, and beanbags are extra seats that always come in handy when you have guests over. Do not forget to include some of these pieces in wood, wicker or painted steel, to give a touch of color to your exterior.
Auxiliary tables: it is a type of complementary furniture, but very necessary. The rattan or bamboo tables will give a very natural look, while the metal ones are ideal for current atmospheres. There are even with a marble top, which grant an incomparable elegance. Teak wood ones do not go out of style, but this year they are worn with more rounded lines.
Hanging chairs: if there is a clear trend for this summer, it is that of hanging chairs. Outdoor hanging chairs are a perfect way to add a sophisticated and comfortable look to any garden. They are pieces that provide a lot of play, also decorative. Dare with crochet or tassel models. They are the most now!
Hammocks: take the slow style. This year disconnecting is more necessary than ever and if there is a piece of furniture that allows it, that is the hammock. As with hanging chairs, smooth fabrics in pastel shades with crocheted edges or decorative tassels are popular, which give them a very sweet air.
Colors, materials, lighting… All the trends for this summer
What is clear is that this year the concept of creating open spaces that extend from interior to exterior, using furniture that works for both areas, is sweeping. Discover the outdoor accessories you need to complement your garden furniture.
Neutral colors and natural fibers: If what you want is to relax and disconnect, it is best to decorate the outdoor space in neutral tones. Add fiber cushions, linen or embroidered details that bring that comfort. But summer is color, so if you prefer more cheerful environments, enliven them with colored chairs or accessories with solid tones or patterns but very vibrant. As you have seen, natural fibers stay, so do not hesitate to get a lantern made of this material to decorate a special corner. On the other hand, what will give more warmth to your exterior will be the textiles. Put a rug in the outdoor living room and dining room. And the cushions, essential: combine models with vegetable prints and stripes with others made of jute. The mix will be total.
Outdoor storage: order is trend. So keep your exterior collected, using practical trunks with a large capacity, but that go unnoticed. The most resistant and durable materials are powder-coated aluminum, but if you like wooden ones, which are always elegant, you can protect them with a special outdoor cover.
Umbrellas: fringes are popular and a good idea is to incorporate them with fun umbrellas. The bamboo ones will give a beach look to your exterior, while the fabric ones are timeless. Sail awnings create very pleasant shadows and are also a trend.
Outdoor lamps: illuminating the exterior well is key to enjoying very special summer nights. A punctual lighting based on small wall lights and garlands will make a difference. Over the dining room, a large XL ceiling lamp will give entity to the area, delimit it and make it more pleasant.
Outdoor flower pots: another trend that continues to be a hit is plants and, of course, outdoors they cannot be missing. Create your jungle. Of course, do not neglect the style of your planters: floor or hanging baskets, concrete and metal can be mixed without problems.