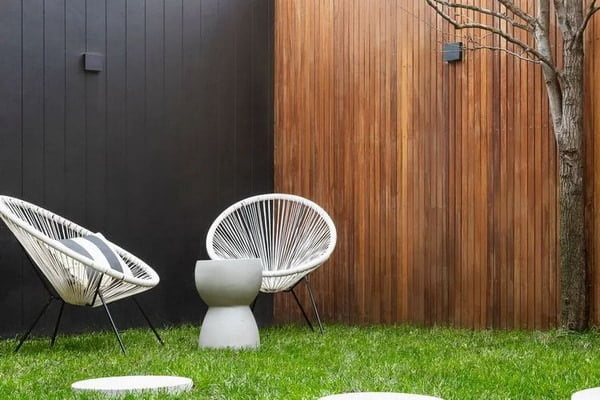 It's time to take stock of the top patio and balcony trends for 2024. Outdoor areas have become real extensions of living spaces in recent years. Whether small or large, they are more important than ever to recharge your batteries and enjoy sunny days. Even for the nice season, the outdoor area expresses the values that are in trend more than ever before. The furniture is very important in the balcony and terrace design, so we present you the most modern outdoor furniture 2024 and the exclusive trends in this area.
Choosing the right outdoor furniture 2024
When temperatures rise, there's nothing better than getting outside and enjoying the fresh air and sunshine. Perhaps the best thing about nice weather is lounging outside on a plush sofa and taking in the natural beauty of the area. The key to creating a personal retreat on the patio or balcony is finding the ideal pieces of furniture that can enhance your outdoor space.
With the wide range of outdoor furniture and materials to choose from, there are many things to consider when making a purchase. Nevertheless, you should always orient yourself towards those that best suit your space. It is very important that your furniture is made of the right material as this determines its durability and maintenance over the years. In addition, they should embody your personal furnishing style that you have already established in the house and meet the needs of your family.
Modular outdoor furniture trends 2024
Small or large outdoor spaces rely on modular furniture. Increasingly popular, these elegant pieces of furniture with their curves make it possible to create convivial spaces that can be adapted depending on the number of guests. They make all wishes come true: a lounger separate from the armchairs to relax, a stool that can be transformed into an improvised coffee table, a very large sofa adapted to the number of guests – everything is possible when you have modular pieces of furniture.
Relax at altitude
Hanging wicker swings in the form of a cocoon or a gazebo have become a real hit this year. They look stylish both on the balcony or terrace and in the apartment. They give the outdoor area a bohemian and relaxed look. For more comfort, you should supplement the swing with soft pillows and a blanket. An alternative to an armchair is a hammock, which is fixed in a corner of the terrace.
Innovative textiles for lounge furniture
No other material gives the patio at home as much living room flair as textiles. As an outdoor sofa, the lounge has been an extension of the indoor living space for a number of years. In addition to completely fabric-covered lounge furniture and innovative textiles, this season there is another innovation in terms of fabrics: the upholstery and covers come in a coarser fabric and previously only known from upholstered furniture for indoor use. In general, eye-catching surfaces that you can not only feel but also see will play a major role on the terrace and balcony this summer.
Extravagant table frames
In 2024, people have had enough of boring four-legged table frames and are admiring the extravagant table frames from this year's furniture manufacturers' collections. The offer ranges from minimalist column frames in the middle of the table top to the unusual cross version, in which a cross forms the table leg.
Best outdoor furniture 2024 for families
Another fashion trend in the design of the outdoor space in 2024 is minimalism. A set of acacia wood furniture with 4 chairs and 1 table is ideal for a family as it offers the necessary resistance to any situation. It is made of wood, so this product can last for many years. Users highlight the good quality in relation to the price and the ease of assembling the parts. It easily adapts to any desired aesthetic, but fits perfectly with boho chic and vintage style.
Pieces of outdoor furniture in pastel colors
In 2024, pastel colors are extremely popular in the fields of decoration and furniture. Neo Mint was even named the most important color of 2024. Pastel shades always look friendly, gentle and reserved. Nevertheless, pastel-colored pieces of furniture manage to bring a subtle color to the terrace and balcony. A single garden bench or a compact seating group as a striking eye-catcher can give your outdoor area that certain something.
Deep seats offer relaxation
Recently there has been a smooth transition from standard pieces of furniture to lower furniture with deeper seats. They have been specially developed for the relaxed atmosphere of outdoor areas. Low sofas, armchairs, poufs, tables and chairs are perfect for a long, cozy outdoor party. They look even more comfortable and stylish with soft pillows and textiles of different textures.
Steel side tables
There is another piece of furniture that is perfect in the living room, but also on the balcony or terrace. A steel side table is always a great help. You can find different shapes and variants of such tables to suit your space. However, an asymmetrical profile is popular this season.